Everyone has heard of Philips Hue, one of the ranges of the Dutch brand Koninklijke Philips (Royal Philips). Some even say it's the best of the best in connected lighting. But ultimately, what is it? And how does it work ?
For the answer to this last question, that is the goal of this tutorial. For the first time, and to put it simply, Philips Hue is a proprietary ecosystem management of connected products based on ZigBee technology, in its most complete version. There is a much more limited Bluetooth version. But what more than a generic application like Smart Life for example, who also supports ZigBee protocol via a Hub? This is what we will also discuss in this article.
Philips Hue: presentation of the ZigBee Hub / Bridge
We will talk about Hub, Bridge, Gateway or Bridge during this tutorial, but know that it is the same thing. The most widespread denomination being Hub, which can be translated by center, pivot ... This empirical translation shows you, despite everything, that this bridge will be the nerve center of your ZigBee network. This is where everything is going to start and everything will come back.
Le ZigBee is a data exchange protocol between different connected devices which has the advantage of consume little energy (hence wireless switches, wireless detectors…). It will work in mesh network, so each device connected to this network will serve as a relay, like a Mesh for Wi-Fi. With this operation and the dedicated hub, your Wi-Fi network will be less involved because only the bridge will be connected to your Wi-Fi.
Le Philips Hue Hub is quite simple in terms of operation because there is onlyone button (in the middle with Philips roughly above). It is delivered either alone or in starter kit including bulbs and for some of the wireless switches. It is in all cases delivered with its connection, namely a DC 5V 1A power outlet and Ethernet network cable.
59,99€
In stock
9 new from € 55,00
August 11, 2022 19:29 a.m.
Updated: August 11, 2022 19:29 a.m.
Under the underside of the bridge, which looks like a Tour de France jersey with all these inscriptions, you will find your Bridge ID for installation if necessary. You also have a reset button hidden between the logos.
Philips Hue Bridge: ZigBee Hub installation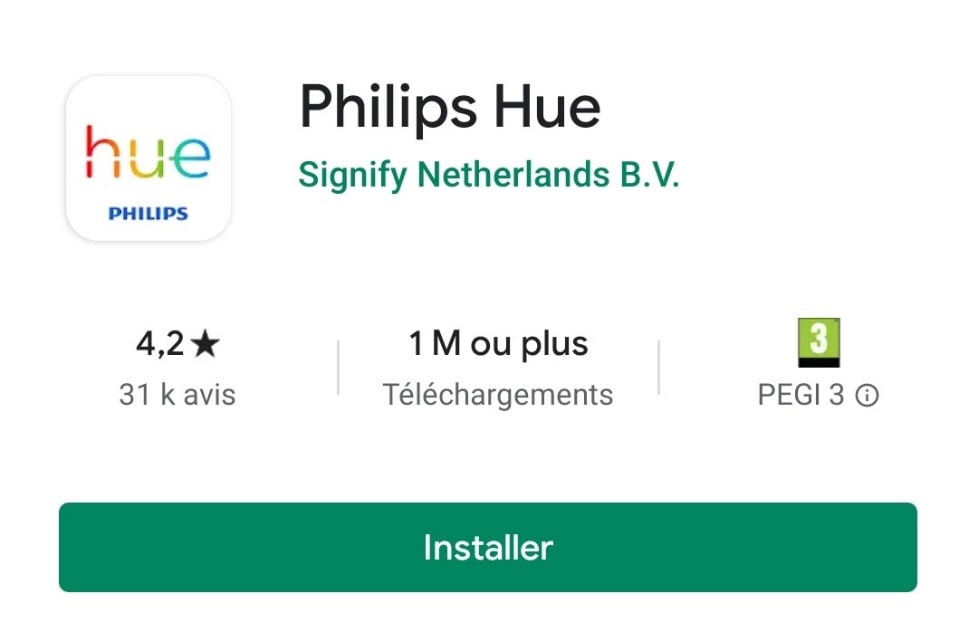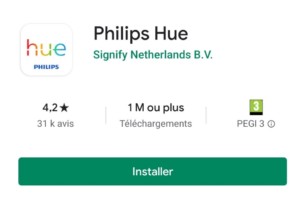 The installation is very simple. come connect network cable to your Internet Box or a Mesh module, then plug in the hub to the sector.
While waiting for it to find the network, take the opportunity to download the Philips Hue app on Android ou iOS. Please note, there are two Philips Hue apps: Hue Bluetooth and Hue. The first is a light version for devices that you will operate exclusively in Bluetooth, without a Hub. Note that Philips Bleutooth products are also compatible with the Hub, Bluetooth being an additional feature. So this is the second you need.
When the Hub has found the network, the "network" symbol turns solid blue.
" It's hard to make it simpler. " The Alexians
Above all, pay attention to properly connect your phone on the Wi-Fi network which will be used by the Hub. Then open the app and let it find your ZigBee bridge without having to enter any network code or ID of your device. To finalize the installation, press the central button of the hub and it's settled. It's hard to make it simpler. On the other hand, by doing so, you will still have to go to the settings afterwards to Create your account.
You will most certainly have a updated at doing. It starts on its own and lasts a few minutes. Accept the T & Cs and you will finally be able to get started.
First use
If you install a Hub from a Starter Kit, you will need to install at least one of the bulbs from the pack to be able to go further in the application because it is a "tutorial installation". Put one of the bulbs in place, turn on your light (or a little later) and follow the app.
This is done in two steps: create a room, the one where your bulb will be installed. Note that the bulbs of a starter kit are already configured in your Hub, you just have to put them in place to use them. Then in the room being created, come select bulb that you have installed. The number is irrelevant. You plug in the bulb, turn on the power and voila. He is necessary to finalize this step in order to be able to use your application. Otherwise, you will not have access to the application settings.
We are there in the simplest configuration. So we will see together how create new rooms and install new bulbs on the Philips Hue bridge, not pre-recorded.
Add a room with the Philips Hue Hub
Now let's look at how to create a room and install a Hue bulb. Indeed, the application has the advantage, or the defect, of functioning by associating bulbs with parts. It is possible to have it not attached to parts, but the use is a little more tedious.
For create a room, when you are in the home tab, press the 3 small dots top right and choose "Rooms and Zones". From there, go to create, create a new room, or zone.
You can then enter room name, choose your logo and select lights to be added if they already exist. If they don't exist yet, validity (with the?) without checking anything. Your part is now created.
Add a light with the Philips Hue Hub
Now let's move on toadding extra lights with the app. There are two entry routes, as with rooms:
Either through "Light configuration", sincehouse tab.
Either by " Light configuration " about settings
The rest is the same. It is necessary toturn on the lights to make them recognize. In some cases, you will need to enter your device in pairing mode, that is to say make it blink. The way to do this will depend on the product but you generally have to turn it on and off 4 to 5 times to achieve this result.
Made "Add a light" ou "Search". You see at the bottom that the app searches for bulbs that are in pairing mode. The lights found are highlighted with the word "New" in green. Then change the name and logo if you want, just like the parts. To do this, press the "I".
To then come integrate a light newly installed in an already created room, go to the part " House ", click on the Name of the scene where you want to put your bulb, then "Modify a room or move the lamps" et select light in the list. To finish, validity, top right.
Using the Philips Hue app
What will the app allow you to do? Does it have added value compared to other apps, which are more versatile in terms of compatible devices? This is what we will see.
Home tab

This is an important tab because this part allows you to manage parts that you created. This is also where you can add or remove. You can with a single gesture light up an entire room thanks to a virtual switch. You can also do there vary the intensity of the lights by dragging the cursor.
There is also a general switch, top right, which allows you to turn all the rooms on or off. If you want to go into the detail of the bulbs in a zone, click on the room to enter it.
You see that the color of the room changes when you flip the switch. In fact, it is that of the light from the lamp in the room that is displayed. Let's take a closer look at how the lights work in a room.
For each bulb, you can come and change its color according to its characteristics. The choice is made simply by choosing the desired color on the 16 million color and / or white touchpads. If you have several bulbs in the room, you can come and choose individual colors, on the same pad.
There is also the possibility to choose pre-recorded scenarios. These are light atmospheres (color and intensity) that you can select to adapt your brightness according to your mood. But it doesn't stop there: you can also create some on your own. To do this, select "New Scenario" at the top left, come and choose your favorite color, name and intensity. You can then, once the scenario is validated, choose its image, as it will be in the final list of scenarios. Those already registered can also be modified.
Routines tab
It is an excellent tool, which is reminiscent of the terminology ofAlexa. It is the basis of home automation and a real asset for people without a connected speaker. The routines will allow you to set up automations, that is to say, activate actions such as turning on or off lights according to different variables.
Philips has planned several routines to automate your lighting, without going through assistants or more complex systems. They are classified into different categories:
At home or on the go: huge strength of Hue which manages to do what applications wanting to be more home automation like Alexa or Google Home are simply unable to do this natively. Thanks to geolocation, the Hue app can automatically turn on or off the lights of your choice when you leave your home and when you return home,
Awakening : Here you can configure an alarm clock all in light (room or whole house) with a gradual ignition imitating the sunrise (over 10, 20, 30 ... or even 60 minutes if you are really struggling),
Go to bed : This is the reverse of the wake-up call routine. You are going to prepare to go into the arms of Morpheus with warm, not very intense lights, which gradually subside. Legend has it that Philips engineers worked with sleep specialists to create the perfect mood for your torpor.
Other routines: here, you can customize your routines more finely, manage your lights according to the time of day, from sunrise to sunset. It is the toolbox of the application.
Timers: This will enable or disable your lights after a certain time.
Explore tab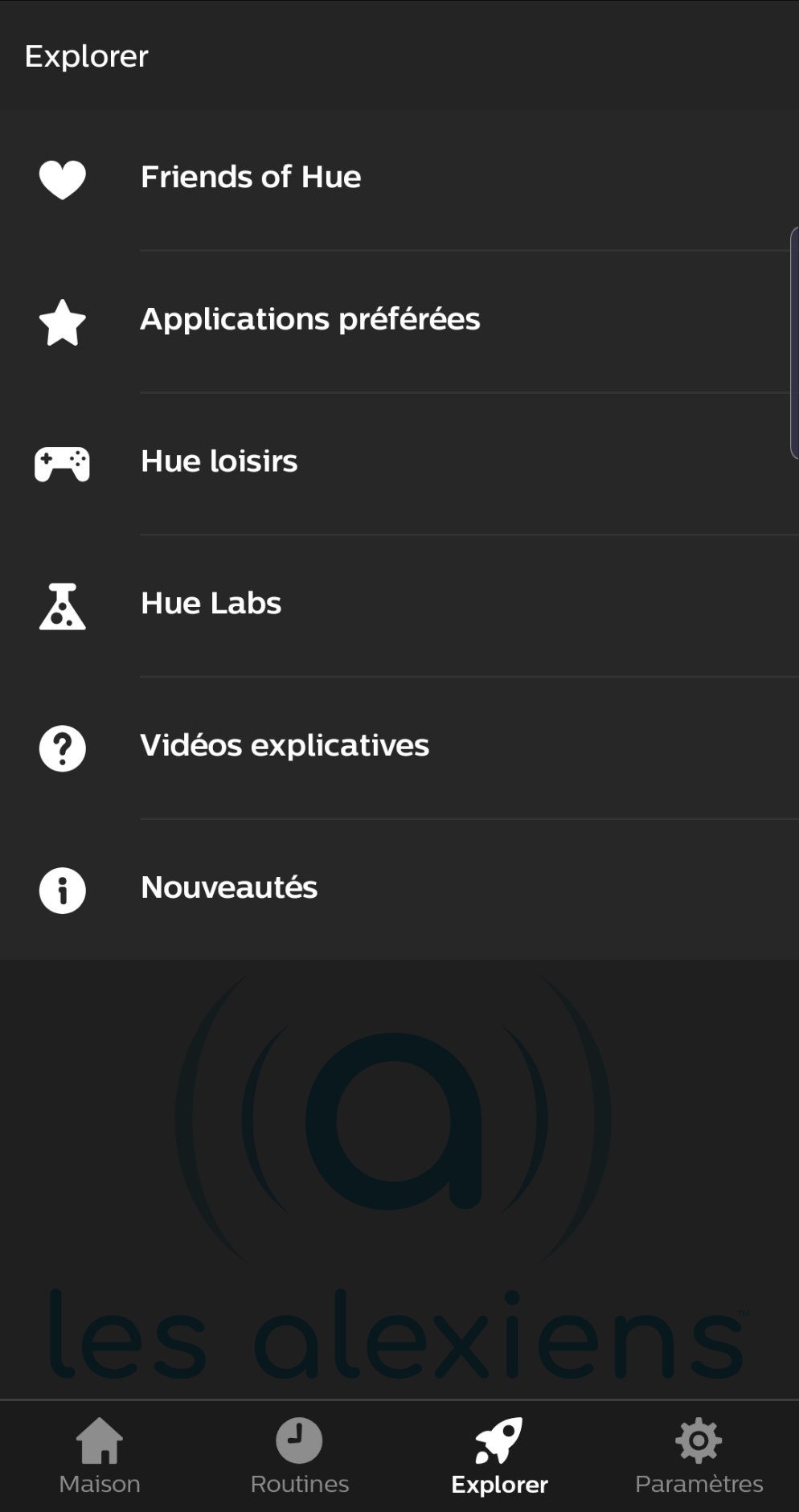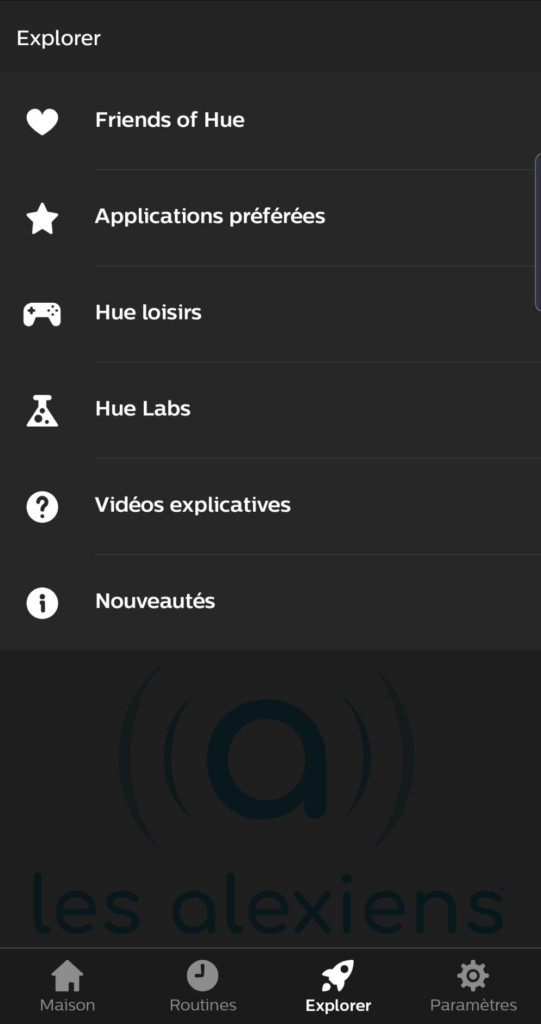 It's a bit of a catch-all tab. There you will find a list of third-party products "Friends of Hue" (nice word game with "Friends of you", "Your friends"), ie working with Hue.
The Hue protocol is proprietary. That is to say that manufacturers wanting to market products that are recognized by the gateway must pay royalties to Royal Philips. This is the case of Gledopto, Ledvance (formerly OSRAM) ... the advantage is that these products, sometimes less expensive, very often in addition to the Hue range, will work 100% with the app.
Another interesting topic for gamers and people who like to immerse themselves in depth, you can create leisure spaces for truly engaging entertainment lighting through Hue Loisirs. Philips worked with Razer on Chroma range to provide gamers with lighting that is perfectly synchronized with their games. To do this, you can use the Hue Sync application ... But beware, it only works with a PC and not live with your application or your TV.
In the latter case, to have lighting that follows your image, you need a Hue Play Sync Box., unless you "cast" from your PC to your TV. And Hue products exclusively. Friends of Hue are not entitled to use via the box.
What will also interest a lot of people is the Hue Labs. It is in fact an access to a large number of rather well-found scenarios: put in condition to go to bed, brief lighting (time to get home for example), presence simulation, geolocation, sunset, various and varied scenes.
Philips will not fail to create some specially for certain events (Valentine's Day, Halloween, Christmas ...). You are free to come and activate those you like. You can also do research based on what you want.
To activate a scene, nothing could be simpler, just go to the chosen scene, select lamps to control, choose settings and install. You then have access to it via the banner "Hue Labs Controls", where you can turn it on and off.
Settings tab
There are some very useful things to do around here. First of all, "Control outside the house" will allow you to control your devices when you are not at home. You have to activate it otherwise, it will not work if you are in 4G for example. The interest of the system would therefore be quite close to zero. Moreover, this will allow you to create your account for the future. It's up to you to choose if you go with a Gmail account or specific ids and passwords. To finalize, press the button on your Hub and it's good.
The part "Accessory configurations" will allow you to come and operate sensors and other wireless switches. You also have a last named pad "Advanced version" which will allow you to register your address in order to be able to activate scenarios or actions referring to places or times of sunrise and sunset. You can also come and decide if you base yourself on the exact times or if you prefer to anticipate or delay them.
Using Philips Hue with Alexa
In order to be able to use the products Philips Hue with Amazon Alexa (or the Friends of Hue, such asOsram, IKEA, Innr et Gledopto) while having all the possibilities offered by the Hue application, it is necessary to go through the brand's gateway. If you go through the Hub Echo Show 2 (or Studio or Plus), you won't be able to integrate them into the Hue app.
You must therefore come and activate the Philips Hue skill, enter your username and that's it. You can then leave the application Alexa search for the Hue devices you have and they will be directly available for voice use (under the name you entered them with in the HUE app, be careful).
Using Philips Hue with Google Home
Google does not offer a speaker with an integrated ZigBee Hub, there is no question to ask. You will need activate the extension or Action Philips Hue in Google Home. To do this, go to the application settings then type Hue in the search bar. Then activate the application with your identifiers and you will see your different lights go back up in the application. You can now ask Google Assistant to turn on the lights for you.
Here is a video that explains everything in detail:
You could see through this tutorial that
the Philips Hue app is really powerful
and goes far beyond other applications of
connected products
. It is halfway between an application for managing connected devices and
automation
with its integrated routines, its Lab, its location management ...
The possibilities offered in terms of piloting are really interesting and, above all, very intuitive, simple and easy to access.
It therefore easily deserves its status as
flagship application
. It allows you to manage with disconcerting ease a multitude of different products, to synchronize them in order to make your home a real connected cocoon.