The echo spot has been available in France since July 23 (the 22nd for some lucky ones). You were a little hesitant to buy it. And finally, reason prevailed… you ordered it !! Like us, you couldn't resist.
But now, stress invaded you: how to put this little gem into operation? Well, we'll do it together.
The application Alexa
If this is your first Echo, before starting it is necessary that you downloaded the application Alexa on iOS or Android and that you register with your username and passwords Amazon.
This application will allow you activate skills, manage the connected elements, do routines, make calls to the Echoes… It is the backbone of your system.
That said, once the skill is activated, it will be of no use to you for the installation of the Echo spot.
The Echo Spot
This beautiful object arrives in a sky blue box with the color code of the range. Inside, you will find the Spot, a connector and 3 small booklets (first steps, things to try and general conditions). All in black inner packaging, all smiles.
The connection of the Spot is very simple with the rear plug for the power supply and a jack. Note that in the white version, the power supply is also white.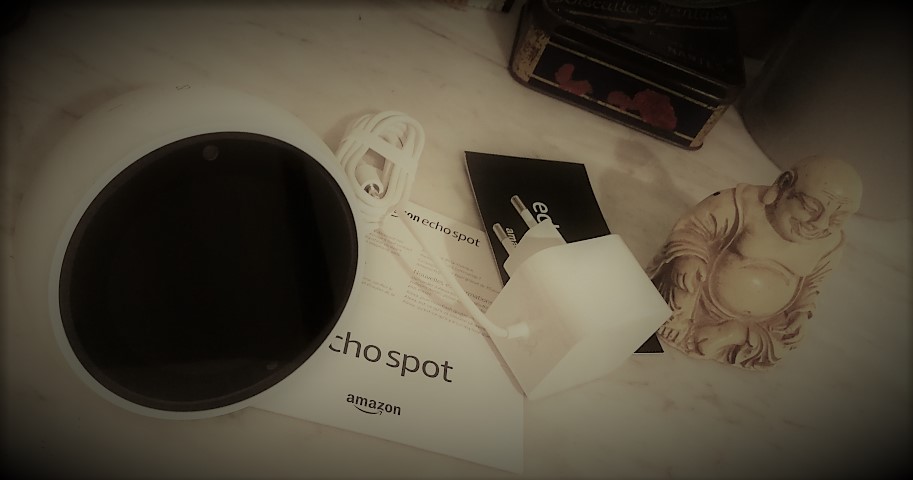 On the top there are three buttons: two for volume and the last one for muting the microphones / camera.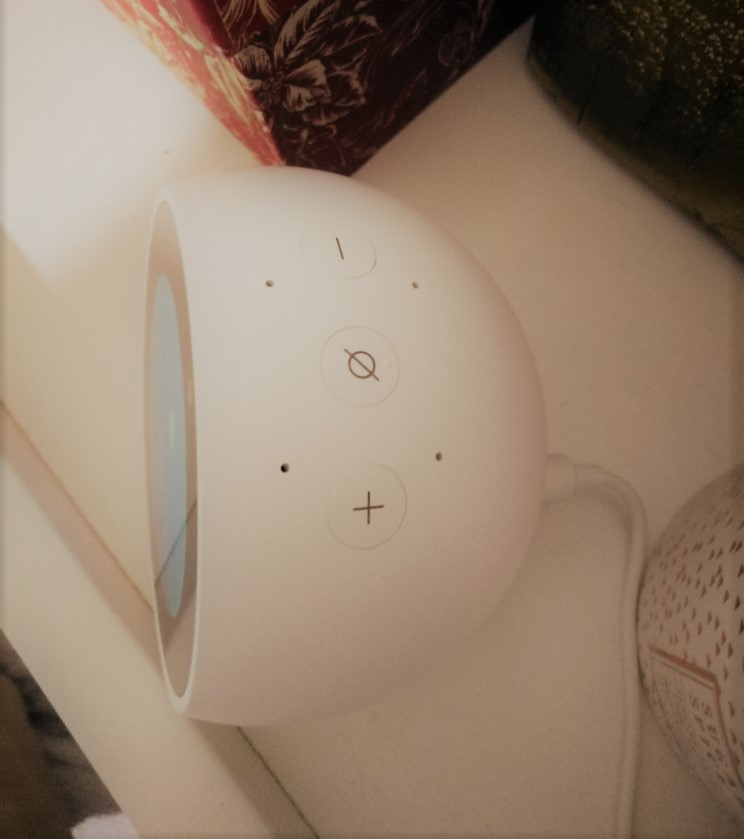 To put it into operation, connect it to the mains and wait a moment (about a minute) before the screen comes on ...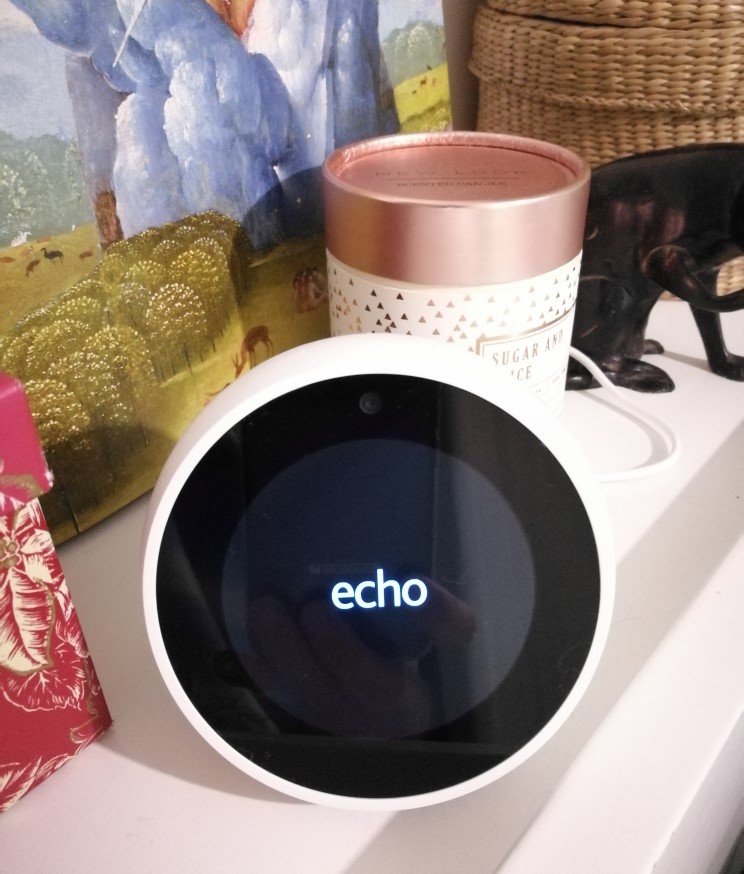 You are now ready to put your Spot into service. And it is relatively simple.
The configuration of your Spot
All the configuration will be done via the Spot's touchscreen, from start to finish, but will take a little time. Not that there is a lot of manipulation, but a rather long update will be done after the installation.
The first step will be to select your language and then connect to your Wi-Fi network by entering your password.
Then enter your username and password Amazon. Your device then registers itself. Be careful, you may get an error message telling you that it is not possible to register your Spot and that you must try again later. In this case, re-enter your username / password, it should work ...
Your account being recognized, the Spot asks you to confirm your identity and to accept the conditions of use. To do this, select "Yes, it's me". Then confirm your time zone and give your device a name. To do this press the blue arrow and, from there, you can either keep the same (direct validation) or change it.
Your device is now configured on a Wi-Fi network, linked to your account and with its name. But it's not over, the longest is coming: the update.
Updating and optimizing the Spot
Without transition, the Spot announces an update that you are obliged to accept. This update is quite long (it can be of the order of 10 min). A small blue circle will circle the Spot's dial as the update progresses. The duration will depend on the speed of your connection.
Your Spot will then restart and optimize. This also takes some time. Once this is done, you will be treated to a short introductory video showing you everything you can do with our new device.
If you want to change the clock, home screen, or whatever, just say " Alexa, settings ". From there you can customize your Spot at will. For parameters such as your place of residence, you must go to your mobile application and to my devices Alexa.
You can now converse with our dear Alexa, watch movies on Amazon premium Video, manage your agenda… But that is another story.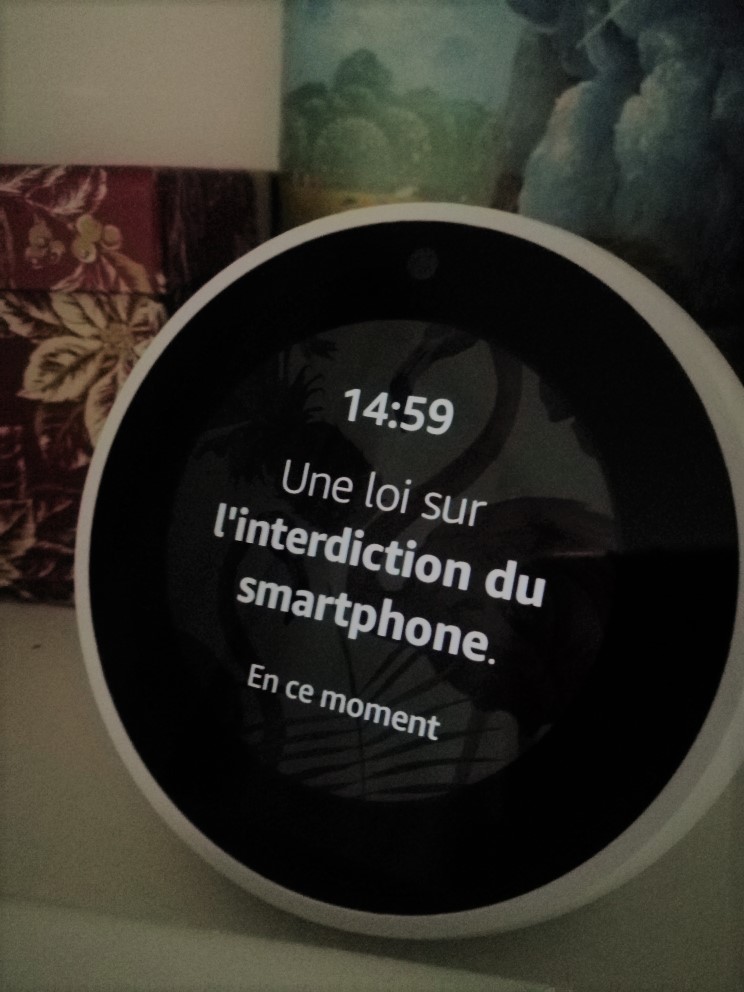 You can get Echo Spot at Amazon. Fr