That's it, it is there !! You finally have your Echo! It is beautiful, it has a great design… but it is not yet installed. So, we're going to do this together because I know we can be feverish in these times.
The procedure is the same whether it is for a Dot or a first generation Echo.
The application Alexa
Before starting, it is necessary that you download the application Alexa on iOS ou Android and that you register with your username and passwords Amazon.
This application will not only allow you to install your Echo but also toactivate skills, manage connected elements, do routines, make calls to Les Echos… It is the backbone of your system.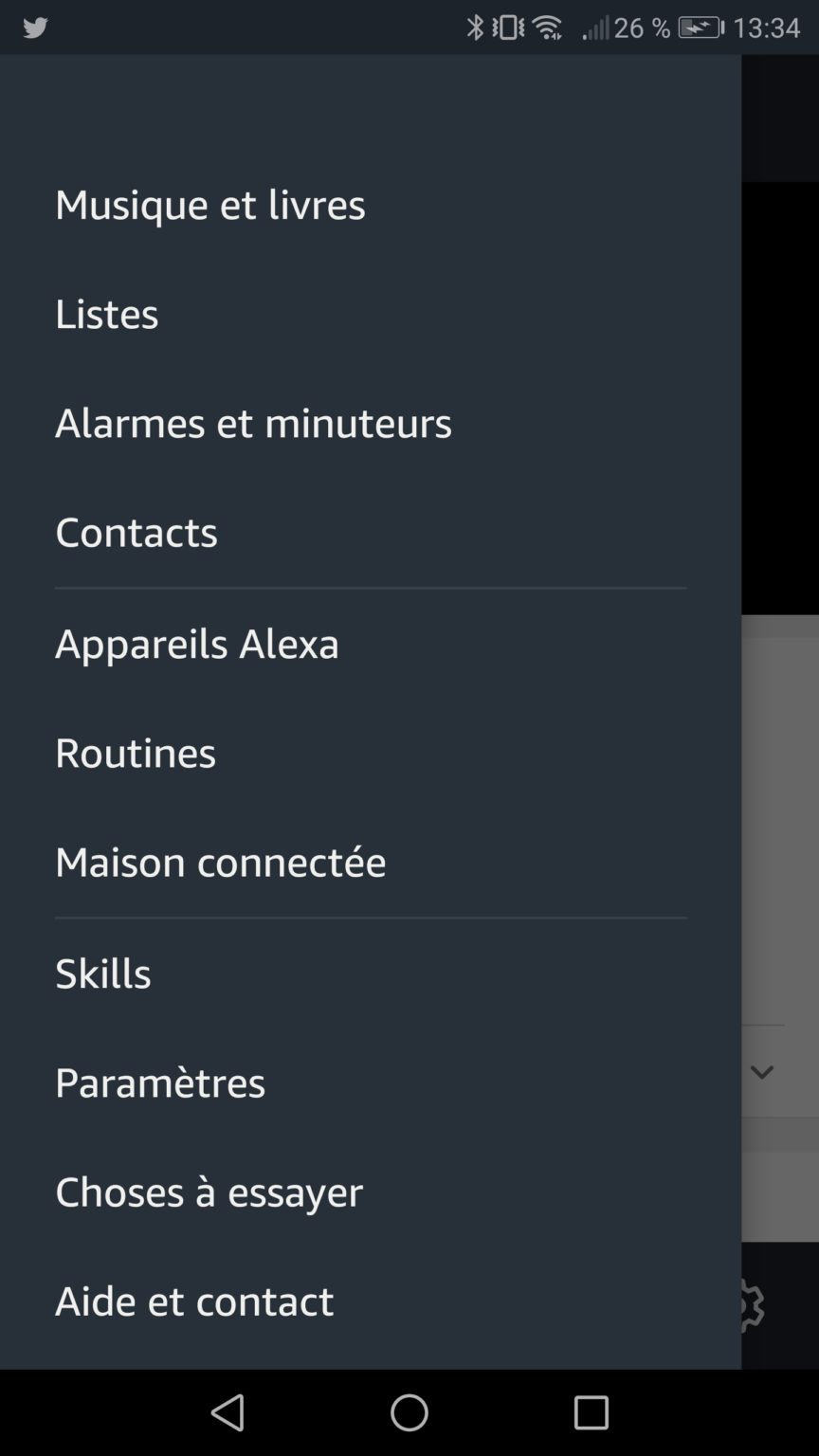 The Echo and its commissioning
Your device is delivered in a very simple sky blue box in which you will find the Echo, connectors and 3 small booklets (first steps, things to try and general conditions), in black cardboard packaging.
The first step will be to plug in your Echo. And yes, our dear assistants work on the mains, even the Dot. But you can find dedicated batteries if you really want to use them on the go. The positioning of your Echo is important: it must not be too close to a wall or other obstacle because the reverberations of the sound could lead to poor understanding on the part of the assistant (overloaded microphone). It must also be able to broadcast sound as simply as possible, without obstacles.
Once powered on, a blue ring will appear on the top of your Echo and rotate while it activates. When this is done, a pretty voice will tell you that download the app Alexa and follow what said application mentions. Right after, an orange ring will move on the top of your Echo
Configuring the Echo
We will see together the most complete configuration of the Echo, that is to say the case of a first device with activation in manual mode. You should know that if you buy other Echos and you have already configured at least one, your new device is preconfigured by Amazon in your app. You just have to connect it to Wi-Fi ...
When the moving orange halo is present, launch your application Alexa, select "Devices Alexa "And" add a device Alexa ". Then select the type of device you have purchased.
Let yourself be guided. Select your language, then click on "Connect to Wi-Fi". This therefore means that it is not possible to make a configuration while being in 4G. Then validate that the orange halo is present (select "Continue") then let the application search for your Echo. And there, in general, the automatic installation does not work. It is therefore necessary to do the manual method, the most complete, even if quite simple.
To do this, go to your phone's settings, at the wifi connections level and connect to the connection Amazon-XXX. There is no password to enter.
When the device has been prepared you will get a notification telling you that the network does not have internet access, it does not matter, have it canceled to stay on this network anyway. This is the trap of manual configuration. Do not immediately return to your Wi-Fi network. The configuration will continue and there, you will be asked to select the network to which your Echo will be permanently associated (enter your Wi-Fi key and "Connect").
Once setup is complete, there is still a little something to do. After having clicked on "Continue", you will have to choose how the sound of your Echo will be diffused: Bluetooth, Audio cable or directly by the Echo (no speaker). I invite you to select no speaker because the rest are easily configurable when you need them.
Your device is called by default YOUR NAME - Echo. To make it easier to manage in case you have several Echo, I advise you to rename it. To do this, go to "Devices Alexa ", Select your Echo and at the top you can" Modify the name ".
And now, your Echo is configured, attached to your network and it has a name of its own. And all this in just 10 minutes… You can now converse with our dear Alexa, ask him anything that crosses your mind. But that's another story…