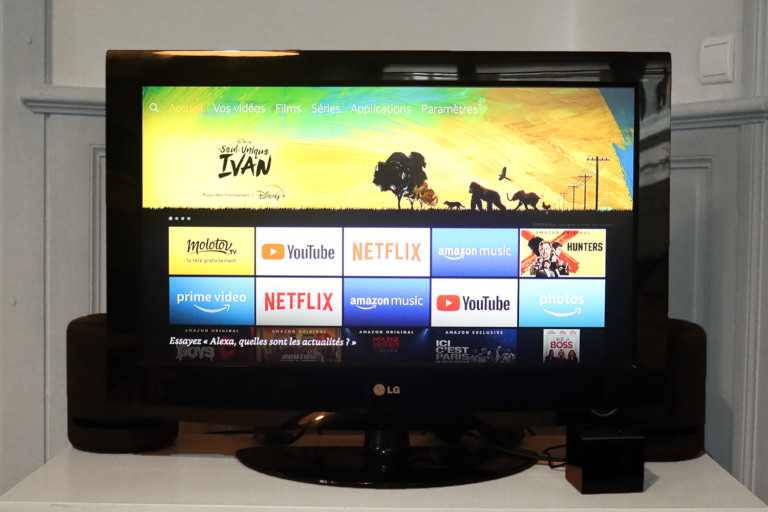 If you are reading this tutorial, you are probably the proud owner of the Fire TV Cube or one of new Fire TV Stick and, like millions of French people, you subscribe to Canal +. Unfortunately, the French TV group still hasn't bothered to provide us with an app for streaming devices.Amazon and, yet, its Android TV application works perfectly on it ... But how do you install myCanal on Fire TV? This is the question we will answer again.
Indeed, we had already explained to you how install the MyCanal app on Fire TV Stick, but some having difficulties with the proposed method, here is a new one: install Aptoide TV on Fire TV.
Fire TV prerequisites
You must, of course, have previously configured your Fire TV Cube, your Fire TV Stick Lite ou Fire TV Stick 4K… Rest assured, this tutorial works on all modelseven older ones without remote control Alexa !
We will start with download Aptoide TV on Fire TV, an alternative application store to the Google PlayStore and theAmazon Appstore, which will allow us to install applications unavailable on Fire TV and in particular that of all desires: myCanal !
Be careful, not all applications are compatible with Fire TV, and even if Aptoide TV offers them to you, there is a good chance that they will not work. For example, Orange TV and SFR Play are not functional, but the one that interests us yes!
Install Downloader
It is an application present in the Appstore ofAmazon and therefore accessible directly from the Fire TV home screen or easily associated with your device from its product sheet on Amazon. Fr clicking on "Link to My Device" for example.
From the main menu, go to Categories> Utilities> Downloader,
Install the app Downloader on your Fire TV Cube or your Fire TV Stick 4K (for example).
In stock
December 7, 2021 6 h 35 min
Install Aptoide on Fire TV
Launch Downloader,
Accept the authorization request installation of unknown applications by Downloader (otherwise you won't go any further),
Open Aptoide TV by https://tv.aptoide.com/,
Click on Download Aptoide TV (at the bottom of the page),
Validate by clicking on install.
Download myCanal on Fire TV with Aptoide
Launch Aptoide TV from Fire TV
Search for myCanal via the magnifying glass "Search" button at the top left of the screen and open the application page. There are several, take the one that suits you.
Click on Download,
Launch the application myCanal on your Fire TV Cube or Stick
It wasn't very complicated, was it? Come on, let's explore this app a bit ...
Using myCanal on Fire TV
Note that, for the realization of this tutorial, we used a 2rd Generation Fire TV Cube (the first has never been marketed in France) as well as the application MyCanal version 4.7.7 which is perfectly functional on Fire TV, as you can see below.
Update of 27/11/2020: version 4.8.1 functional, with icon, thank you mX2viL for the info (see comments below).
We used a MyCanal account to access our Canal + Séries subscription without the slightest concern for identification. The experience is excellent, the navigation smooth and the image of good quality. In fact, the interface of myCanal on Fire TV is exactly the same as on Android TV since it is the same application. We did not encounter any bugs and, best of all, we watch TVs and series with our Philips Hue hub synchronized at (we will come back to this in a future tutorial!).
"The experience is excellent, the navigation smooth and the image of good quality. " The Alexians
Devices compatible with this tutorial:
€29,99
In stock
December 7, 2021 6 h 35 min
Not available
December 7, 2021 6 h 35 min
€59,99
In stock
December 7, 2021 6 h 35 min
€119,99
In stock
December 7, 2021 6 h 35 min