After a first Jeedom installation tutorial on Raspberry Pi, we thought that it might be interesting to create step by step with you a home automation box. The Jeedom skill having evolved somewhat in recent months, we will then take a closer look at what can be done with it. Alexa.

But you might be wondering what is a home automation box for? If this is the case, we invite you to consult our file on the matter first. You will be able to determine what your needs are and if the Jeedom solution on Raspberry Pi is right for you.

This done, let's come back to our Jeedom box for Alexa. To put it simply, we got a box containing all the elements necessary for the assembly of a Raspberry Pi 3. Let's see what it contains.
ABOX: a complete and economical Raspberry Pi 3 B + box
Presentation of the box
ABOX TEK offers us an all-in-one pack containing everything you need to easily create your Jeedom home automation box with a Raspberry Pi without the hassle of looking for the necessary elements one by one. In the end, it doesn't cost more than buying the items separately. You will therefore have the peace of mind to tell yourself that all the elements are compatible with each other and that you have not forgotten anything. At Les Alexiens, we like simple things! If, however, you prefer to purchase each item separately, we invite you to reread the previous one. tutorial titled Jeedom and Amazon Alexa which details the list of necessary equipment.
Not available
August 11, 2022 10:13 a.m.
Not available
August 11, 2022 10:13 a.m.
Let's come back to our ABOX box. The packaging is clean and pleasant, the cardboard quality, which immediately gives us confidence. Everything is well organized and all the promised elements are present. Phew, we'll be able to get started with peace of mind.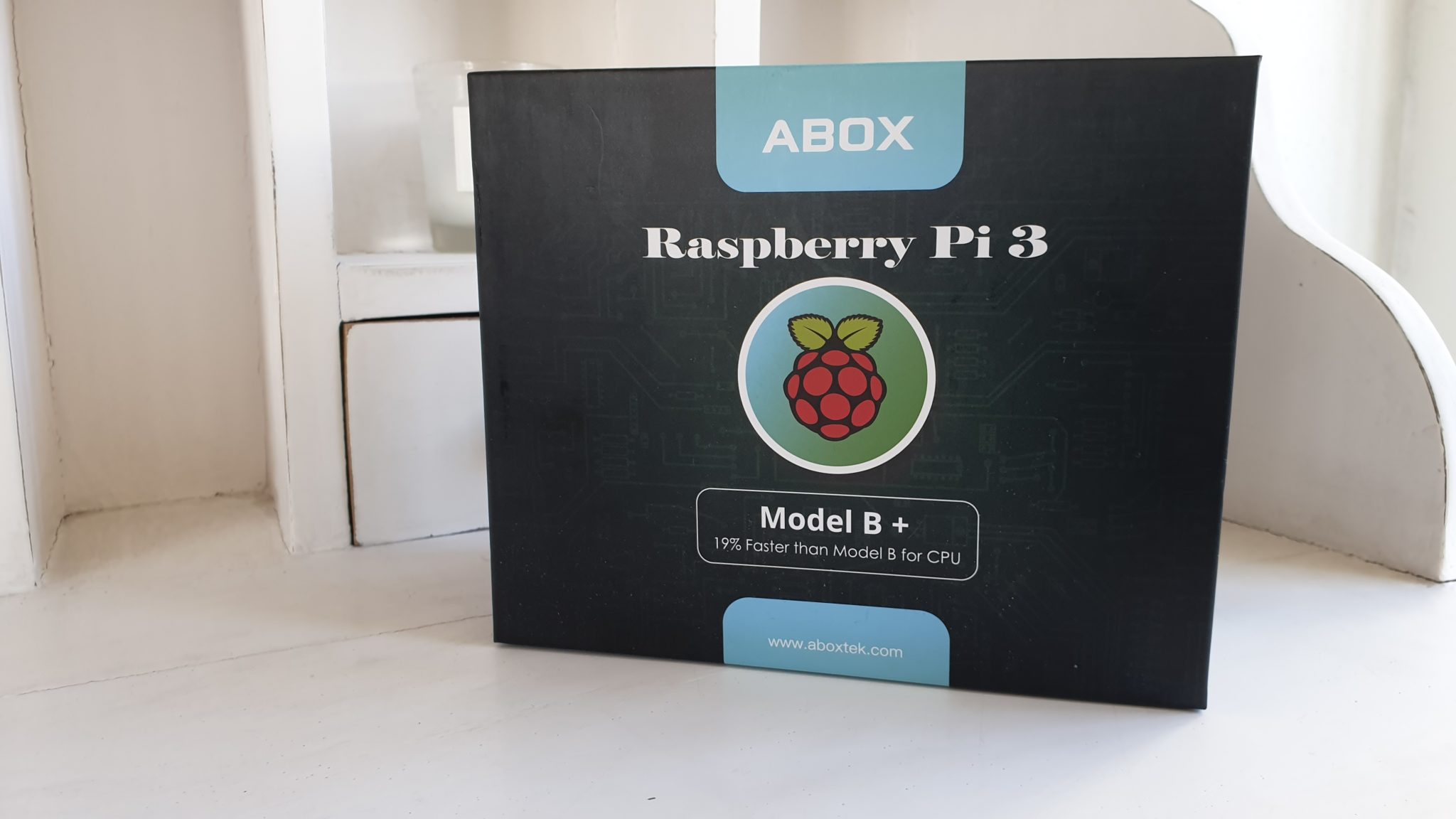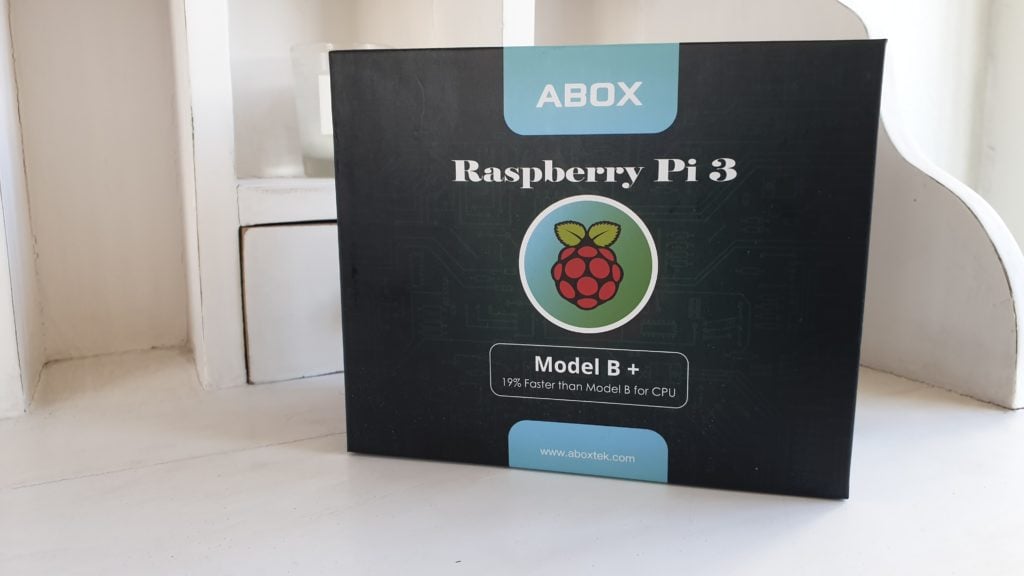 You will therefore find in this box:
a Raspberry Pi 3 B motherboard+:

Quad-Core 1.4 GHz 64 Bits processor with 1 GB LPDDR2 SDRAM,
Dual Band 2.4 GHz and 5GHz IEEE 802.11 Wi-Fi. b / g / n / AC Wireless LAN,
Bluetooth 4.2 BLE,
ESB 2.0 (300Mbps) Power-over-Ethernet (PoE).

2 heat sinks : one in copper and the other in gold plated,
a 5V / 3A power supply specially designed for our Raspberry Pi 3 B + with a switch and powerful enough to use a hard drive if desired,
un specially designed black case to accommodate the motherboard offering easy access to all the openings and having a ventilated and removable cover to access the GPI0 ports,
un HDMI cable good quality 1 meter CEC compatible,
A SanDisk 32 GB Class 10 micro-SD card with NOOBS preloaded, which allows you to start directly with Raspbian,
un micro-SD card reader to USB to load the operating system simply from your PC or Mac,
un Quick Start Guide which will prove unnecessary here, since we will hold your hand throughout this installation, but which could very well have been useful in other situations.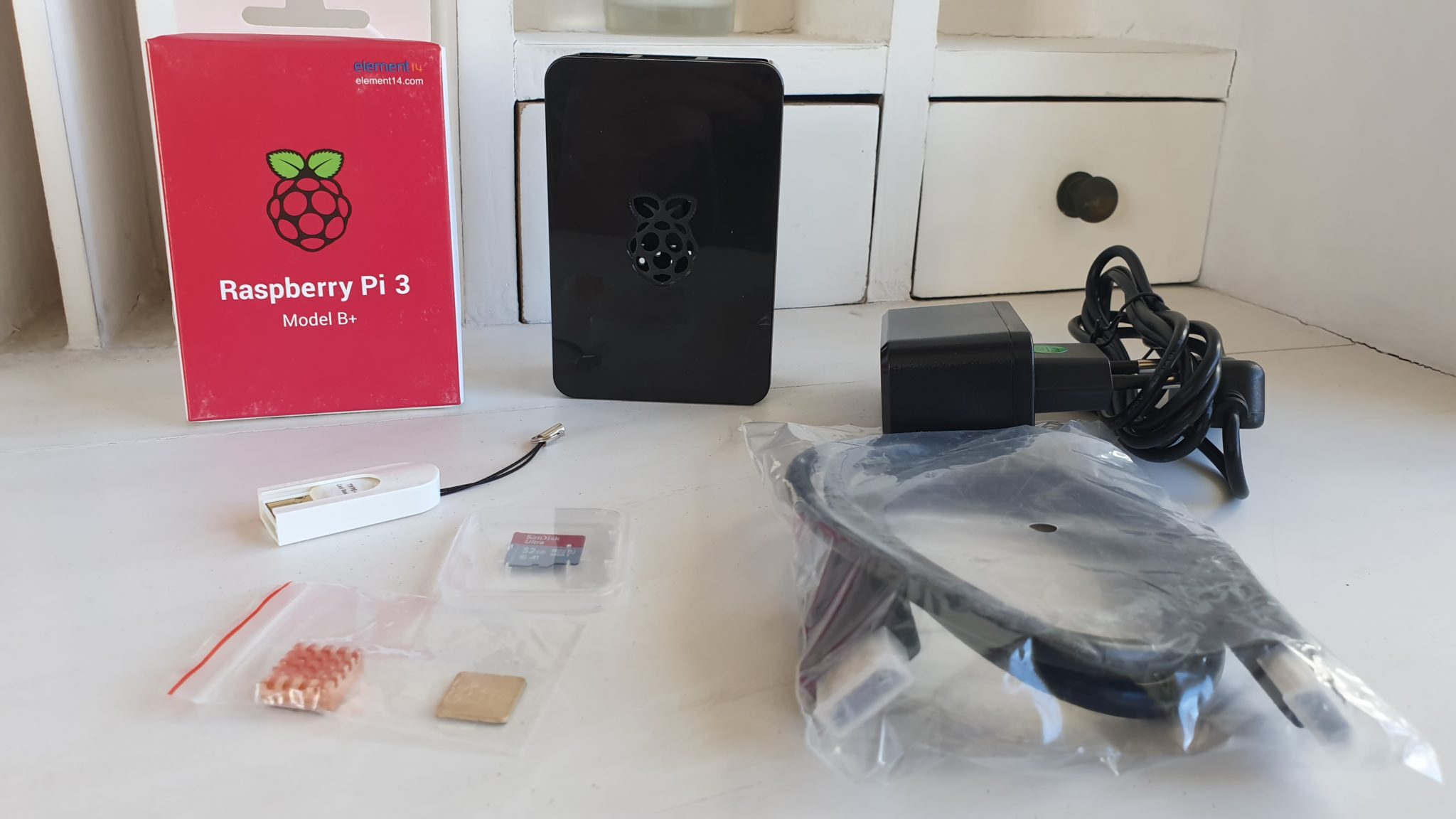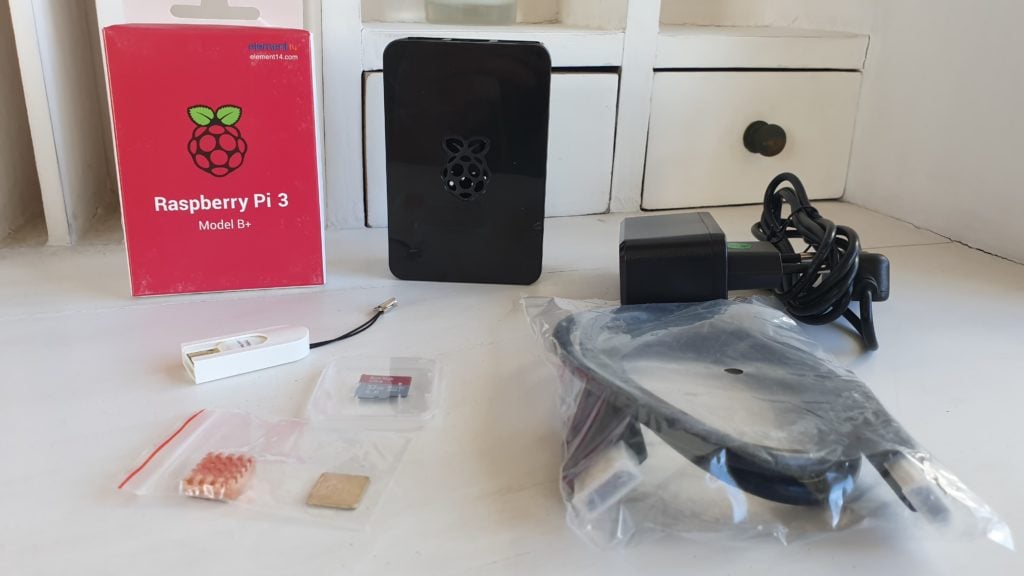 Mounting the Raspberry Pi 3 B +
The assembly is extremely simple. All you need to do is glue the heatsinks on the CPU on either side of the motherboard, then place the latter in its case, making sure to seat it correctly in the lower part. Everything is planned so that you do not make a mistake and there is no need to force. If it doesn't fit, you've just got the wrong direction!

Fortunately, ABOX has planned everything and has concocted a little editing video for us. Just follow the assembly instructions, the software part will be a little different for us and we will detail it below.
ABOX Raspberry Pi 3 B + is a complete kit to easily create a Jeedom box with Alexa
Installing Raspbian on Raspberry Pi 3 B +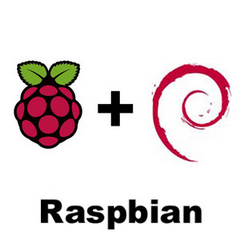 Although our 32 GB micro-SD card already contains Raspbian, the free operating system based on Debian and optimized to run on a Raspberry Pi, we recommend that you format it and install it yourself. Stretch Lite version. Lighter because without a graphical interface, this Linux distribution will be ideal for using our Raspberry Pi as Jeedom server and then connect to it Alexa. Don't worry, we'll take you step by step as promised.
The simplicity is that we install our operating system on the micro-SD card provided. This is the option we will choose here. However, you can use a USB 2.0 key (no need to take a 3.0, the Raspberry Pi 3 B + does not have one), a hard drive, or even better a small SSD. We will come back to this question in a future tutorial. Indeed, a micro-SD card is not really designed to support an operating system and it may be worth opting for a more reliable storage solution. But, rest assured, our Jeedom box will work perfectly well and you will consider the question once you have become addicted to your new home automation solution.

In the meantime, it is high time to move on and format your storage to install the most suitable distribution.
Download Raspbian

Now we need Raspbian. If you still haven't downloaded it, it's this way. Choose the Raspian Stretch Lite version, you will not need a graphical interface and your Raspberry Pi will thank you for it. However, if you plan to do something else with your Raspberry Pi 3B +, you can opt for a version of Raspbian with the graphical interface ... It will demand a little more your Raspberry, which logically will heat up a little more, but it should not especially be of concern if you are not using a screen directly on it. Otherwise, additional cooling may be required.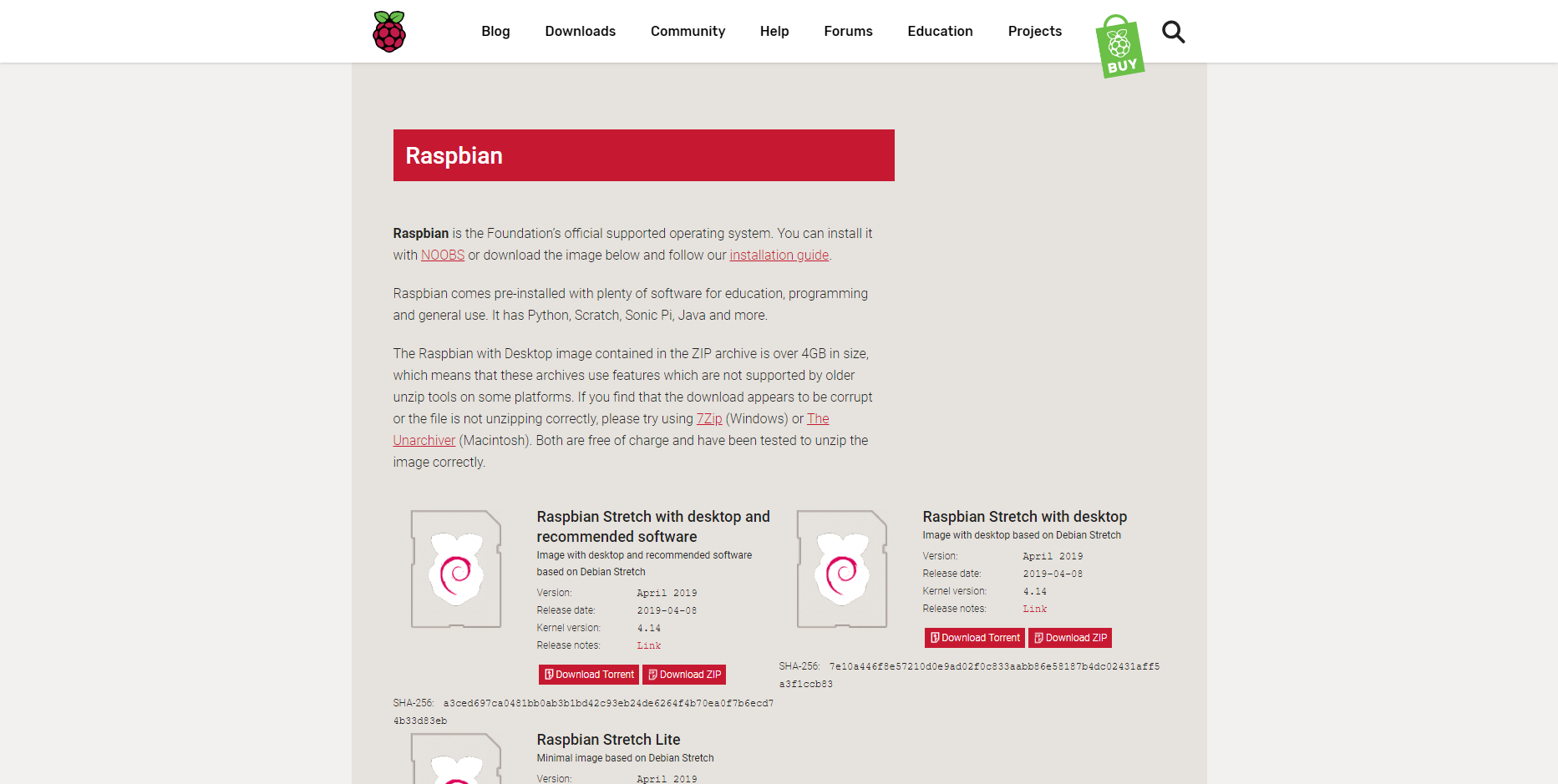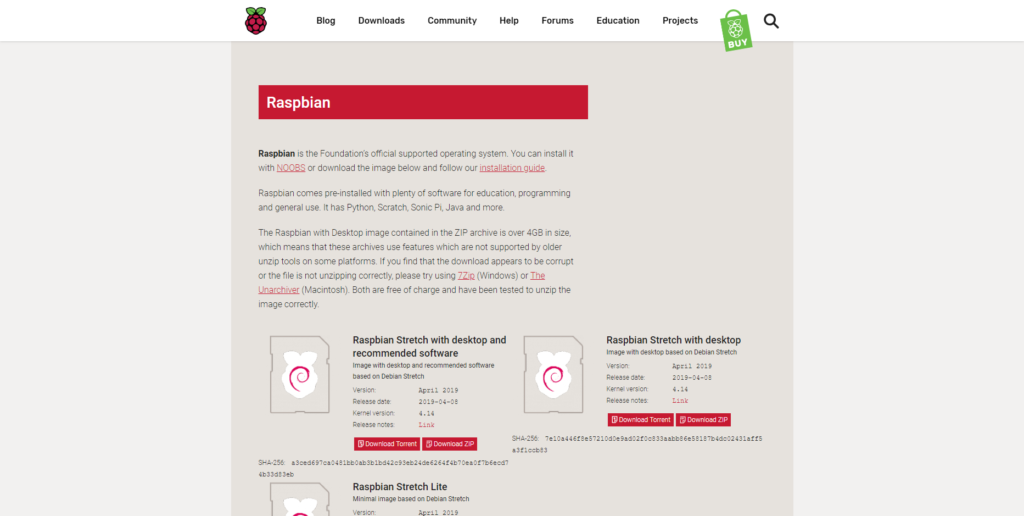 Format your memory storage
But, how do I format? With Windows? Uh, yes, why not. But no, use the software instead Whale Etcher. It is also free, will do the job perfectly, and may well be of use to us again later. If you are on Mac or Linux, Google is your friend.
You can also use Win32 Disk Imager (to copy to the SD card) as we explained in our previous tutorial. Https://www.lesalexiens.fr/tutoriels/tutoriel-jeedom-et-alexa/
This done, open Etcher et select the image of Raspbian Stretch Lite that you have just downloaded in ... Select Image. Then select the micro-SD storage medium which should logically be called Generic Mass-Storage USB Device or something like that… And, finally, click on Flash! Surprising, isn't it?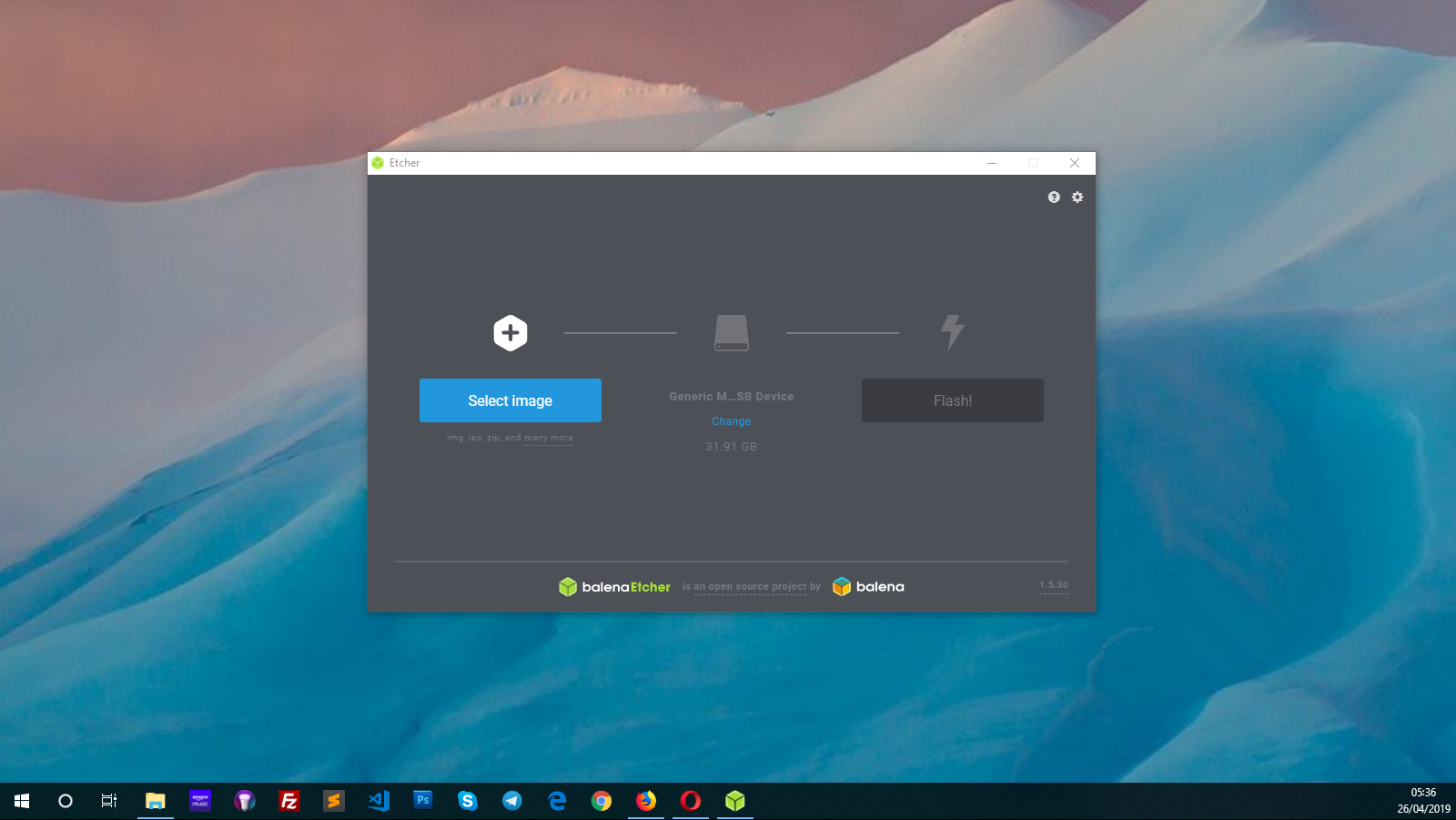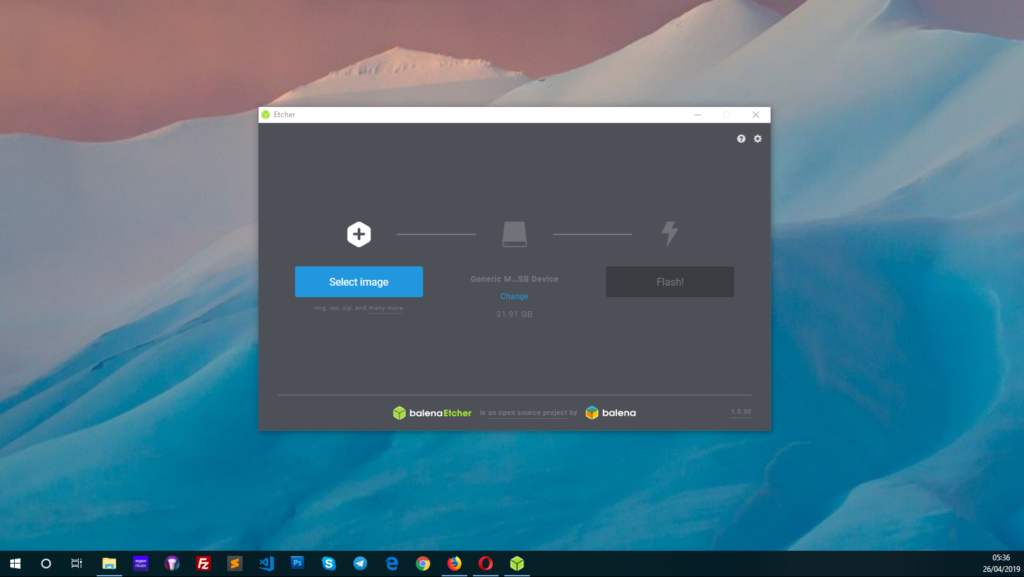 About two minutes later, or more depending on your equipment, you will end up with formatted media and our famous Raspbian copied. It is magic!

Damn then? Windows asks you to format drive G: (or other)! Have no fear, this is normal, this is a Linux partition not readable by Windows. So ignore Microsoft's instructions.

Let's take a walk on E: just for your viewing pleasure. Oh no, not that in fact ...
Create an SSH file
Well, that's all well and good, but our Linux system is secure and we will have to create a small SSH file to be able to use it later. Didn't you understand anything? No problem, follow the guide.

Open the score boat, and create a file ssh.txt. Please don't do this in Word, use a generic text editor like Windows Notepad, or Sublime Text for example (better, eh?). In fact, the easiest way is still to right click and select New in the contextual menu, then Text document, and to give it the sweet name of ssh (without the .txt extension, Windows will put it for you).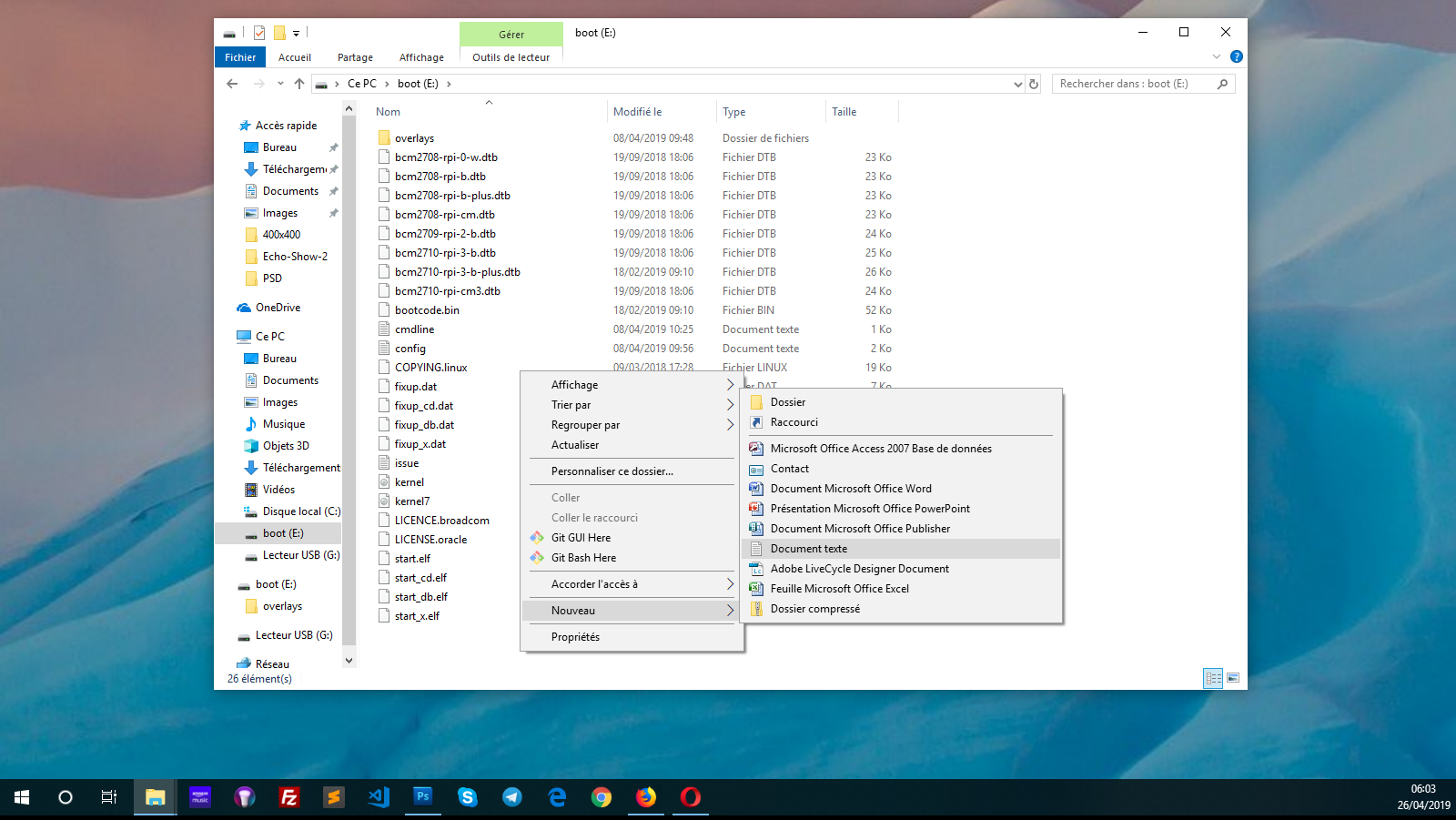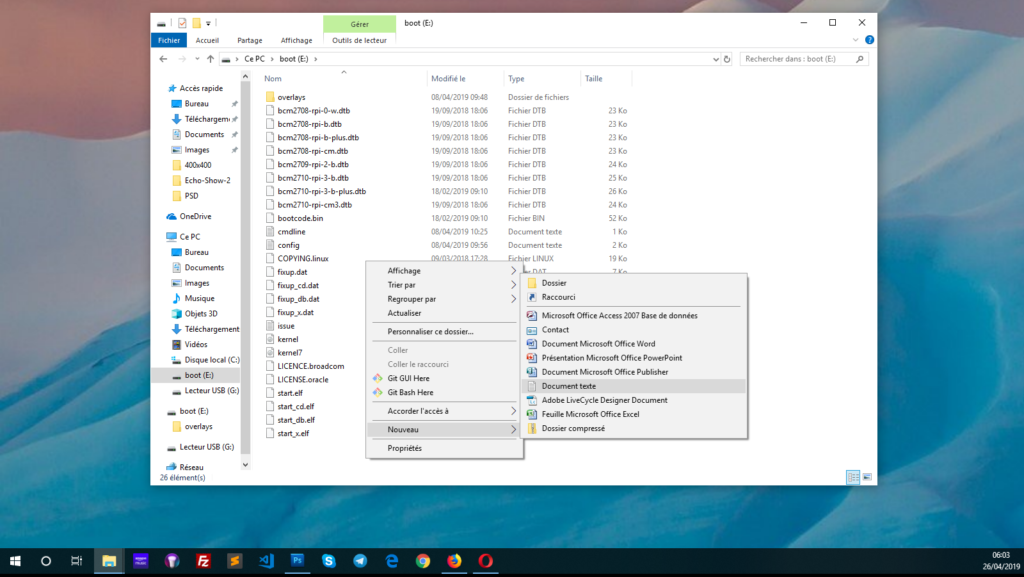 That's it, I can hear you already: what does SSH mean? Forget it, you will not understand… No, it is for fun of course. The goal of a tutorial is still to explain a minimum of things ... To put it simply, it is both a computer program and a secure communication protocol. And we're going to need it!

What's the point? Well, basically it'll let you connect remotely (under Windows or Mac for example, but also Linux) on your Raspberry thanks to an SSH server without having to reuse your key. The latter will be useful for updating the OS, copying files, making backups, etc. We will also use it to enter our commands in the rest of this tutorial.
It's time to launch our beloved Raspberry Pi 3 B +! Remove the key from your computer and insert the micro-SD card in the dedicated location of your Raspberry. Connect the power supply to the mains, it can be used, your keyboard and your mouse if necessary, and the supplied HDMI cable if you like.

Beh yes, we created an SSH to avoid this, then we are going to use it and avoid all these steps by connecting directly to the beast from our computer via this protocol. Convenient, isn't it?

Yes, I assure you, it is the most practical because you will be able to copy / paste the commands below. Why deprive yourself of it?


Are you seated well? Here we go!
Connect your Raspberry Pi to your box or router in Ethernet (RJ45). Locate the IP addressed to your Raspberry Pi by your DHCP. To retrieve the IP address, several solutions:
Consult the DHCP configuration in your router (the access address is of the type 192.168.1.1).
Use an "Angry IP Scanner" type port scanner here.
Connect to the Raspberry Pi using SSH
To connect in SSH from your usual computer, you can download and install PuTTY to easily establish the connection. You will find it here.
Enter the IP address of your Raspberry Pi (here 192.168.1.25).
Click on Open and accept the default security message.
Connect with the root credentials.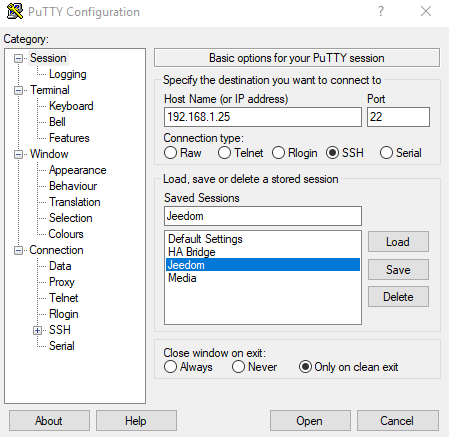 Connect in SSH with PuTTY
Damn, you don't have the credentials? Don't worry, they're set by default. Here it is not about the famous couple admin/password, but of pi (username) and r (the password). Isn't that cute?
Please note: for safety reasons, it is imperative to change the default password. Cases of hacking based on the use of the default login / password pair of the Raspberry are particularly widespread (to do this, log in with the "pi" account, then sudo raspi-config and change_pass).
Come on, it's time for some updates.
Raspbian update
Although in theory we downloaded the latest distribution of Raspbian, it is good to check for updates.
// Vérifier les mises à jour

sudo apt-get update

// Télécharger et installer les ressources

sudo apt-get upgrade
We are now ready to install our famous Jeedom to manage our home automation and control it by voice with Amazon Alexa.
Installation of Jeedom on Rapsberry Pi 3 B +
Our Raspberry Pi 3 B + being ready to welcome Jeedom, all we have to do is install Jeedom.
Launch the Jeedom installation script
No need to be smart in front of your friends, the script will do everything by itself… It's cool, isn't it?

Type, or copy and paste the following line:
wget -O- https://raw.githubusercontent.com/jeedom/core/master/install/install.sh | sudo bash
Please be patient, the installation may take a little time depending on your connection ...
That's it, the installation of Jeedom on your Raspberry is finally complete. All you have to do is open your favorite browser on your favorite computer to access the graphical interface.
Type the local IP address of your Raspberry in the address bar of your web browser:
http://192.168.1.25 (à remplacer par votre IP bien entendu)

And you should come across this screen: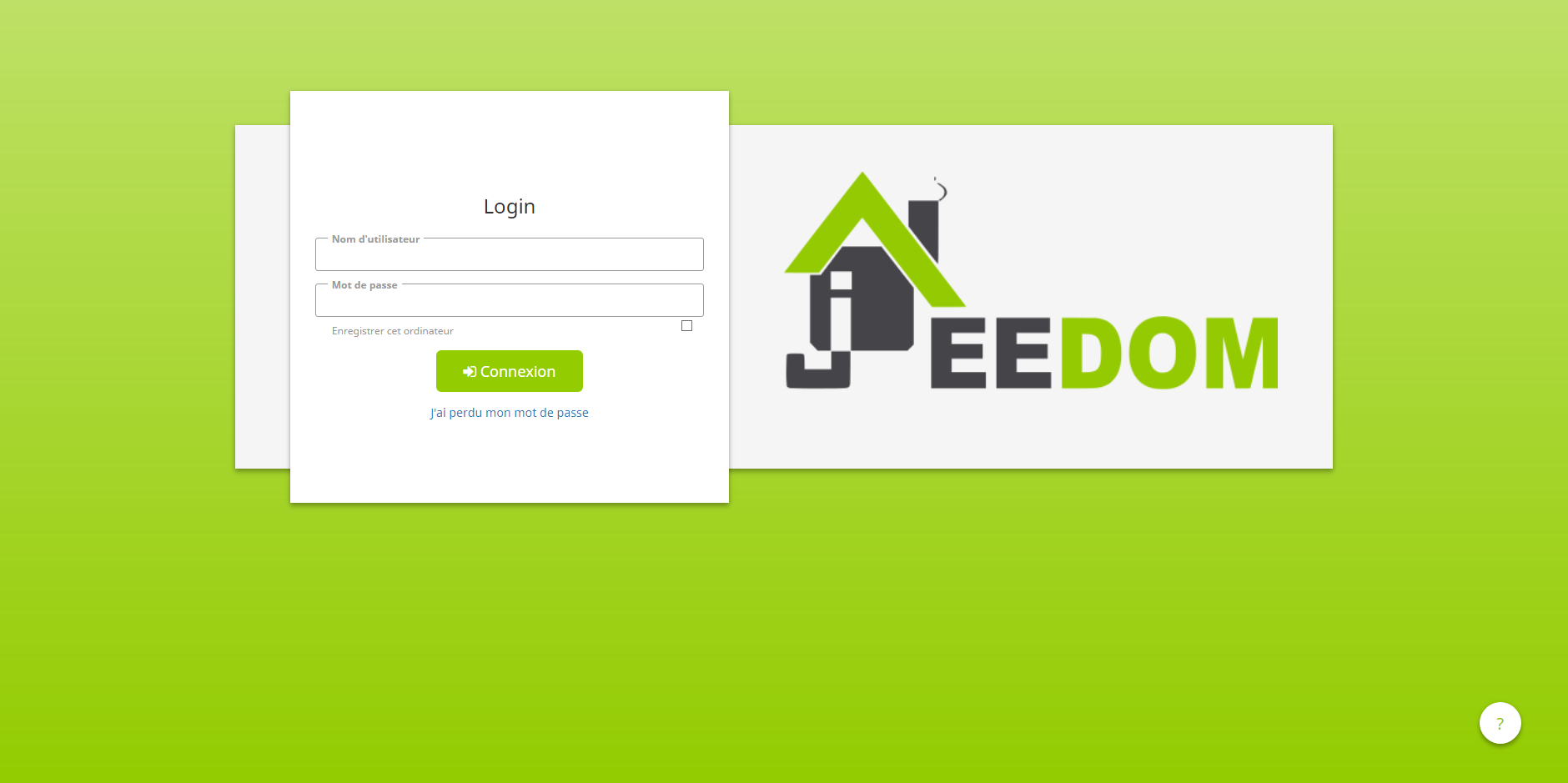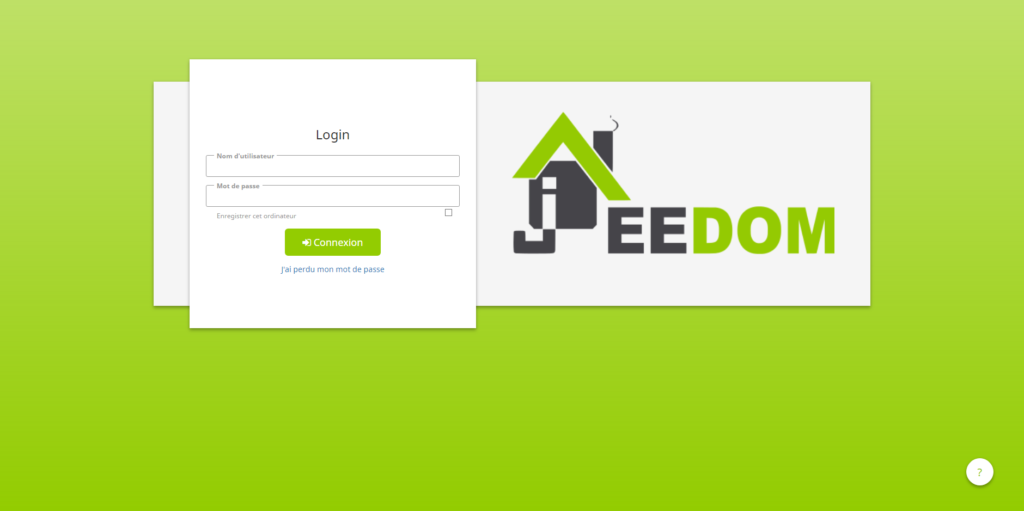 You can now connect to your brand new Jeedom which, as we will see in the next part of this tutorial, will allow you to centralize a number of home automation equipment, but also to take advantage of it with Alexa.