The Wi-Fi switches meet with great success at Les Alexiens. Normal, you will tell me, they allow you to connect existing lighting, but above all to keep an almost "classic" installation with the possibility of using the "old-fashioned" switch. Useful when the whole family is not hyper connected and a fan of home automation.
After several conclusive tests of Zemi productssmart, such as their RGBW LED strip, DW Sensor opening sensor, Zigbee switch LXZB-02A, the mechanical switch but connected KS-611 ou their roller shutter switch which is very popular with our members, the Chinese brand has done us the honor of sending us a superb gift: a switch in our colors with our logo engraved as an indicator light!
A nice attention from them which deserves that we look in more detail on theZemi switchsmart WF-WS 01 that you can find on the Zemi storesmart.com in particular, with a more classic engraving of course.
Earthsmart WF-WS01 "The Alexians": Class in Dallas!
Unpacking and presentation
Contrary to KS-611 from our previous test, Earthsmart WF-WS01 is delivered in a neutral packaging to say the least since it is a cardboard-colored box with a simple label ... basics may well contain a quality product. In the end, it is the consumer who is often a winner in the story, since he does not have to pay for product marketing which quickly increases the bill, even though he will end up in the dumpster within hours. or following days ...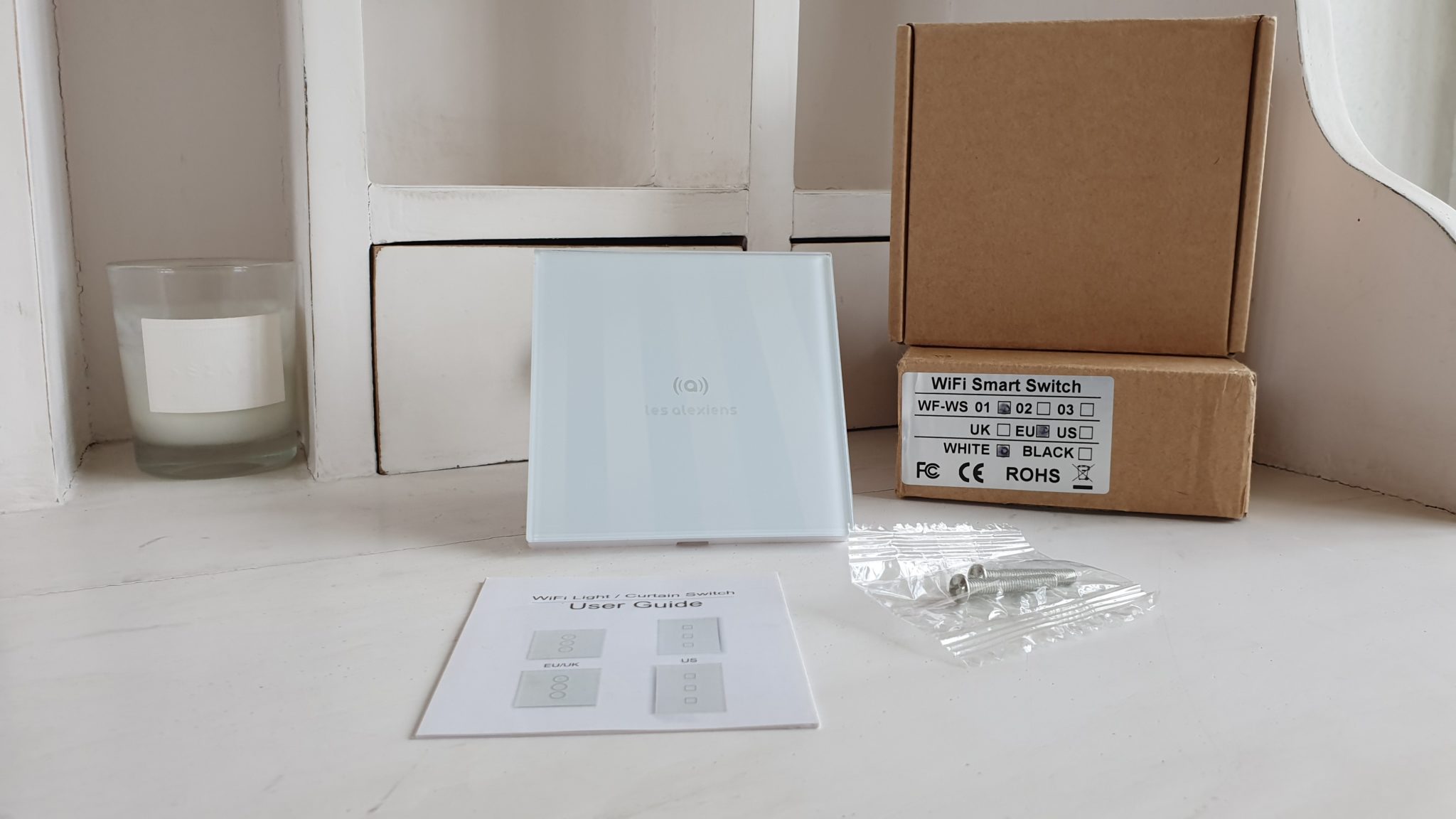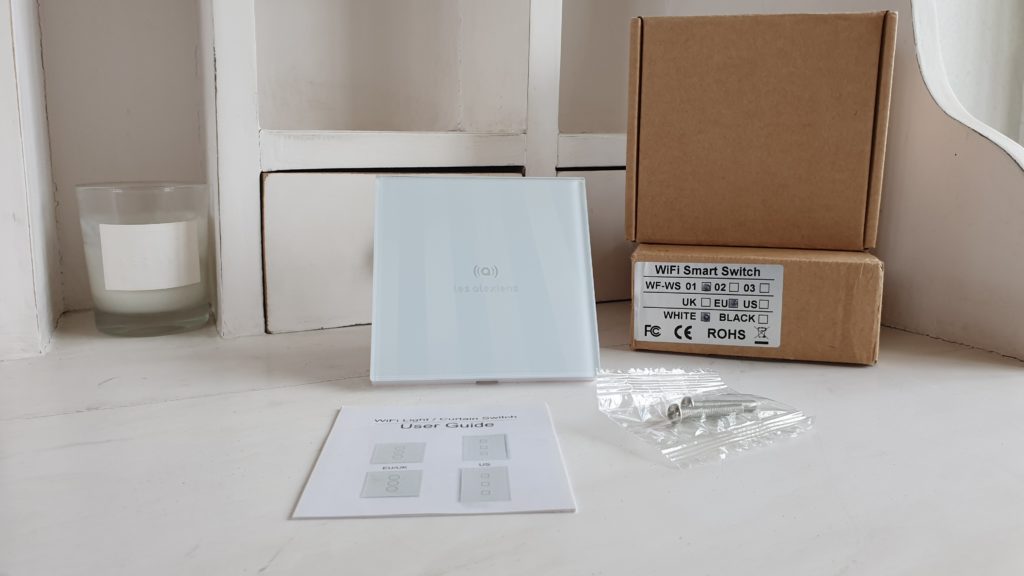 And opening this little box only corroborates our statements: the Zemi switchsmart is really pleasant. Once removed its protective plastic, we discover a square-shaped object with the standard dimensions of 86 mm x 86 mm x 37 mm which correspond in every way to the Legrand switch that we wish to replace in order to automate the lighting of our wall lights. What confirms the label where the box is checked EU for Europe. In addition, know that if our switch is White color, it exists in black finish… Finally, you will notice that it is delivered with a small user guide and a set of two screws, it is appreciable.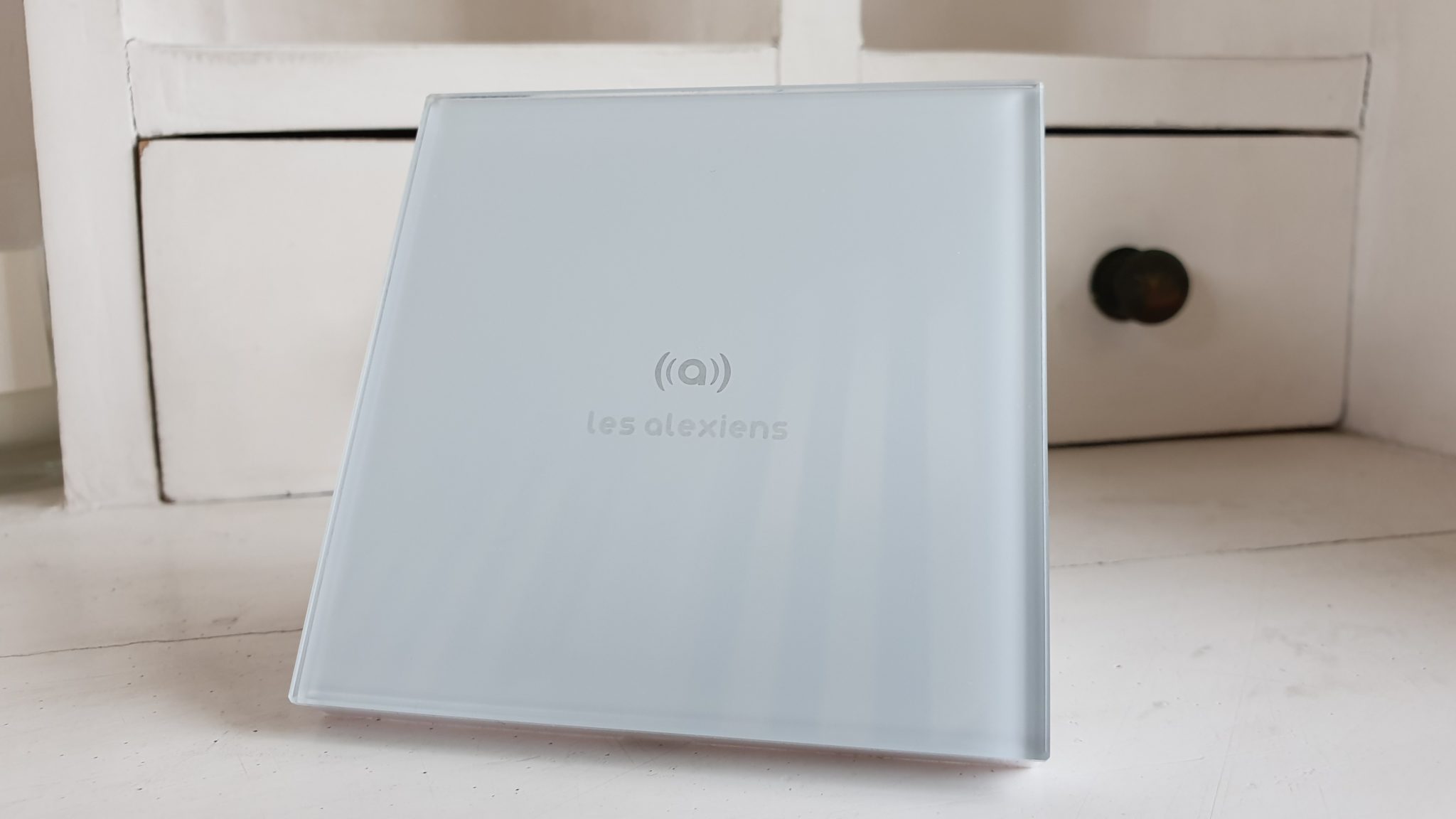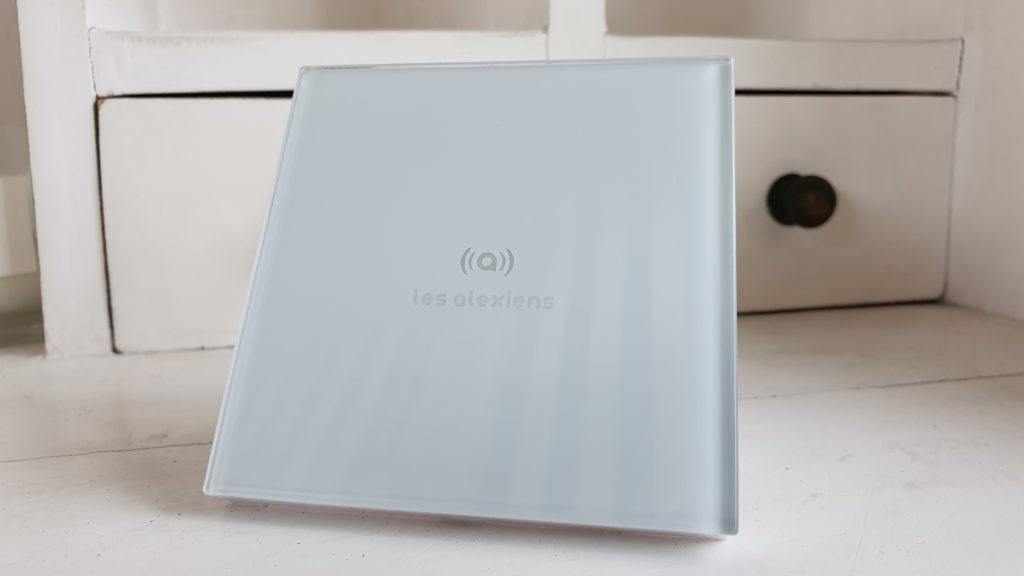 Speaking of finish, precisely, our switch is made of white flame retardant ABS plastic on the backMore its front is in tempered glass with a thickness of 4 mm with a pressure zone beautifully decorated with the Alexiens logo. A look of the most beautiful effect ... A logo of great beauty! Obviously, there is little chance that you will find the same model as ours, it should rather look like the photo below. Bad luck, eh? What do you want, such a beautiful switch, you deserve it!
More seriously, the finishes are very beautiful et the very fine switch, it will probably even be more discreet than your original switches. Its capacitive glass surface gives it a very modern look that will blend in perfectly with contemporary interiors.
In the case of a Wi-Fi switch, you will need a neutral wire to feed it, as evidenced by its transplanting block. Block that classically presents three N / L / L2 slots. We are on familiar ground! Its compactness means that it adapts without any problem to flush-mounting boxes on the French market.
Six holes allow it to be screwed without any problem on any type of box and in any direction depending on the fixing system.
The overall design is good. The terminal blocks are well separated and the wires cannot touch each other under any circumstances, which will avoid you any inconvenience as we have known on theLoraTap switch that makes sparks. So let's move on to its installation to confirm, or not, these first impressions.
Technical specifications
At the level of technical characteristics, again no surprise: this connected switch works on 240V in 50/60 Hz and presents a load limit of 400 W, largely sufficient in the vast majority of cases. Zemismart informs us that it can be operated more than 100 000 times, as much to say that it leaves a good margin! Her standby consumption is advertised as less than 1 mAh, as much to say not much. Wi-Fi is classically in 2.4 GHz only, IEEE802.11b / g / n. In principle, it is therefore suitable for most installations.
Brand:
COUNTRYSMART
Supply :
AC 110V / 240V (50/60Hz)
Amperage:
10A max.
Max power :
400W
Standby consumption:
0.1 mAh
Wi-Fi:
2.4 GHz
Material :
Flame retardant ABS
Lifetime :
100 uses
Earthsmart WF-WS01: the switch Smart Life Inside
Installation and use of the switch
Install the switch Earthsmart WF-WS01 shouldn't be a problem for you. To do this, it suffices to use a flat-head screwdriver, to remove the existing one, identify the existing wiring and to properly tighten the threads phase (L and L1) et neutral (N). An operation not presenting any difficulty if you really have a neutral at the level of your switch.
Then, all you have to do is fix the switch to the box using the screws provided by Earthsmart or those of your previous switch. Be careful not to do like us and damage your paint, that would be a shame!
As you can see, the switch is perfectly suited to our French / European installations. The result is attractive and the Zemi switchsmart blends in perfectly with our white wall ...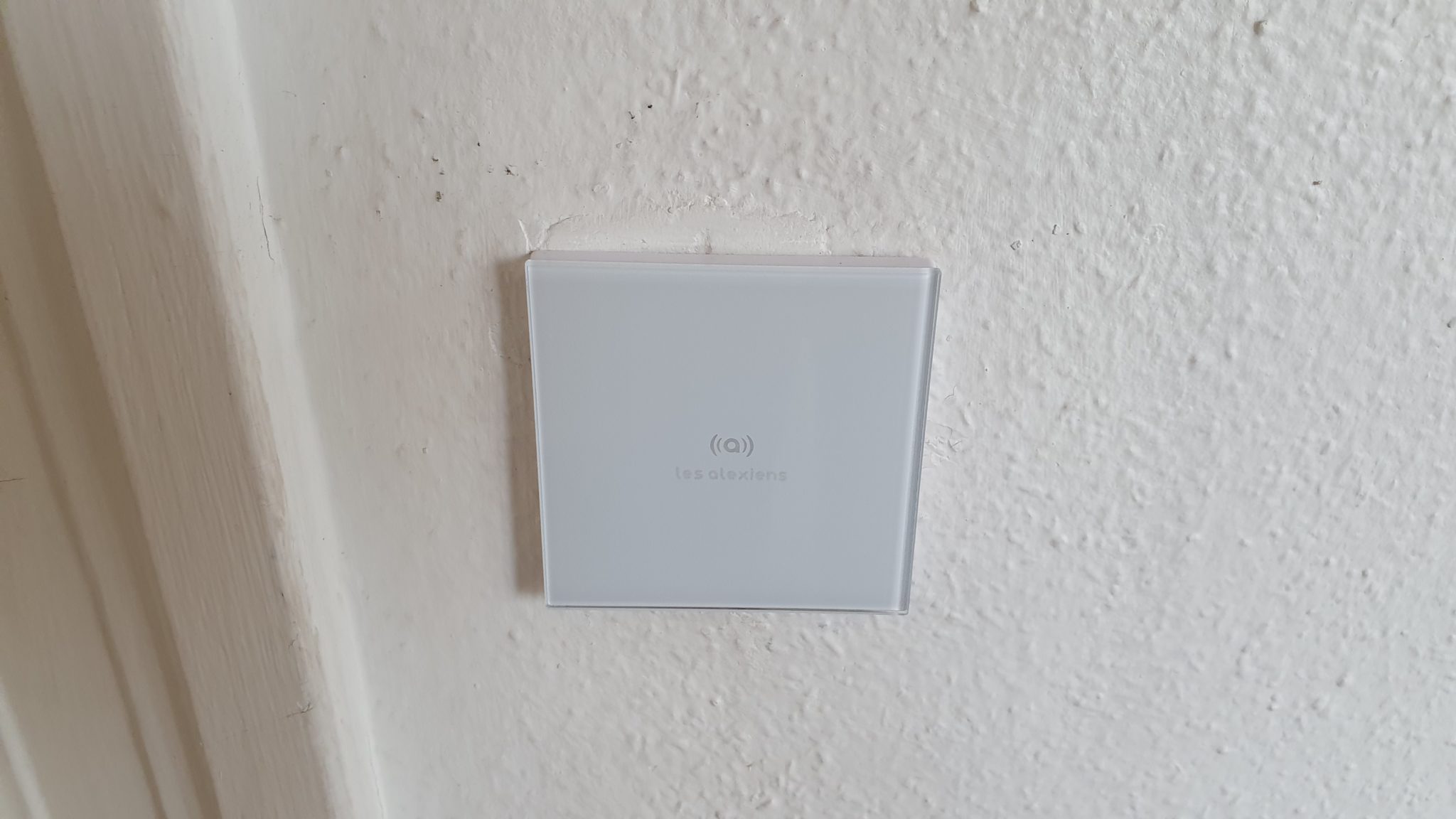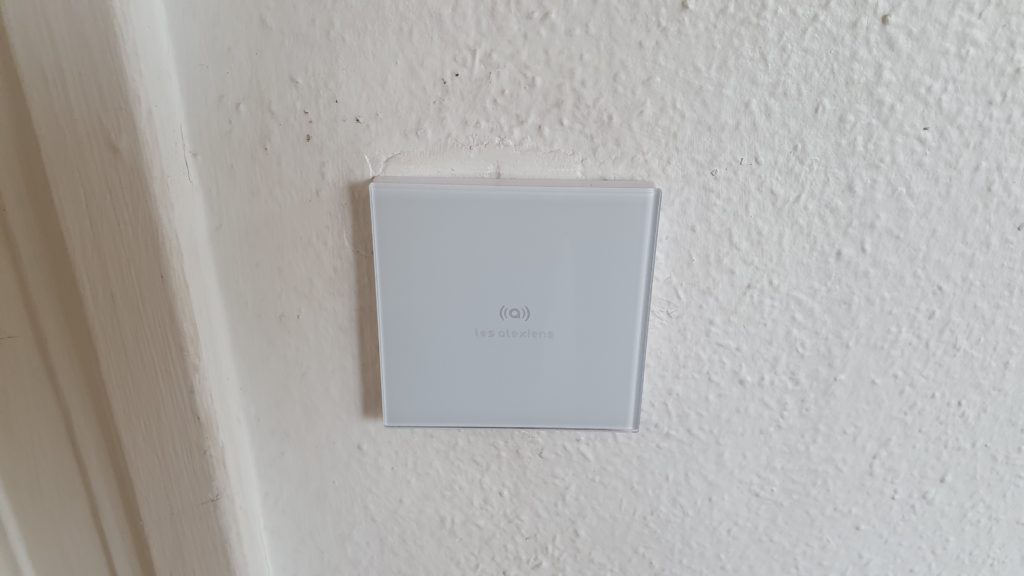 Note that several LED colors are used depending on the status of the switch. Dark blue in standby, lighter blue when activated, green when the switch toggles from off to on, and red when there is a problem, you can imagine ...
For the software installation, the procedure is relatively simple and in all points identical to the one we detailed in our full tutorial to use Smart Life. This application, which we like to call the "Swiss Army knife of connected objects" is also the pledge to achieve our ends, and above all, a perfect compatibility with our favorite voice assistant: Alexa !
Installation is quick and doesn't suffer from any difficulty, provided as always, that the device on which you are using the application Smart Life (or Tuya Smart) or of course on 2.4 GHz. At the end of the installation, it is very likely that the switch performs an update of its firmware as with us.
Level of use, we are here again in known lands. The principle of a switch is simple and its functions just as simple: on and off, but also timer. This programming allows you, for example, to create a semblance of presence by turning on the device remotely and during your absence: practical to dissuade any unwanted visitors!
Moreover, theapplication Smart Life allows you to create various scenes that will go back to Alexa and that you can thus activate by voice or insert into your routines.
Our opinion on the Zemi connected switchsmart
With a very current design and quality design, this
Zemi switchsmart WF-WS01
is an economical solution for connecting existing lighting via Wi-Fi. It allows you to benefit both from manual control by activating the switch, from voice to your favorite assistant, but also remotely via the application.
Smart Life
. This application is also a guarantee of reliability, and its publisher Tuya being today the first cloud solution of connected objects in the world, you are assured of the long-term maintenance of its application and therefore of always being able to use your switch in a few years. Its announced longevity of
over 100 trips
in fact, in fact, a sustainable and economical solution for a
reasonable price of around 16 € on the Zemi sitesmart
. Finally, note that this switch is also available in a 2 or 3-way version, sold respectively at the prices of € 19 and € 21.
Earthsmart WF-WS01
About 16 €