Being able to track the temperature and humidity in a room can have benefits such as turning on an air conditioning or air dehumidifier at the best time. This is why many are taking the plunge with connected sensors. But it is not easy to find good and versatile ones. We searched for you and here is our latest selection: the Zemi temperature and humidity sensorsmart.
This sensor also has the advantage of operating not in Wi-Fi but in ZigBee. Please note, to use it, you need a ZigBee Hub using the version 3.0 protocol.
Earthsmart : a readable and versatile ZigBee temperature and humidity sensor
If you are used to Earthsmart, you know appearances are deceptive. Their packaging is not terrible at all. This one could leave with a palm. Besides, no photo ... Despite everything, we find its characteristics. There is nothing else. Apart from the sensor of course ...
Our sensor comes with a double sided 3M and plastic stand. The latter will also be used to open the back of the module to insert 2 AAA batteries, not supplied. It is still quite successful even if the round shape remains a little basic. ABS type plastic is good quality, light and strong. The polycarbonate liquid crystal display is really readable and well contrasted. More than that of the SwitchBot. These two plastics (ABS and PC) are fireproof treated. At least, no risk if it's hot in your house.
Le connected thermometer / hygrometer to a 6 cm diameter and 2,3 cm thick. It has the advantage, with its support, of being able to be placed upright on a flat surface such as a sideboard or a shelf and not simply fixed or glued to a wall.
The installation of the module will be done via Smart Life. But beware, as he is ZigBee, you necessarily need a ZigBee gateway connected in RJ45 or by Wifi. To install a bridge, watch this test of the Hub Tuya Smart Life of Zemismart for the procedure to follow. Indeed, this module cannot be directly supported by a device. Amazon Echo with a bridge.
You will find the various probes on the underside of the sensor, hidden behind openings. On the top, there is a button that will serve as a reset and pairing button.
In the end, there is really not much to say about this qualitative, readable module with a sober but versatile design.
Technical characteristics of the ZigBee temperature and humidity sensor
The shape of such a sensor is really a personal choice. What must be taken into account is its precision above all. So let's take a look at what's under the hood:
Measured temperature range: -10 to 55 ° C. For the interior, it goes cream.
Accuracy in ° C: 0,3
Measured hygrometry range: 0 to 99,9% RH
Accuracy in% RH: 3. This deviation is quite high compared to other products which are more towards 2% RH.
Connection type: ZigBee 3.0
Supply : 3V via 2 AAA batteries not included.
In principle, the technical characteristics are in the market average even if a little high for the RH.
Use via Smart Life and a ZigBee Tuya hub / Smart Life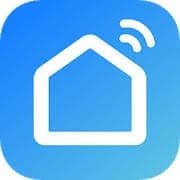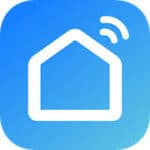 You will need a ZigBee bridge to proceed with the installation. We used the Zemi wireless ZigBee hubsmart, which you will find here how to get started.
But even if nothing really explains how to install it in the packaging, don't worry, it is very simple.
Enter your gateway, then press "Add a sub-device"then "Temperature and humidity sensor". Then press the top button for 5-10 seconds until network symbol (like GMS) flashes rapidly. In 5 seconds he is found. Easy no? On the home page of the sensor, you have the temperature and RH in real time.
Let's be clear from the start, he will not go back under Alexa. Indeed, apart from the Philips Hue or Aqara temperature and humidity sensor, ZigBee devices such as sensors passing through a Hub Smart Life does not go back in the app Alexa. This is a gap in the Smart Life and not of the product orAlexa. However, let's bet that this will change in some time. Regarding Google Assistant, it's the exact same thing, unfortunately.
There is also another problem with this sensor, it is possible to raise alarms however… they are impossible to set because the data is empty. It is a real shame.
But you can still use it via scenarios under Smart Life. Because even if the direct alert system does not work, it is possible to base the scenarios above if the temperature or RH is lower, equal to or higher than a target value. So all is not lost.
The module will also allow you to follow the evolution of the temperature and the RH day (hour by hour), month and year. Very practical but not revolutionary because all of them do.
In use, it turns out that the temperature is quite precise and not necessarily at odds with other sensors. On the other hand, concerning the reading of relative humidity, it is a little more delicate. Indeed, 5 devices in the same room (including three side by side) never gave the same results. It seems that the Zemi sensorsmart tends to slightly underestimate humidity to the extent of 3 points of tolerated deviation. But over time, we have found that the latter still tends to be closer to reality than the others. However, a calibration system, as on the Netatmo weather stations (upgraded after this test by the way) would be welcome.
You can also see at a glance whether the sensor is receiving the network and its battery status. But be aware that at more than 15 m, the transfer of information becomes a little limited, especially if there are walls.
Take a look at our Zemi sensor testsmart on video to see more clearly:
In conclusion, this sensor is a product that is of very good quality, well finished and goes everywhere. The temperature readings are precise, a little less for the RH even if it remains within the range of the tolerances of the material. However, he suffers from a unsuccessful application presenting a bug on the reporting of alerts and a calibration system would have been a plus. Also note that it cannot go up under Alexa or Google Assistant and therefore cannot give rise to routines, but this problem comes from Smart Life and not the product or the voice assistants. Hope this changes.
ZigBee temperature and humidity sensor
€20.00