Among the brands related to the connected home that you can buy with your eyes closed, Yeelight is one of them. We have therefore chosen to present to you today theXiaomi Yeelight YLDP03YL smart bulb, 9 W, E27 base, Wi-Fi, stand-alone, 600 lm, multicolor (16 million colors to be precise, but we haven't tried them all).
€26,99
In stock
2 new from € 26,99
Refurbished from 1
June 25, 2022 6:14 a.m.
€82,95
In stock
3 new from € 82,95
June 25, 2022 6:14 a.m.
Yeelight and Alexa : connectivity via the Yeelight skill, like all the brand's bulbs
You will find in the box of the bulb a manual, in Chinese ... Fortunately, the procedure for installing Yeelight bulbs is always the same.
You must download the Yeelight application on your smartphone, create an account and then download the Skill Alexa. The activation is very simple: turn on the switch and follow the instructions of the application, select the type of bulb then your network under Yeelight, enter your wifi key, let the application search ... bulb connects to a Wi-Fi in 2.4 Ghz only, but it is the most common band. If, however, you encounter some difficulties, I invite you to consult our tutorial dedicated to the installation of a bulb.
Xiaomi Yeelight YLDP03YL: quality still there but a little lack of power
Like many Yeelights, this is a class A + E27. It is given for a theoretical operation of 25000 h (i.e. almost 3 years of permanent operation or 34 years if used 2 hours per day). Its light output is 600 lm and up to 6500 K. This may be the limit of this bulb. 600 lm is sufficient for a small room (bedroom) or as a secondary lamp but limited to make it a main lamp, even less in an average room.
Yeelight quality is evident both visually and in its design and materials. It is a bit heavy than some other connected bulbs (181 g) but an average size (12 cm high and 6 wide).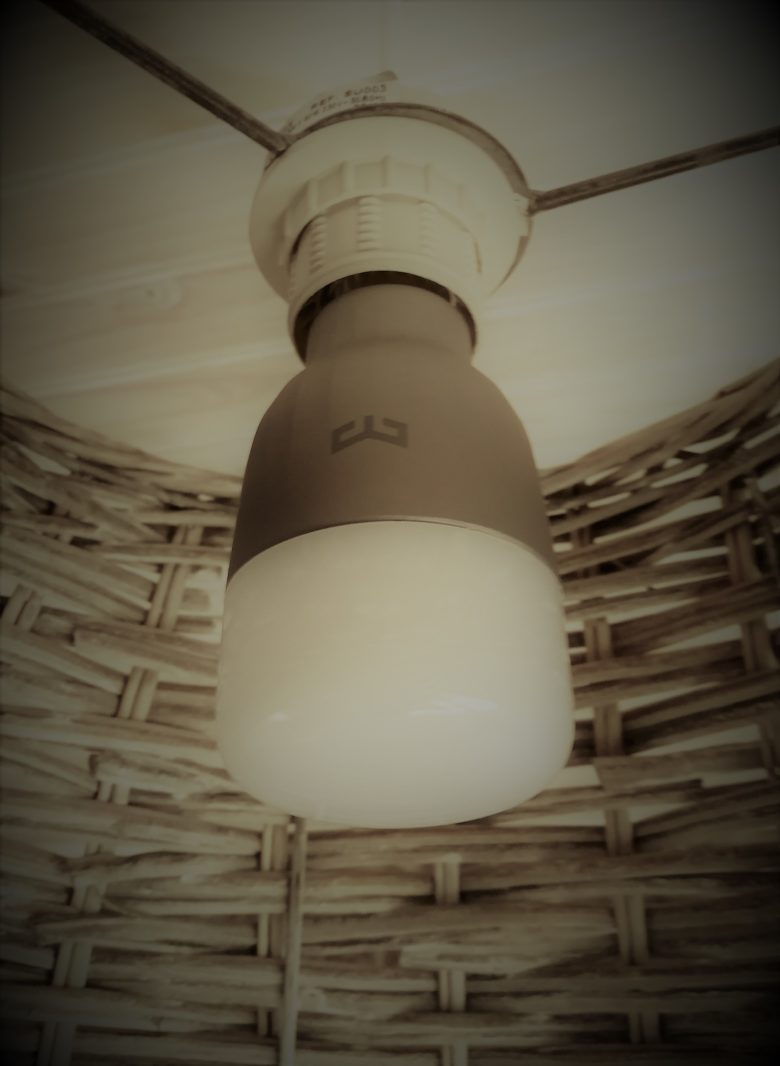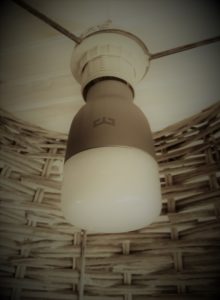 This multi-colored bulb allows you to adapt the atmosphere of your interior according to your desires and your needs. The application is quite well done by offering you a dozen pre-programmed scenes: sunrise color (sifted orange), sunset (intense white), night mode (sifted yellow), Dating Night (subdued gold), Movie (blue sifted), Birthday Party (alternation of colors), Romance (sifted salmon), Home (white), flashing (for a routine when you receive an email for example) and candle flicker (impression of a fireplace). And if you do not find your happiness, you can directly choose the color that will satisfy you and save it.
The possibilities of changing colors via the application are much more extensive than that of the skill. But we must not forget that the purpose of the latter is the piloting by voice. But you still have 15 colors preinstalled (and 5 more white variations).
Fortunately, a multicolored bulb also lights up white. But again, there are several levels of white: from cold white to warm white / orange.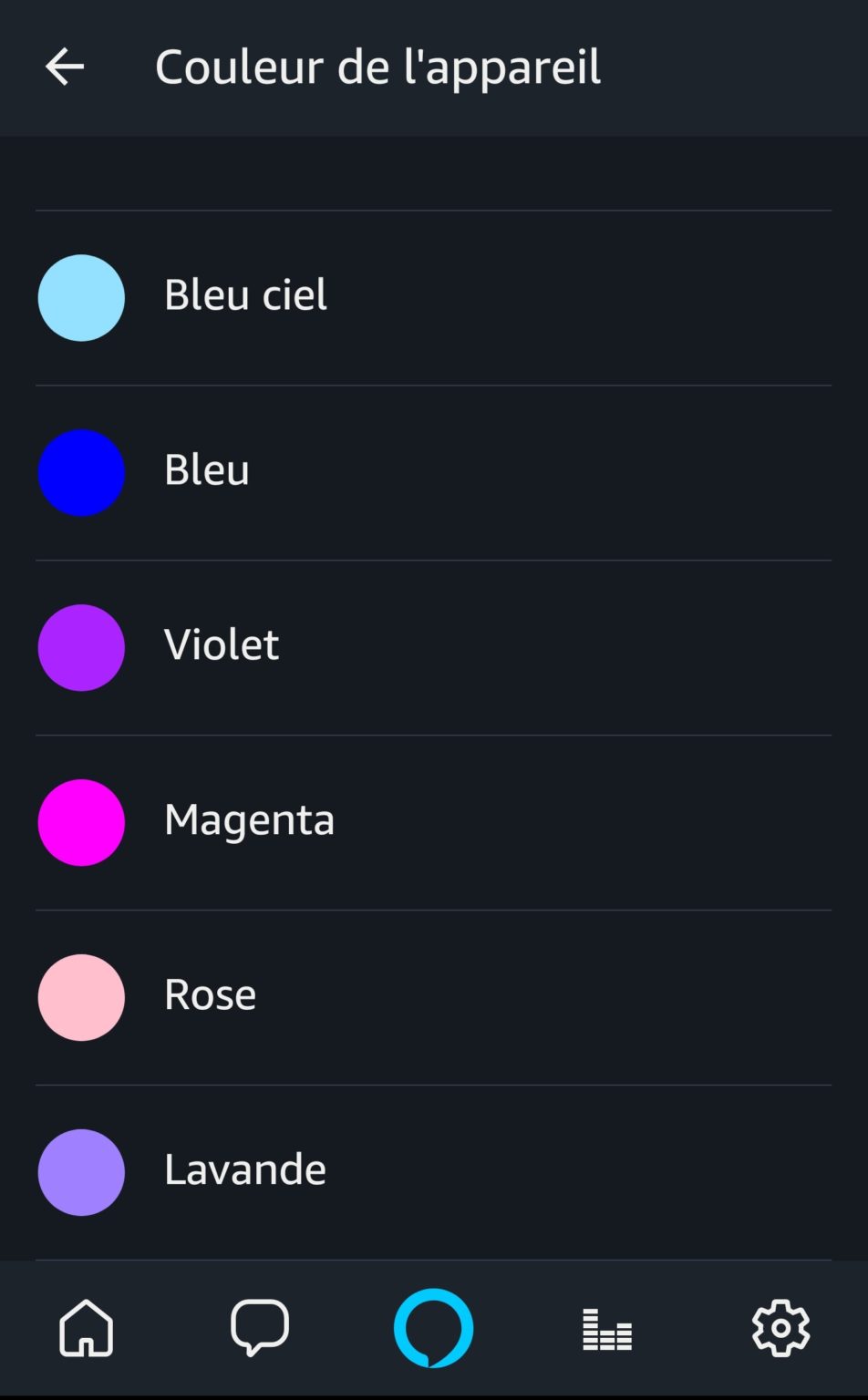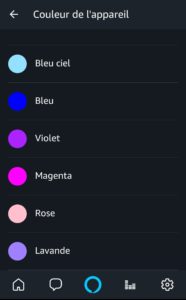 If we want to make a mistake with this bulb it is a small lack of intensity in certain colors, whites a little bland for some, not bright enough. However, the colors are in the high average of what the smart bulbs on the market do. Yeelight has nevertheless released a second generation of multicolored bulbs to overcome this problem.
For several weeks of daily use, I have not had any particular problem. Skill Yeelight is much more stable than some competing Skills which tend to have a much too long response time at night. And as with all yeelights, if the switch is accidentally turned off, simply turn it back on. If it is the Wi-Fi that has crashed, you just have to turn it on again via the application.
To conclude, this multicolored connected bulb is a safe bet and an excellent quality / price ratio. It is very often found in promotion on Chinese sales sites but also on Amazon on flash sale. Count between 16 and 20 € depending on the sites and promotions.
€26,99
In stock
2 new from € 26,99
Refurbished from 1
June 25, 2022 6:14 a.m.
€82,95
In stock
3 new from € 82,95
June 25, 2022 6:14 a.m.