The world of smart bulbs is vast. There are many types, many colors and at all prices. But with some brands, you can be sure you are on the right track. This is the case with the bulb I tested for you: the Xiaomi Yeelight A60, 10 W, E27 base, Wi-Fi, stand-alone, white.
€15,00
In stock
Refurbished from 1
July 5, 2022 3:01 a.m.
€88,95
In stock
2 new from € 88,95
July 5, 2022 3:01 a.m.
Yeelight YL063: connectivity Alexa via the Yeelight skill
You will find in the box of the bulb a manual, in English, explaining the procedure to download the Yeelight app on your smartphone, via a QR Code. It is necessary to create an account then subsequently to download the skill Alexa.
The activation is very simple: turn on the switch and follow the instructions of the application. Then select your Wi-Fi network under Yeelight, enter your password and the bulb connects immediately (note, in 2.4 GHz only, but this is the most common band).
Xiaomi Yeelight YL063 : a connected bulb inexpensive and very well made
This smart bulb (for English speakers) is a class A E27+, like the majority of LED bulbs. It is given for a theoretical operation of 25000 h (i.e. almost 3 years of permanent operation or 34 years if used 2 hours per day). Its light power is 800 lm and 6500 K. It is an interesting power for a medium-sized room.
Its aesthetic rendering is really nice and very qualitative. It is a little heavier than standard bulbs but this is still limited. With the multitude of forms that exist at the moment, we can not say that it is more cumbersome than another. For information, it is about 12 cm high and 6 cm in diameter. It adapts everywhere without problem.
I chose this bulb because the notoriety of Xiaomi is well established in the home automation and connected home sector. With its range of Yeelight bulbs, the Chinese manufacturer does not deviate from the care it brings to its products. My choice fell on a white bulb, because it is often neglected by buyers. However, even though it only lights up in white, it's nowhere near as basic.
Indeed, via the application and the skill, it is possible to vary the heat of the light to adapt it to your needs: from cold white to warm white / orange. The possibilities via the application are much more extensive, that of the skill being simpler. But we must not forget that the purpose of the latter is the piloting by voice.
As you can see from the screenshots below, we're on some cool possibilities by default: sunrise color (softer white), sunset (more intense white), tea time (more orange and intense), reading (orange), flashing (for a routine when you receive an email for example) and candle flicker (impression of candle or fireplace). And if you do not find your happiness, you can directly choose the color that will satisfy you. You also have the possibility of creating scenes to light the bulb by gradually increasing its intensity. Ideal for a gentle awakening for example.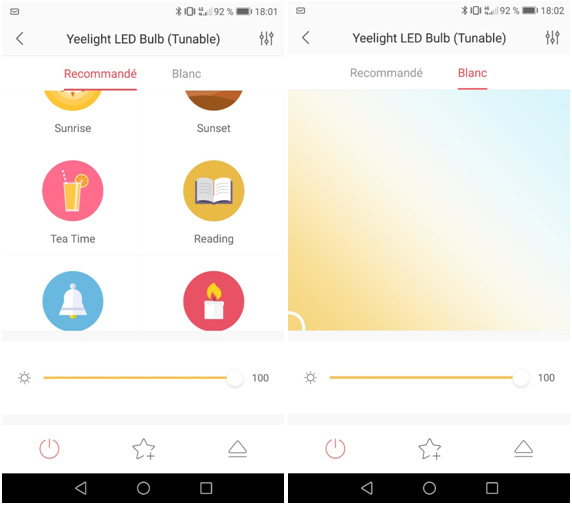 Via the skill Alexa, you can ask your voice assistant to turn on the bulb in cool white, daylight white, white (short), soft white and warm white, as well as to vary the intensity.
After several weeks of use, I had no problem with this bulb. And if the switch is inadvertently turned off, just turn it back on. If it is the Wi-Fi which is in question, you just have to go through the application.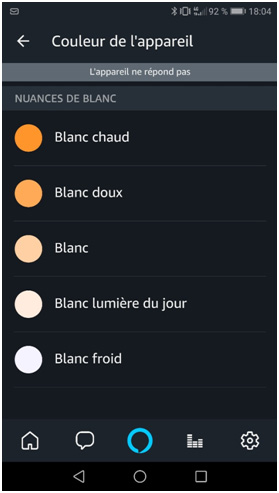 In summary, this Yeelight A60 white light connected bulb is an excellent deal with a very good quality / price contribution. Yeelight is in a way to Wi-Fi what Philips Hue is to ZigBee. It is very often found in promotion on Chinese sales sites but also on Amazon on flash sale. Count between 15 and 22 € depending on the sites and promotions.
€15,00
In stock
Refurbished from 1
July 5, 2022 3:01 a.m.
€88,95
In stock
2 new from € 88,95
July 5, 2022 3:01 a.m.
Yeelight A60 10W Smart LED
from 15 € to 22 €