We were talking about yesterday mesh wireless networks, including Mesh Wi-Fi, by presenting the main solutions on the market. Indeed, with the proliferation of connected objects in our homes, difficulties are becoming more and more frequent with the equipment made available to us by ISPs. Also, more and more of us are looking for solutions, and Les Alexiens are the first! The problem is that most mesh systems are expensive, if not very expensive, which leads a lot of people to adopt repeaters which significantly degrade the quality of the signal. But, between a repeater at 40 € and a Netgear Orbi at more than 400 €, there are intermediate solutions. Certainly the Netgear Orbi Voice is really tempting for users ofAlexa since it consists of a Harman Kardon connected speaker which also acts as a mesh node, but it is still quite expensive. This is why we have decided to turn to the Nova MW6 from the Chinese brand Tenda. Pretty little cubes that promise an efficient network at a really reasonable price, and an interesting modularity since you can easily add modules later if necessary. At this price, the technical sheet is attractive, but what about its performance in the field? This is what we will see.
Tenda Nova MW6: design and characteristics
Unboxing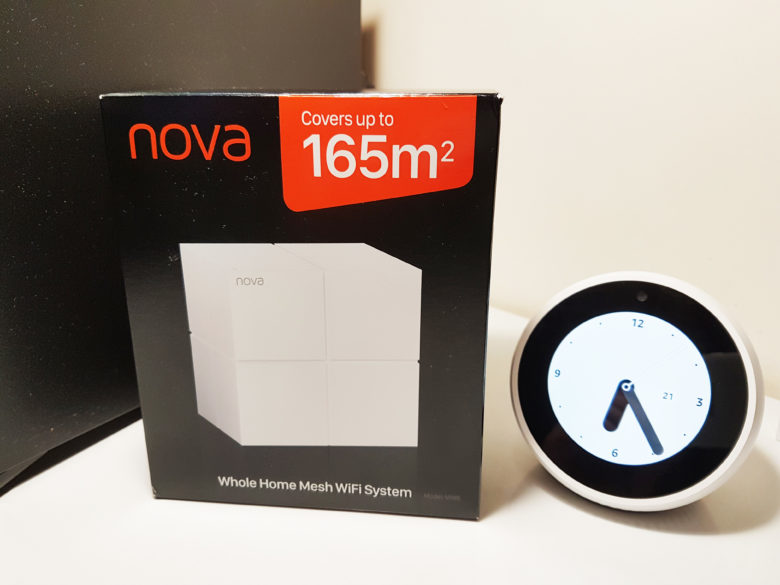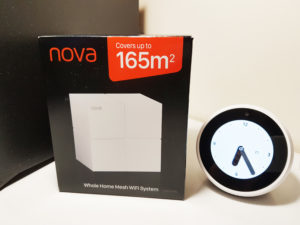 Tenda presents us his Nova MW6 in a rather pleasant packaging. The Nova is presented on a black background with iridescent reflections and the brand's logo in orange. It includes the model name, Nova, and an indication of the range of the system, announced for a cube up to 165m². It's a lot, which leaves us a little skeptical all the same. This is probably a measure taken in an ideal environment, without concrete walls or other obstacles. Everything is quite successful, but as certain specialist magazines would undoubtedly point out, the packaging is quickly strewn with prints. Fortunately, the Alexian does not care, this cardboard being anyway intended to end up for recycling.
Once opened, you will find a new black cardboard box, but we will not dwell on the question and rather tell you about the pretty little white cube that is inside. Measuring 10cm x 10cm x 10cm, it is indeed a cube. It doesn't matter, but you have to furnish! The plastic seems rather qualitative and the finishes are good. We are struck by the lightness of the whole, a module Nova MW6 indeed weighs only 410 grams. Suffice to say that you can place it almost anywhere. A little AC adapter white Nova logo, as well as a 1.5m flat ethernet cable equally white, are also part of the game.
Short! At first glance, all this seems frankly qualitative and puts us in good shape for the rest of the operations. But what about its characteristics?
Features
The characteristics of Nova MW6 by Tenda are attractive. On its product sheet Amazon. Fr, Tenda sells us AC1200 Wi-Fi. Owl! Unfortunately, the 5Ghz band only goes up to 867Mbits / s and not 1200Mbits / s. It is misleading. Its quick installation guide, although translated into French, does not help us to verify this assertion any more. We will therefore refer to the packaging itself where we find the main characteristics. For the rest, we had to get the technical sheet on the brand's website, but it did not respond to our requests, we were unable to find out more about the software part hosted in the cloud. Pity.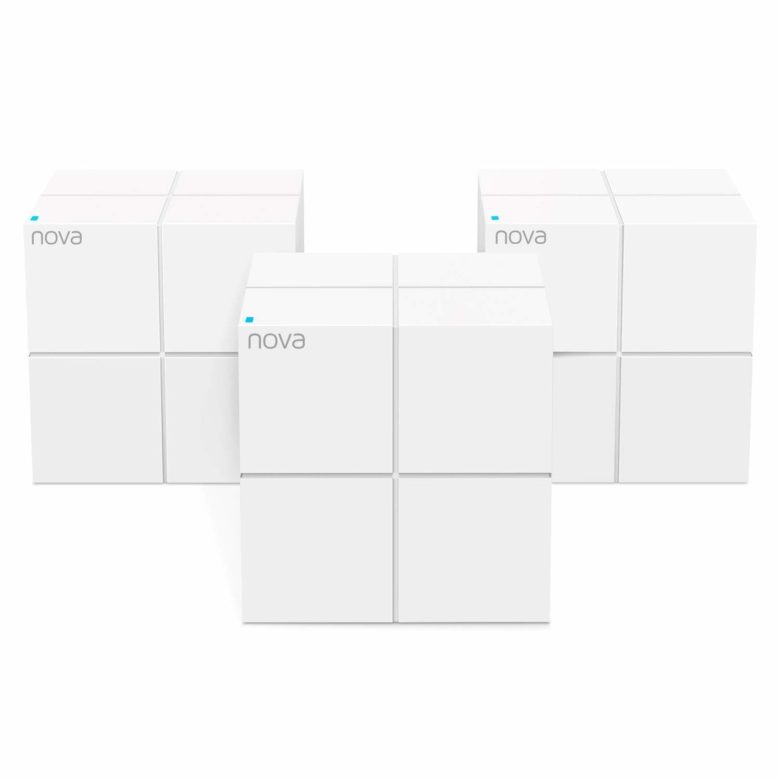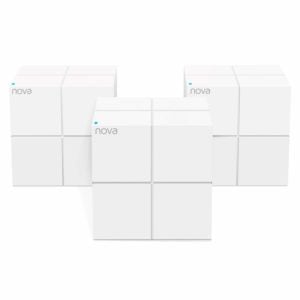 Hardware:
2 Gigabit Ethernet ports by mesh point (IEEE 802.3 and IEEE 802.3u standards),
WAN and LAN on the primary mesh point,
2 LAN ports if used as an additional mesh point,
2 dual band 3dBi antennas,
1 reset button (accessible with a tip),
Power supply: 100-240V — 50 / 60Hz, 0,6A input and DC 12V == 1,5A output.
Wireless :
Standard IEEE 802.11ac / a / n 5GHz up to 867Mbps,
Standard IEEE 802.11b / g / n 2.4GHz up to 300Mbps,
Beamforming and support of MU-MIMO,
Safety : WPA2-PSK
roaming : IEEE802.11v / r
other:
DHCP server, virtual server (port forwarding, UPnP),
Adjustable DNS manually,
PPPoE / Dynamic IP / Static IP / Bridge Mode,
Firewall : protection against UDP / TCP flood / flood attacks,
VPN management : IPsec / PPTP / L2TP,
Parental control,
Guest network,
Intelligent mode allowing to cut the 5GHz band to easily pair devices that only accept 2.4GHz,
Online firmware upgrade,
Factory reset,
Certification : FCC, CE, RoHS, EAC, IC.
If you would like more details regarding the operation of a mesh or mesh Wi-Fi system, do not hesitate to read or reread our dossier concerning Wi-Fi Mesh solutions and in particular the part entitled: what is the mesh?
Installation
Tenda has simplified the installation of its Nova MW6 as much as possible. Just download the app Tenda Wi-FI for Android or for iOS and let you guide. While in the best of all worlds the process is as easy as it is quick, you might still run into some difficulty during the installation process. In order to make your life easier, the Alexiens therefore provide you with a complete tutorial to guide you step by step. Go to our page aptly titled: install a Nova MW6.
Thanks WHO?
Nova MW6: the end of the dead zones?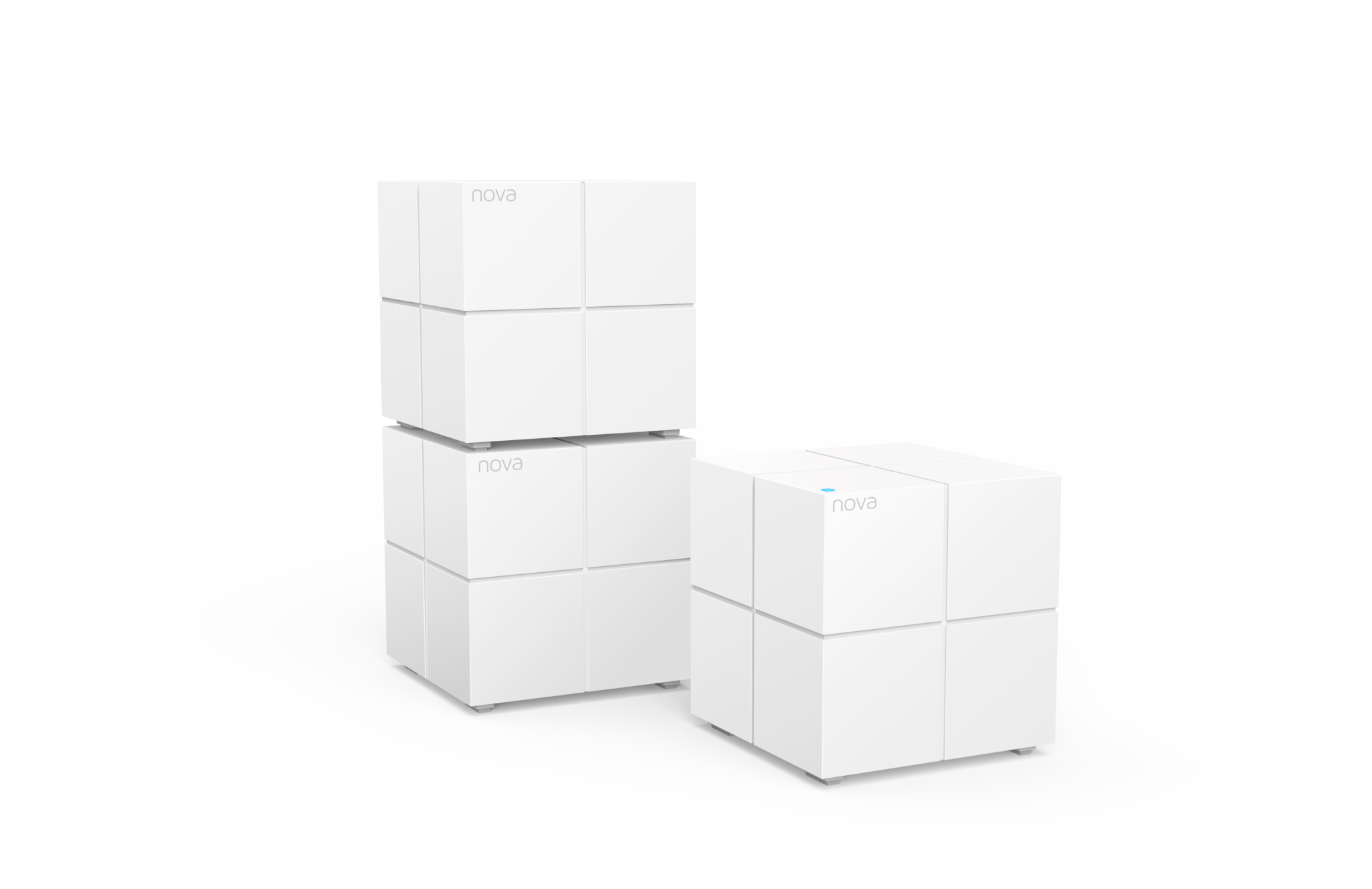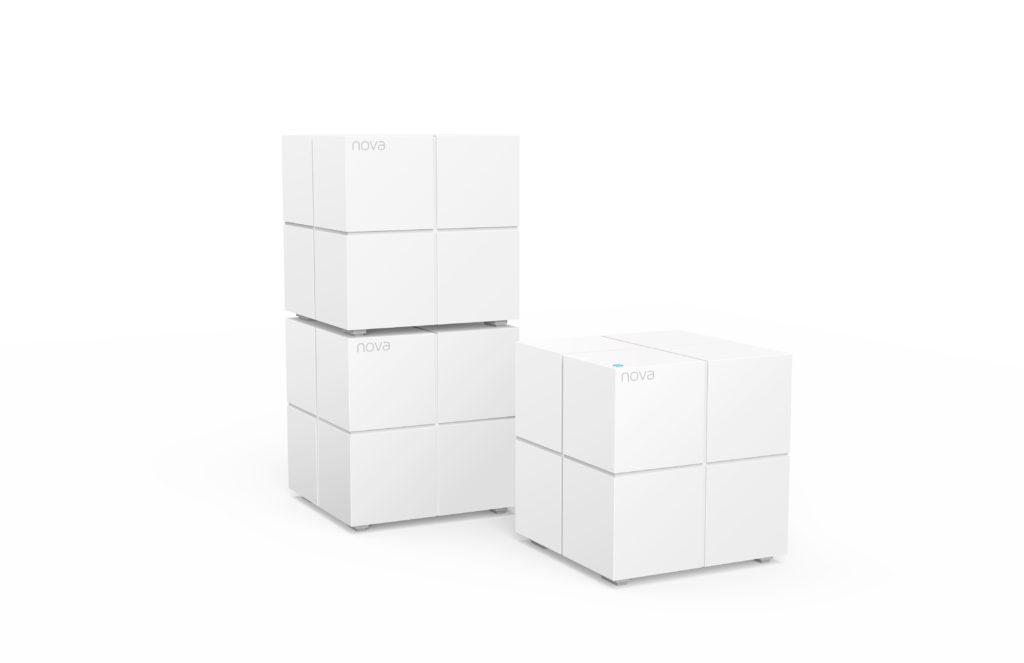 Okay, that's all well and good, but does it actually work? Well yes. And it even works very hard. We tested it in two configurations: with a single router module and with two modules. Obviously, the second configuration is the most interesting since it significantly extends the coverage of the system and makes it possible to have 5GHz Wi-Fi over a fairly large area. In addition, be aware that we can only really speak of a mesh network from two nodes, or even three… Only such a configuration will allow, in fact, to take full advantage of this technology. One module will thus be able to automatically take over if the other begins to struggle, the time for the system to get back on its feet. We will soon be testing with three Nova MW6s, because this will make it possible to take advantage of a real Mesh with a real mesh, cross exchanges between the three modules - note, in passing, that the some systems like Orbi work in star and not mesh in the true sense of the term - and significantly more efficient coverage.
However, a single module may be sufficient to cover a single storey house or apartment up to approximately 120m². Yes, Tenda advertises 156m², but that's without counting on the somewhat dense partitions. If crossing a placo is no problem, it's immediately different with reinforced concrete, for example. Nevertheless, the measurements are more than respectable, as evidenced by the graphs which may be a little obscure, but basically very telling from the very good Analiti.com site, which tests most of the solutions on the market in the same test house. Do not hesitate to take a look and use their comparator to quickly measure the differences between the main solutions on the market.
In conclusion, we can only recommend that you invest in a Tenda Nova MW6, with a choice of one, two or three modules ... And up to six for large surfaces (although you can theoretically go even further, which does not recommend the manufacturer, however). Note, however, that you will need a minimum of two modules to really enjoy mesh Wi-Fi.