You have surely followed our test on SwitchBot, this robotic switch with his little muscular arms that press the buttons for you! And the SwitchBot Meter which gives you the temperature and humidity in your rooms! No ? How's that, no ? Good ... Well follow the links, you must not miss it. Yes ? We knew that you are loyal readers and that is why we are always looking for novelties that could satisfy you. And this is the case with this SwitchBot Hub Mini.
To put it simply, in order to use Bots and the Meter remotely, you need a Hub. the Hub More, in the shape of a cloud, was quite divisive because of its design, a little big and not always practical to use (with its switch and its colors) ... SwitchBot has heard the requests of its users and has recently offered a mini version and easier to use than its Hub Plus, as we will see. Most ? He does exactly like the other, that is to say that it is above all a IR controller can replace your remote controls! Yes, its purpose is not only to operate the brand's devices from a distance, but also to control objects requiring a remote control, by voice, as the Broadlink RM Pro + from our test for example.
Of course it is CE, FCC compliant (for the USA), the equivalent for Japan and RoHS (for the absence of toxic substance in its conception).
The SwitchBot is a product of the Wonderlabs company. This company specializes in the creation of products dedicated to the connected home. The SwitchBot is their flagship product, along with the associated Hub. The Bot was created in 2015 and launched at the end of 2016 for sale in 2017. The products are manufactured in Shenzhen, China, under their responsibility.
€35,00
€45,00
In stock
June 30, 2022 2:50 a.m.
SwitchBot Hub Mini: sober and goes everywhere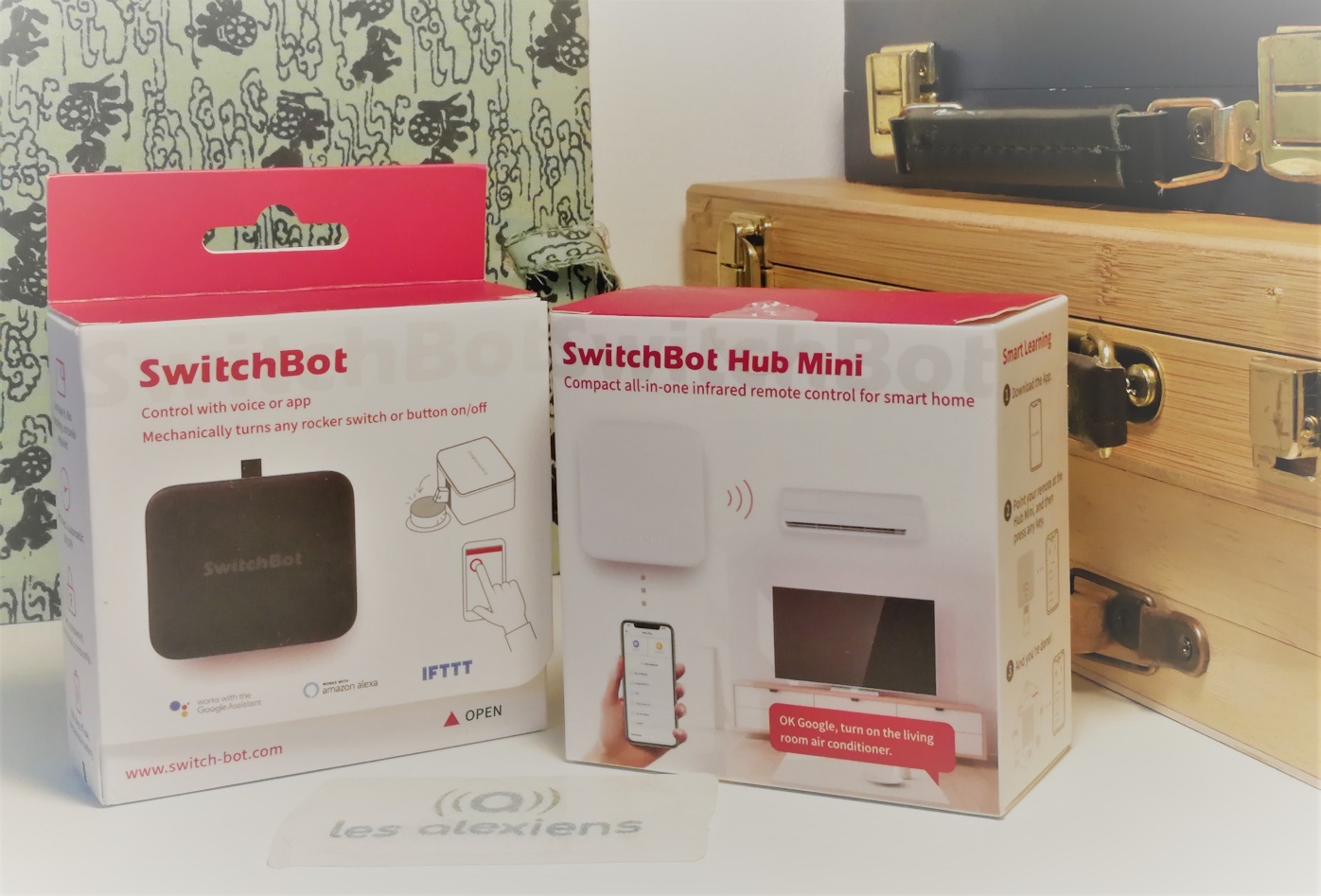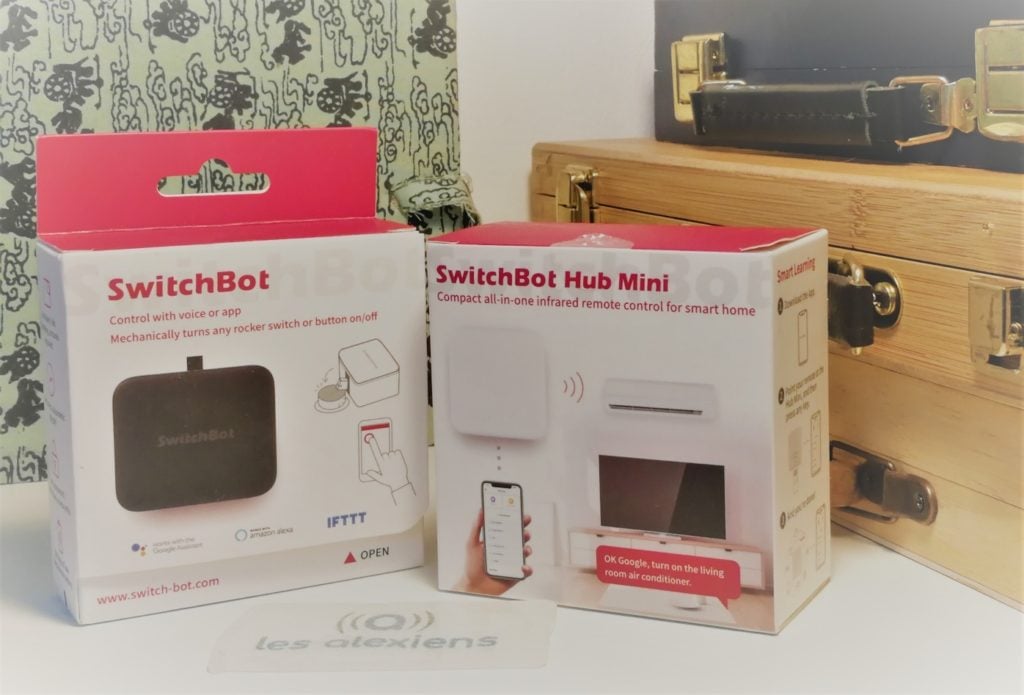 Our Hub comes in the brand's iconic red and white packaging. It is qualitative and protects devices relatively well. If we compare it to the pack of the Bots, the size is almost the same, which gives an idea of ​​the final dimensions of the product. We find the characteristics of the product on the underside, its use pictured on the back as IR controller working with Amazon Alexa, Siri, GH and IFTTT. There is also the emphasis on Smart Learning, that is, the fact that the Hub can recognize and copy your remote control just by pointing at it. At least, if it is in the list of devices already entered, otherwise it will have to be done by hand.
In the box, in addition to the Hub, we find a 1,5m micro USB cable (but no AC adapter, too bad) and a double sided 3M. There is also a fairly well done and clear English installation and user guide. The case is in matt white plastic of the same quality as the Bot and the first Hub. His measurements? It's a square 6,5 cm side and 2,1 cm thick for 36 gram weight. For information, the Bot is a rectangle of 4,2 x 3,7 cm and 2,4 cm thick for 40 g and the Hub Plus is a small white cloud of 12,5 x 7,5 cm, thick of 3,5 , 73 cm for XNUMXg. It is therefore much smaller than its big brother.
Its design is relatively sober as you can see: a square with SwitchBot engraved in glossy white, only touch of madness on this front face. The back side has the notch for the micro-USB port and another notch if you want to hang it on the wall by a screw and not by a double-sided. On the top, a round button that will allow you to pair or reset your device. Truly, it's simple, it's pretty ... Better than the Hub Plus, that's for sure.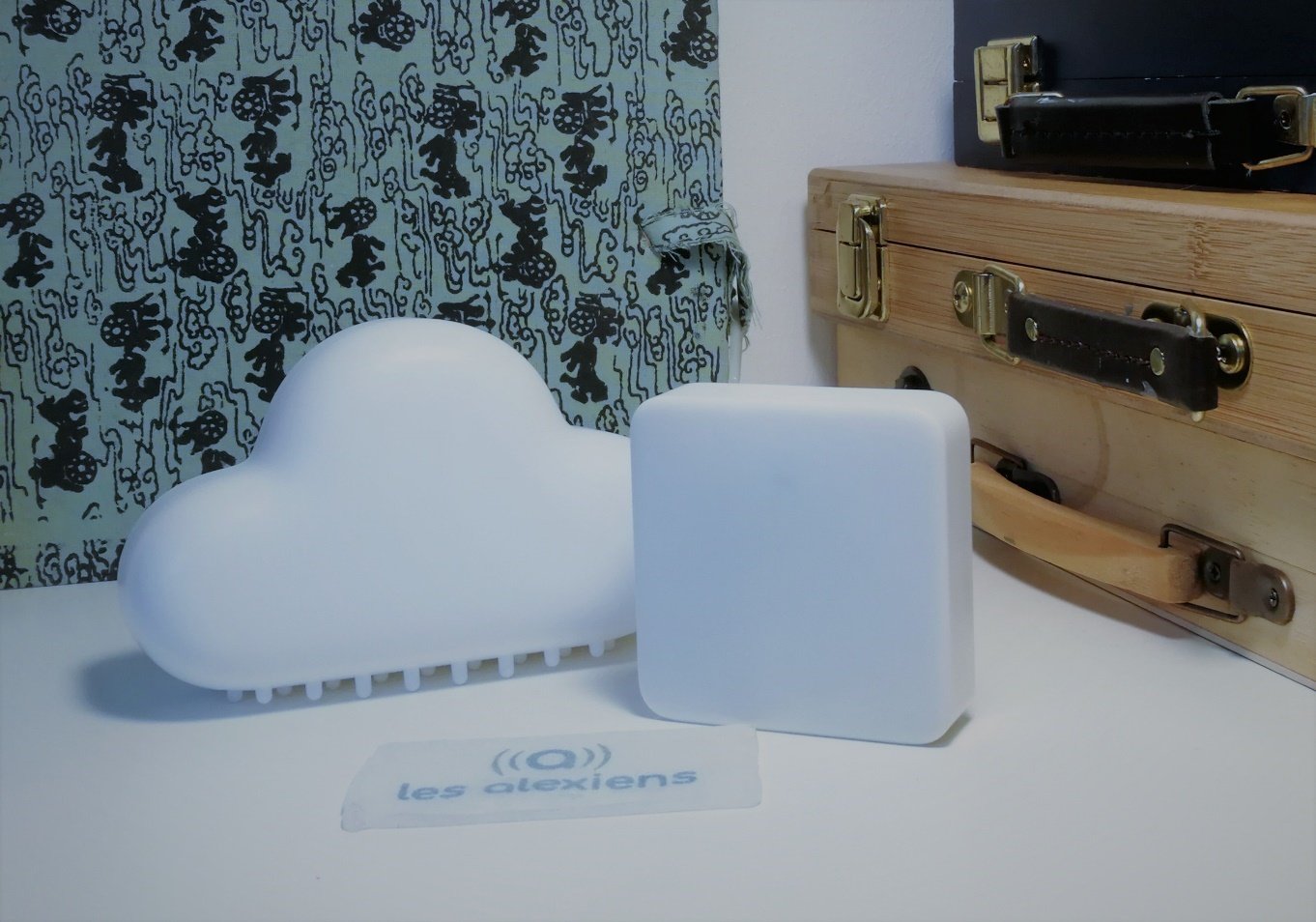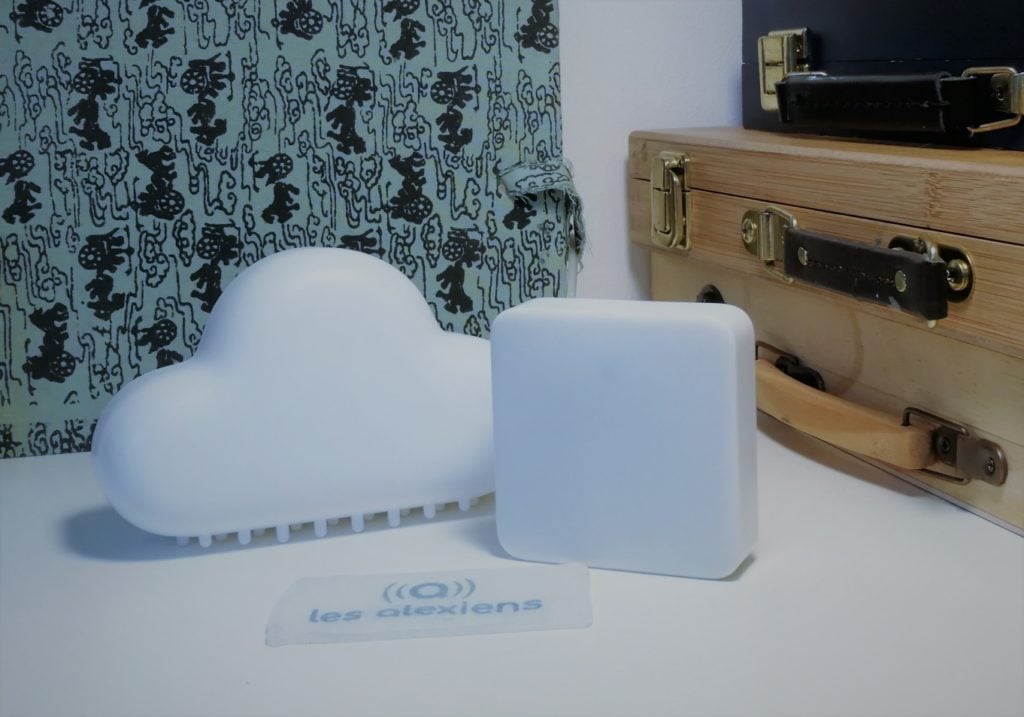 SwitchBot Hub Mini: commissioning and use via the home app!
Just like his big brother, the SwitchBot Hub Mini works both in Bluetooth and infrared, but better. Indeed, when he will relay the Wi-Fi signal in Bluetooth 4.2 BLE, his rayon is 80 meters max and 30 m max for IREither 3 times more than with the Hub Plus. At the connection level 2.4 GHz Wi-Fi only, IEEE802.11b / g / n. On the other hand, it no longer connects directly to the mains but via a 5V, 1A USB socket. It is not provided, it is unfortunate because not everyone has a USB socket or adapter in advance ...
You are then free to place the SwitchBot Hub Mini wherever you want but be careful that the IR, if you use it as a "remote control", is picked up by the devices to be controlled.
How to set it up? It's very simple, much more than with the old one. First of all, install the SwitchBot app et activate the skill. Launch the application, activate bluetooth here we go ! Select "Add Device" and " Hub Mini ".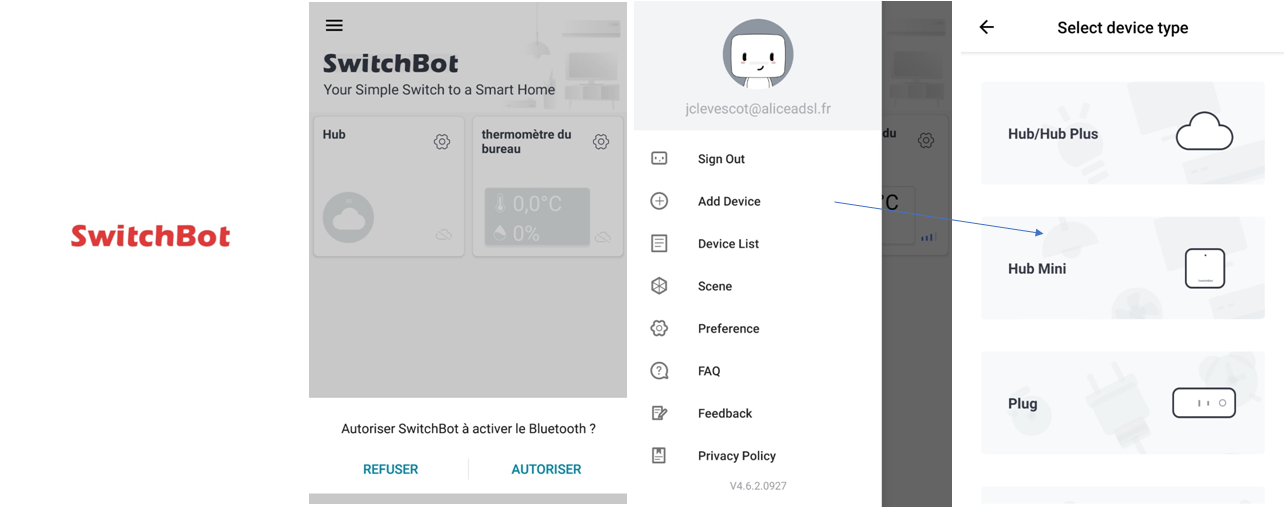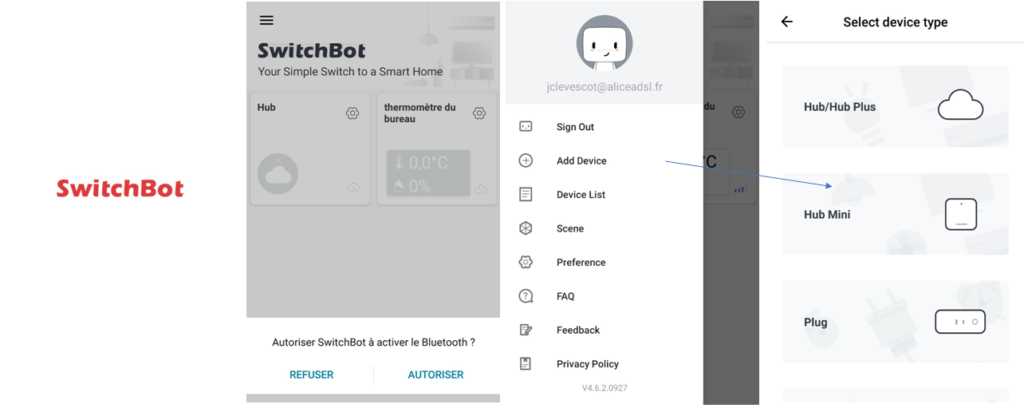 Then, nothing too bad. Press the top button for 2 seconds to flash an LED on the front panel (it was invisible until then, they are crazy at SwitchBot we tell you!). Then enter your Wi-Fi username and password.
The Hub is now paired with your Wi-Fi ... It took 5 minutes in all. If you already have Swichtbots boxes to Switchbot Meters in place, they already appear on your app.
If you need to pair switch boxes SwitchBot or a SwitchBot Meter, it's very simple… The hub transforming the Wi-Fi control into Bluetooth, you do nothing. The hub has a function "Add Appliance" that we can translate by "Add a device" in the language of Molière (or "Angels of Reality TV" depending on your interests). This function allows you to come configure your current remote controls to be able to do without them. We refer you to our previous article for manipulation, only the Hub schema changes. We do not discuss here eitheruse with Alexa because the Hub will serve as a gateway with the Bots, the Meter or the virtual remote controls. For example, if you create a TV remote, it will go up in Alexa but not the Hub as such. Go take a look at the SwitchBot Meter test who can help you if you have any questions.
€35,00
€45,00
In stock
June 30, 2022 2:50 a.m.
In use, we find a
SwitchBot Hub Mini
responsive, easy to use and easy to set up doing the same as its predecessor, only better. the
SwitchBot Hub Plus
had a fairly recurring problem which was its disconnection and especially the fact that it had to be reconnected by hand if it was not in ON but in this case, it was permanently illuminated. With the Hub Mini, it connects on its own and automatically in the event of a Wi-Fi fault. It is possible to enter the Bots parameters directly, without physical manipulation of the Hub.
It is therefore much easier to use, much more intuitive and that's a real plus.
He is also much more versatile than his big brother. Above all, it is an affordable IR (and not Bluetooth) remote control which, in addition, allows you not to saturate your Wi-Fi if you use compatible products.
Few weak points
to this product if it is not to provide an AC adapter and also not to provide a Bluetooth "remote control", which are however increasingly present.
SwitchBot Hub Mini Smart Remote - IR Blaster, Link SwitchBot to Wi-FI, Control Air Conditioner, Compatible with Alexa Google Home Siri IFTTT
€35,00