At Les Alexiens, we like connected cameras. Why? Because they make it possible to secure your home. Among them, a very special category is more successful every day: the connected doorbell. In addition to being a security element, it allows you to be warned when a postman, delivery man or visitor passes by. And if there is a specialist in the field, it is the company Ring that the e-commerce giant acquired a few years ago for the tidy sum of a billion dollars! Their products are all compatible Alexa, we had to present you more fully the brand and, in particular, its very last model: the Ring Video Doorbell 3.
Third iteration of the model that made the reputation of the company, this new wireless video door entry unit presents a rather pleasant technical sheet. After several weeks of tests of all kinds, here is our opinion on the Ring 3 and its new Ring Chime second generation.
€179,99
In stock
8 new from € 179,99
June 30, 2022 5:51 a.m.
Updated: June 30, 2022 5:51 a.m.
Ring Video Doorbell 3: a new, more powerful version
Unboxing and presentation
As always at Ring, the packaging is neat. In fact, it is the same as on the Ring 2, only the visual of the smartphone and the mention Ring Video Doorbell 3 have changed.
At the back, the brand quickly developed the main characteristics of its product: photo capture, recording and sharing videos, a more reliable connection thanks to Dual-band Wi-Fi. We note a logo "Works with Alexa » which inevitably attracts our attention.
At first glance, the Ring 3 therefore does not shake up the codes. Taking exactly the same design as its predecessor, it is recognizable at a glance and remains as discreet as it is compact for a device of this type since it measures only 6.2 x 12,8 cm for only 2,8 cm thick.
"At first glance, the Ring 3 therefore does not shake up the codes. " The Alexians
The lower part in metallic gray says "Satin nickel" ou "Venetian bronze" - two cases are provided, the choice is yours - is in very good quality plastic. To tell the truth, you even have to touch it to realize it as the metal effect is well captured. In the center is a button surrounded by a led ring which lights up when you press your finger on the button.
The upper part, black in color, contains the camera which makes this connected doorbell a "Video door entry system". Able to capture photos and videos and full HD 1080p, it has a field of vision of 160 ° horizontal et 84 ° vertical with advanced motion detection capability, we'll come back to that, and a infrared night vision.
You will probably have spotted the small arrow placed below that tells us how to open the doorbell. Indeed, the Ring 3 has the advantage of being totally wireless and is powered by a battery which is very simply inserted on the bottom of the device. Note, all the same, that it can be connected to an existing doorbell system or to a transformer for continuous load (8-24 V AC, 40 VA max., 50/60 Hz).
"[…] The Ring 3 has the advantage of being completely wireless […]" The Alexians
Two wall brackets are provided. They allowinstall the Ring 3 with a little angle so that your visitors stay in the field of the camera. It's very clever because, we regretted it on the SpotCam Video Doorbell Pro, people tend to face the door and not the doorbell which is usually offset unless using a peephole model such as the Ring Door View Cam which we will also talk about shortly.
Ring also provided us with a second product which, you will see, is also very interesting: the new Ring Chime ! Presented in a pretty white box, this second generation of the brand's connected chime has significantly improved from a design point of view and is now frankly nice. Covered with a gray fabric and made of fine quality plastic, the Ring Chime measures only 7.8 x 6.2 cm for 2.5 cm thick and will easily find its place on an electrical outlet.
€35,99
In stock
10 new from € 35,99
June 30, 2022 5:51 a.m.
Updated: June 30, 2022 5:51 a.m.
What interest? That of allowing you to hear your connected doorbell from everywhere! Indeed, if the Ring Video Doorbell 3 sounds good when you press its button and its volume is rather high, you risk missing your visitors if your accommodation is a bit large or if you do not have your smartphone nearby. In addition, it may be interesting in a hallway, upstairs or in outlying rooms ...
That being said, let's take a quick tour of its technical characteristics before tackling the installation itself.
Information
Brand :Ring
Model : Ring Video Doorbell 3
Resolution : Full HD 1920 x 1080 pixels, infrared night vision

Field of view : 160 ° horizontal, 84 ° vertical

Food : Rechargeable battery (supplied). Can be connected to an existing doorbell system or transformer for continuous charging (8-24 V AC, 40 VA max., 50/60 Hz).

Dimensions : 128 x 62 x 28 mm

Weight NC

Connectivity : 2.4 and 5 GHz Wi-Fi

sealing : Yes

Other : micro-USB cable for charging, very complete installation kit (two brackets, screwdriver, screws, plugs, wires for the power supply, drill bit) and two fronts supplied ("satin nickel" or "Venetian bronze")
Ring 3: Alexa watch your front door
Installing the Ring Video Doorbell 3
The least we can say is that Ring has planned everything to make our life easier: screwdriver with a double tip - one side cruciform, the other in a star (thanks to Frédéric Stéphane for the precision, editor's note), a drill bit or screwdriver, screws and plugs adapted to the support you choose, or the wires necessary for an 8 / 24V installation. Everything is there and they even thought of putting a small spirit level so that the bell is perfectly horizontal! Such attention to detail puts us in excellent conditions ...
"Ring has planned everything to make our life easier"
Attach the holder but not the doorbell itself, we are going to need it a little more!
Once the doorbell bracket is installed on your wall, all you have to do is launch the Ring app, available on Android et iOS, and follow the instructions.
In devices, Press on "+" at the bottom right ;
Select "Doorbells" ;
Scan the QR Code present behind your Ring 3;
Select or create a location by entering your address, this will make it easier for you to find it if you have several homes or branded products;
Choose the name of your connected doorbell : "Front door", for example;
Insert the battery in the doorbell;
If not already, wait until the indicator light turns ;
Connect your smartphone to Ring-XXXXX Wi-Fi network created by the device;
Come back to the app but leave the Wi-Fi linked to the doorbell by choosing "Keep Wi-Fi connection" ;
Enter your Wi-Fi credentials. Here, we had already done it for a previous model, so the application offered to reuse them.
Keep it up setting (you can change it later);
The configuration is complete!
The configuration is complete! As you can see, it was not very complicated… Pairing to home Wi-Fi is all the more easy as the connected Ring 3 doorbell is dual-band, unlike the previous model. In other words, it accepts 2.4 GHz networks like 5 GHz, no need to configure anything on the box. It's simple, fast and effective.
Installation of Ring Chime
Let's move quickly toinstallation of Ring Chime. It's even simpler since you've just entered your Wi-Fi credentials:
Choose Chimes ;
Plug in your 2nd Generation Ring Chime ;
Wait that the light flashes ;
You can pair your Chime to one or more Ring doorbell (s) and camera (s). This can react as desired when motion is detected or when the button on your connected doorbells is pressed.
Once again, it's as easy as it is fast! Ring has done a great job on the ease of implementation of their system and we can only congratulate them.
Using the Ring App
The Ring application is like the installation procedure: very well designed. Easier to use since its update a few months ago, it shouldn't pose any particular concerns to you.
Ring settings 3
The application is full of features:
Video parameters: HDR, live video, previews, recording time.
Snapshot capture: allows you to record photos at regular intervals (every hour or every 14 minutes or every 5 minutes if the Ring 3 is connected to 8 / 24V power),
Detection parameters: zones, precision, programming, frequency… Everything is configurable and a wizard helps you make the right settings.
Notifications: you can only enable notifications for people detection. It is very efficient and convenient if you have pets.
Device Status: to find out everything about your doorbell such as its name, MAC address, available updates, Wi-Fi signal strength, etc. You can even test your Wi-Fi and check the integrity of your device (if it is not 'has not been hacked, for example, despite the required two-factor authentication).
Sharing: you can of course share access to your Ring 3 by entering an email address.
Ring Chime settings
The 2nd generation Ring Chime also has its parameters:
Chime deferral : allows you to temporarily deactivate the alerts which will then recover on their own. It is very practical in the evening, in particular, or during a nap!
Device Status : MAC address, updates, Wi-Fi signal strength ...
Audio settings : allows you to choose the tone for motion detections and the sound of the doorbell
General : name and location of the device.
Using the Ring 3 connected doorbell with Amazon Alexa
Ring owned by Amazon, the integration with its voice assistant is logically perfect! To start, you obviously need to activate the skill Ring for Amazon Alexa and enter your login details.
This done, Alexa will automatically detect your brand new Ring Video Doorbell 3. You will find it under the name you assigned to it earlier during installation. But what interest to use Alexa? Well, it is just huge! Here's why.
Ringtone on Echo devices
Each device Echo can be used as a chime. Alexa can indeed warn you of movements as well as ringing tones. This is very practical if, like us, every room in your house has its own Amazon Echo : you will never miss a visitor again! You can of course determine which devices should react, the ringtone of your choice, whether your connected speakers should alert you to movements and / or pressure on the doorbell.
Viewing the video stream on Echo
Devices with screens such as Echo Show ou Echo Spot, allowview live stream from camera of the Ring 3 at any time. You can therefore use it as a camera to monitor your front door, either by asking « Alexa, show the front door ", or by selecting the Ring 3 in the "Connected home" menu of your Echo Show. With bidirectional sound, a simple press of the button on the screen allows you to communicate with your visitors via the microphones integrated into Echo.
But, best of all, the feature we've all been waiting for has arrived: the video stream can now be displayed automatically as soon as someone rings the doorbell. This is a really great feature that makes all the difference with other smart doorbells on the market for users ofAlexa, Ring being the only brand to offer such integration. In writing, we love this feature!
Routines Alexa
And the routines? Well, like any compatible device Alexa who respects himself, the Ring Video Doorbell 3 obviously allows to make routines Alexa very simply and extend the range of possibilities: personalize the message, launch various devices according to the event, define time slots to change behavior according to the hours, etc.
In our example, we have chosen to replace the ringtone with a light scene where our Philips Hue bulbs blink. Practice at night, so as not to wake up the whole household but to be warned if someone comes by unexpectedly!
Ring: a fairly reasonable cloud subscription
Who says cloud, often says subscription! And Ring is no exception to the rule by offering two subscription packages. In fact, with the purchase of your doorbell, you only benefit from a trial period allowing you to discover the full functionality of your connected doorbell. But, after this time, you will have to opt for one of the formulas. For a single device, it will cost you 3 € / month or 30 € / year. For an unlimited number of devices, it is interesting if you have Ring cameras, the subscription is 10 € / month or 100 € / year. You can find the "Protect Plans" Ring here.
Our opinion on the Ring Video Doorbell 3
We might as well say it right off the bat: it is overall excellent, but we will detail all of this.
Ring app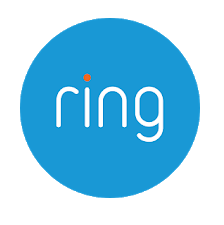 The application is well thought out and easy to handle. Better organized than before, you can easily find all the options without looking for long minutes. The recent addition of three shortcuts to toggle the main monitoring modes is really very handy.
Although they may seem gimmicky, we especially liked the snapshots which allow you to take pictures of the environment at regular intervals. If this may seem a little unnecessary, it is not since these images allow you to make sure that the system is working properly.
Video quality
The quality of the video has been greatly improved compared to the Ring 2. If the whites are a little duller, the image is no longer "burnt" as was the case previously. There is also a frank night mode improvement : the image is much better contrasted, more detailed and the effect "Fisheye" has almost completely disappeared without losing any field of vision.
The Ring 3 also switches much faster from one to the other than the previous iterations. Only downside, if the addition of HDR (High Dynamic Range) mode Visibly brings something with a better defined image, there is still room for improvement and we are not really at the level of the best CCTV cameras, especially those of the brand. But, let's not forget, this is a video doorman which is not intended to film from a distance and we still recognize people perfectly ...
The first image shows the actual location of the Ring, in a dimly lit stairwell at dawn, the second is taken through the office window just to show you the result. We will come back to the subject in more detail in a video on our youtube channel.
Audio quality
The sound quality is very satisfactory. The Ring 3 reproduces sounds well, we can hear our interlocutor perfectly and it is reciprocal. We did not notice any cuts, the exchange has always been perfectly fluid in more than a month of use. Whether with a smartphone - we used a Samsung Galaxy S10 for our tests - as with our multiple devices Amazon Echo, our guinea pigs have always heard us perfectly and so have we.
"The Ring 3 reproduces sounds well, you can hear your interlocutor perfectly and it's mutual. " The Alexians
Motion detection
La motion detection is excellent : the doorbell has never been taken by default. Recording begins immediately, even at night when infrared is extremely efficient. Unlike other brands, the video always starts at the right time and it is more than appreciable.
It is possible to adjust sensitivity, very important at most, andexclude areas. This can be valuable for even having the right to use such a product since, we remind you, it is strictly forbidden to film and record videos of public roads. You can therefore set the Ring 3 to only monitor your Doorstep.
Autonomy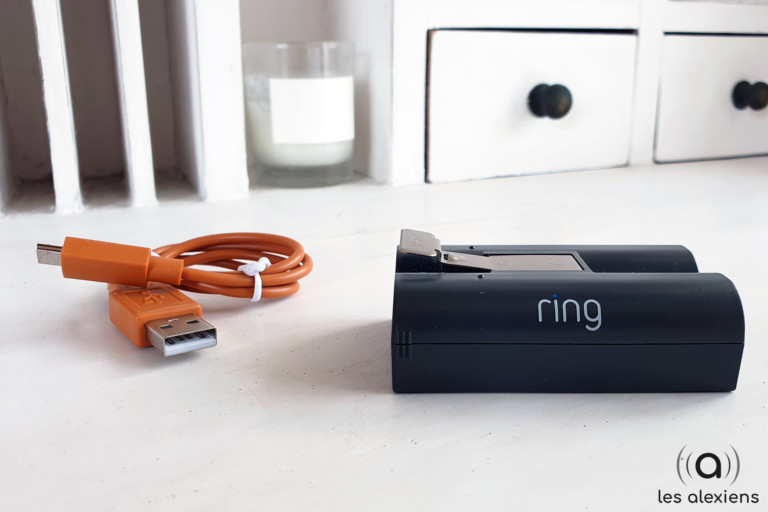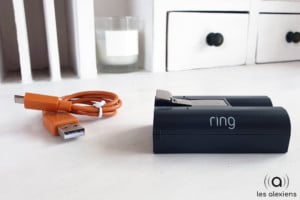 Difficult to judge because it really depends on your use, but the autonomy seems about the same as the model we have been using lately: the Ring Door View Cam (review and test in link). In other words, with a good fifteen detections and recordings of 30 seconds per day, with all the options activated (HDR, infrared, captures every hour), you can count about six weeks of autonomy.
Note that, for this test, we still used it a lot and we can estimate the autonomy in normal use. around 8 weeks.
We could not test it at 24V, unfortunately, but if you can connect it like this, we recommend it because recharging the battery takes a good night. You can also opt to buy a second battery for 25 €. Excellent quality, they did not show a noticeable drop in battery life after a year of use (it is the same models as the Door View Cam that we have had for a while).
€29,99
In stock
5 new from € 29,99
June 30, 2022 5:51 a.m.
€35,99
In stock
10 new from € 35,99
June 30, 2022 5:51 a.m.
€179,99
In stock
8 new from € 179,99
June 30, 2022 5:51 a.m.
In conclusion,
Ring Video Doorbell 3
is undoubtedly a
must have
Alexian home automation.
Fully compatible with Alexa
, it is a connected object which quickly knows how to make itself indispensable and which we would be hard pressed to do without. At a time
connected doorbell and CCTV camera
, its very low latency and its reactivity with the range Amazon Echo are remarkable. Although the cloud subscription is almost essential, it remains very accessible at € 3 / month or € 30 / year, and allows you to fully benefit from all the features of the video door entry unit. The device itself, on the other hand, is still a bit expensive to buy since it is offered at
199 euros on Amazon. Fr
, but the promotions being frequent, it is possible to acquire it as
today for only 159 €
. Last good point, the
Ring 3 is insured against theft
by the brand, so don't be afraid to have it stolen from you and
go buy it because trying it is clearly adopting it!
Ring Video Doorbell 3 - Compatible Connected Doorbell Alexa
€199
Most
Improved image quality compared to previous models
Excellent motion detection
Exemplary responsiveness: very low latency
Finally fully compatible Alexa with direct display on Echo Show!
Good autonomy and possibility of connecting it in 8 / 24V
The lessers
Cloud subscription almost mandatory
Price a little high except promo ... But quality at a price, right?
An image still perfectible, an inconclusive HDR.
No warning of the opening of the bonnet, it is therefore essential to screw the latter.