After some connected doorbells tests and the camera Ring Indoor Cam, many of you asked us to tell you about the famous Ring Alarm. It must be said that in terms ofcompatible connected alarms Alexa, the offer is still very limited. Although a few Chinese manufacturers offer Tuya systems at low prices, both their quality and their operation too often lead us to think that "That or nothing, it's the same". Unless ? Unless you turn to Amazon and its subsidiary Ring which offers us a complete, secure alarm system, and above all fully compatible with Alexa and our Pregnant Amazon Echo.
First comprehensive security system for Alexa, this connected alarm ticks all the "Alexian boxes" on the paper, but what about in reality? This is what we will see right away with this test of the first generation of the Ring Alarm !
Ring Alarm test: a complete security system
Unboxing and presentation
Delivered in a packaging incorporating the codes dear to the brand, the Ring Alarm presents well. The visual reveals the application and the contents of the packaging in the background. The basic pack includes five elements: the essential control unit equipped with a siren (but not that, we will come back to it) with a numeric keypad, for an motion detector, for an contact sensor and Z-Wave Plus range amplifier to ensure a good signal everywhere in your home.
The other faces tell us a little more about the operation and installation of this safety device… Ring evokes simplified and affordable monitoring, in other words without engagement long term and without recourse to a professional installer. It would even be the simplest of home surveillance systems ... It makes you want to go further!
At the opening, we discover all the elements perfectly presented in a box and small boxes for the additional sensors (we received a 7-piece kit). A Ring habit that hardly surprises us. It's beautiful, it's clean, it inspires confidence.
The first element is the famous Central Ring Alarm, the heart of the security system. Adorned with a Ring logo, it measures 16.9 cm side for 2.54 cm thick and presents in its center a loud speaker which lights up when plugged in. It's the siren of our alarm that can howl at 104 dB, enough to disturb the neighborhood, but above all to scare away unwanted people.
The alarm center, or Ring Base, offers rich connectivity since it supports both Ethernet, Wi-Fi, ZigBee and Z-Wave protocols ! And even Bluetooth for easier setup. It contains a Lithium-ion battery offering an autonomy of 24 hours as well as a integrated 3G chip which will allow you to be warned in the event of an intrusion, even if unwanted visitors cut the power supply to your accommodation (it seems that this happens more often than you think ...).
Intruders whose presence you will detect thanks to two devices: the contact sensor and / or the motion detector. But not only, because know that your doorbells like your Ring cameras will also participate in this system. The richness of this security ecosystem is also an element to be taken into account, especially since the company belonging to Amazon has proved to us how full of resources it is with many new features to come and in particular an astonishing Ring Always Home Cam drone.
Measuring 9.0cm. x 6.2cm. x 4.5cm, the motion detector is not the most discreet, but it is white and very light. It is powered by a 3V lithium battery, included, whose longevity is estimated at 3 years due to the use of the Z-Wave Plus protocol. Ditto for the Ring contact sensor who measures 8.2cm. x 2.5cm. x 2.4cm and uses the same type of battery.
Forget about Tuya devices with a power-hungry Wi-Fi, here it is Z-Wave Plus, a much more secure encrypted protocol, very low in energy (a 3V battery every 3 years, imagine!), and benefiting from very low latency as well as excellent range of approximately 76 meters due to the 868 MHz band used. A low-congestion frequency which allows it to be less subject to interference.
The starter kit is supplied with a Z-Wave Plus range amplifier. Measuring 7,91 x 4,59 x 2,77 cm, it plugs directly into an outlet and contains a backup battery 24 hour battery life. So you won't have to worry about your sensors disconnecting in the event of a power cut.
Like any self-respecting alarm, Ring's alarm comes with a keypad. Quite compact, the Ring Alarm keypad measures 14.9cm. X 10 cm. X 2.3 cm and will find its place on a wall or simply on a table, the supplied support allowing it to be easily unhooked or tilted if you put it on a coffee table in a hallway, for example. Equipped with a battery offering autonomy of several months and a rather powerful speaker, you can place it away from the base, it will repeat the commands and the siren as well. It is possible to add more than one if necessary, which can be useful if you have several entries.
Le Ring Alarm keypad offers the choice between three security modes ("Home", "Outside" and "Disabled"). the "Home" mode enables selected Ring Alarm sensors to be activated for maximum flexibility, "Outside" mode activate all sensors to protect your home when you are away and the "Disabled" mode to interrupt the monitoring of all the sensors in order to move freely throughout the house without the risk of triggering the alarm. These are the default settings, because you can of course customize everything very finely, we will come back to it.
To activate one of these different modes, all you have to do is enter your four-digit personal code, then press one of the three buttons. If a door or window is open, Ring will let you know by flashing the "check mark" symbol, and you can then choose to ignore the sensor or take the time to close it. It's very useful.
Not available
July 6, 2022 0:58 a.m.
Finally, we find the essentials user manuals and the traditional ones ring stickers that you can stick to your door, gate or mailbox for deterrence.
Ring Alarm Data Sheet
Brand :Ring
Model : Ring Alarm 5 pieces
Dimensions : Base: 16,90 x 16,90 x 3,6 cm / Contact sensor: 8,2 x 2,5 x 2,4 cm / Movement sensor: 9 x 6,13 x 4,48 cm / Keyboard: /
Food : AC 100-240 V 50/60 Hz power adapter and rechargeable battery
Protocols : Z-Wave Plus, Wi-Fi
Range : up to 76 meters
Mermaid : 104 dB integrated into the Base and loudspeaker on the numeric keypad.
Safety : integrated 3G chip (active if Ring Protect Plus subscription), back-up battery (24 hours of autonomy), 3 security modes.
Operating temperature : 0 ° C to 40 ° C
Ring Alarm: a truly compatible alarm Alexa
Now that we have made the presentations, it is high time to move on to practice and, above all, to the question that burns your lips: how the Ring Alarm with Alexa et Amazon Echo !
Alarm installation
Ring didn't lie, the installation is extremely simple. If you haven't already, just install theRing app - Always Home for iOS ou Android and create a Ring account, or use one that is already active, which we will do.
You can opt for a Wi-Fi or Ethernet connection.
Then, it is hardly more complicated:
On the main screen, choose "Configure a device" ;
Go to " Security " ;
Select "Base" ;
Create a location et enter your address ;
Press the pair button, the central LED starts to rotate;
Wait for the update which may take longer or shorter depending on your network connection ... It is done !
Your Ring Alarm base is installed, but you must now pair the devices purchased with: Ring Alarm keypad, contact sensors, motion detectors and the Z-Wave Plus repeater with which we advise you to start. You can add up to 100 devices on the base.
Good news, all the devices included in the pack are already associated with the base. For additional ones, you just need to scan the QR Code placed at the back or enter the 5 digits. do not forget to remove the plastic tab which protects the battery.
The installation of the sensors is no problem, Ring has even provided explanatory videos at each step of the installation to help us place the different devices in the best possible way. It really is very well done, very fast, the brand is not exaggerating when it says that it is the easiest connected alarm to install !
Finally, the most complicated thing is to choose the location of your motion sensors. Indeed, it is better to arrange them as best as possible so that they sweep the maximum amount of space. The well-designed stand allows placement flat against a wall, or even in an angle. You can glue it or screw it, it's up to you.
The contact sensor is even easier to install, but note that the notches must be opposite and the sensor at a maximum distance of 1.27 cm from its magnet. Two are also provided: a large (see below) and a much more compact and discreet. You can either screw or glue them using the stickers provided.
Application settings
The application Ring Alway Home is feature rich but ultimately quite simple to use. Since its redesign, it is relatively easy to configure it and we do not get lost too much in the different menus. Not too much, because unlike the configuration of cameras and doorbells, some small subtleties are to be remembered for Ring Alarm and the configuration of the modes could lead you to fumble ... Indeed, if the operation of the alarm itself is in " Settings " and "Modes", each sensor must be configured in another menu named "Devices" where you will find your Ring 3 video doorbell or other brand cameras. You get used to it quickly, but it's not very natural.
3 modes are available at the top of the application and accessible as soon as it is opened: Disabled, At home and Outside. It's simple, quick and convenient to use.

Dance " Settings ", you find :
Modes: allows you to set the parameters of the three modes, the entry and exit delays, the sound signal and the sensors to be taken into account.

Ring Alarm Alerts : you can configure no less than 12 types of alerts to be received as push notifications and / or e-mail.

Users : allows access to third parties at several levels.

Share access: ideal for another family member, this mode allows you to share access entirely or only to the Base (arm / disarm) or even to certain sensors (practical for children).
Guest User: If a craftsman has to come to your house or if friends are visiting you, this mode allows you to share with them a temporary code (or not) so that they can disarm the Ring Alarm without giving them your usual PIN code or access to the settings. They can simply enter it on the numeric keypad. Practice !
Base Ring Alarm: you can configure a number of things ...

Associate or remove devices;
Check for updates for each device;
Choose Language from the base;


Adjust the brightness of the LEDs of the light ring: fully, it really illuminates a lot, so we turned them off, this makes the base much more discreet. Note that in the event of an alert, it lights up red at its maximum intensity.
Adjust the volume of sound notifications: thoroughly, we even hear it from the outside! Again, this will have no consequence if the alarm is triggered, which will sound at its maximum of 104 dB anyway.
Test the siren: it is quite practical at the time of installation because it allows you to place it judiciously so that it is as audible as possible.
History of events: it covers events specifically linked to the base. The sensors also each have a history, but the most practical on a daily basis is still the general history accessible from the home screen of the application.

Ring sensors each have a plug with their own settings. This is very practical because, depending on the location, the requirements are not always the same, especially for the "At home" mode.

The motion detector: you can adjust its sensitivity (useful if you have a pet), select the modes in which it will be monitored, choose or not an audible signal that will sound on each detection, and of course consult a history of events.


The contact sensor: here too we find a history of events, the settings for each mode and a possible sound signal when opening (very practical on an entrance door, for example).
We emphasize the reactivity of these very efficient sensors, which almost immediately detect their change of state. The base reacts instantly and a notification is sent within a second. This is one of the strengths of Z-Wave which offers very low latency.
A panic alarm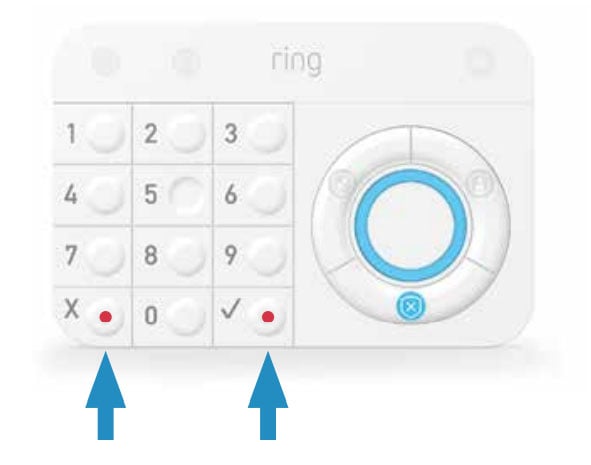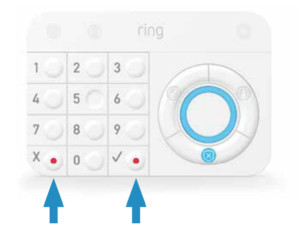 Another cool feature: the panic mode. Thanks to the keypad, you will be able to trigger a so-called panic alarm in the event of an intrusion while you are at home, or simply if you need help.
This can be useful if, for example, intruders managed to get in without triggering the alarm through an unmonitored entrance or if your alarm was disabled for some reason.
To activate it, nothing could be simpler, just press simultaneously on the X and buttons ✓ for three seconds. From then on, the siren sounded immediately.
Connecting the Ring Alarm to Alexa
If you are already using branded devices, the Ring Alarm will go up on its own in Alexa. If necessary, all you need to do is activate the Ring skill.
The voice commands Alexa allow you to activate / deactivate the modes:
« Alexa, active Ring. "(Default" home "mode)
« Alexa, weapon [name of Ring base] "
« Alexa, disarm [name of Ring base] "
« Alexa, Ring weapon in absence mode »
« Alexa, Ring weapon in presence (or residence) mode »
You can also customize voice commands using routines in your app Alexa for home and outdoor modes.
Function "Ignore the sensors" allows bypassing motion detectors and contact sensors located on doors and windows, usingAlexa, without having to open the Ring app. This is very handy if you need to open a window, for example, or if you are leaving with shutters closed but windows open. Note, moreover, that unlike Google Assistant, Alexa request PIN codes to unlock security systems. Note that you have to dictate the numbers one by one.
We find several elements in the application Alexa :
Base Ring Alarm: voice arming and disarming settings. You can choose to use your code PIN Alexa or the one defined in the Ring app. Contrary to what we have read here and there, the system works perfectly in vocal on the French version ofAlexa and really turns out everyday practice. Moreover, you can even use it as a trigger in your routines to, for example, turn off all the lights in the house when you arm your system in "Outside" mode (Alexa, much better translated than the Ring app, calls it "Away" mode).
The sensors: they also all go back as safety devices. So you can do routines Alexa using them as triggers! It is very convenient for turn on the light in the hall when it is dark, for example (see below).

Another example, we had fun creating an anti-intrusion scenario where Alexa :

Turn all the lights on red,
Inform the intruder (s) that the owner of the premises has already been notified and the police called by saying it at full volume on all the Echo speakers in the house,
Play a siren sound throughout the house to assist the Ring Alarm…
Guaranteed effect, the alarm routine therefore blithely exceeds 104 dB and the situation quickly becomes anxiety-provoking, even for the owner of the premises. Remember to deactivate it when you are at home because, to have triggered it by mistake at dawn, we can guarantee you that it was a somewhat violent awakening. We were also able to say hello to our neighbor who was wondering what could happen at home. So effective!
RingProtect Plus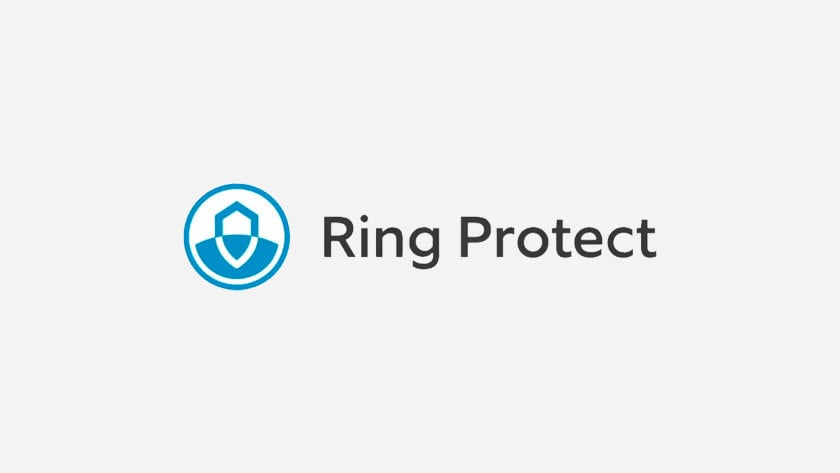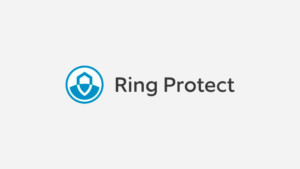 The base of the Ring contains a 3G chip only active if you opt forRing Protect Plus subscription offered at € 10 / month or € 100 / year.
Provided by the American operator AT&T, the cellular connection works perfectly in Europe via agreements of roaming , rest assured, and allows the alarm to trigger alerts even if your Internet connection is cut. Likewise, the internal batteries will take over for 24 hours in the event of a power cut. The subscription also offers a assisted surveillance, in other words a system ofautomatic calls generated by voice mail on your mobile phone when the alarm is triggered, as well as video recording for old and new surveillance cameras and Ring video doorbells. In practice, you will receive a series of calls until you answer, and if not, an emergency contact will in turn be called.
Our opinion :
take the Ring subscription!
It is an investment, of course, but an undeniable plus. For 10 € / month or 100 € / year, you benefit froma truly complete and efficient solution, especially if you are also the owner of cameras and doorbells of the brand since they will all benefit from the unlimited cloud, but also a Extended Warranty throughout the duration of your subscription.
We have tried both solutions, with and without a subscription, it is clear that the formula RingProtect Plus is really useful because it is much more secure. Indeed, if it is easy to miss emails or notifications push, hard to miss a series of calls!
Finally, note thatAmazon will soon make an offer Alexa Guard Plus paid, but free for Ring Protect Plus customers. It will include even more extensive monitoring via our speakers. Amazon Echo as well as a real call center capable of raising doubts and preventing the police for you. We are excited !
Warning, Ring Protect Plus only covers one location. So, if you have a second home and two Ring Alarms, you will need two subscriptions. It's a bit of a shame, but it is perfectly understandable.
Our opinion on the Ring Alarm
"We are totally convinced by this Ring Alarm! " The Alexians
We will not go four ways because after several months of testing where we had plenty of time to test the solution in an apartment and then in a house, we are totally convinced by this Ring Alarm and followers of the entire security system offered by the brand. In fact, we even installed two! Let's see why.
Ring Alarm is easy to install. It only took us an hour to perfectly configure our alarm, although we subsequently adjusted our settings to better adapt them to our habits. So Ring didn't lie, it's one of the simplest solutions and easy to implement. No need for a professional.
Ring Alarm is easy to use. Everyone in the family, although some were not very tech-savvy, quickly got used to it. Several methods are available to arm and disarm the system: the traditional numeric keypad, the Ring Always Home application or even Alexa.
Ring Alarm is fully compatible Alexa. This is the big plus of this solution because its management is simplified, in particular thanks to the possibility ofvoice arm or disarm your alarm by simply saying a code PIN. If you have Auto Echo, for example, you can disarm your alarm by voice while passing through your gate, a real comfort on a daily basis. You can also go further and use your sensors as triggers in routines and create all kinds of automation, for your safety of course, but also for your comfort. The routine that will make all your speakers scream Amazon Echo to the one turning on the light when you arrive, you are spoiled for choice. This is a real plus.
The Ring Alarm is very responsive. Thanks to Z-Wave, the latency is very low and if you opt for immediate triggering, you run the risk of making it ring regularly, hence the interest of timers (especially for the "Home" mode). The coverage is excellent and the alarm never goes off, unlike some of our Wi-Fi cameras.
Finally, the Ring Alarm is effective. Fortunately, you will tell us, but we always wonder a little with this kind of devices. If it is not deafening, its 104 dB are largely disturbing, and pairing with speakers Amazon Echo is very interesting. It will be even more so in the future with the arrival of the feature Alexa Guard.
In the radius of defects, we will therefore note a slight lack of siren power and the absence of an external siren. In an isolated house, 104 dB does not seem like much to us, but would having more really be a game-changer? Not sure, and you can always fix it with the brand's outdoor cameras which have sirens (the Floodlight Cam et SpotlightCam).
Another small defect is, in our opinion, the large volume of sensors which are not really discreet. Fortunately, Ring has already made them more compact in the second version of its alarm, but this one is unfortunately not yet available in Europe (the V2 is compatible with the V1, so it will be possible to install second sensors. generation, ed).
In the end, the biggest complaint we can make with the Ring Alarm is its somewhat messy settings. Although you get used to it quickly, it is easy to get lost in the intricacies of the application at the beginning. A little effort from this point of view would not be refused!
In conclusion, you will have understood it,
it is a full box for this Ring Alarm that we can only advise you
if you are not yet equipped with a home alarm and are looking for a simple, effective, and affordable solution. Although the subscription seems to us to be a real plus, it is not compulsory and everyone will find something for them. If, like us, you are also an avid user ofAlexa, and / or other devices of the brand, then do not hesitate, and let yourself be tempted!
Offered from € 299 with 5 elements
,
Ring Alarm is a great product
which will satisfy many individuals, tenants and owners alike, looking for
an efficient and accessible connected security solution
.
Ring Alarm - Home security system with Alexa
€ 299 (5-piece kit excluding promo)
Most
Ease of installation and use
Very low latency and reliability of the sensors
Integrated 3G connection and battery
The richness of the Ring ecosystem
The best compatibility Alexa of the market
The lessers
Large sensors
We are waiting Alexa Guard impatiently (but it's not Ring's fault ...)