« French fries. I love them. Some people are chocolates and sweet. I like fries. And the caviar. " Like Cameron Diaz, Alexians love French fries, but they're pretty damn fatty, and after two lockdowns, many of us are a little more careful about what we eat than before. This is why we have decided to present the air fryer Proscenic T21. a connected object for the kitchen, of course, which is controlled via the house application and the Tuya environment / Smart Life.
Gadget or not? This is what we will see ...
€129,00
In stock
2 new from € 129,00
Refurbished from 19
June 30, 2022 5:51 a.m.
Proscenic T21: a connected air fryer!
Unboxing and presentation
Let's move on to the packaging, unattractive and far too bulky for our little photo studio, which is of little interest since it is the device that we will see every day in our kitchen.
Forget the kitchenette, the air fryer Proscenic T21 is a fairly large device. Measuring 30 cm x 30 cm x 32.5 cm , this fryer is nonetheless rather aesthetic with its coating in brushed aluminum and its plastics in deep black. Very fond of chrome or aluminum devices, we are quite fans of its modern design which easily finds its place in our - more or less - beautiful kitchens.
"We are quite fans of its modern design" The Alexians
On the front, this machine leaves little doubt as to its function: frying! Or almost, because she does not use oil... Exit the oil pan, here we use hot air, very hot, and pulsed like a convection oven. Nevertheless, we find the essential basket which will be placed in a container able to recover the cooking residues.
A 5.5 liter capacity, its tank is not huge but should be enough for a family of four. His non-stick coating is of good quality and should be easy to maintain. Everything exudes quality and gives us more confidence. The basket, very light and therefore easy to handle, is made of aluminum and also covered with a non-stick coating just as effective as the famous Teflon.
By removing everything, we can observe the heating mechanism of the air fryer Proscenic T21, all in all quite simple, since it is composed of a big fan and a wide resistance generating up to 204 degrees, enough to cook just about anything!
The feeding is done by a E / F type socket located at the back. The cable, a length of one meter, allows the device to be plugged in far enough from an outlet. Note the ventilation grid allowing hot air to escape. It is advisable not to obstruct it and to avoid approaching it during operation, but rest assured, you do not risk getting burned.
Finally, we find on the facade the control panel essential for the conventional operation of the device. His touchscreen offers a large number of functions, but is nevertheless very easy to use. It is composed of a digital display, to adjust the temperature and the cooking time, bordered by 17 keys which allow you to configure or program your cooking.
Before seeing their usefulness, here are the technical specifications of the device ...
Data sheet Proscenic T21
Brand:
proscenic
Model:
T21
Type:
air fryer
Capacity:
5.5 liters
Temperature range :
77 ° C to 204 ° C
Power :
1700 W
features:
Cooking, Preheating, Programming, Reservation
Connectivity:
T21
Application:
Proscenic Home, Tuya / Smart life, Amazon Alexa
Supply :
T21
€129,00
In stock
2 new from € 129,00
Refurbished from 19
June 30, 2022 5:51 a.m.
Using the connected air fryer from Proscenic
Manual operation
Let's go back to the control panel. With no less than 17 buttons, the latter allows you to quickly launch Proscenic T21 fryer at your fingertips.
We find :
Food: On Off,
The commissioning: cooking / break,
The timer and its +/- buttons: they allow you to select the cooking time and adjust it for,
The thermostat and its +/- buttons: they allow you to adjust the temperature at any time,
Preheating: as its name suggests, it allows the appliance to heat up for a more golden cooking,
Keep warm : if you don't want to eat right away, you can keep your dish warm,
With the Proscenic Home app
If we talk to you today about the Proscenic T21, it is not because we recycle ourselves in household appliances, but because this model has the particularity of being connected. Indeed, like the majority of the brand's products, this connected fryer is also piloted via theProscenic Home app. This could only arouse our interest!
Available under Android and iOS, we find the application that we presented to you in particular with the Proscenic M7 Pro. Powered by Tuya, it is however more complete than theapplication Smart Life which, admittedly, can fully support the T21, but will give you less features and a much more basic interface. Furthermore, Proscenic added over 150 recipes just select to program the right cooking time in one click ... And you can even set aside your favorites in your favorites to find them more easily.
"Proscenic added more than 150 recipes ..." The Alexians
Unfortunately, and this is where the shoe pinches, the Proscenic Home application is very poorly translated, sometimes bordering on understandable. If we understand quite easily that " warm up " corresponds to the preheating of the device, "Insulation" is like reserving your dish - in other words, keeping it warm - while " reservation " is actually a timer.
In short, la traduction est à revoir, especially since there is still a little Chinese here and there, and the programming features are disappointing. Indeed, it is impossible to make more extensive programming by defining a day and an hour, it is only a simple timer, or countdown if you prefer.
We are tough, but Proscenic should really review this app which spoils the user experience somewhat. This is a point that we had already underlined in our robot vacuum tests and which is recurrent in this brand which also offers very good products withexcellent value for money. It's a shame, but the Proscenic Home app is disappointing, as is the connection to Alexa...
With Amazon Alexa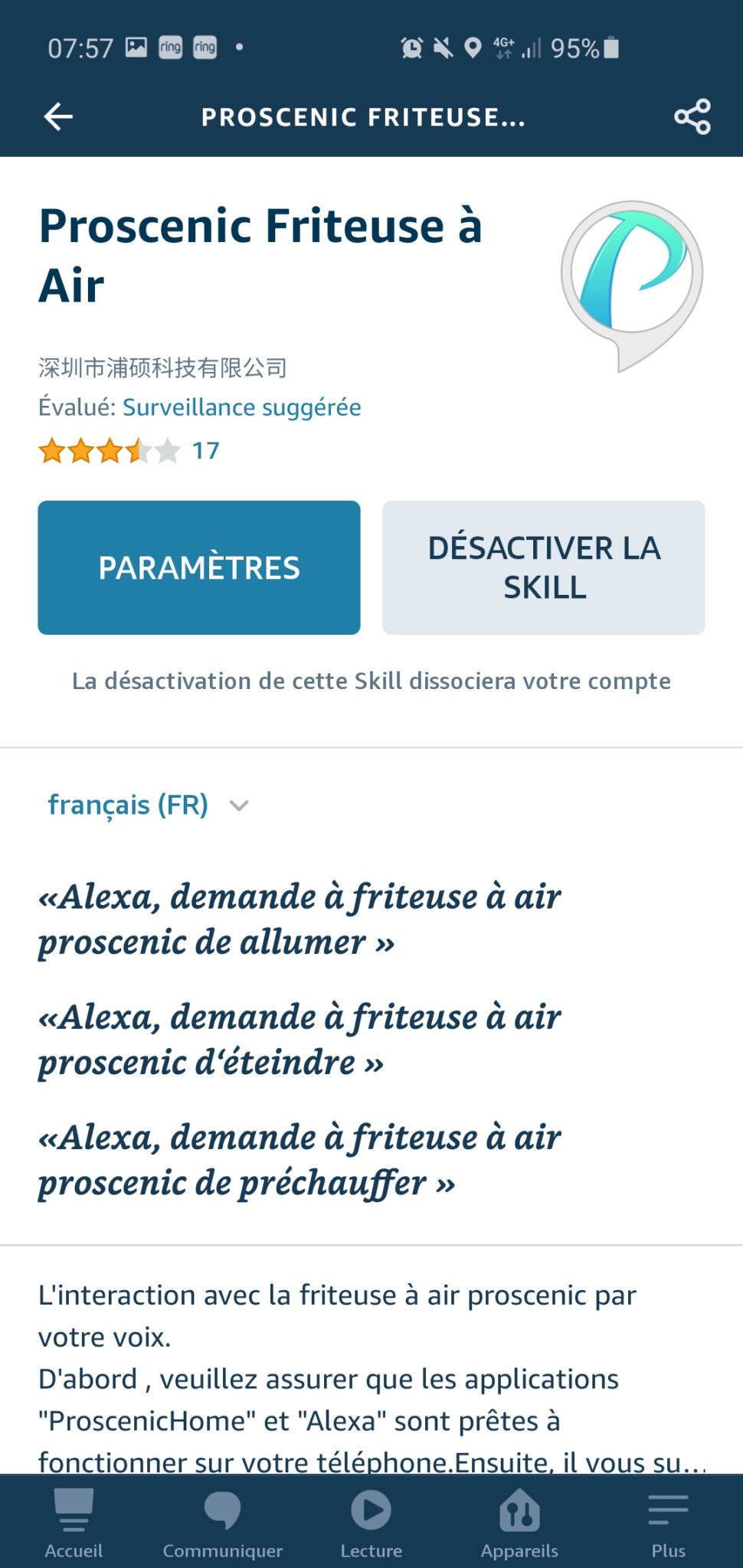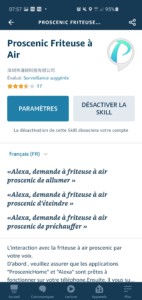 There too, la skill Proscenic Air Fryer does not really keep his promises. The idea is excellent and we expected to be able, for example, to be able to fill our basket with fresh fries on leaving in the morning and to be able to start cooking when coming home with a simple voice command Alexa passed to our Auto Echo.
Sometimes it works, sometimes it doesn't. Half of our experiences have ended in failure. You might as well open the application because the disappointment is great to find yourself facing raw fries while thinking of sitting down to the table!
It is Too bad and the manufacturer would do well to revisit this point as well because, if it was fully functional and also allowed to make routines Alexa, this connected fryer may well appeal to more than one user of the voice assistant ofAmazon.
Daily use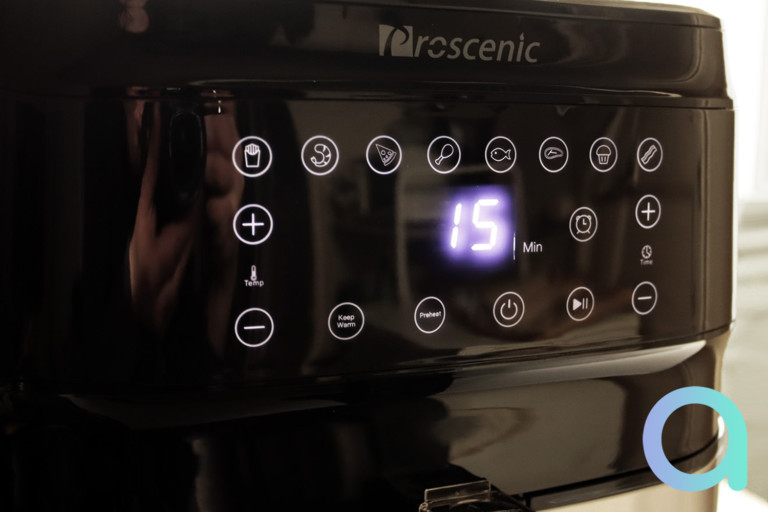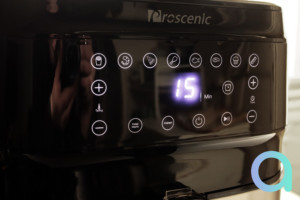 Apart from the problems mentioned above, the T21 is nonetheless a oil-free fryer pleasant to use and quite efficient in manual operation. To be honest, we really enjoyed testing it and use it 2-3 times a week.
You can do almost anything there, cooking is always successful, and it is disconcertingly simple. We have also experimented with a large number of recipes before giving you our opinion on this Proscenic T21...
The potato fries, or French Fries, are obviously his predilection. Fresh or frozen, without oil or with a tablespoon or two, it's up to you. If frozen foods do not need oil, especially those intended for cooking in the oven because they already are, fresh potatoes tend to blow a little. It's not bad, far from it, but we advise you to add a little bit of oil, and especially of preheat the machine, if you want to get beautiful fries as we hear from us.
Anyway, we really enjoyed ourselves with it, and in addition to allowing a more dietetic cooking, the Proscenic T21 air fryer prevents frying odors ! And that is not a shame, you will agree. You can also make delicious "Potatoes" of course.
"To be honest, we really enjoyed testing it and use it 2-3 times a week. " The Alexians
For more healthy cooking without oil, turn to vegetables. Without anything, they are delicious, whether it's cauliflower, broccoli, carrots or zucchini ... Cook them at low temperature, it's better. Add a few spoons of water, you're done. Here too, fresh as well as frozen, it is a success!
If you don't have time to cook, it's really practical, you can do very simple things like slash potatoes, add a knob of butter in the center, sprinkle with a little coarse salt. Start the deep fryer, add a little parsley at the end of cooking… It will be perfect and above all super fast!
"Here too, fresh and frozen, it's a success! " The Alexians
Without too much surprise, this air fryer is obviously very suitable for asian cuisine. Shrimp fritters, beef skewers with lemongrass, pork spring rolls and spring rolls, Dan Bing or lacquered shrimps are the favorite ground of the Proscenic T21.
"This air fryer is obviously very suitable for Asian cuisine" The Alexians
Friends unexpectedly drop by for a drink? A few frozen shrimps and some calamari à la romaine will make a splash without you having to stay in the kitchen! You place them in the basket, you start cooking and eight minutes later it's settled ...
The meats are not left out and their cooking is always successful ... And odorless! You may need to master the beast a bit to begin with, but the preset modes are pretty well calibrated. If the brand promotes cooking a whole chicken, we have some doubts about its feasibility unless we find a very small one, but for poultry thighs and sleeves it's perfect. You can make turkey, rabbit, duck… And why not frog legs to honor our reputation!
La Proscenic T21 is also perfectly suited to the preparation of fish. Fresh or frozen, cod, hake and other salmon benefit from cooking with small onions, which you can also include in your basket. Without oil, it is hardly healthier and it is a delight!
"The Proscenic T21 is also perfectly suited for preparing fish. " The Alexians
In short, you will understand, we had a lot of fun during this test and the Proscenic T21 has definitely taken up residence in our kitchen. Although we can blame it for not being successful enough at the application level, it nonetheless remains a high-performance device that is very useful on a daily basis with which we took pleasure in cooking. The blue cords will probably prefer other devices, but it is perfect for cook in a quick and healthy way of food every day. The many forced teleworkers will undoubtedly appreciate its ease of use and the possibility of good balanced meals without leaving your workstation for more than 5 minutes!
€129,00
In stock
2 new from € 129,00
Refurbished from 19
June 30, 2022 5:51 a.m.
In conclusion, our opinion on the
air fryer Proscenic T21
is overall very positive.
Simple and efficient
, we have totally adopted it to the point of cooking all kinds of things in it:
fish, chicken, vegetables and fries of course
. Let the food be
fresh or frozen, cooking is perfect and uniform, dietetic
also because requiring little or no oil at all.
Nevertheless, we can blame it for connected features that we would call a gadget. Indeed, although its connectivity was our main criterion to present it to you and that the idea is in our opinion excellent on paper, the realization is fishing because of a poorly translated application and compatibility Alexa all relative.
In the end, this characteristic is therefore somewhat anecdotal, but The Proscenic T21 air fryer is nonetheless an excellent product, not very expensive in addition since offered at only 129 € on Amazon.
Proscenic T21 Air fryer
€128.99
Most
Modern and elegant design
Ease of use
Very efficient and healthy cooking
Easy maintenance
Excellent value
The lessers
Basket volume a little tight (4 people maximum))
Application to review, in particular its translation
Skill Alexa ultimately impractical: no routines, commands not always understood ...