During their tests on Konyks products, the Alexiens presented you high-end products. In particular a very good catch with consumption monitoring including the application is based on Smart Life. We decided to test another outlet aimed at the high-end market: the Koogeek P1EU socket. A smart connected socket with monitoring of electricity consumption at a price of € 39,99 excluding promotion…
KOOGEEK P1EU: a premium look, without a doubt
It is quite clear that Koogeek, a US brand and produced in China, is looking to play with the big boys. This plug is delivered in a real case! The cubic box is very solid, glossy white with a visual of the socket and its characteristics. When opened, the grip appears to be resting on black velvet, in fact a high density foam molded to the shape of the grip to allow it not to be impacted. You will also find a quick start guide in French.
The design of this plug is a real highlight. It is really out of the ordinary with its curves and rounded shapes. It really stands out, not to mention the quality of the materials: it gives a feeling of solidity and quality. Moreover, it is quite heavy for a connected outlet, so we are on thick and dense plastics. It has a physical button on the top and a small LED is hidden in the second Koogeek "e" on the front (giving the status of the socket (on and off)). It is very well found!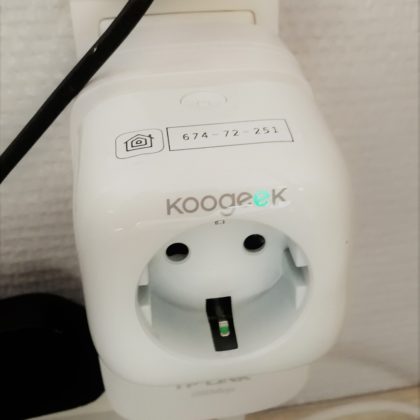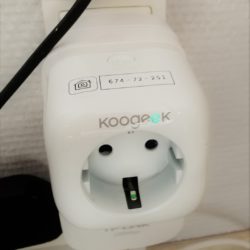 No fault found on the socket tested. She really looks sturdy and beautiful. We are really under the spell, she exudes quality.
Its size is quite compact with its 6,5 cm side and a thickness when connected of about 5,5 cm. The thickness might be a bit above the industry average, but nothing bad.
It is in the average of the characteristics of the connected sockets of the market: it operates on a standard voltage used by France: 250, 50 Hz V and an intensity of 10 A max. It has 2 poles and the earth. It supports 2500 W, which is starting to be good but too little for a high-end socket… Again, only 2.4 GHz network, IEEE802.11b / g / n.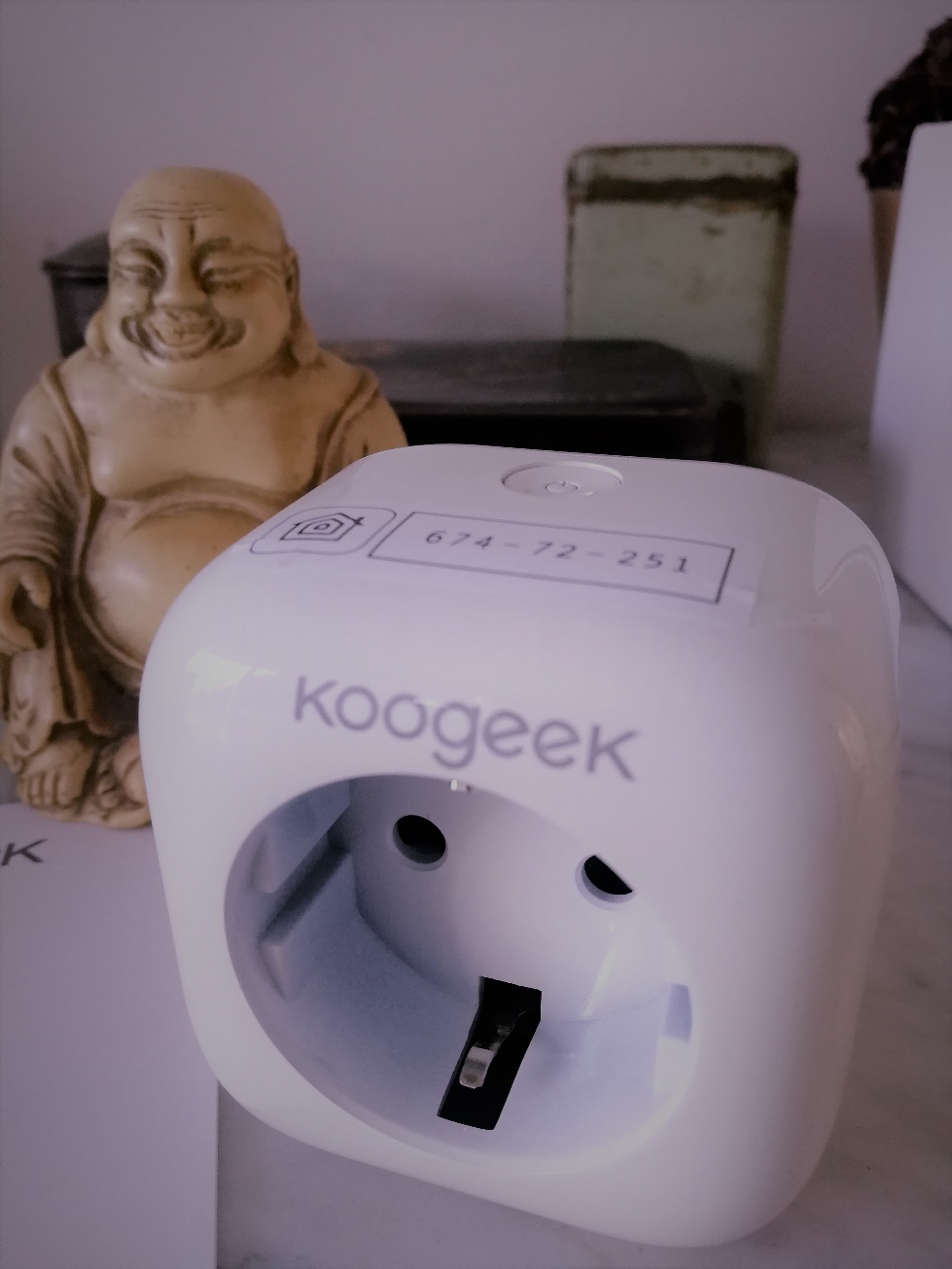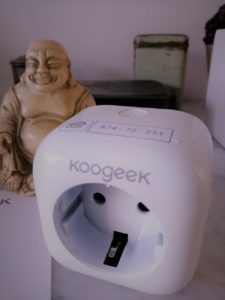 KOOGEEK P1EU: a pro Apple plug, having forgotten its highlight on Alexa ?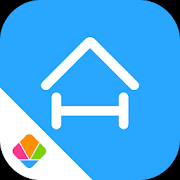 Considering the title, you realize that there are problems with this take… And yes… It's a shame because it was impossible for us to do the test! You are therefore reading a test article explaining a non-test! Yes, we like to innovate!
First of all, know that the plug works with the Koogeek app Smart Home… Rated 1,7 / 5 on Google Play. Ouch… Already, by reading the comments, we begin to have a doubt: "impossible to connect the plug", "does not work"… Well, we do not stop there, we go there!
Application downloaded, account creation, choice of outlet (P1EU), plug plugged in, green flashes… it looks good! But the app is only in English which may be a problem for some.
But after an hour of testing

But after an hour, I lost my smile and my good humor !!!! Damn, I question myself, I test on another outlet, another network… Nothing! And there, enlightenment! The answer is there! You find ? Note that I use a smartAndroid phone, like the rest of the editorial staff ...
Eh yes !!! To install this socket with an Android phone, you need… an iPhone !! You are not dreaming, I too believed, but no! You must first install the socket via an iPhone, update it and then install it on your smartAndroid phone. The socket is therefore only controllable with an Android phone. Words matter. And if, like us, you don't have an iPhone, or anyone on hand with an iPhone, or if you don't want to bother them, you're brown. And in principle, I find it so stupid that even if I knew someone with an iPhone, I wouldn't have contacted them.
Looking more closely, we see that Koogeek remains pro Siri and Apple and gives the impression of coming to Alexa and Android by chance or even by mistake… Evidence?
While the product description highlights Alexa and Android, all photos and screenshots only show Apple and Siri…
The visual codes of the plug and the packaging are close to those of Apple.
Operation with Siri is highlighted on the facing, nothing for Alexa. We are therefore on a product that seeks to remain on the packaging and the Apple image ... even if it is clearly mentioned on the sales sites and the manufacturer's explanations that it is compatible Alexa and Android. Moreover, the quick start guide is very incomplete because 100% Apple and Siri.
So you're going to tell us: you don't have an iPhone, well too bad for you, but is that a reason to speak ill of the product? So yes, indeed, it looks good and maybe works great with an Apple. It is not the grip that we describe, but the logic of the manufacturer that is beyond us!
To control it with an Android, you absolutely have to install it with an iPhone !!! It sounds like a joke… but no. While Android represents 77% of OS pdm in France (data at the end of 2017, article dated 23/08/2018, jdn), Koogeek therefore has the means to do without ¾ of the market.
So this plug is a high-end product, very pretty, very solid but giving the impression of being compatible Alexa and Android by mistake ...