Alexians like the light and, in these days shorter than the nights, nothing like a bright and warm interior to compensate for this lack of clarity that can make us a little chafouin or gloomy ... So, to remedy it, why do not opt ​​to put a little atmosphere with Philips Hue GU10 ? This is what we have chosen to do, and we will see if this choice is wise.
Besides, what does GU mean? GU actually corresponds to bayonet type bulbs but with the pins terminating. They will therefore be fixed by rotation of a quarter turn in the socket. The U indicating the notion of Universality because another type of G exists: GZ (for info, the GU are, in fact, universal and therefore compatible on GZ, while GZ will not be adaptable on GU). The 10 corresponds to the distance between the two pins. So much for the explanation of the name of our bulb. Let's close the little parenthesis.
If you are one of our avid readers, you know that Alexians have already tested Philips brand bulbs like the White and Color E27 or the Philips Hue GU10 White and Color. This time it is the model Philips Hue GU 10 White Ambience that we are going to review. We obtained them in flash sale in lots of 3 at 53.90 € instead of 74 € excluding promo. These are dimmable and of course compatible with our favorite AI: Amazon Alexa !
€28,99
In stock
8 new from € 28,99
May 23, 2022 17:52 a.m.
€58,29
In stock
3 new from € 47,21
May 23, 2022 17:52 a.m.
Philips Hue GU10 White Ambiance: as many whites as you want
Unboxing and presentation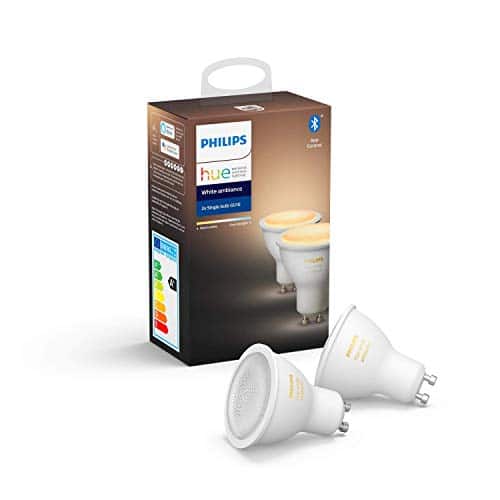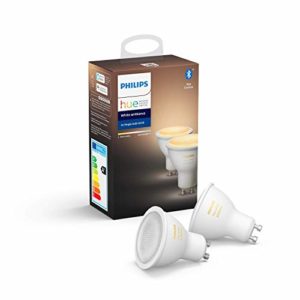 We receive our set of 3 GU10 bulbs in two separate packages (1 set of 2 ampoules and 1 unit package), but the two boxes have exactly the same dimension and contain the same information (except, of course, at the bottom of one: included 2 ampoules).
Philips always takes care of its packaging and this is no exception to the rule. The packaging is in glossy cardboard of good quality although it is in rather dark brown tones. It of course includes the visual of one or two GU 10 bulbs depending on the quantity in the box. We find the description positioned at the top with, of course, the Philips logo, that of the family of our bulb HUE and its category: White Atmosphere. So there is no color for this model, only a white adjustment from hot to cold is provided as mentioned in the small info bar under the description.
On the back, we find technical information on the Philips Hue GU10 (in 6 languages) in three paragraphs: LED bulbs, dimmable, the Hue bridge to be able to take full advantage of all the functions offered by the application (but we will see later that even without a bridge these bulbs can be used with a Echo device with built-in bridge as'Echo Show 2 tested here. The color temperature of these bulbs varies from 2200K to 6500K, that is to say that we can start from a warm white (yellowish) to achieve a cool white matching daylight
Below we find the information about the power: 5.5W of these GU10 LEDs correspond to approximately 25W on our old incandescent bulbs and deliver a luminous flux of 250 lumens. It is certainly not much, but for a passage area it is enough, especially since only one GU bulb is rarely used. Moreover, they are to CE standards fortunately, but more important: a symbol of striped droplets warns us that they are not not suitable for humid places even less for outdoors. The IP index is indeed only 20.

Our packaging box finally tells us that it is GU10 with an announced longevity of 15 000 hours, who light up instantly (it's better!), and for which 50 on / off are provided.
Finally on one side, we find the information relating to the energy class A of the type of our GU10 (can do better if we believe the table with A + and A ++ possible) while on the other, very discreetly at the bottom is present the logo Zigbee ! For a bit, we missed it ...
Once opened, each of our boxes reveals our bulbs well wedged in a thick and rigid cardboard. On one side, the panels fit together to protect the product. We also find a fairly large leaflet, in 28 languages, but for French you only have what you see folded up on the copy on the right (held by a paperclip). And again, with only two lines of explanation : 1) plug in the bulb 2) start the application… Very basic.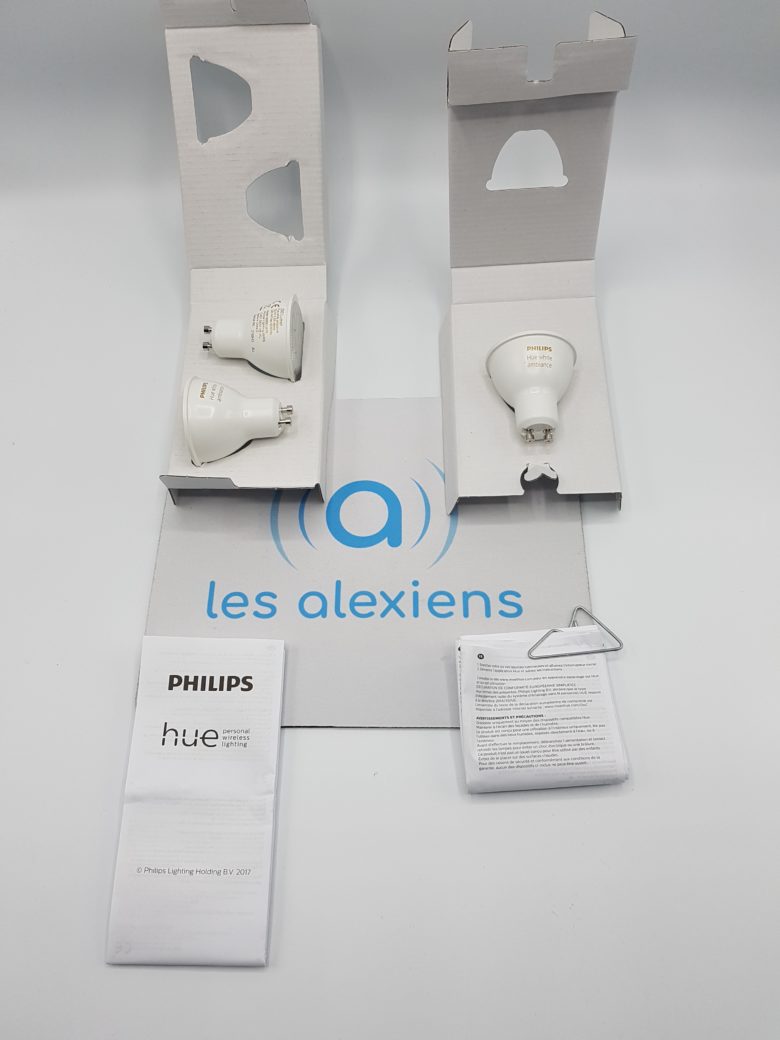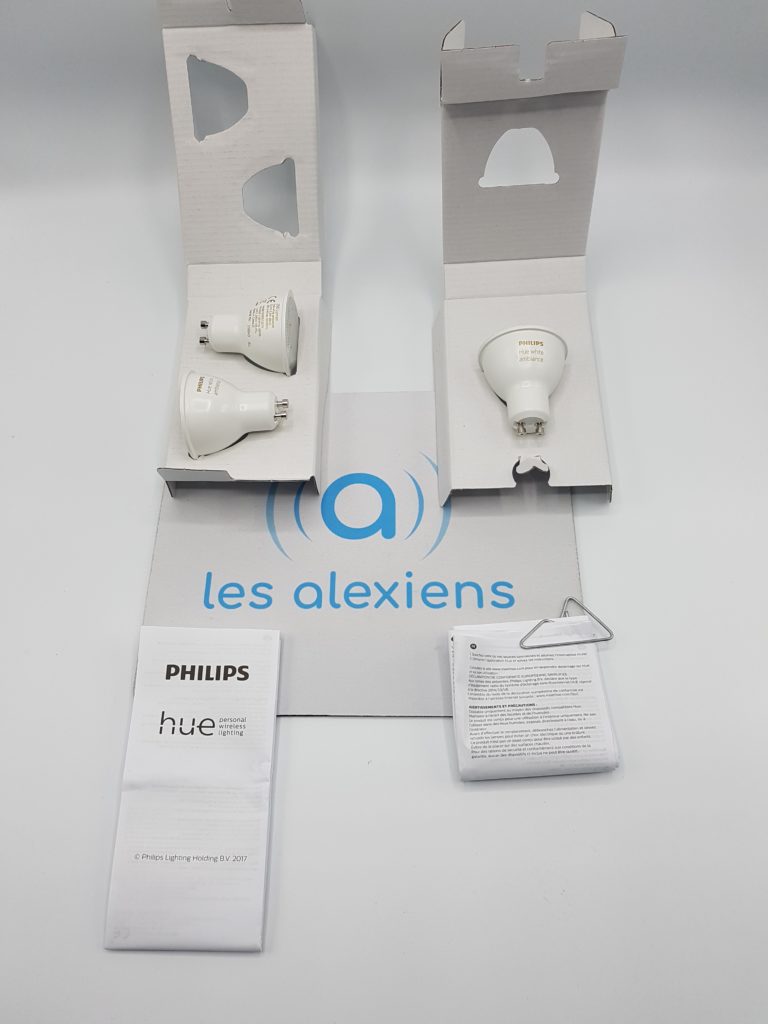 Philips Hue GU10 bulbs are relatively pleasant to the touch. Even though the top edge is straight, steep, it is not sharp since the casing is smooth plastic. The flat globe (or reflector) is also made of honeycomb plastic. She displays a weight of 50g on our scale.
Finally, before moving on to installation and operation, here is the traditional technical sheet ...
Technical specifications
Brand
Philips Lighting
Routing
Philips Hue
Reference
GU10 White Ambience
Type
GU10 reflector
Material
plastic
Dimensions
5,7 L x 5 W x 5,7 cm H
Protection sign
IP20
Weight
49.9 grams
Luminous flow
250 lm
Engime
5.5W
Power factor
0.8
Food
240V
Color rendering index
IRC 80 to 2700K
Installation of Philips Hue GU10: Hue or Echo bridge?
For the installation, we have the choice:
or, have light bulbs recognized by a device Amazon Echo with an integrated bridge as Echo Show 2, 2nd Generation Echo Plus, or all new Echo Studio which carry the essential Zigbee bridge required to connect our bulbs,
either the install via the bridge and the Philips Hue app which, when you recognize your bulbs, allow many more fine adjustments, even if here our bulbs do not offer color variation but just white. We opt for installation via the app.
If, however, you wish to do this via an Echo device, refer to the previous one Philips Hue GU10 bulb test.
As far as we are concerned, we already have Hue products and therefore an active account and the application installed. If you want to proceed as we did but have not yet done the preliminary steps to continue with this installation, see the Philips Hue White E14 review or Philips Hue E27 starter pack test to find your way around the app.
So here we are with our new bulb to be recognized in the application:
Once the application is open, in « settings« (bottom right), then « light configuration« , you have to click on "Add a light" and choose "Search".
If, like us, your bulb is not recognized, don't panic. This is possible since an alternative solution is planned by Philips: enter the serial number of the bulb - 6 characters - (it is at the bottom of the base). It may be advisable to write this number down before installing all the bulbs (especially if a large number is to be fitted).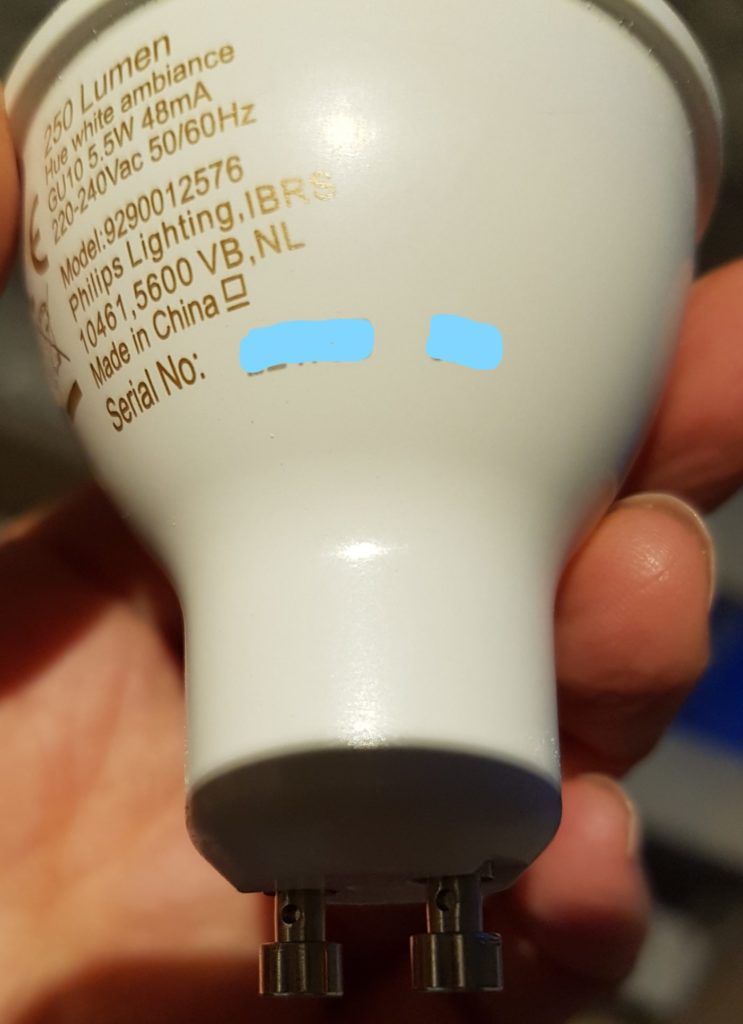 Once done the recognition is not a problem. It is then possible toassign the bulb to a room already created, or that we have just created, as well as rename it to easily "control" it by voice. The fact of installing it by the application will allow to have access to certain scenes with predefined settings.
Once the bulb Philips Hue GU 10 White Ambience installed we will therefore be able to test it. Let's see what she gives. The variation of the whites is very clear and we go from a warm white to a cold one, all very simply thanks to the application. The quality of the blanks is excellent, the response super fast thanks to the Zigbee.
And with Amazon Alexa ?
Well, nothing special to do: time to do the last screenshots on the Hue app, a notification was received indicating thatAlexa had already reassembled the new bulb alone in its application! What more ? Isn't the Alexian life beautiful? It will then be possible to create routines by choosing the parameters that suit us: ON / OFF, color temperature and light intensity. Now it's up to you ...
Below is a small preview of the rendering ,.
Our opinion on the Philips Hue GU10 White Ambiance
Philips Hue and its GU10 White Ambiance Zigbee are still there.
White variation is effective
and allows
adjust the brightness as you wish
or their needs. Whatever time of day, these bulbs always allow us to find the atmosphere we need, whether it is to work, cook, read or just relax. Ideal in living rooms such as kitchens, these variable white temperature bulbs are also perfect for hallways and other passageways that do not necessarily require color. However, as always with Philips, good lighting at a significant cost.
An investment that is nevertheless well worth the effort because the Philips Hue connected bulbs are undeniably the best to date.
Watch
our good plans
, you will find it regularly at attractive prices.
€28,99
In stock
8 new from € 28,99
May 23, 2022 17:52 a.m.
€58,29
In stock
3 new from € 47,21
May 23, 2022 17:52 a.m.