Alexians love light and colors in all their forms: connected bulbs ou led tapes and when an opportunity is offered to us to discover a new product, we do not hesitate too much to take advantage of it! This is how we are going to present you today a new lighting equipment: the OSRAM mini garden stakes Smart+. Intended to embellish our exteriors, they are ideal for securing a passage or quite simply for decorating a garden or a terrace. In addition, they are compatible with voice assistants Amazon Alexa and google Alexa. Perfect, right?

As this is equipment from the range Smart+ from Osram, you won't be surprised to learn that like Philips Hue products, it uses the ZigBee on the 2.4 GHz band and will therefore require a gateway between its bulbs and your internet box. OSRAM belonging to the LEDVANCE group, the brand is a member of the ZigBee Alliance alongside 300 other companies that are joining forces to develop this home automation protocol performance that they use for their connected objects. Thus the products Smart+ Both brands can be integrated into the Philips Hue bridge as Friends of Hue and we will be able to pair and install them in the Philips Hue application in order to bring some clarity to our steps ...
44,90€
54,99€
In stock
4 new from € 44,90
August 9, 2022 14:43 a.m.
Updated: August 9, 2022 14:43 a.m.
OSRAM Smart +: a kit of 5 connected and multicolored mini stakes
Unboxing and presentation
Surprise, this is not a great package that comes to us. The term mini is therefore quite appropriate, but OSRAM has done it well with quality packaging and a pleasant product visual. The user using her smartphone means that the lights are connected, dimmable and offer a RGBW multicolor light.
On the back of the box, all the dimensions to be taken into account are mentioned. The total length is 8 meters. The first stake will be located 5.65 meters from the outlet then each terminal will be 50 cm apart with a 25 cm end of cable intended to receive a possible extension.
The mini OSRAM terminals Smart+ benefit from a protection index IP65 and their electric block has a hint IP44 (for more details on the indices, you can consult our file: how to choose a connected outlet). A diagram specifies that only the stakes are contained in the box and that it is necessary to have a gateway (or gateway / hub / bridge, it's the same thing) to control everything with a third-party application (Philips Hue , without mentioning it, since the platform Osram Lightify will close its doors in a year). Finally, the brand informs us that it is possible to add up to two extensions of three terminals thus passing from 2 meters to 4 meters of lighting length.
On the sides, we find the technical characteristics: temperature of the blanks ranging from 2000K to 6500 K, luminous flux of 180 lumens and color rendering index IRC> 80.
With the box open, we discover the well-protected elements, as well as the traditional technical documentation: EU conformity certification 1999/5 / CE, installation / assembly manual in schematic form and a flyer telling us that the LEDs unfortunately cannot be replaced at the end of their life ... Rest assured, they will nevertheless hold 20 years at a rate of 2.7 hours of use per day, so we have time ahead of us.
Before testing the lighting, a bit of assembly is required. Let's start with the terminals. Five in number, they measure 12.5 cm high (8 cm in aluminum and 4.5 cm are in plastic). The LEDs have a power of 4.3 Watts and radiate at an angle of 90 °.
Stakes to be buried, one llength of 9.5 cm, are to be clipped onto the terminal by separating the flat cable on either side of the notches.
The power supply part consists of the E / F type plug and the transformer to be assembled.
A small elastic and a plastic molded nut will secure the flat cable between the plug and the transformer.
The same assembly is to be made between the transformer and the part of the stakes
Everything being assembled, let's move on to the technical sheet ...
Technical characteristics
Brand
Osram
Weight
508 g
Dimensions (LxWxH)
22,7 x 2,3 x 2,3 cm
Protection class Terminals
IP 65
Protection class Power supply
IP 44
Material
Aluminium
Volt
240
Energy class
A
Engime
4.3W
Color temperature
2700 Kelvin
IRC
80
Durée de vie
20 000 hours
Intensity
180 lumens
Protocol
ZigBee 2.4Ghz
OSRAM Smart +: mini connected garden stakes!
Installation and use
As said previously these OSRAM mini garden stakes Smart + are compatible with the Philips Hue app. We will therefore proceed to their installation with this one. If you have just purchased a Philips Hue bridge and would like to know more about its installation, nothing could be simpler, just refer to our Philips Hue installation tutorial. As far as we are concerned, since this one has already been installed for a long time, we are simply going to add the terminals to the application.
From the home page, click on " Settings " (the cogwheel) at the bottom right takes us to a new page where we will opt for "Light configuration" in order to add our bollards to the list of lighting already installed. In the next step, all you have to do is select "Add a light", then click on "Search".
If all goes well, the search is successful and Osram Mini Garden Stakes appear under the name "Extended color light" in the list of lights. We also have within seconds a notification at the top of the application advising us thatAlexa have taken them into account in its application. A click on the name leaving the factory attributed "extended ...", not really ideal to recognize them and we can remedy this by renaming it for example by "terminal" as well as assigning a new more representative icon after pressing " classic light bulb ".
From the settings page, it is possible to assign a room, see a zone in a room in order to facilitate its management. Once selected, you can create some scenarios or get pre-programmed effects and more mini-useful personalized settings whether on colors or shades of white.
What about voice assistants?
With Alexa
For Alexa, you must obviously have previously activated the Philips Hue skill . This is done under find the mini posts of Osram Garden by clicking from the home page on "Devices" then on the logo " lights' in the top banner. Here too, it is possible and even desirable to modify this term for better everyday use. The operation is also carried out simply by clicking on the notched wheel at the top right to access the parameters. In the app Alexa, it is of course possible to activate and operate brightness and color adjustments on the terminals.
The range of colors available with the application, 20 in number with 5 shades of white, is quite sufficient for conventional use.
On an Echo device with a screen like Echo Show 8 by sliding the screen from right to left, then selecting "connected home" and finally our luminaire, it will be possible to activate / deactivate or modify its brightness without noise if necessary.
And with Google Home?
In the same way, the equipment goes up without problem in theGoogle Home app if the Philips Hue service is installed. If not, from the home page, a click on the "+", and « configure a device " et « Works with Google » allows you to integrate the application so that the equipment is recognized.
As at the assistant ofAmazon, the terminals are recognized by Google Assistant and routines are also possible. When you click on the icon, then on color, you see a much larger panel than the one available in the application Alexa. Not all of them can be summoned to a Google Nest device. Only cold or warm white, red, green, blue, yellow, purple, "classic" colors are recognized.
On the screen of the Google Nest Hub the same number of colors is available but there with their name, but which will still not be recognized by voice.
Our opinion on OSRAM mini garden stakes Smart +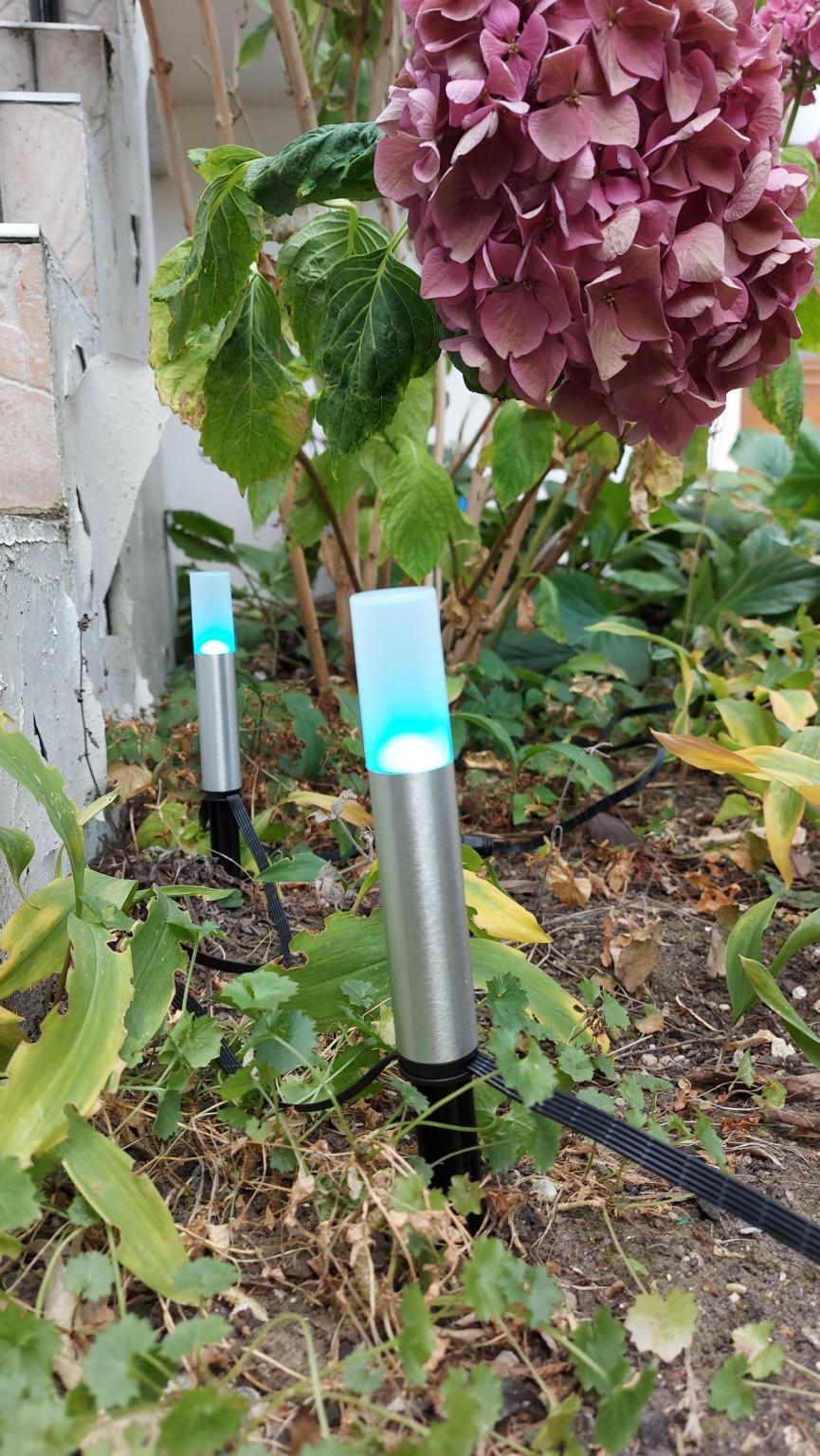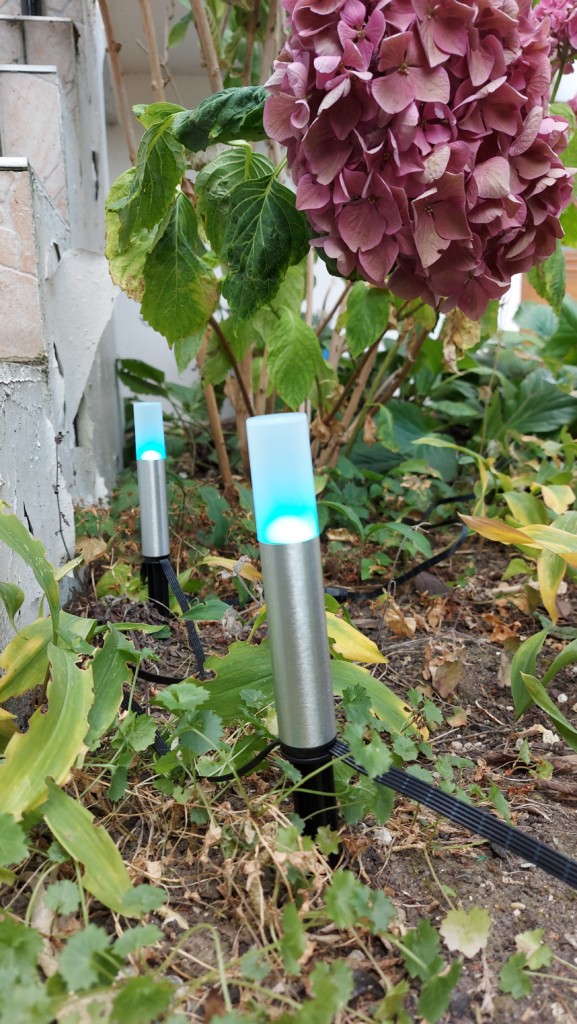 To get there, we have to admit that we had a few sweats, not just because of the heatwave!
The new version of the Philips Hue app has indeed asked us some problems with lifts on the two voice assistants (partial feedback: either the colors were missing, or for the application Alexa, the mention at the bottom of the page "create a routine" was missing, or the device went into the Philips Hue application in "impossible to establish the link" while our terminals were on). We had to go back to the previous version: Philips Hue c. 3.40.0 to pair without difficulty after performing resets. Note, moreover, that you have to turn on / off 3 seconds at each step and that 5 or 6 times in a row to do this ... Ouch, not very "Plug and play" all that !
But, concerning the use itself, the color rendering is frankly nice. Even with only 180 lumens of luminous flux, we can see very well where we set foot at night. To illuminate a passage or make a decoration, it is therefore sufficient. To read on your lawn or to light up a summer dinner, on the other hand, this is not the right product and you will have to choose something else, that's for sure.
Regarding the installation, we did it about ten meters from the Philips Hue bridge and the signal did not pose any problem although the Osram terminals were installed outside. The range therefore seems satisfactory to us. Note, moreover, that this is the first mini stake that contains the ZigBee chip.
As for voice control, it does not pose any particular problem and works with Google Assistant as well as Amazon Alexa. It is even possible to interact with your connected watch Fitbit Versa 2 on which the Philips Hue application is installed, a little more appreciable when you come home late at night, for example.
Here are some photos in situation, to illuminate a landing on a porch. Even in the daytime, we can see the (although it is a bit difficult) the colors for warm white and cold white. On the other hand, the "cyan" color stands out very well.
16,99€
22,99€
In stock
6 new from € 16,99
August 9, 2022 14:43 a.m.
44,90€
54,99€
In stock
4 new from € 44,90
August 9, 2022 14:43 a.m.
In conclusion, therefore,
Osram mini garden stakes Smart+ are rather convincing
and a very nice purchase for those who wish to decorate their garden or terrace a little.
Offered on Amazon.fr around 45 €
, they are also rather affordable for ZigBee connected objects.
OSRAM Smart+ (x5) Mini LED Garden Stakes (Starter Kit)
around 45 €
Most
Good luminous flux
Very easy to assemble
Possibility of adding up to 2 extensions
The lessers
Problems during installation but related to the Philips Hue application more than the product itself ...