One year after presenting the connected weather station and a week after Netatmo thermostat test, our attention is once again on the French startup acquired in December 2018 by the Legrand group, and in particular on their Netatmo Welcome camera. A model not really new, it is true, but which has recently been integrated into a intelligent video alarm system. Since we had not been able to test the sensors and the alarm, we acquired the camera in order to test its effectiveness. After numerous tests of compatible IP cameras Alexa, our expectations are all the greater as this camera is far from being the most affordable. Let's see if its price is justified ...
€185,13
€199,99
In stock
16 new from € 184,99
Refurbished from 10
May 23, 2022 19:52 a.m.
Netatmo Welcome: a pleasant and coherent design
Unboxing and presentation
If you are familiar with Netatmo solutions, you will not be surprised by the packaging. Using the brand's codes, it presents on the front a visual of the product qualified as "Smart indoor camera" and a smartphone to show us its connected character. Good news, this product is without subscription, which probably justifies its price a little higher than the average.
The other faces tell us a little more about the camera and in particular about a feature not very common in consumer products: the face detection and recognition, but also animals to avoid "false positives", or even fire and security alarms. Moreover, the Welcome camera comes with a micro-SD card allowing you to store the recordings locally and its 45/10 Mbits RJ100 Ethernet port of the save via Dropbox or FTP. Not bad !
In terms of compatibility, precisely, this camera is with Apple HomeKit, Google Assistant, IFTTT and obviously Amazon Alexa via the Netatmo skill which allows you to view the stream live on Echo Show 2, Echo Show 5 or even Echo Spot. Images that you can of course consult directly via theNetatmo Security application and even via a web app on the fact my.netatmo.com as for the thermostat or the weather station.
At the opening, we immediately notice the family link with the weather station which made the reputation of the brand. Presenting the same one-piece aluminum tubular design, it is adorned with a golden dress and barely measures a small millimeter longer with 14,5 cm high for 4,5 cm in diameter.
Fan of design and decoration, there is a good chance that this product will catch your eye! The Alexians
It is therefore abouta connected object as compact as it is elegant and perfectly matched with the weather modules. Fan of design and decoration, there is a good chance that this product will catch your eye!
The camera is logically accompanied by a USB cable and a AC adapter, two Netatmo Security stickers to scare away unwanted people and obviously from the traditional technical documentation, the main elements of which are here ...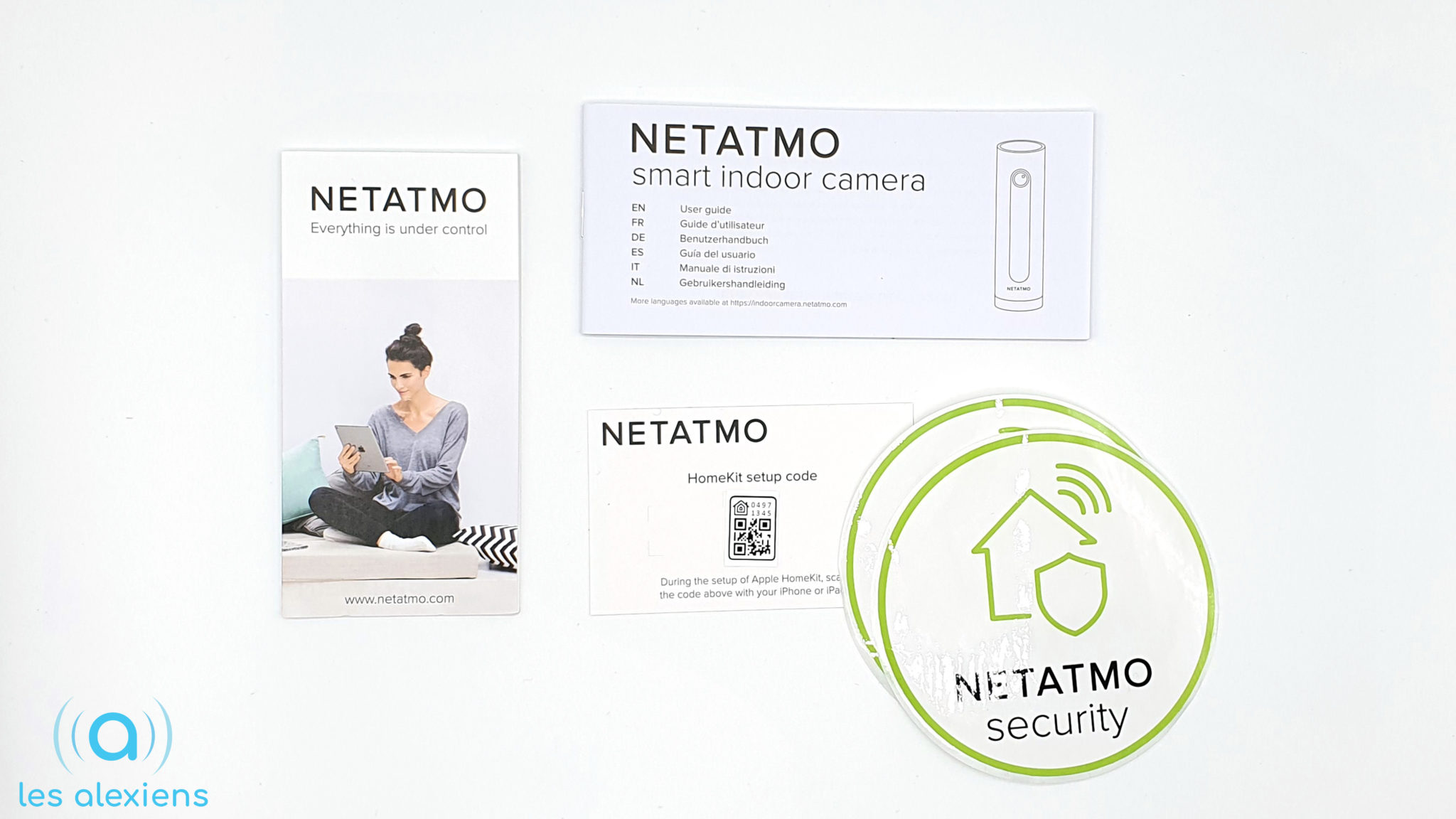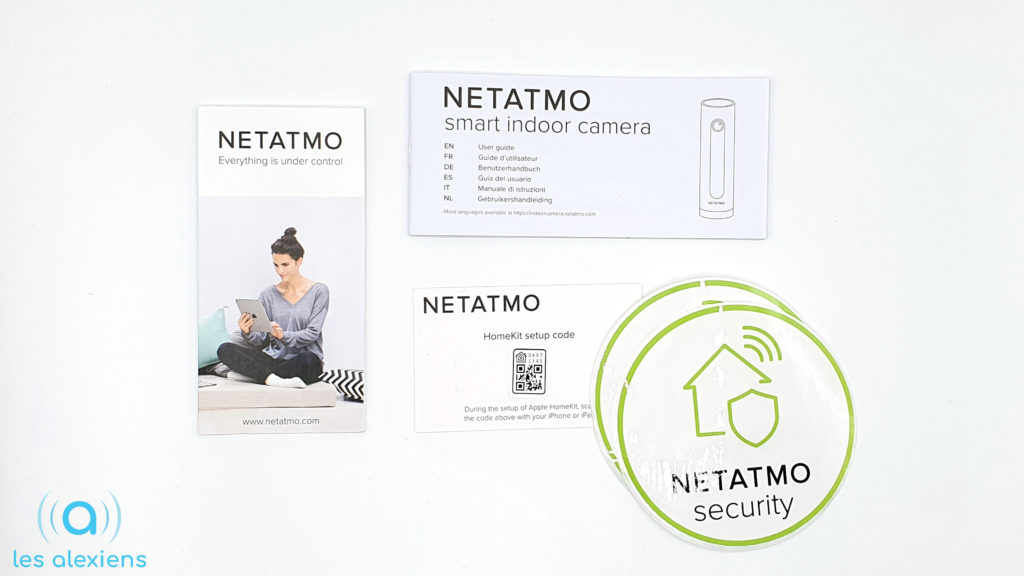 Information
Brand:
Neatmo
Model:
Welcome - Smart Indoor Camera
Material :
Aluminum and plastic
Dimensions:
45 x 45 x 155 mm
Food :
220V / 240V
Connectivity:
Ethernet RJ-45 10 / 100Mbits and Wi-Fi 802.11 b / g / n 2.4 GHz
Encryption:
Open / WEP / WPA / WPA2-personal (TKIP and AES), bank-grade high security encryption
Video:
full-HD 1080p, H.264 encoding, night vision (8 meters)
Storage:
micro-SD (8 GB card supplied)
Content of the pack:
1 x camera, 1 x power adapter, 1 x USB to micro-USB cable, 2 x stickers, quick installation guide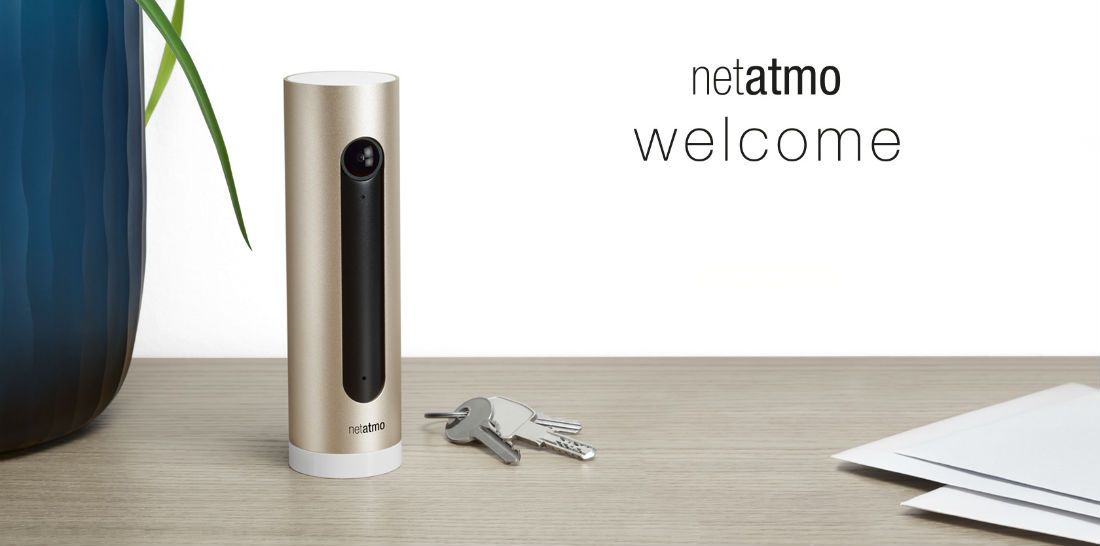 Netatmo Welcome: surveillance with elegance
Easy installation
First of all, it is necessary to download and install the Netatmo Security application for iOS ou Android. It is the latter that we have chosen.
If you already have a Netatmo account, use your login details, otherwise you can create it in a few clicks. Accept the terms of use, and then choose the product to install. Here it is the "Smart Indoor Camera" also called Netatmo Welcome.
Connect your Smart Indoor Camera to the sector,
Activate geolocation on your smartphone if necessary,
Flip the camera until a light flashes,
Wait the time it takes to configure the camera,

Plug in the camera

Activate geolocation on your mobile

Flip the camera

Wait during configuration

Select your Wi-Fi network (attention, 2.4 GHz only),
Enter your identifiers,
Flip your camera : it is done !
As you can see, it was not very complicated!
Natatmo then gives you some basic advice on how to best position your camera and explains how to facial recognition may have a few misses at first and requires a learning phase. Indeed, you will see it, the Netatmo Welcome camera is able to isolate a face and identify it thanks to a good dose ofartificial intelligence and, in particular, of "Machine learning".
Intuitive applications
As with the brand's other applications, Netatmo Security is ergonomic and easy to handle. When opening, you face a screen presenting the recently detected faces and camera stream down. a swipe up gives you access to a timeline listing all events recorded by the camera (known or unknown faces, sounds and movements detected, animals - or robot vacuum cleaners - recorded and other events). Thanks to the three small dots at the top right, you can also quickly tell your camera that the house is empty. We would have liked a shortcut on the front, but yes, let's move on ... Netatmo still had the brilliant idea of ​​slipping us a shortcut to the Android notifications specific to the application, and that's good, because it will save us from searching everywhere the adequate menu.
As with the brand's other applications, Netatmo Security is ergonomic and easy to use. The Alexians
In the parameters, there are many options and it is easy to fine-tune the alerts. They are grouped into two main categories: "When no one is home" et "When famous people are at home". The switch is done either alone after a period of time during which the camera has not detected any face, or on demand by activating an "away" mode to indicate to the device that everyone is gone. Each category offers five situations: unfamiliar faces, people, animals, other movements and alarms. Each can trigger video recording, notification, or both.
At home : it is the home screen that allows you to know who is present in your home and to view the live stream,
Elsewhere : the application tells you who has been away from the accommodation and for how long,

Mermaid :

alarms linked to the intelligent siren which can work together with the indoor camera,

Smoke detector :

same as for the siren.
Same story for web application ! Once again, the interface is simple, efficient and pleasant to use. A real "dashboard" of your Neatmo products, feeds displayed in the second following the click, the possibility of detaching the video to always keep an eye on it… No complaints, it's a good job!
A real "dashboard" of your Neatmo products, feeds displayed in the second following the click, the possibility of detaching the video to always keep an eye on it… No complaints, it's a good job! The Alexians
And with Alexa ?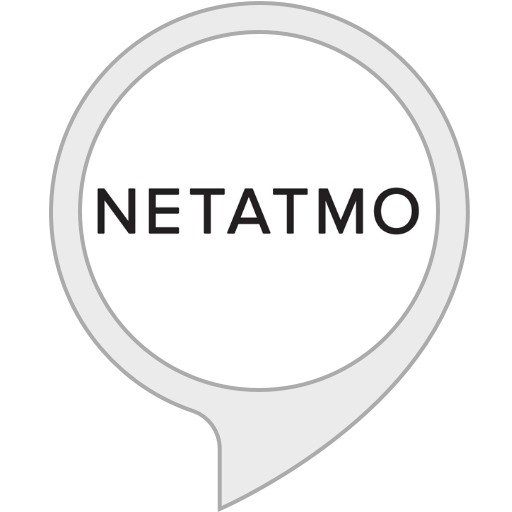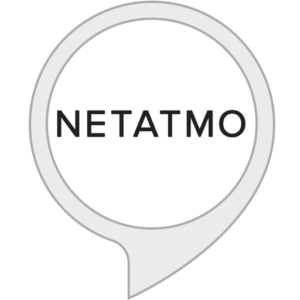 One more time, Netatmo shines with its inability to provide us with truly comprehensive functionality with our dear voice assistant. A lack of consideration for users ofAlexa ? It is to believe, but know that it is not better in the others… Netatmo would she be missing the turn of the voice assistance? The future will tell us, but following our Netatmo connected thermostat test, we hope to see one day bloom a skill worthy of the name for cameras as for weather Channel - for which it is even worse besides.
Ok, we can visualize the flow from our camera, but it stops there ... And it is very regrettable. Alexians will therefore probably prefer to turn to Blink solutions or Ring. However, if you do not expect much moreAlexa than to allow you to visualize the flow of your Netatmo Welcome, note that its display on Echo Show 2, Echo Show 5 et Echo Spot remains the most reactive that we have been given to test so far. We therefore regret just the impossibility of arming and disarming the cameras by voice, or even using them in our routines. Alexa… Without having to put your hands in IFTTT.
We just regret the inability to arm and disarm the cameras by voice, or to use them in our routines Alexa. The Alexians
IFTTT, the savior!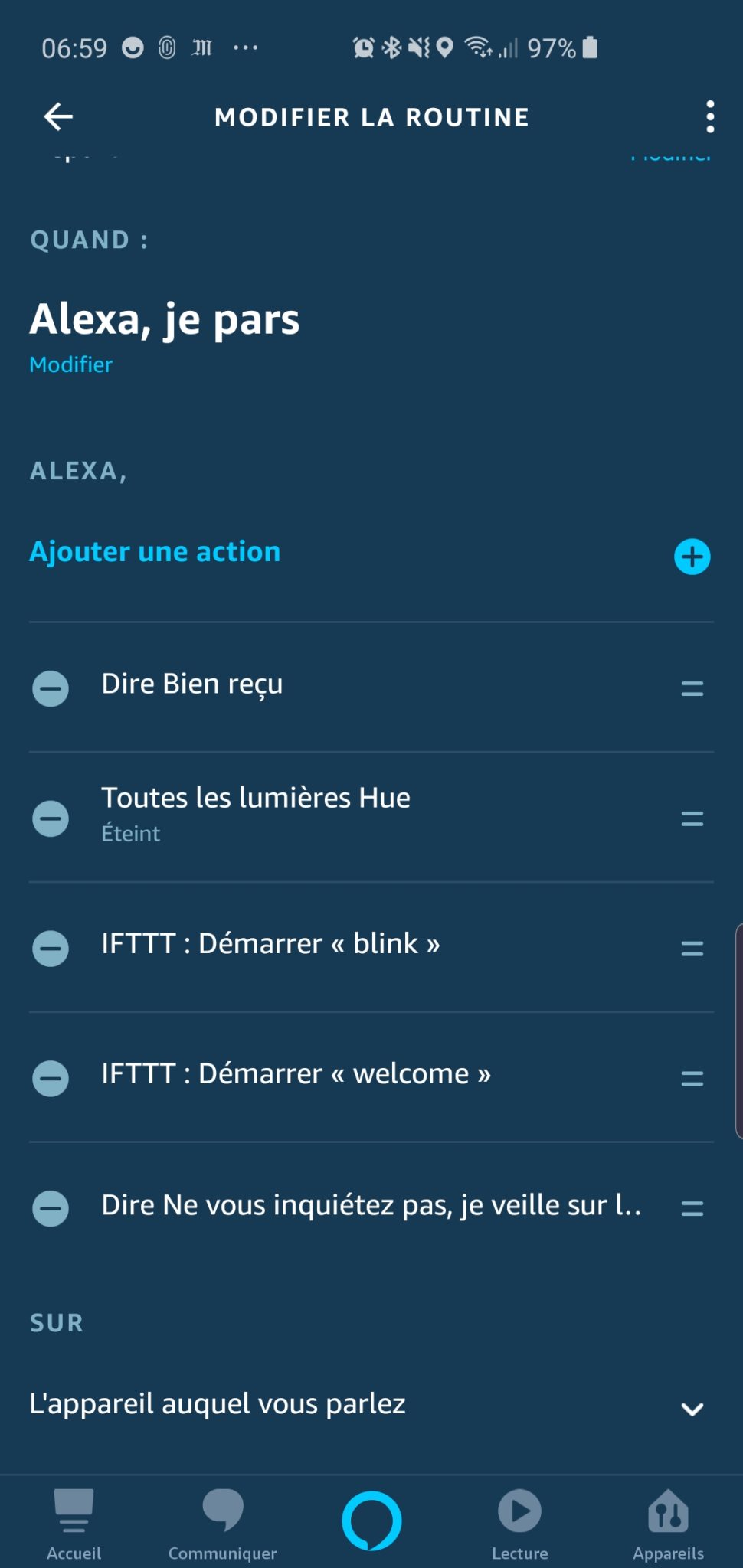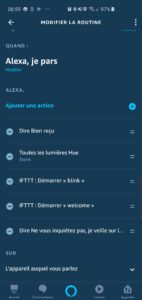 This is the good news, IFTTT will allow us to overcome the shortcomings of the Netatmo skill. A large number ofNetatmo Security applets are indeed available ... Unfortunately, there again only two will be able to serve us in our routines Alexa. It's not much, but it's always better than nothing, right?
To do this, you will need create a custom IFTTT recipe with a specific phrase Alexa in IF and two types of THAT will be offered to you: the first allows you toactivate the "away" mode for all, the second ofactivate "away" mode for a specific person. In other words, you will be able to arm the monitoring and alarms of your Netatmo Welcome using a routine Alexa. Phew, that's it already!
We therefore invite you to find our IFTTT tutorial as well as our ideas for create IFTTT applets for Amazon Alexa. As for blink cameras, we can indeed create a starting routine that will arm our Netatmo security system.
So, what about this Netatmo Welcome camera? Overall a good product. As always at Netatmo, the design is modern and neat. The finishes are excellent and the product blends wonderfully into the most contemporary interiors. The applications benefit from the same care with a convincing user experience, numerous configuration possibilities and an artificial intelligence that sets the product apart from the competition. Because, yes, this camera is smart and that is clearly what makes the strength of the product. Its facial recognition feature is really effective and it easily detects all faces that appear in his field of vision. After a learning phase where the camera is responsible for identifying all the faces in various conditions (different profiles, angles, light levels, etc.), it is able to identify people precisely. Provided, of course, that you have entered several reference images. Unfortunately, however, the camera fishing level image quality. If, in a lighted room, the Netatmo Welcome is doing quite well, its colorimetry leaves something to be desired and the resolution, however, full-HD is really average. Second downside: the audio quality just poor. The background noise is too much and gives the impression of being in a jar. Despite everything, we manage to distinguish and recognize voices, but it is difficult to listen to everything that is happening at home thanks to it, not to mention the absence of two-way sound since it is not equipped with a speaker.
In conclusion, should we fall for this camera?
Yes if you want a pretty and discreet connected object, no if you are looking for the best quality / price ratio.
Because, it is especially there that the shoe pinches,
this camera is too expensive out of promotion

for the services it offers and its passable image quality
. Purchased 129 € during
Black Friday on Amazon. Fr
, we expected much more from a product usually sold at 199 €. At this price, you might as well bet on
Arlo from Netgear
, on the now very affordable
Blink XT2 cameras
or on the best
Ezviz models
. Fortunately, and this saves the overall balance a little, it is possible to arm the Netatmo Welcome camera with Alexa thanks to IFTTT.
€185,13
€199,99
In stock
16 new from € 184,99
Refurbished from 10
May 23, 2022 19:52 a.m.
Netatmo Welcome - smart indoor camera
195 € (excluding promo)
Most
Neat and compact design to match the weather station
Discreet camera
Very effective facial recognition
Easy to install and use
Very well designed applications
The lessers
Disappointing image quality
Fixed focal length with a simple digital zoom
No two-way audio
Tendency to heat and therefore to consume
High price