If you follow us regularly, you probably know how much Les Alexiens love smart plugs, smart bulbs and other connected products. If it was still difficult, a few months ago, to find compatible connected multiple sockets Alexa, we have recently seen them flourish on the market. But not all brands are created equal, and when we spot a good one, we usually can't resist the urge to try out the following models. This is what we are going to do today, with this brand new Yuanguo which has just appeared on Amazon. Fr. Yuanguo, does that mean anything to you? If you are one of our many regular readers, nothing could be more normal, since we tested their first one a few months ago. compatible connected plug Alexa or their RGBW Wi-Fi bulb. Today, the brand is back with a new product, which this time promises to multiply ...
The brand may change, but the linked product remains the same. Indeed, the products Smart Life are for the vast majority produced under a white label and we therefore find them under different brands. They are nonetheless efficient.
€46,87
€95,66
Not available
Yuanguo power strip: connected and protected from surges
Presented in a sober packaging but incorporating its main characteristics, this Yuanguo power strip From the outset inspires confidence in us, as was the case for her little sisters. This time, however, the product is much bulkier and heavier (699 grams). This is normal, it is a power strip with 4 type F or SchuKo sockets, but also two USB sockets intended to charge your mobile devices.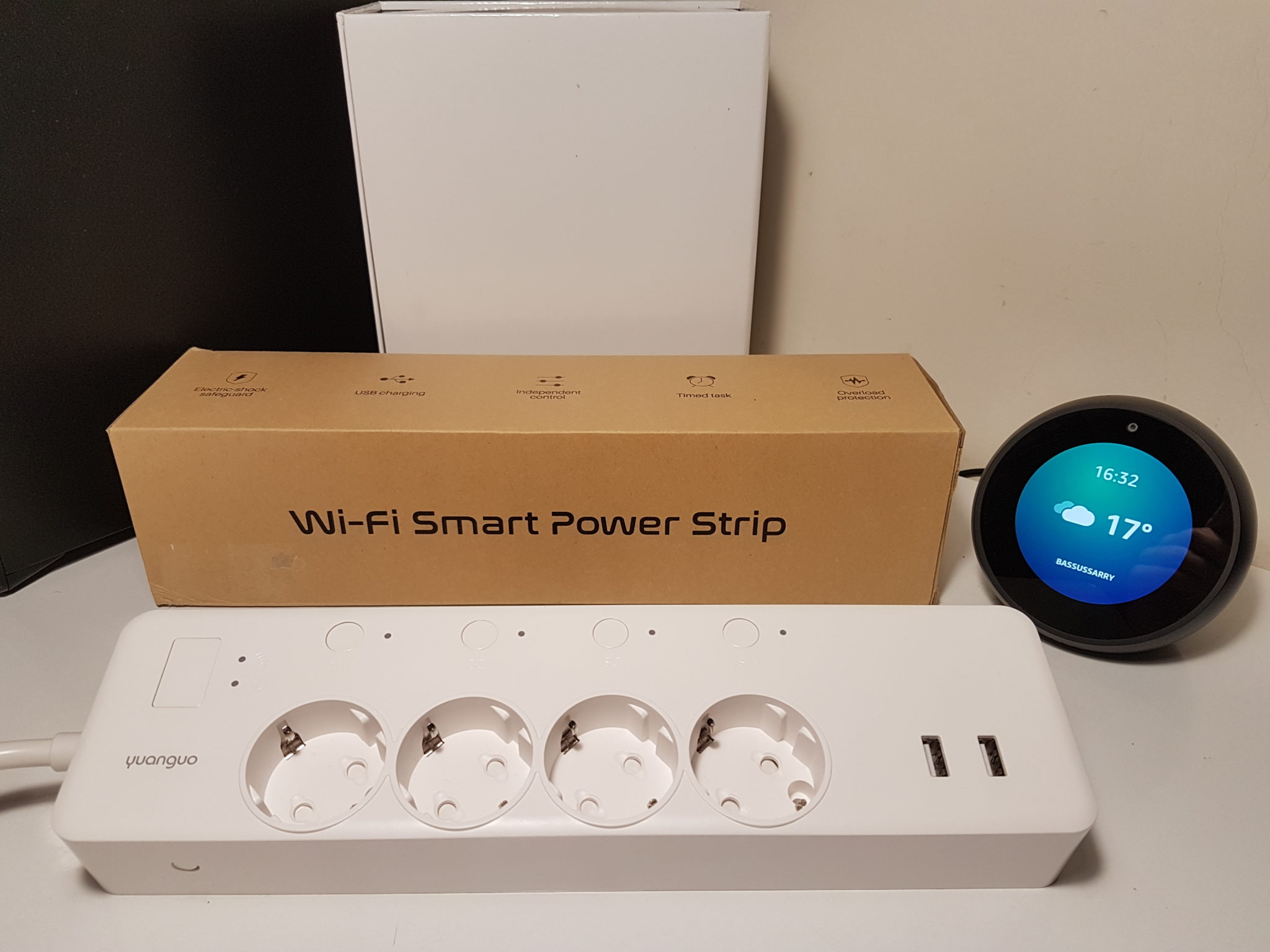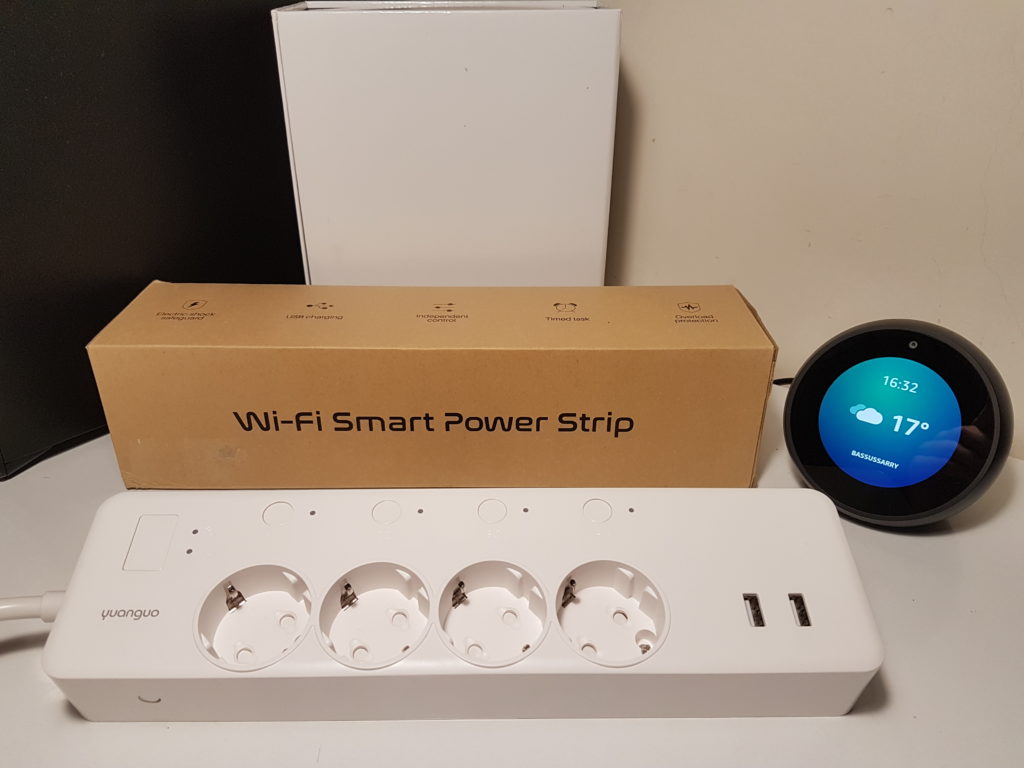 The packaging has its main features, including its ability to protect your equipment from surges and lightning! Yes, we have finally found a connected power strip capable of securing our most sensitive equipment! But what about its characteristics exactly? Here is its technical sheet ...
Wi-Fi: 2.4GHz b / g / n
Voltage: AC100-230V 50 / 60Hz
GO : 230V / 16A and 5V / 2.4A
Max power : 4.000 W
Certificates: ETL/CE/FCC/ROHS
Item Weight: 699 g
Dimensions of the product (L x W x H): 295 mm x 79 mm x 38 mm
La Yuanguo power strip QUOTE 295 mm x 79 mm x 38 mm and consists of CE / FCC / ROHS / ETL certified flame retardant ABS + PC white plastic that exudes quality. It has six small anti-slip pads, which allows it to stay in place and its thick power cable resistant to our local 16A measures 170 cm, which can be very practical if you want to place it high up, on a desk for example. Yuanguo also had the excellent idea of ​​providing two small holes to fix it with screws. As far as we are concerned, it will be on the uprights of a desk, in order to connect our computer equipment to it and protect it from surges. Its plug is E / F type, which makes it compatible with our French earth sockets. That's excellent news!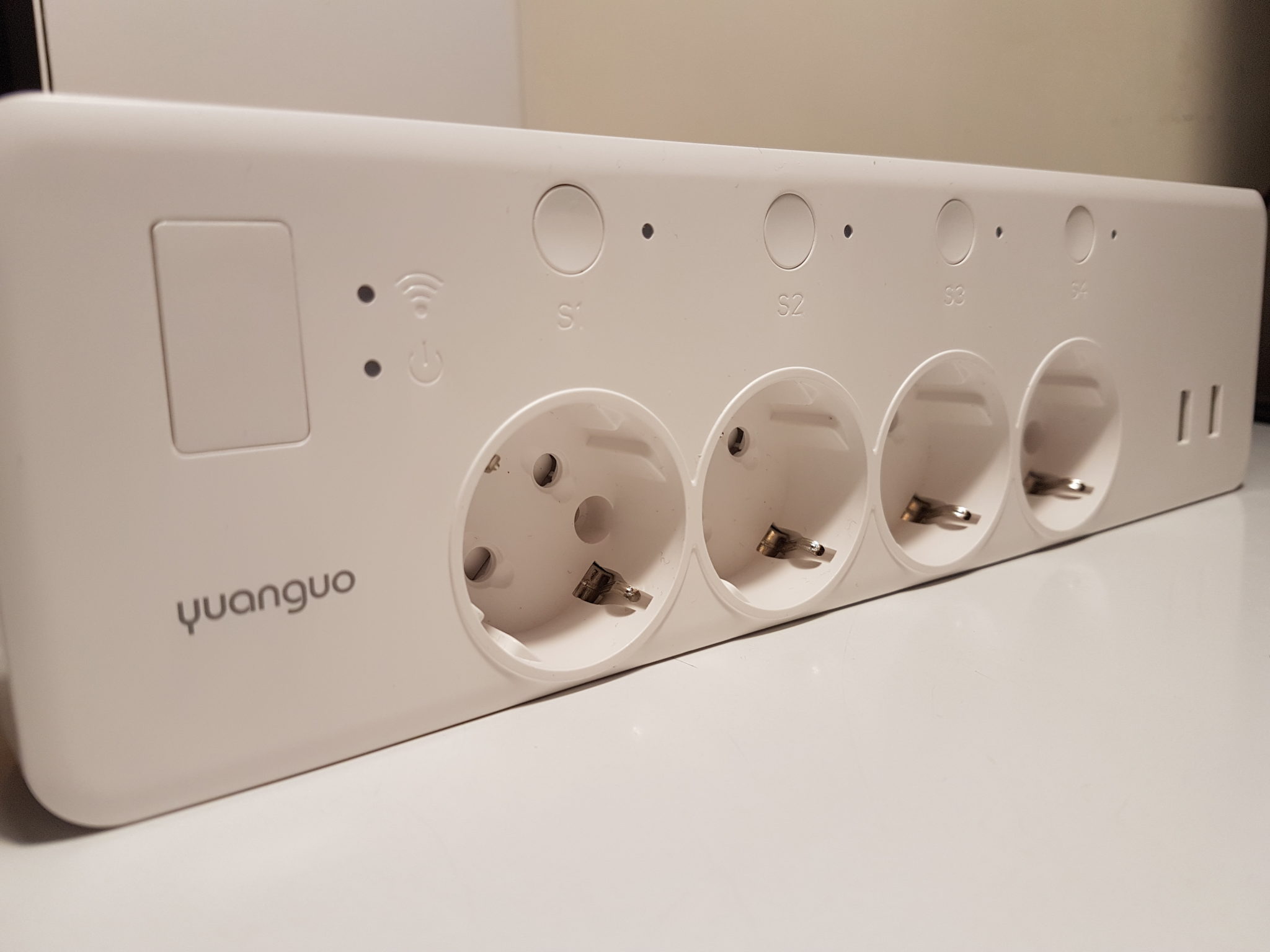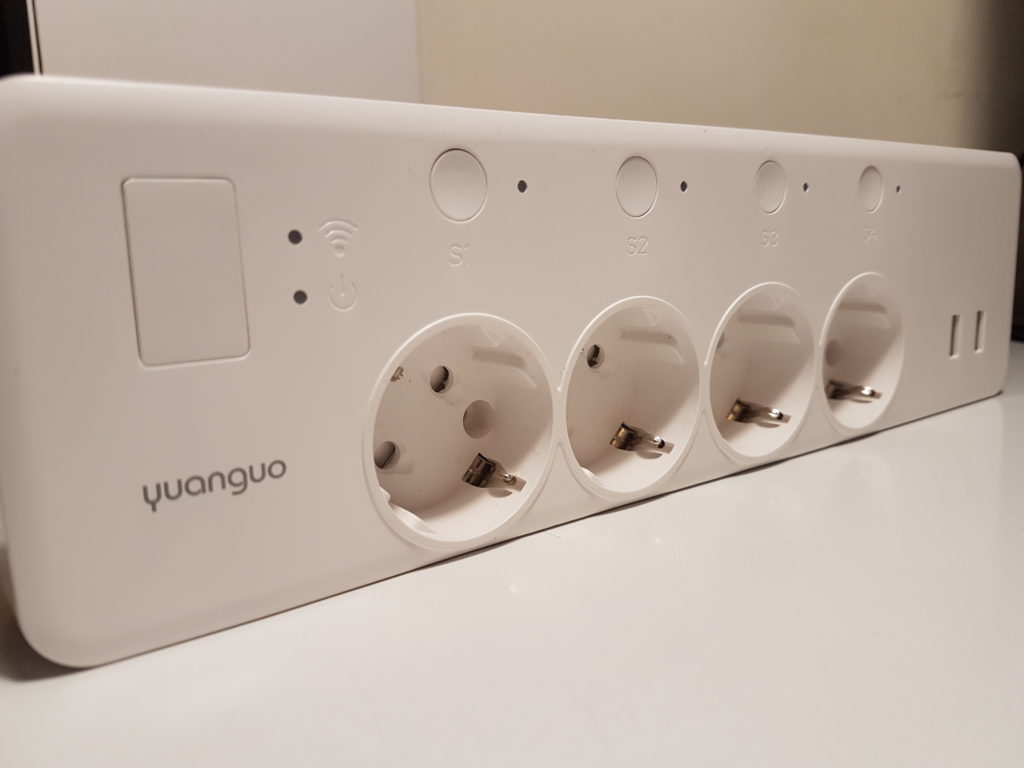 But let's come to the most interesting part: the top side. It has a white power button and four type F sockets or Schutz-Kontakt intelligently numbered S1 / S2 / S3 / S4, each with its own switch and associated LED. Since we are talking about LEDs, note that it also has one to testify to its power-up, but also one dedicated to Wi-Fi. These may be details for you, but for an Alexian that means a lot ... The Yuanguo power strip finally owns two USB sockets en 5V / 2.4A. Convenient to charge your tablets and smartphones!
Connected power strip: voice control with Smart Life and Amazon Alexa
The installation is done without the slightest problem via the famous application Smart Life. If you have never used this application and its skill before Alexa, it will take longer to enter your Wi-Fi credentials for the first time. Otherwise, installation via the application will take you less than 5 minutes. Once this is done, detection by Alexa is instantaneous. What to make the competition pale, and in particular Google Assistant ...
This Yuanguo power strip being immediately recognized in your application Alexa, let's take a closer look at the possibilities available to us. Well, you are probably going to be surprised, but you can start by turning it off and turning it on by voice! Amazing, isn't it?
More seriously, you can obviously control each of the takes. Named by default S1 / S2 / S3 / S4, you can choose the little name you like and give another to the power strip in order to turn it on or off completely. But not both USB unfortunately. It's still a detail, but it doesn't mean much to be honest this time around. Frankly, it won't change our lives! In addition, you will be able to program timers, a function which is on the other hand very practical to stop the power supply of a peripheral after its charge, when you bask in the arms of Morpheus for example.
We can regret the lack of control of power consumption, but surge protection is clearly more important and much less gadget!
Not available
May 16, 2022 20:55 a.m.
€46,87
€95,66
Not available
That's it, you now know everything about this compatible Yuanguo connected power strip Alexa that we can only advise you given its rather reasonable price, its surge protection qualities and its perfect functioning with Smart Life and our beloved Amazon Alexa.
Yuanguo Smart Power Strip 4000W 16A
NS. 59.99 €
Most
Very simple and quick installation
Works under Tuya Smart / Smart Life
Excellent value
Protection contre les surtensions
ETL / CE / FCC / ROHS certified flame retardant ABS plastic
The lessers
No measurement of power consumption
No switch on the USB ports