If you are loyal readers of our tests, you know that we have already worked on products from the SwitchBot brand, and in particular their global offer Hub Plus + Bot in order to control switches or non-modifiable lighting as well as all types of devices operating with an IR remote control.
The brand of the company Wonderlabs has expanded its range since our last test and we now find their latest product in France: the SwitchBot Meter, a very practical temperature and humidity sensor. It also has the advantage of being one of the few, at present, to work with Alexa. Even if the word function is quite broad because the possibilities remain very limited, but they are counterbalanced by quite practical options in the application. But for a better user experience and to use it with Alexa, the Hub Plus remains mandatory.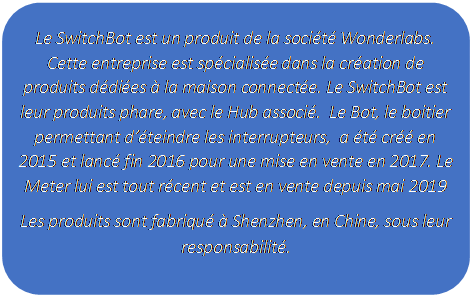 SwitchBot Meter: a nice little sensor with screen
Le SwitchBot Meter comes in a small, solid packaging, using the brand's red and white colors. He is qualitative and very well imaged. The tone is immediately given: compatible Alexa (the notion of "compatible" has its important here again), GH, IFTTT and Siri. Photo examples also give a lot of ideas on where to place the sensor: wine cellar, greenhouse, refrigerator ... The first impression is very good.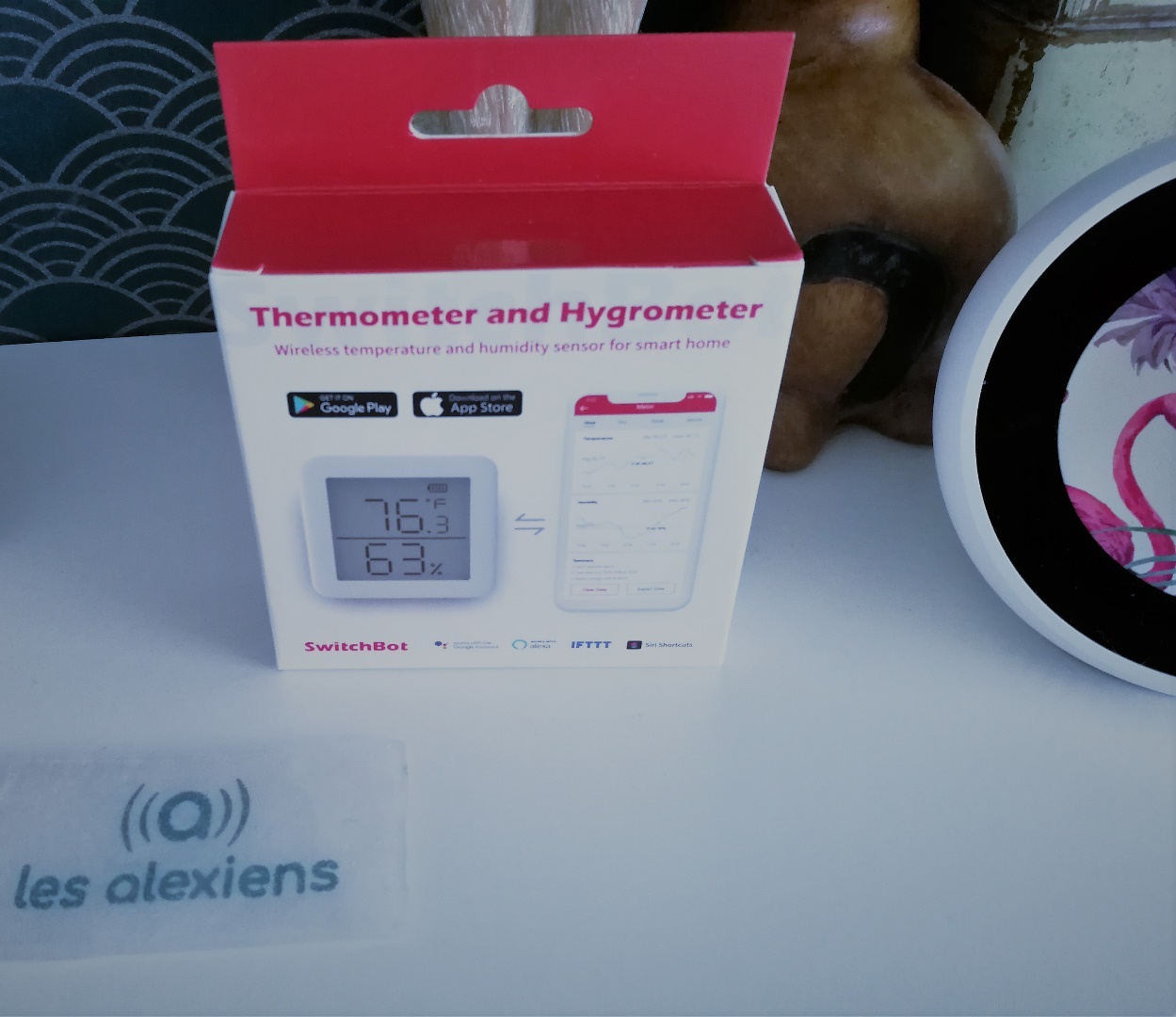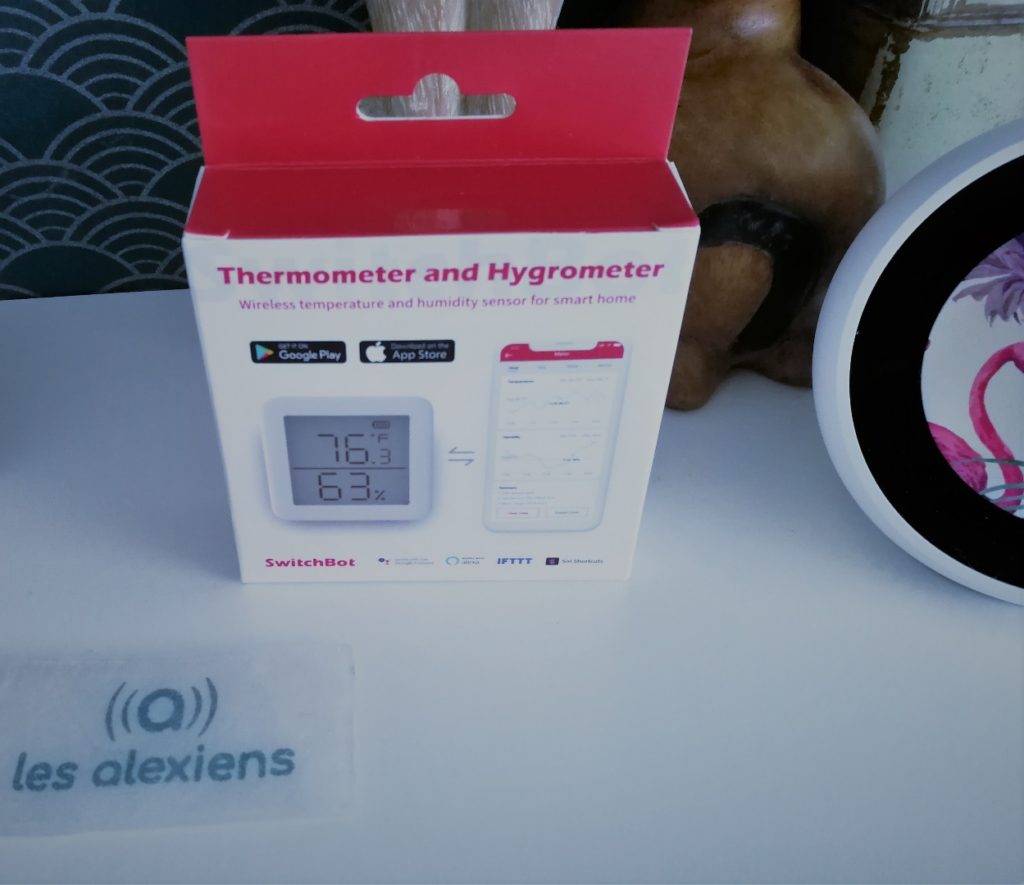 In the box we find our sensor, the notice in english (fairly succinct but really effective), a small metal strip with double-sided to fix your sensor (the back is magnetic, so you stick the plate where you want to fix it, but it also stands very well on its own) and two Panasonic AAA batteries.
Le our sensor body is relatively white plastic qualitative and solid. The front face consists of a liquid crystal screen showing the temperature at the top, the relative humidity at the bottom and on the top, the battery status, as well as that of Bluetooth. In terms of size, the box is a square 5,5 cm and 2,4 cm thick for 75 g. It is therefore very space-saving and can be put anywhere.
La commissioning is relatively simple: remove the back cover, insert the batteries… and voila! If you want to hang it somewhere, glue the metal strip and go. The screen is well readable et large enough for excellent data visualization.
If you see that the temperature is very high, wait before calling the fire department, your sensor should be in degrees Fahrenheit. Briefly press the button on the back of the case and he will go back to degrees Celsius.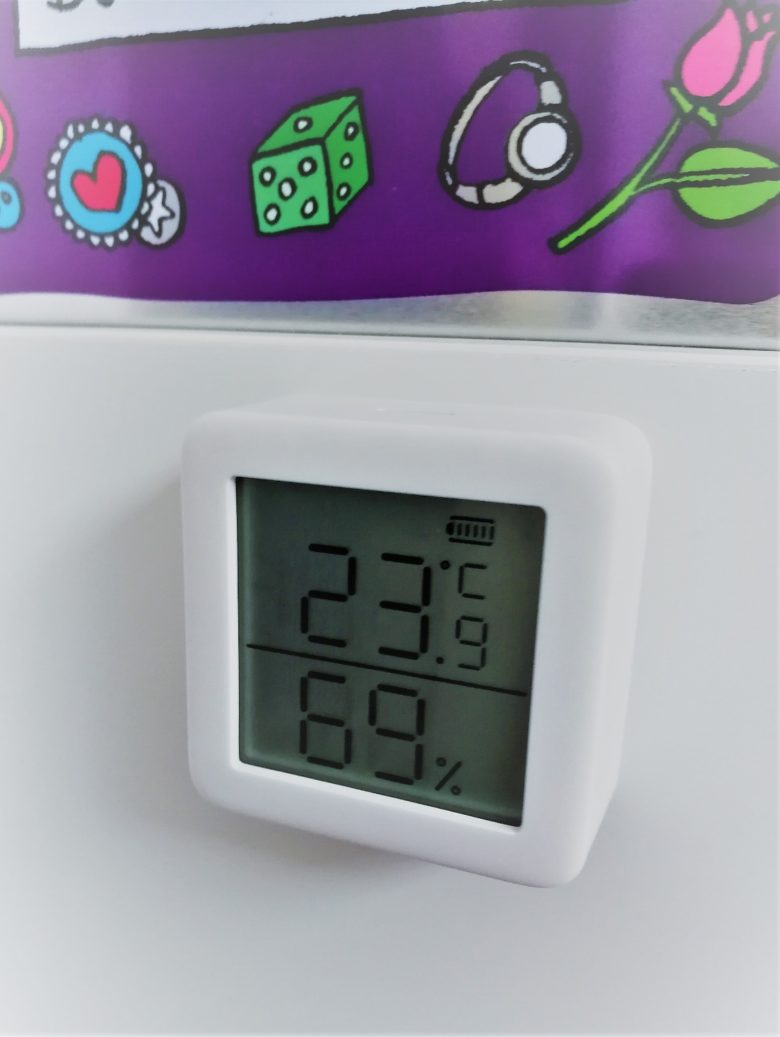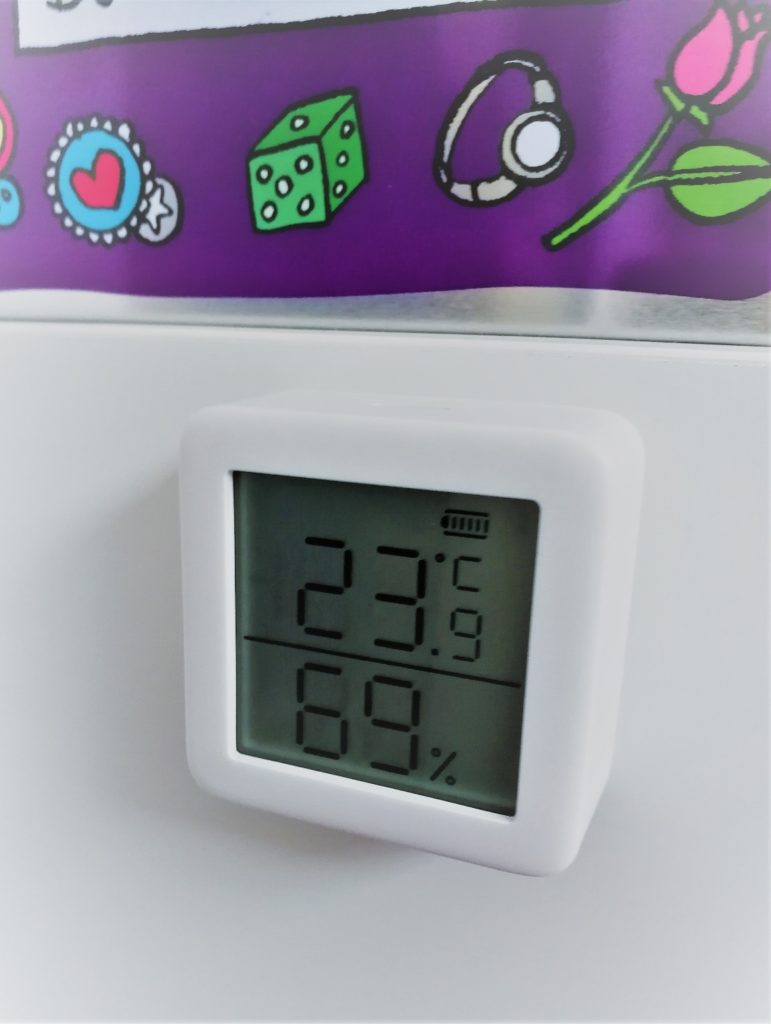 La handling of this sensor is really positive : he is qualitative, small, bien thought et readable. But to be able to go further to tell you about its accuracy, it is necessary to connect it to SwitchBot app.
SwitchBot Meter: via Bluetooth you will pass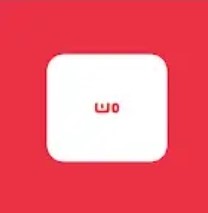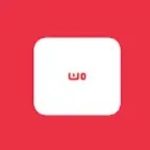 Le Meter will be used with theSwitchBot app running on Android et iOS. Pairing is extremely simple and fast. Here is the operating mode in pictures, with the help of their little mascot!


Once the email and your password have been entered, you will receive a password that you will have to enter in the code confirmation area. Then it is necessary install the sensor. Firstly, activate your Bluetooth and your GPS and follow the guide. It's the temperature unit change button which serves as a Wi-Fi initiator by keeping it pressed for a few seconds. Their humor is as subtle as ever.


After this installation, the sensor can operate in Bluetooth only. To make it work with the Hub, there are updates to do (Hub and sensor) which are launched on their own. Start by putting the switch on your Hub More in ON and your Wi-Fi phone on the same network than the Hub. For install a Hub Plus, we refer you to our first test.
And here is your sensor installed in Bluetooth (as shown by the small network bars). In order to make it work with Alexa, it is necessary to connect it to the Hub Plus. This will allow us to take a look at the options available to us, accessible pressing the little wheel.
SwitchBot Meter: use via app and via Alexa
Whether you use the sensor via Bluetooth or Wifi (in this case, a small cloud on the home page indicates that it is connected to the Hub), the uses remain the same. The differences come from operating radius sure. Unable to know the temperature or have alerts if you are out of Bluetooth range, while connected to the Hub, you will even have them via 4G network.
By pressing the T ° C /% data on the home page, you come to a graphical view of these values. It is really very good to follow the evolution on temperature and humidity as a function of time. It is also extremely precise and you can choose a display by hour, day, week and month. We really see the responsiveness of sensors in our case: the temperature drop, in connection with the peak of relative humidity, corresponds to the opening of a roof window to ventilate the room in which it is placed.
The sensors used in the SwitchBot Meter are from Swiss manufacture. If they're good for cuckoos, chocolate and pennies, no reason they can't make great sensors, right? This is put forward by the brand in order to justify the use of the Meter as a guardian of the good conservation of musical instruments or even cigars ... in short, everything that requires very tight humidity. And in view of the results, we believe them.
Moreover, here are its characteristics :
Values ​​noted from 0,1 to 0,1 degrees (° C, ° F and% RH),
Temperature range from -20 to 80 ° C with a accuracy of 0,4 ° C on average, but varies according to the range of use,
Relative humidity range 0 to 99% RH with a 2% accuracy within normal ranges (4% for extremes (minus 10 and over 90% RH).
You can put it wherever you want with its alert function : if the temperature is too high in the youngest's room, you have an alert. Ditto if it's too cold on the veranda. But be careful, to be able to use it with the Hub, it must capture the Wifi network on which the Hub is configured, otherwise it will be disconnected very often and not be able to resume the network.
It is possible to use the SwitchBot Meter in scenes via the app. You choose the conditions to be fulfilled (humidity too high for example or high temperature) and you can activate a third-party device like an air conditioning or a dehumidifier. But be careful, these devices must be ordered via the Hub Plus. It is therefore not usable in Bluetooth alone mode either. On the other hand, we advise you to activate your Bluetooth and your GPS to enter the parameters of SwitchBot devices, this is simpler and more functional.
The scenes are created from the "Scene" menu in the main menu. You can choose the temperature or humidity from which (or which ones because you can make a double entry) the scene will activate (notion of greater than or less than, for example: More than 24 ° C)? The action will consist in activating a device, as mentioned above.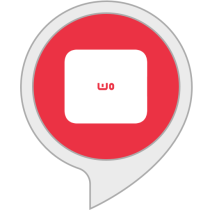 And via Alexa, you ask? And yes, we know you ... We refer you to our first test to configure the Hub if you are not already equipped. It is necessary toactivate the skill and following the confirmation of the association of the account, close the window and leave Alexa search for new devices. If you do not have to reactivate the skill, add a device via Alexa by choosing Thermometer then other at the level of the mark.
That's it, your sensor is paired with Alexa. But you immediately see a small subtlety: the sensor is recognized as a thermometer… only. It is a limitation ofAlexa which does not yet allow the feedback of information other than the temperature, to date. But it will surely come. This defect is therefore not inherent in SwitchBot but in Alexa, so we can not blame them. The user experience is still quite limited because apart from seeing the temperature by pressing the device icon and asking Alexa "What is the temperature of X", it stops there. No possibility of integrating it into routines or anything like that. Like all thermometers today. Here again we are more on limitations related to Alexa than to manufacturers. But a multimodal skill to show the temperature on the screen of a Show or Spot would be welcome.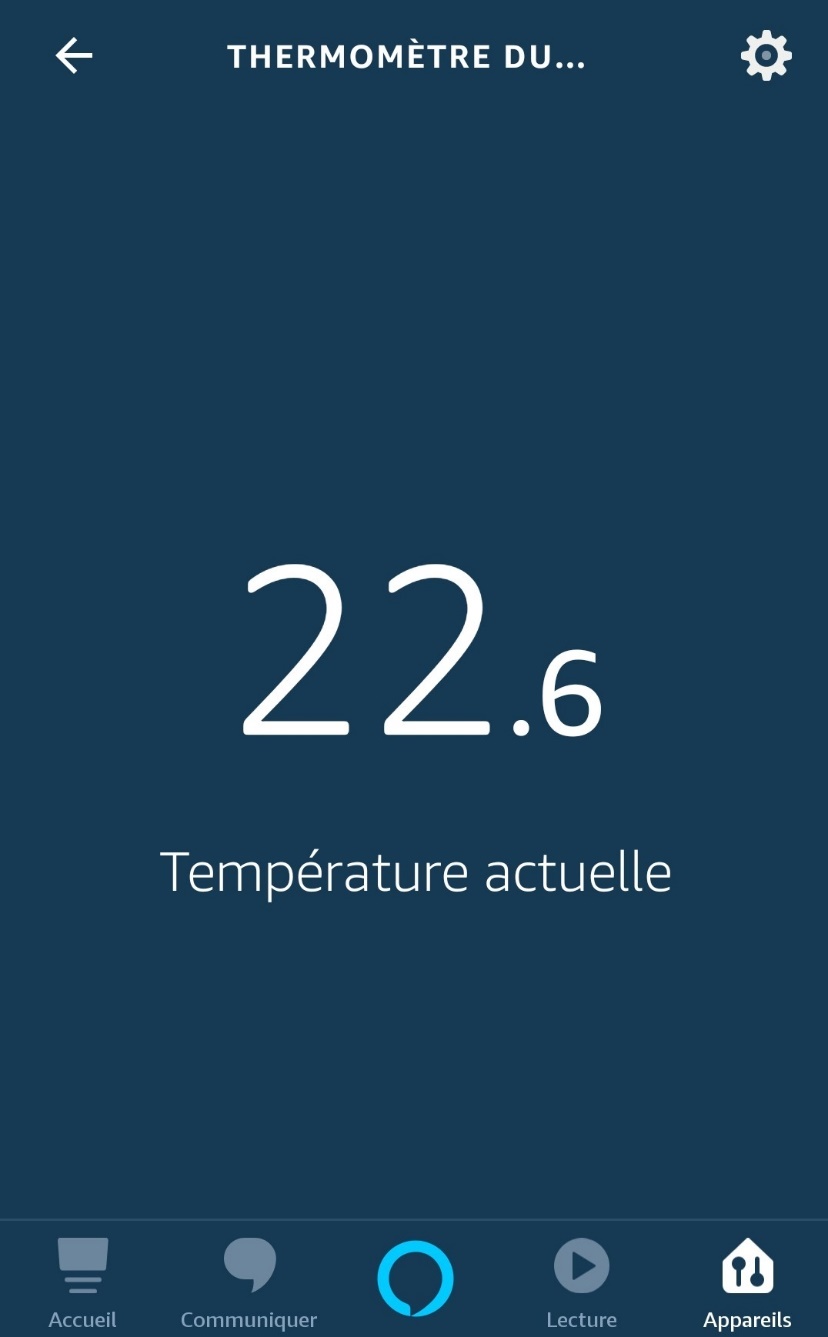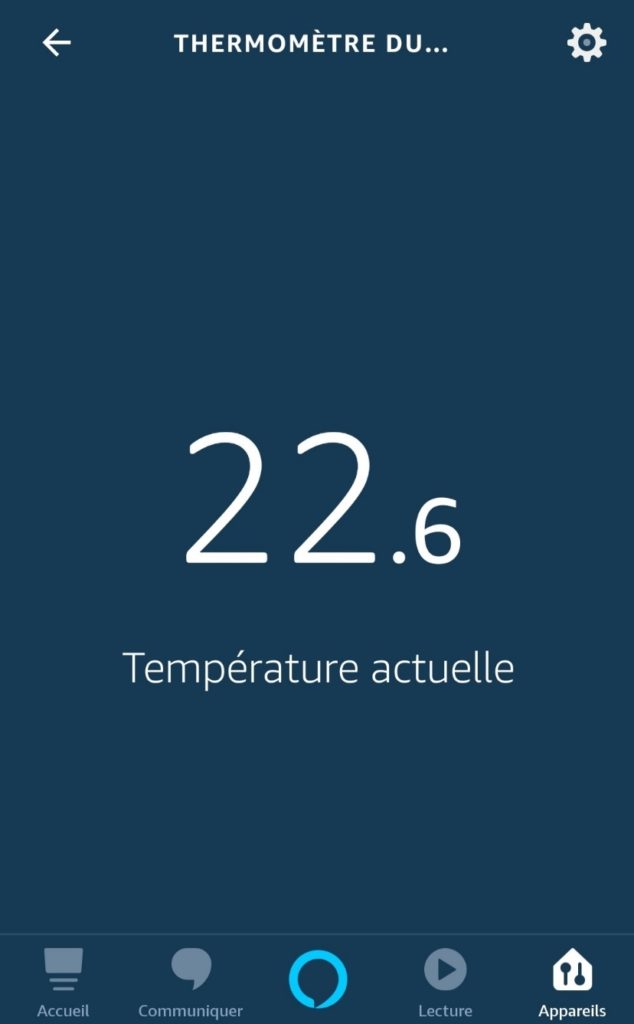 At the level of weak points, they are the same as the Bots. There are small issues or inconsistencies with the app which is not always very easy to understand. There are times when your sensor disconnects or you cannot enter settings without knowing you are able to. But it comes back later. So there is a lack of reliability, even if there seems to be better.
In conclusion, what can we say about this connected Hygrometer Thermostats? Well that's a great surprise!
SwitchBot is really the Geo Finder of connected devices as he was able to show with his small motorized switch. He reiterates with this very good quality sensor, presenting a large number of options and visualizations and making it a tool that can be used everywhere and in many different situations given its range of use. And especially for not even 20 € !!! We can just blame him for a capricious application, a limited interaction with Alexa (but not the fault of the manufacturer) and the fact of giving its full measure only with the hub, which increases the rating. Note that we contacted SwitchBot support several times during this test for information and they could not be more responsive!
SwitchBot Meter - Thermometer Alexa
€19.00
Most
Very easy to install
Very compact with display
Data recording and graphic reproduction
Available Options
The lessers
Application sometimes a little capricious
Interaction with Alexa limited and non-multimodal skill