We know that Wi-Fi cameras are of particular interest to you. There are a plethora of them, at all prices and of all qualities. This time we are going to Ismartgate, brand belonging to the Remsol group (Gogogate, etc.), a North American entity, but with its European offices in Barcelona. This brand specializes in garage door or gate opening modules, which we will discuss in a future article. But Ismartgate has diversified its offer with the development of connected surveillance cameras, having the particularity of working in concert with the opening modules (you find them in a pack) but also of selling them alone at the price of 74,99 €. Even if they are not compatible with the connected assistants today, they have many advantages. We present to you the Ismartgate Cam 2MP, indoor camera, mini size but doing the maximum.
Camera Ismartgate Cam 2MP: a very compact indoor IP camera
La Ismartgate Cam 2MP is delivered in packaging specific to the brand, if you already know it: a facing white, colored sides (green in this case), glossy printed cardboard, product visual and branding. Compact (9,2 x 9,5 x 12,8 cm) and going to the essential, it is a packaging that does not leave you indifferent. Ok, that doesn't bode well what's in it, but we're consumers, right? And, when it's beautiful, we love!
Integration with door opening modules is highlighted from the start with the phrase "The best way to view your garage from your Smartphone " the best way to monitor your garage from your smartphone (yes, we are bilingual). Relevant features are highlighted on the back and side: 2 MP, two-way audio, night vision...
What do we find in it? Our camera Ismartgate Cam 2MP (except lack of bowl, by the way, did you know that bowl comes in this case from the English bowl, which means "c **"?), a notice card with a QR code, a 2 meter micro-USB cable with a EU plug (finally !!!!), a RJ45 cable and a bag of screws. You actually have two boxes in the package. The first contains the camera, the face of which will be protected by a layer of expanded plastic. The second will contain the cables, the adapter and the screws.
The camera as such is quite compact and a really practical design. Indeed, it has two points of articulation at the level of the foot, allowing it to take the ideal position, even if you fix it to the wall. Really very good. If you put it straight, the camera measures 12,5 cm high. The base makes 7 cm in diameter, like the head (which is 3 cm thick). The optics makes 1,5 cm in diameter. For about 110 grams !
On the back you have:
Un Reset / WPS button,
A Status LED (solid green = connected),
The port micro-USB,
A Ethernet connection hidden behind a flexible plastic cover. And that is really cool!
On the underside of the camera head you will find a slot for 128 GB micro-SD card. You also have openings for the speakers on the sides of this port.
Datasheet
Here are the technical characteristics of the camera Ismartgate Cam 2MP ISG-CAM-03W:
Brand:
ismartgate
Model:
2MP Cam
reference:
ISG-CAM-03W
Video:
1080p FHD
Imaging:
HD color, CMOS sensor, renowned for lower power consumption and fast reading speed. SD, HD or FHD.
Motion detection:
yes, but no cache area
Audio detection:
Yes
Supply :
mains, 5V, 1A but plugs into 240V
Night vision :
Infrared, 8m max IR spectrum.
Audio:
Integrated bi-directional microphone
Field of view :
103 °
Focal length spectrum:
Fixed but digital zoom
Conditions of use - temperature:
from -10 ° to 40 °, 30 to 85% RH
Wi-Fi:
802.11 b / g / n (2.4Ghz) - 802.11 ac / a / n (5Ghz)
Ethernet:
Yes, via RJ45 cable, supplied.
Storage:
images and video in the cloud (for a fee but one year free) or on a micro-SD card of 128 GB max,
Movement tracking:
No
Privacy mode:
No
other:
The camera is compatible with solution Ismartgate
We are therefore on very good characteristics, even if they have nothing exceptional, except the sound detection, Wi-Fi band and RJ45 connectivity, which is really very interesting! As announced, it is not yet compatible with voice assistants.
Camera Ismartgate Cam 2MP: installation and use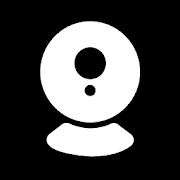 The camera Ismartgate Cam 2MP will be installed and controlled thanks to the proprietary application "Ismartgate Cam " running under Android et iOS. Be careful, it is the Cam version and not the basic version of the application that must be used.
Pairing is extremely simple and fast. Switch it on by plugging it into the mains and wait a little for the light on the back to turn blue. The camera will tell you, in English, when it's ready to start the installation. You must create an account. Once that is done, the real fun begins.
Press the + et authorize access to your camera because you will need scan the QR-code behind the camera. Once done, the camera is automatically recognized. Also activate your Wi-Fi in order to allow the configuration of your network (2,4 or 5 GHz). You also have the option of doing it in RJ45. A QR code will appear on your Smartphone and you will need to have it scanned by the camera. It is sometimes a little tedious, but there, no particular problem. Following this, configuration is complete. Simple, right?
Let's take a closer look at the app and what it does.
From the main view :

If you space your fingers by placing them on the visual of the camera, you can make a zoom in. By pinching, zoom out,
By pressing the microphone, you can talk through the camera. If you want to hear, press the speaker on the left,
You can choose video quality : SD, HD or FHD,
Leave the touchpad symbol aside, because since it is not motorized, you will not be able to move the camera,
The "image" logo makes it possible to a screenshot while the "camera" one allows you to live video.
The three small dots on the right allow you to switch between different functions. The first is the motion detection or audio mode, with its symbol of a little man running.
At the bottom, in the center, you enter the "brightness" mode :

Day,
Night,
Automatic,
Programming. You can determine when to switch to night or day mode based on the schedules.
Bottom right, the "image" mode :

Horizontal symmetry
Vertical symmetry.
You can then enter the camera settings to go into more detail:
Sensitivity adjustment sound and motion detections,
Storage space the micro-SD card,
Camera sound,
Quality of the video,
When purchasing this camera, Ismartgate offers you one year of Video Plugin subscription. This subscription allows you to come iIntegrate the camera into your system Ismartgate Pro or Lite, which will put it into operation when the gate opens or closes. But there is also 1 GB of recording per month! To renew it, it will cost you € 29,99 for 3 yearsEither less than 1 € per month. If you no longer have a subscription, you will still have live notifications, the visual but also, of course, the possibility of managing everything locally in order to save your recordings on a micro-SD card.
In use, this camera is very pleasant to use. It is simple, we do not get lost in the settings, the video quality is very good and it is the same for audio. Detection works great, both for audio and for motion. The recordings are all available in the app gallery. We have used it as an indoor surveillance camera, even if it is mainly dedicated to being placed in a garage. If you wish, there is an outdoor version of this camera, with an identical operating mode.
Watch our video test to get an idea of ​​its possibilities, and Do not forget to subscribe !
What can we say in conclusions of this test? The Ismartgate Cam 2MP ISG-CAM-03W is a relatively easy to use and of good quality. It is not one of the most sophisticated, but it has the merit of going to the most useful and offering motion detection, two-way audio and FHD video… It stands out all the time by a sound detection system, a dual-band Wi-Fi connection and also the possibility of using an RJ45 cable. For people with modules Ismartgate, integration is a real asset. All it lacks is compatibility with voice assistants Alexa and Google Assistant to become essential.
Ismartgate Cam 2MP - video surveillance Wi-Fi camera
€74.99
Most
Very easy to install
Articulated camera
Dual-band and RJ45 Wi-Fi
Sound detection
1 year subscription offered
The lessers
No compatibility with voice assistants
No non-detection zone
No "privacy" mode