Govee is a brand that is starting to count in the very closed sector of connected luminaires compatible with voice assistants. Offering a quality application and products with the latest technologies such as RGBIC, the Chinese company offers multiple devices and regularly diversifies its range. We thus find it today with wall lights, decorative in a first intention, but also very functional in the end. Let's see what these "tubes" Govee Glide Wall Light at 100 euros can bring us ...
Govee Glide Smart Wall Light: decorative RGBIC wall lights
Unboxing
It is always in a quality packaging in mauve and colorful tones that the tubes that Govee Glide are offered. The visual presents six tubes and one elbow, as well as the logo of the voice assistants Google Assistant and Amazon Alexa supported.
If the front also tells us the lighting capacities of the whites (hot to cold) as well as the colors (16 million possible), the back of the packaging gives us the reference and a QR Code to download the application. On the sides, the main functions are shown in the form of pictograms.
Let's open the box. On the top you will find the classic user manual and quick start guide along with the small Govee business card. Everything is tidy and stowed in this box of 35.1 cm x 19 cm x 6.4 cm . A first tray has three tubes held in place in cardboard dividers and the second, below, as well. Two squares of foam protect each end. The two boxes contain the accessories.
Let's take a closer look at the tubes. Six in number, the Govee Glides measure 30 cm each and comprises 1.3 cm of connection connection. Currently It is not possible to make additions to extend the device but Govee is working on it. The lighting envelope is made of white opalescent plastic.
At the back of the bars, two large scratch bands will allow wall mounting. On one of them, the CE marking is affixed, which is not to displease us.
A small 6.5 cm side bend allows for a nice shape. On the back, two foam pads prevent it from coming into direct contact with the support.
Regarding the connection, we find:
The control box : on the top the micro sensor of ambient sounds. It is connected to the mains power cable by a 15 cm cord and a DC plug. On the other side, a wire a length of one meter has the first connection entry. On the back, a 3M adhesive
Diet : It is a 12V, 3A 36W power supply unit with an earthless plug which supplies the device. The cord with the DC plug measures 1.5 meters.
Information
Brand : Govee
Reference : B6062301FR
Model :Govee Glide H6062
Bar dimension : 30 cm
Materials : plastic
Colors : RGBIC
Supply : 100-240V - 12V / 3A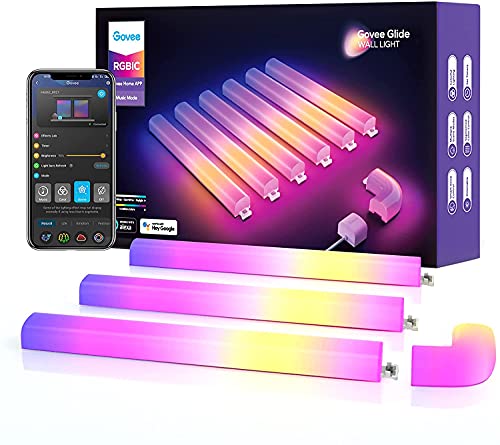 €99,99
July 4, 2022 18:50 a.m.
Installation and use of Govee Glide RGBIC Smart LED wall
After a small assembly of the Govee Glide tubes, which clip easily, place the elbow as you wish and connect them. The LEDs will then perform a small parade of white then will stay on. We recommend that you do the pairing before setting up.
"With 6 modules, therefore 19 segments can be programmed at will. "
No surprise for this connected decoration, it is obviously the home application that supports them. For more details, we refer you to our Govee H6159 tape test.
On the home page, click "+". In "Indoor Lighting" left, then "Wal light" on the right, choose the tube reference: H6062. If you have activated Bluetooth correctly, the Govee Glide tubes appear. Click on it, enter the password for your 2.4 GHz Wi-Fi network ...
And There you go ! The Govee Glides have taken place on the home page.
Use of Govee Glide
Let's take a look at the management page. Unsurprisingly, it incorporates the design and many features already seen during our Govee RGBIC tape test. We will not go over them in detail to focus on the specific features offered by the Govee Glide RGBIC Smart wall light.
If we classically find the timer, six programs - including two dedicated to waking up or falling asleep - are available. In particular, we discover a new function called " Updating the light segment" page (in French).
What is it ? Well Govee has thought of everything, including the eventuality that tubes have to be removed from the initial assembly! A click on the Refresh button allows you to readjust the whole. A manipulation that it is obviously also possible to perform if you put them all back in place and which allows the number of RGBIC LED tubes to be recalibrated.
Dance Fashion, the four themes dear to Govee are present.
We thus find:
Music: depending on the sound sensor taken into account, you have different proposals for rhythms.
Party : a single color flashing
Dynamic : another single-color flashing tempo of bright colors
Calm : it's more a breath than a single-color flash
Si "Automatic color" is activated, you do not have to do anything, otherwise you have the color palette for creation!
6 different tempos that are offered:
Energetic : one color per tube
Rythm : a single-color flash
Chock : imagine two mugs which collide to toast…. well voila! Half-lengths of tube start from the ends to collide at the elbow.
Spring : small lengths of colored tube scroll from one end to the other.
Hopping : different multicolored lengths skip for a harmonious panel.
Rebound : a bit like spouting but starting from the other end and leaving on the current color on arrival replaced by the next one
Once again, the new light animation proposals are frankly breathtaking. They allow to illuminate in quarter, half or whole each tube. The rendering is really nice! In addition, adjusting the sensitivity allows you to adjust the desired effect.
Color:
You want to play with 16 millions of colors possible? No problem ! Color mode will meet your wishes. Clicking on " Recommended color scheme«, A configuration wizard opens and allows you to select:
Styles : 7 in number (Actualization, Beautiful, Free, Retro, Stylish, Modern, Science Fiction), colors and placement are pre-determined with a base color that it is possible to modulate by moving the Ο on the link below.
Scenes : 12 are available
Match method of …: 7 proposals are made to even better mix the placement of the color or the addition of a supplement
To validate the choices, click on " color scheme configuration" page (in French).
Under the colored bar representing the illumination of your Govee Glide, you can scroll through other configurations by clicking on "Previous (or next) group".
Frankly, it is "amazing" for those who have no ideas or want to bother selecting colors.
Let's go back to the "Color Mode" page
Dégradé allows a smooth connection between two colors.
It is of course possible to compose its lighting with her favorite color palette whether she is in pastel or bright tones, you will find your happiness by clicking or moving the cursor on the slider on the colors proposed below the streamers. We also find here the ⌈⁄⌋ which allowsturn off a segment.
Yes, but everything is at the same intensity you will tell me! Well no, it is also possible to adjust each segment and not every tube. A tube / module has three segments. With 6 modules plus the elbow, 19 segments can therefore be programmed at will.

Click on "Relative brightness" then on the check mark of the desired segment and use the slider to adjust the brightness. Just remember to deselect before going to the next setting otherwise it will be included in the new setting.
Le white adjustment, it exists, but is still not very sharp. It is adjusted using a slider, but the capacities of cold whites remain less than those of warm whites for which the differences are more marked. We would have liked a ruler to determine the temperature of the whites to make an adjustment as sharp as for the colors, but Govee Glides are primarily designed for color...
Color palette allows you to make color selections in another way as we have detailed in the H6159 tape test.
My colors. If you like a tone, you can save it on the main page so you don't have to look for it in the palettes.
Scene mode
5 main themes are offered: Natural, Life, Emotion, Festival, and Funny. In each of them there are sub-themes and even a warning for the "Siren" mode to be used with caution in cases of epilepsy by the very flashing effect. Personally, the "Candy" scene makes us happy.
fashion DIY
Let your creativity run free to create your scenario. If you have already created one for another light fixture, you can find it and apply it to this one. Is he great? Awesome ? Are you proud of it? So share it with the Govee community.
"With each new device, Govee knows how to amaze us with its insights and its application, which is always very well done and very extensive. "
With Amazon Alexa
The lights are well recognized once the skill Govee Home is installed and linked accounts. It will be necessary to rename the device if you have not done so directly in the Govee application, Alexa not too fond of complex appellations. This done, management is identical to that of a light bulb.
Yes, in voice we will only have a single bulb and not seven modules (6 + 1). However, you can ask Alexa switch on / off / change color (among the 5 whites and 15 colors available) / choose one of the many scenes and of course create routines in which you can request the execution of a scene.
It's up to you to be creative to have the scenes that suit you!
With Google Home
If the add-on is already installed and the linked accounts, the Govee Glide also goes easily back to Google Home. The management will be the same as with Alexa; with however more color proposals, but not all of them are compatible with the Google Assistant voice commands, the interest is limited. Routines are also possible here but remain in the basic area of ​​On / Off.
Conclusion
In use, the tubes Govee Glide RGBIC are just great!
For the installation no problem. Fixing by scratch adhesive is not "bad". We installed the bars on a non-woven wall and had to start again to adjust the tubes as well as possible by removing the adhesives: no marks on the wall, no tears and we were able to reposition it without difficulty. The scratch system is well thought out because it allows the module to be adjusted without necessarily removing the adhesive.
Light side, the Govee Glide are really great. The possibilities are so numerous that it becomes breathtaking! Not only do they make a modern decoration that won't make gamers indifferent, but they can also be used to effectively illuminate a room. You have lighting AND decoration in one device.
With voice assistants, management is always more complete with Alexa, but Google offers a few more colors… It's good for switching on, but the use is so much richer with the application that our assistants are mainly used for switching on and off.
In conclusion, Govee still managed to delight us with original decorative LED lights and compatible with voice assistants. For 100 euros excluding promotions, Govee Glide RGBIC will undoubtedly enhance your interior, giving them a resolutely modern touch able to crack all gamers. Do not hesitate to search and test all the scenes offered, they are numerous and modifiable at will. If, in addition, you have the Homey Pro box, a compatible application even allows you to use them!
Here is a small demo video of the rendering: