As Beethoven told us again this weekend: "Music is like a dream that I can't hear anymore". So Les Alexiens have decided to continue to make you live this dream thanks to a new in-ear headphone test : the Jabra Elite Active 75t. the Umi in-ear test Made a good impression on us but at the same time left us hungry, although for the price they were far from ridiculous. This time, we have chosen to go on more high-end with the Jabra brand.
Our brand Jabra, created in the USA is now Danish since 2000 (GN Netcom group) and now specializes in the production ofearphones and headphones for general public and professionals but also hearing aids. It is to her that we owe the first microphone with ultra noise reduction, the first Bluetooth headphones, the first headphones with integrated in-ear microphone ...
These are headphones in Exclusive version Amazon Alexa that we present to you: the Jabra Elite Active 75t. The products are designed by GN Audio A / S in Denmark, made in China, but comply with CE, FCC, ICS, RoHS and EAC standards. Their particularities: Bluetooth 5.0, personalization of the sound environment, 28 hours of cumulative autonomy, 4 microphones per earpiece, mode HearThrough, for an IP57 rating (Protected against the effects of temporary immersion (up to 1 m) and for 30 minutes)) and… Alexa integrated.
€179,90
In stock
2 new from € 179,90
Refurbished from 63
May 22, 2022 16:41 a.m.
JABRA Elite Active 75t: In-ear headphones with a superb design suitable for sports
The Jabra Elite 5t are presented in un superb packaging (12,5 x 18,5 x 4 cm) yellow and gray highlighting the visual of the headphones of this black / copper edition and « Alexa Built-in " on the front side. The back side shows thecharging case and the main characteristics of the headphones. This box is actually a sleeve giving way to a plain yellow box, "logoed" Jabra GN which is itself a case for the real container. With such packaging, you have the impression of having a quality product in your hands. Let's see if this is the case.
The two headphones are wedged in molded plastic, as well as the charging box and below, a small packaging with ear tips (2 large and 2 small, the 2 medium ones being on the headphones) as well as the 30cm USB-C charging cable. There is a quick start guide in the form of flyer giving you basic instructions. But anyway, there is nothing too complicated.
The design of the headphones is really nice : both compact and collected on themselves, this shape allows them to come to be wedged in the pavilion of the ear and not to move. In addition, it also allows them a passive noise reduction by following the shape of your external auditory canal, wedged with the conch, the tragus and antitragus (we let you see on the internet to know the morphology of the ear). They are about 20 mm diameter (even if they are not really round) and 16 mm d'épaisseur. Add to that almost 1 cm of tip (including the extension) for a weight of 5,5 g / piece.
They are made of very good quality plastic, the PC / ABS (Polycarbonate / Acrylonitrile Butadiene Styrene) giving a high resistance to impacts and scratches (we dropped them once or twice during the test). The logo plate is made of copper-coated metal. The end caps are made of Silicone EarGels, a specific coating allowing a better hold of the earbuds and limiting the discomfort. Everything about design and materials shows that these headphones are made to be used while playing sports (hence the notion of "Active"): resistance to dust and sweat, shock resistant, very good performance ... After having tested several, it is the earbuds that bother me the least, if at all, after several hours of use.
The Jabra Elite 75t do not have a touch zone like some competitors, but buttons to control them by wearing them to the ear. The button is actually the copper plate. This will avoid changing music, cutting a call or the like just by touching them.
THEcharging case is also in AC / ABS plastic with logo Jabra on the front side. It measures approximately 6 x 3,5 x 2,7 cm for 35 grams. It is really small and compact. There is an LED on the back showing you both the charge rate but also the installation progress of an update for example. Indeed, if you have any updates to do, it is done by putting your headphones in the case. They are therefore upgradeable via their software.
Elite Active 75t: technical specifications
What do these Jabras have in their stomachs?
Passive noise reduction thanks to their shape.
Noise reduction on outgoing sounds : for calls, better sound thanks to 4 microphones. Your interlocutor's understanding is excellent, even outdoors.
Wind noise protection: not bad when you run.
Supported audio codecs: SBC, AAC
Speaker Size: 6 mm allowing powerful bass to be deployed.
Speaker bandwidth (music playback) : 20 Hz to 20 kHz
Loudspeaker bandwidth (calls): 100 Hz to 8kHz
Microphone type: 4x MEMS
Wide microphone band: 100 Hz is 10 kHz
In the end, it should be remembered that their particular shape allows them to make a passive noise reduction and, by being firmly in your pavilion, to really feel the bass. The most convincing test is to put on the "fan" background sound and feel this impression of vibration in the ears. It's bluffing, and this thanks to their 6mm speakers. It is true that even in the absence of active noise cancellation, the design ensures thatwe are completely immersed in his listening. So good that Jabra created the mode HearThrough. It is activated by pressing once on the left earpiece and this will activate the microphones used for calls in order to reproduce ambient sounds in the headset for all the same hear what may be going on around you (a car that honks when you run, your children calling you…). You can choose the restored volume according to the listening volume of your music. It is quite stunning.
The headphones can be used either individually or in pairs, in stereo. the Bluetooth 5.0 works with most smartphones (retro compatible with 4.0 for example, but without all the functionalities). It allows a better Hi-Fi sound but above all a greater range product for lower consumption. You will easily have a good fifteen meters range even if the sound is degraded. It is announced 10 m for a still optimal quality.
Regarding autonomy, count around 7:30 a.m. maximum while listening to music or on the phone. The box will serve as a charger and will allow you to recharge each headset 3 to 4 times to allow you to finally enjoy it for 28 hours. If you are in a hurry, 15 min of charge allows one hour of listening. We were able to confirm this data more or less.
They are also IP57 certified. The 5 means that they are protected against dust and other microscopic residues and the 7 that they are protected against temporary immersion (1 m, 30 min). We couldn't resist the urge to drown them in a glass of water (yes, that happens to a lot of people!). We only left them for 15 min but they did very well. It was not even necessary to remove the EarGel to regain good listening. On the other hand, they had mismatched… Astonishing but not crippling.
Another specificity, they have Amazon Alexa integrated, but we'll come back to it later (a little teasing, that's great, isn't it?).
JABRA Elite Active 75t In-Ear Headphones: use with Jabra Sound +
The brand delivers its Jabra Elite Active 75t with the case and headphones already charged. It's perfect to enjoy it right away! When we see such qualitative products, we fall back into childhood, we rush and if unfortunately we have to wait a little for them to load, we go crazy.
In order to use them fully, it is necessary to download the Jabra Sound + app on the store. You can see the presentation of the application on our video. First, the application will allow you to connect your 75t in Bluetooth. It's as easy as all bluetooth connections: activate bluetooth of your phone, enter it in search mode (and visible), remove the ear cups from the box (if necessary press one of them for a few seconds but in general, as soon as you unplug, it turns on) and let the pairing do with the app. Plus, if you listen to them during the process, you'll get the voice instructions… in English.
The application will give you the most interesting sound experience. First of all, on the main page, you see three reading "moments".
My moment: this is your use at time t. Who will depend on what you do (sport or other)
Routes: it is a sound profile that you can customize to make it suitable for your environment (bus, metro, train, etc.).
Focus: it's the same thing, but for your music moment, quiet ...
In any moment you can either manually change the equalizer by moving the bass, midrange or treble with your finger. But you also have presets with saved sound profiles. This is very good to compensate for audio streaming applications which do not have it. You may also see the "soundscapes" or background noise at the bottom of the main page. What is it for ? Quite simply to isolate yourself from ambient noise without necessarily wanting to listen to music. You can choose between different soundscapes ranging from pink noise (would help to sleep), white noise (unbearable as possible, personal opinion) or even fan noise (as seen above), storm, cave ... C ' is a big plus to isolate yourself or calm down, meditate ... You can also activate the mode from here. HearThrough which we have already talked about.
But it doesn't stop there. By going to the tab " my helmet ", new customizations are possible. First of all, you will be able to update the firmware if necessary. You can also register your headset with Jabra, evaluate the product, access guides and manuals. More interestingly, you have the possibility to change the language of the voice guidance, which you will hear in your headphones. For this, an update will be necessary after downloading the language pack. The Find My Jabra setting is more of a gadget for finding your 75t based on its last known location (with GPS active).
Now let's go into the headset settings. From there you can modify the audio experience such as turning off the music when you take off an earphone. It's very useful. You can also, at the call level, activate the slidetone or not, that is to say decide whether or not to hear your voice during a call. You also have the option of choosing an equalizer when you get a call. The assistance of the headset will allow you to choose when your headsets will go into standby out of use and whether you want to hear the voice guidance.
The call experience is also automatically displayed when you are online. Let's talk a bit about the sound quality during calls. It is good but will depend a lot on the quality of the network and the telephone of the person you are talking to. Don't expect it to sound as good as listening to music. It is good but not exceptional at this level. On the other hand, your interlocutors will understand you very well thanks to the 4 microphones.
The discovery tab will highlight new features, updates or tips to test while "about" is a catch-all of customer service, contacts, sales ...
You can see that this app is really complete and really takes advantage of your headphones. We will see later the voice assistant part.
But before that, let's talk a bit about sound.
It is totally bluffing:
A perfect fit in the ear, ensuring that the musical immersion is total,
The bass is excellent, bordering on vibration in certain circumstances (in a good sense),
The equalizer does feats to sublimate your favorite tracks,
No sizzling even when pushed to the limit,
The spatialization is excellent, as well as the stereophony. Some pieces swirl from ear to ear, passing through the back of your head,
You will discover your songs like never before.
They really are some of the best headphones we've ever had in our ears. They are simply excellent.
What does not spoil anything is the fact that Jabra has decided not to succumb to the trend of touch-sensitive headphones, which is a pain when handled. There, press once on the right to pause and resume, let press on the left to decrease the volume (and on the right to increase), two presses on the left to go to the next track, three to go back to the previous one, a single press to activate or not the HearThrough. It's very easy to use.
JABRA Elite Active 75t: operation with Alexa
That's it, we're getting there: Alexa ! The Jabra Elite Active 75t have Alexa integrated. But how does it work?
By going in "Choose your voice assistant", you will see 2 options:
The default phone assistant: in this case, double-tapping on the right earpiece will launch your phone's assistant, which can be Alexa or Google Assistant or Siri. It's up to you to properly configure your phone to activate it even if it is on standby.
Amazon Alexa : the approach is different. The Jabra 75t will be recognized as a device assimilated by the application Amazon Alexa of your smartphone. For this you will need, by pressing "Connect", link your application Alexa à Jabra Sound +. This is automatic if your app is already activated on your phone.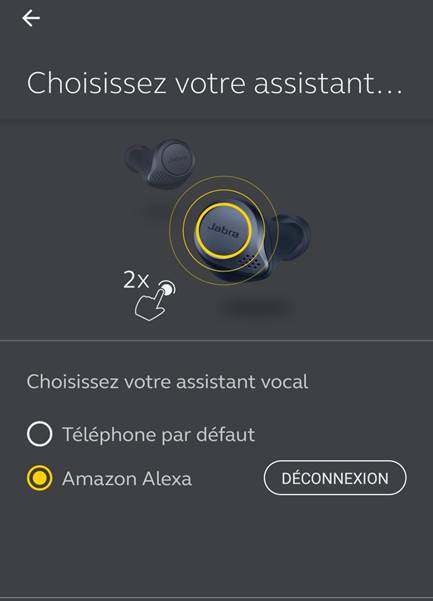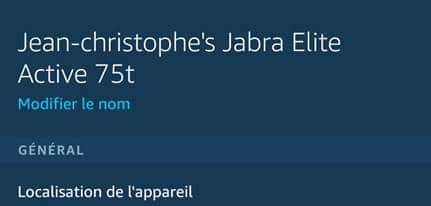 By choosing Amazon Alexa, when you press your earpiece, you will hear the well-known sound of the beginning of the query Alexa. Ask her what you want, wait for the ending sound and she will do it. It is quite possible to perform routines, requests such as turning on lights ... In short, everything you can do with an Echo.
With two exceptions:
You will not be able to make requests to listen to music on the fact Amazon Music or other, because it is simply the application Alexa and your account Amazon which is attached to the Jabra, and not third-party applications such as Amazon Music or Deezer… So you will have to switch to manual to select your albums or playlists. However, this is possible with option 1 (default phone).
As the headphones are not themselves connected to the Internet but go through Jabra Sound + and then Amazon Alexa, there is a higher latency than a Echo device or that a passage through the smartphone live.
So ultimately, is it a real asset to have Alexa directly integrated into the headphones? For people who do not have Alexa as a personal assistant live on the smartphone, yes. For others too because it can avoid seeing their screen. smartphone switch on at each request and therefore wake up and lead to false operations. Note however, even if in most cases the second method is activated without any problem, it can be quite tedious to set it up on devices like those with MIUI overlays, which is our case for the test. However, there are tutorials on the manufacturer's website (Xiaomi) to Alexa as a voice assistant by default and thus make everything operational with the second option.
The whole (requests, music,…) is stable and after several hours and days of use, no problem has been observed. Note that for full use of your Jabra Elite 75t, it is necessary to launch the application Jabra Sound + every time you use your headphones.
€179,90
In stock
2 new from € 179,90
Refurbished from 63
May 22, 2022 16:41 a.m.
To conclude this test, we can say that the Jabra Elite Active 75t are excellent products: comfortable, very good hold, easy to use and of exceptional sound quality for the in-ear. The passive noise reduction is bluffing, the HearThrough mode is an excellent idea… The choice to have Alexa integrated is a strong point but which would need to be further developed to make it even easier: link with streaming accounts associated with the application Amazon Alexa and improve latency. We are on a high quality product, with a price that goes with it, but that makes sense. However, in use, it was observed after several days a jump which has micro-cuts, especially in the left atrium. It is quite regrettable for this quality of product even if it remains quite rare.
Jabra Elite Active 75t - in-ear headphones
€199.99
Most
Installation simple
Bluetooth 5.0
Excellent sound quality
Jabra Sound + app
The lessers
Even if it is justified, the price is quite high.
The integration ofAlexa can be improved.
Some sound defects which cut from time to time in the left earphone