If you have embarked on home automation on a more or less large scale, you may have encountered several problems concerning your internet connection ... The most common is a drop in the availability of the Wi-Fi network but also the fact of having devices at the end of the race, which capture little. And that annoys you!
It is therefore necessary to boost this sluggish network. One of the possibilities is to set up a Mesh system (which will make you a very efficient network everywhere in your home), routers (which will create a second network) or a repeater (which increases the range of your Wi-Fi). Fi as a relay). Have you looked on the Internet and it costs an eye? And putting so much in the Wi-Fi when you had not expected this type of inconvenience, does that annoy you too? Calm down! We have a low cost solution with the Dodocool N300.
Dodocool N300: a fairly simple installation that will not make you lose sleep
The Dodocool is delivered in a small box which includes the device as such as well as instructions and an Ethernet cable. The manual as such is relatively complete and detailed, with a lot of screenshots. Sometimes a little complex, it has the merit of being in good French. There is no software or application installation required. The Dodocool will allow you to generate one way or another a Wi-Fi network in 2,4 GHz (IEEE 802.11 b / g / n) of 300 Mbps. It is not exceptional, but sufficient for standard use.
There are several ways to use it:
- Access point : allows you to make a hot spot at home without having to share your personal network.
- router : the Dodocool will be connected by Ethernet to your box and generate a second Wi-Fi network allowing you to desaturate your current network or to boost it if it falters a bit.
- Repeater : you put the Dodocool between your box and the furthest point of the house which needs to receive a more powerful flow. It will amplify the network to make it available over a larger area while strengthening the existing one.
The repeater installation is done in 30 seconds via WPS (you know, the little button on your box to add devices without having to enter the password). You plug in, you press the button of the Dodocool and then that of your box… and voila! the green bars show you the strength of your signal. Installation as a router requires connecting it to your box and configuring it via the web browser. A little less simple, but nothing insurmountable.
The Dodocool N300: small and of good quality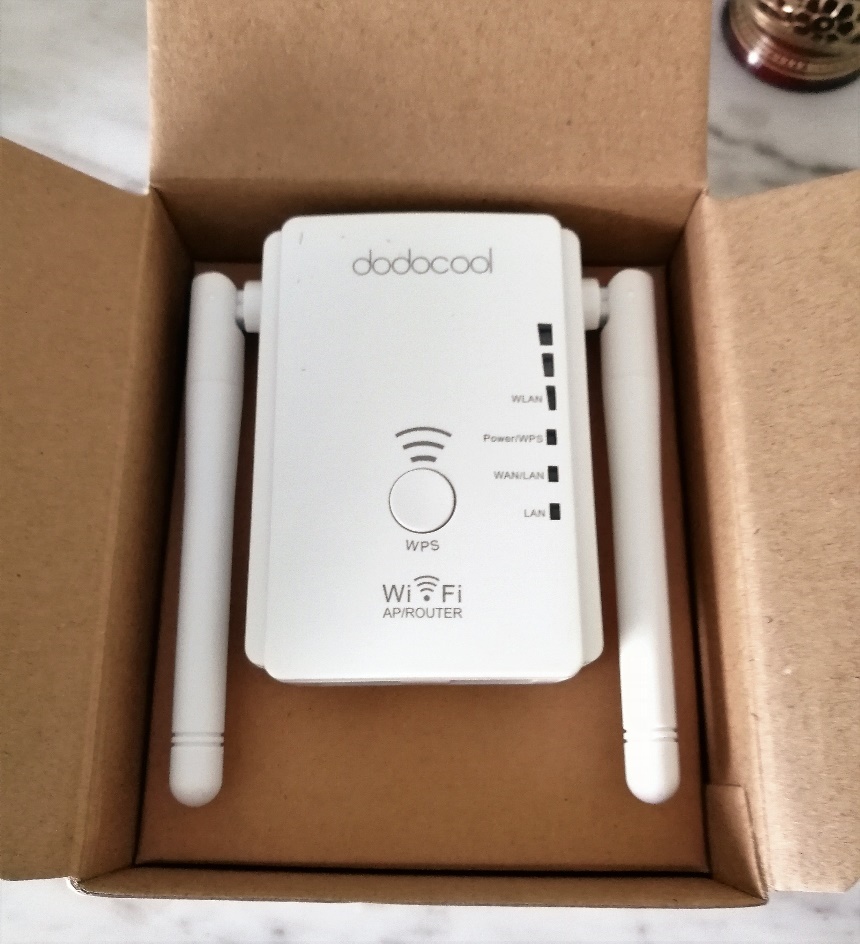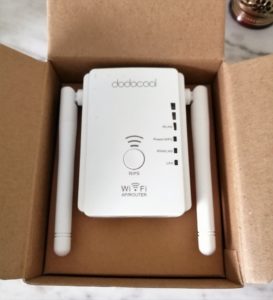 The Dodocool is quite small (4 cm thick when connected, 8 cm high (add 8 cm for the antennas) and 6 cm wide (8 with the antennas). There are devices without antennas, even more compact, but casually, they have their interest in capturing and distributing the Wi-Fi. The little extra: the plug can be turned. We can regret the absence of an earth connection.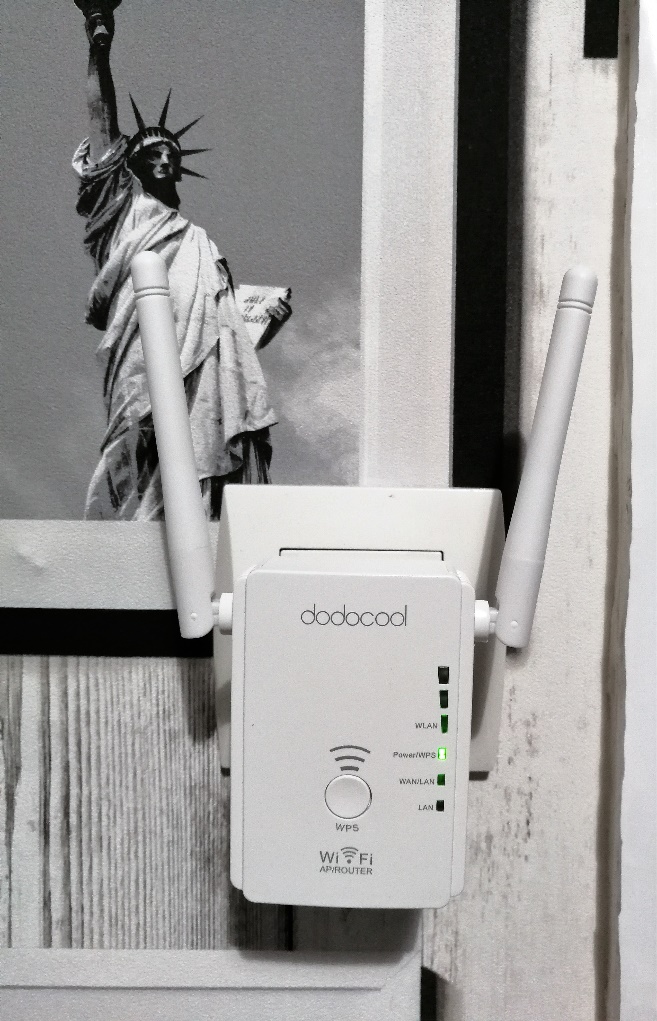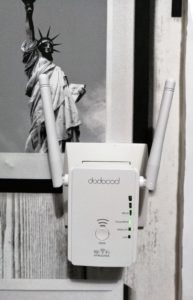 It is then quite simple in its design: the two antennas, the WPS button on the front panel, the Ethernet plugs for the router function and on the side two buttons: On / Off and choice of the type of use (access point, repeater or router). The plastic used is of fairly good quality and everything looks pretty sturdy.
This multifunction device is therefore a very good surprise and a very good choice for small budgets looking above all to simply increase the range of their network.
I personally use it plugged into a cellar and the network is of very good quality in the adjacent rooms despite the closed door.
Of course, we are on a limited speed, on a single band (a double band would have been perfect to desaturate a network with 5 GHz) but we must keep in mind its price of around twenty euros (from flash sales to less than 18 € are sometimes made) and therefore compare what is comparable. The price / quality ratio is therefore very good.
Dodocool N300 WiFi Repeater Access Point 300Mbps
€21.99