We are going to present to you a small device which we are sure will find its use in some of you. But as much to be frank from the start, it is not strictly speaking compatible Alexa and will not be able to be used by voice with our beloved AI. But why are you asking yourself a test for him? Because we listen to you, we try to get to know you well in order to test products that may be of use to you. And this even if in this case, Alexa will not be used, it is the usefulness as such of this device that deserves our attention. And it's still Earthsmart who is at the origin of this product: the SOS-Sensor ou SOS button in French ! This small device is in fact a small box operating in ZigBee (it will not overload your Wi-Fi, but you need a Tuya Hub) and will be able to bring you peace of mind. As its name suggests, it will allow you to be informed of a problem with a simple push. Do you have an elderly parent at home, have a disability, are you bedridden or your child is home alone? If there is a problem, a simple press and you will receive a notification. And it's still an exclusive Les Alexiens!
Earthsmart SOS ZigBee: mini size
Our button comes in a white packaging with a stylized sensor design, and that's it. Inside we find the button, for an tool to reset it and installation guide, in English and Chinese. Be careful, we still insist, but ZigBee products require the use of a dedicated gateway. Echo Show 2 or Echo Plus also have a hub, but compatibility is not systematic with all products. And in this case, it is mandatory to have a Tuya hub. To install the bridge, take a look at this ZigBee Tuya bridge test / Smart Life for the procedure to follow.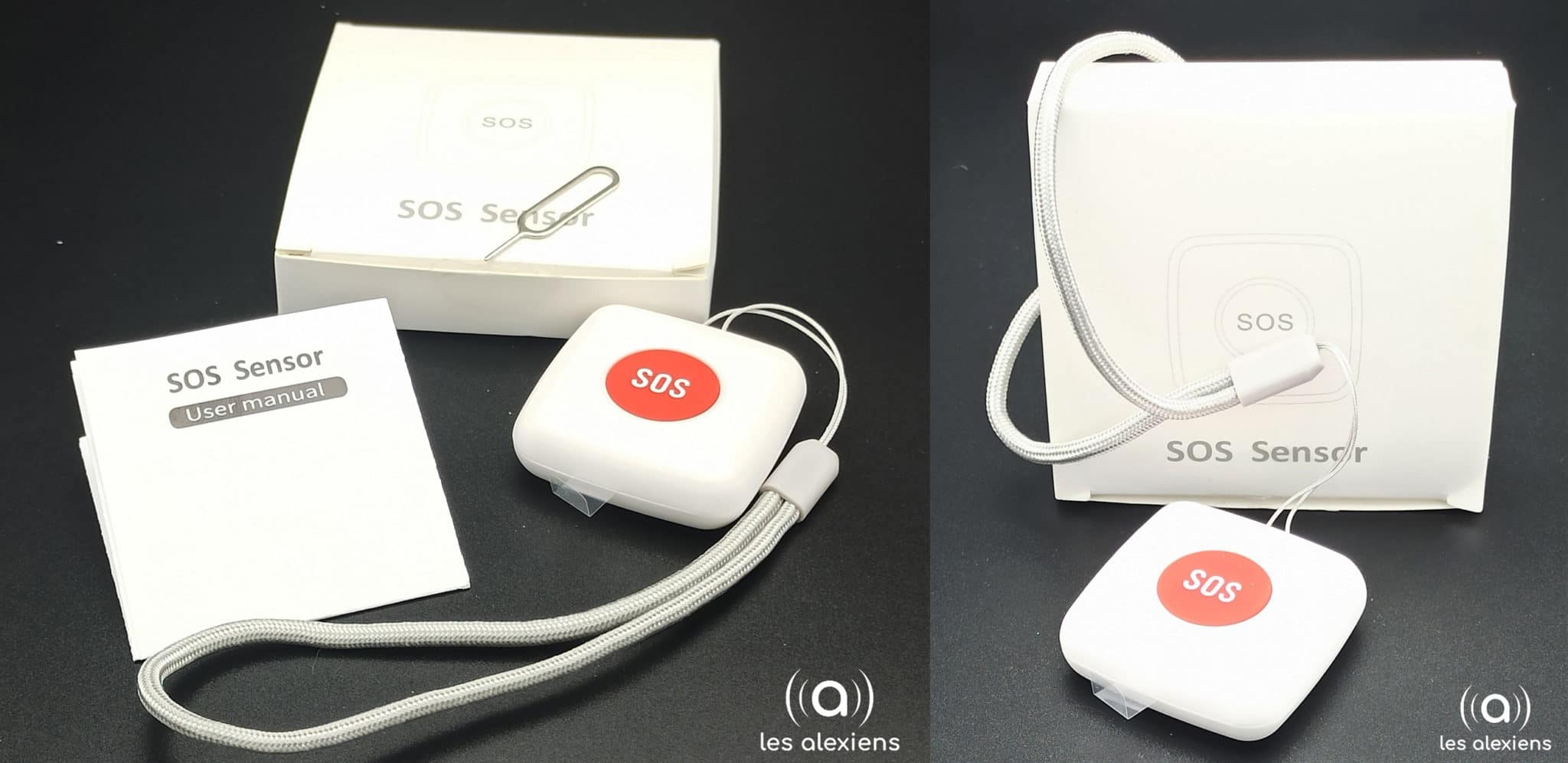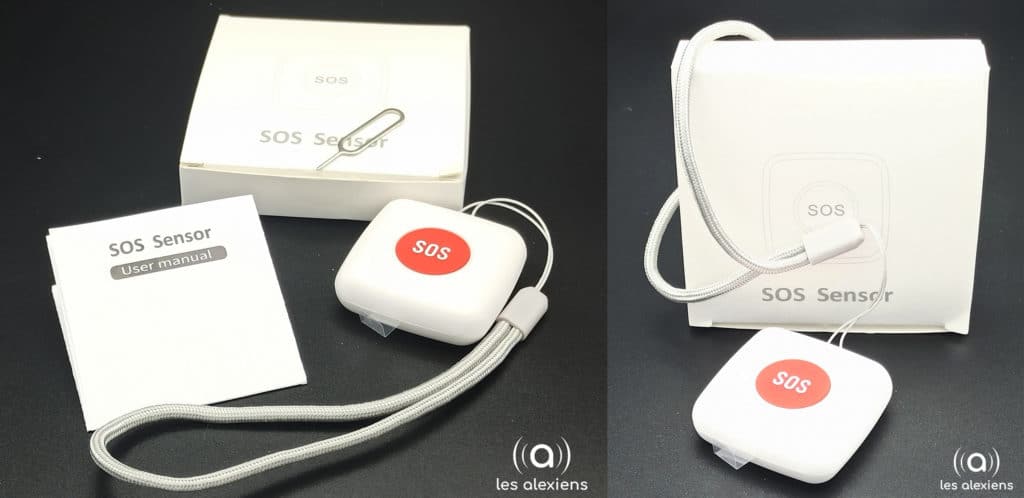 Design level, we are on the basic, but at the same time, it is not an object to exhibit, which is visible, but a functional object. This button is a small block of 4,5 cm side for 1,2 cm thick. The pusher part is a circle 2 cm in diameter. He is hanging on a 19 cm strap allowing you to put it on your wrist or hang it in a specific location. The total weight is 19 grams.
Its main asset is its small size and lightness The Alexians
He's matt white plastic, of average quality, but ultimately strong enough to have withstood a few drops during our tests. Its main asset is its small size and lightness. Powered by a CR2032 battery, the latter is provided. In the settings there is a low battery alarm to make sure it is always operational. Moreover, before using it, it will be necessary to remove the small plastic which prevents the circuit from functioning.
In terms of characteristics, it operates in 2,4 GHz ZigBee with a 100 m announced emission distance in open area. It will work between -20 and 60 ° C and does not support condensation (more than 95% RH approximately). So avoid the bathroom.
ZigBee SOS button: use via Smart Life and a Hub
To use the button, you need a ZigBee Tuya bridge. We used the one from the Zemi brandsmartIncluding you will find the start-up here. The installation of our button is very easy, as with most ZigBee products. To make it enter pairing mode, insert the small "needle" in the button hole reset et leave pressed for about 5 seconds. The button will start to flash green.
Then in Smart Life, go to your Hub, on the first page, and press "Add a sub-element". The app will take care of the rest. Count a few seconds to detect it. It is not necessary to change the name to use it because the button in such time will not have an application as a connected object.
How is this going to work? It is very simple. Push the button et a pop-up message will appear on the smartphone on which the hub is configured, whether you are or we are there, because it works like any basic connected object, by Wi-Fi and 4G. The principle is therefore very simple and the applications are varied even if the goal remains the same: to ensure that the person wearing the sensor does not encounter a problem.
For example:
Your home alone child can press if he gets scared (however, avoid leaving them alone!),
Your parent who is alone at home can contact you if it falls, by pressing the button,
Your pregnant woman can contact you if needed,
Your sick child can also call you if he is bedridden (or your husband if he has a cold),
The same if you or a member of your family has a disability and needs help.
There is no need for the button to be on your own network, but you must have access to theapplication Smart Life on which it is installed. If it's not the case, there is the possibility, with a subscription, to receive an SMS on a number of your choice in the event of pressure on the button. It is also possible to make a device sharing to be informed without necessarily having it on your own native application. A telephone alert option also exists, but is not yet available in France.
As you can see there is a bug in the EU version of the app related to the button because some of the parameters are empty. Note that the first option concerns the low battery level and the second option is to receive the notification in case of activation of the button. In the advanced settings, you have the option to receive an alert in case the button is offline.
You know us, we also tried to divert the original use of this little button to make it a switch or scenario trigger. But it doesn't really work. Indeed, it is not a real button with On et off but a simple push button which will not keep any status once activated. It returns to its initial state as soon as it is activated.
It is quite possible to put it in a scenario under Smart Life to turn on a light or put this scenario into a routine Alexa to have a message on the speaker in addition. However, please note that this is only possible with devices or scenes / automation under Smart Life / Tuya. Indeed, the list of devices available to be controlled is that of your application, as well as your various creations. There is absolutely no need for the device you want to drive to be a ZigBee device, although it is mandatory to have a ZigBee bridge for switch operation. But it will only work once. To use it again, you will have to deactivate and reactivate the scenario. It is possible, via the scenarios, to force the sending of the SMS which we spoke about earlier. For example, you can turn on lights in the event of activation so as not to leave an elderly person in the dark, for example if they have fallen, or open a connected lock to allow emergency entry.
In conclusion, this ZigBee SOS button is a great idea. Even if it is not really compatible Alexa and that it does not allow automation strictly speaking, it allows above all to ensure the safety of those you care about. Its operation is very simple, its use even more so, and the peace of mind it brings is a real asset. A few details are missing to make it even more efficient: the call system which is not yet available, making the SMS function free (linked to Smart Life in both cases), be able to make him keep a status On ou off to use it as a wireless switch and thus avoid having to reset the created scenario.