In the Hue family, the Alexians have presented to you on several occasions the connected bulbs from the Philips range. This brand remains for many the Rolls of smart bulbs : qualitative and expensive. Prices can rise to more than € 60 per unit, excluding promotions. But next to that, there are quite basic, monochromatic, no-frills references, which are the brand's entry level. We have chosen to present the latest version of the first prices of connected bulbs from Philips, the Philips Hue White E14 : 5,5 W, E14 base therefore, luminous flux of 470 lm, warm white and operation with a Hue bridge, a ZigBee Hub such as an Echo Plus or a Show 2 or… via Bluetooth. This is the novelty of this redesign: Philips Hue bulbs are now both connectable by a bridge but also by Bluetooth. But why ? Good question. Maybe it's like a free sample: check out what happens over Bluetooth and you'll end up buying a hub… or not. This bulb is the same price as the one without Bluetooth: € 19,99 individually or € 29,99 in a set of 2, excluding promotion.
€23,99
€29,99
In stock
9 new from € 23,99
Refurbished from 1
June 30, 2022 0:52 a.m.
Philips Hue White ZigBee: Bluetooth too
Unboxing
Philips always puts as much enthusiasm in its packaging: colorful, glossy printing, it takes the visual of the bulb and its main characteristics (consumption, operation with Alexa…). The Bluetooth logo is also well highlighted on this new version. Inside, the two bulbs are well wedged and protected. They are in fact protected by a cardboard "cover" on the top and are stuck at the base. Impossible to move.
There is also an efficient installation guide explaining the procedure for the different types of installations possible (with bridge, with Dim Switch or by Bluetooth).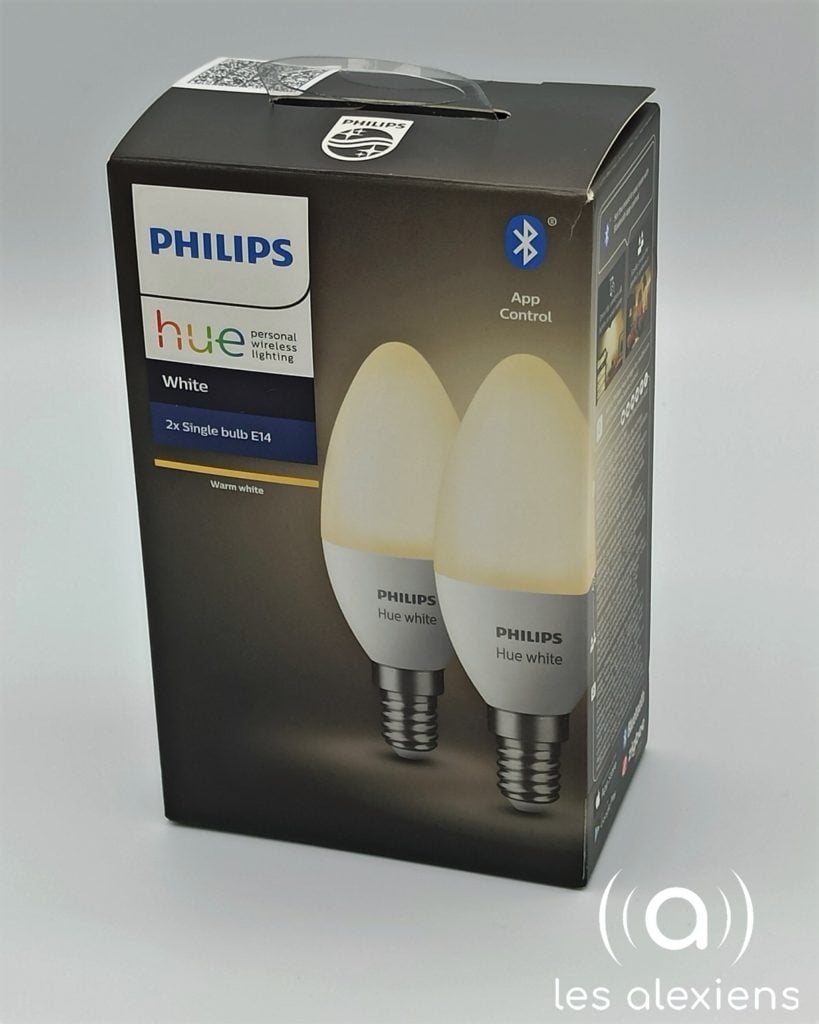 This E14 has a rather nice form of "flame" but despite everything common. The lighting surface is quite large compared to other LED bulbs, which is a good point. We are on an opaque plastic of medium quality for this first part while the body is in shiny and hard white composite. The socket is aluminized metal of good quality. We are on a better quality product than the first price E27 we tested, but it is not difficult. Without being exceptional, it is acceptable.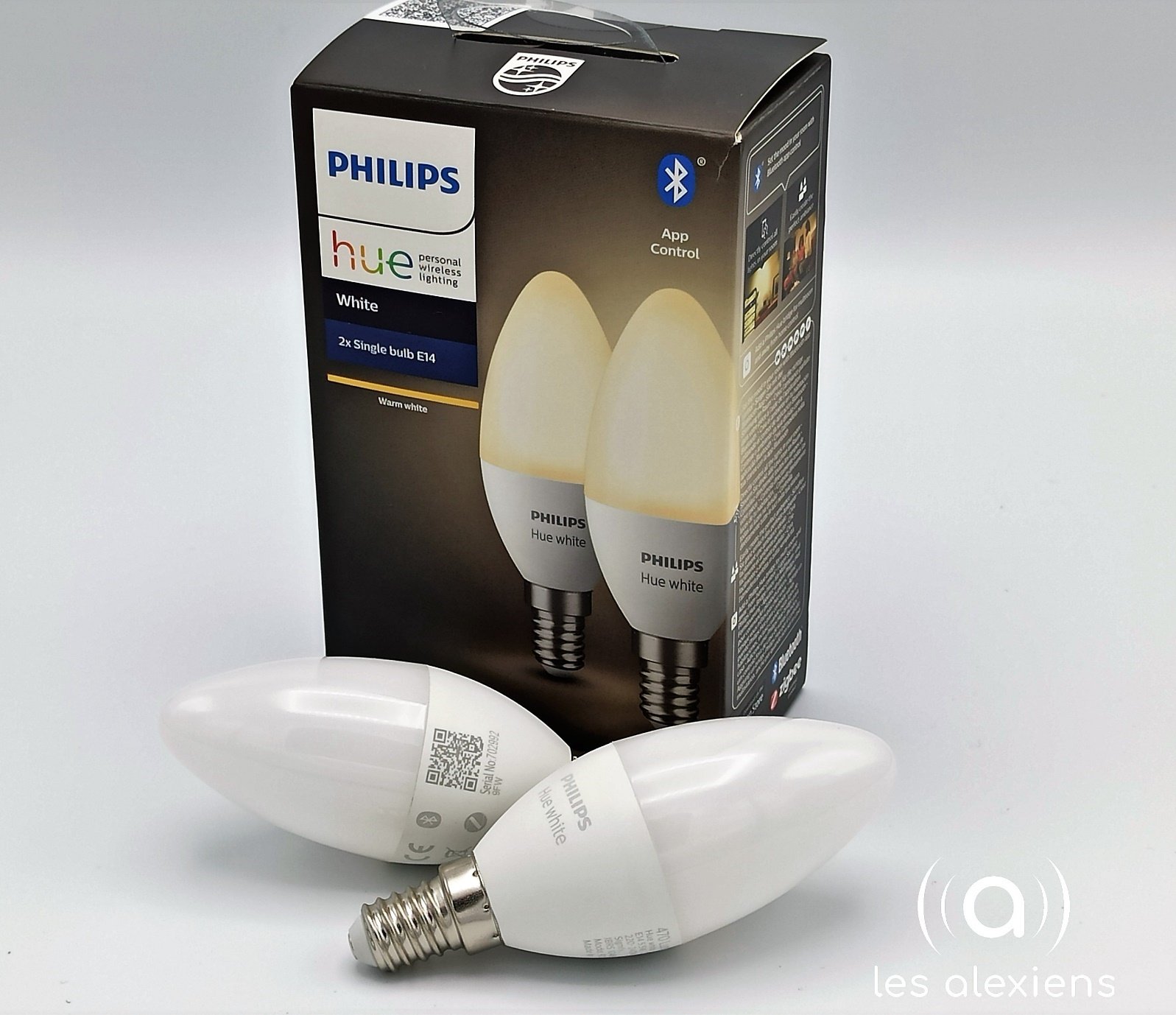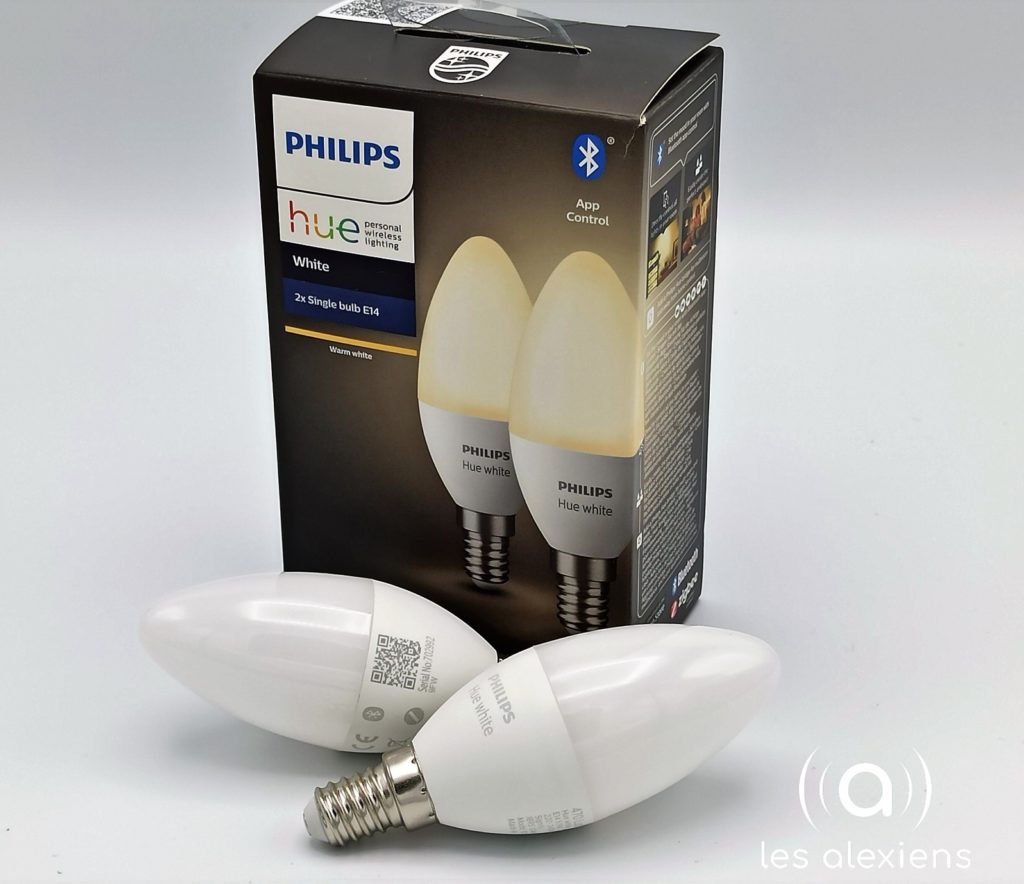 Our E14 bulb makes 3,7 cm in diameter et 10,6 cm long (count approximately 7,6 cm once in place), for a weight of 39 grams. Its power is 470 lm, class A +, 9W, or in the average of connected bulbs of this type. Its theoretical lifespan is 25000 hours (i.e. 2 years and almost 11 months in non-stop operation and over 34 years if used 2 hours per day) or 50000 ignitions. The color is 2700K warm white… No known IRC. It is therefore correct at the characteristics level but remains very limited: no heat variation possible, monochromatic, limited light output, therefore rather to be privileged in a small room or as an extra.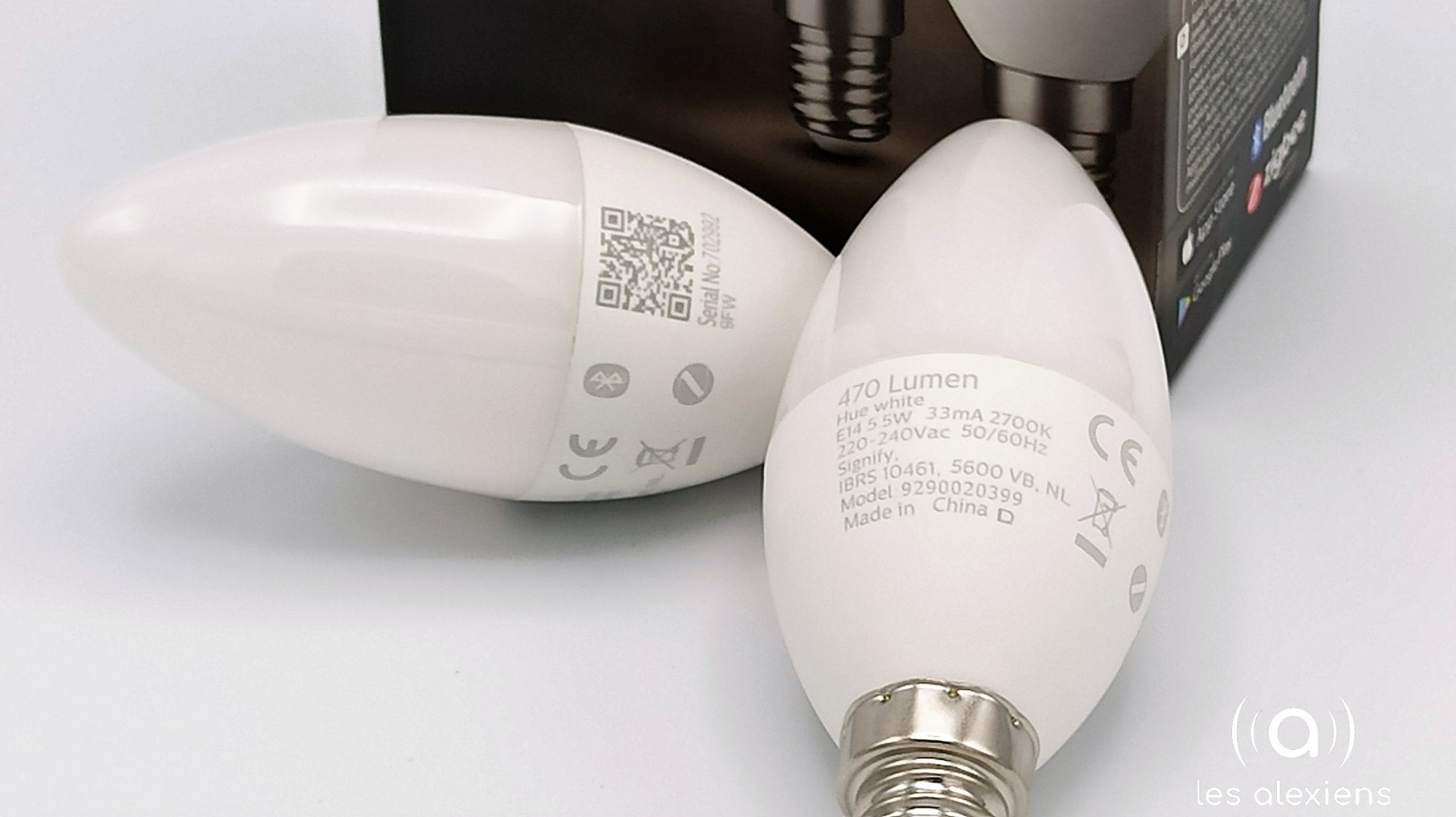 Philips Hue White ZigBee Bluetooth: installation with the Echo Show 2 and use
For this test, we installed the bulb without using the Hue Bridge but directly with the Zigbee hub from Show 2. The installation is extremely simple and can be done in two ways:
Put the bulb in place, turn on and in the app Alexa, press add a device, select "Philips Hue" and let yourself be guided.
Put the bulb in place, turn on and ask directly to Show 2 « Alexa, detects my devices ». And Alexa the fact.

This is what we used.
No need to flash the bulb or anything, it's very fast. Once done, name it and start using it. It's very simple, it's ZigBee told you!
In terms of its management via Alexa, we are more limited than with the Hue app, but without the use of the Philips bridge, impossible to use it. We therefore remain on what the bulb knows how to do basic: vary its light intensity, that's all. That said, basically, use of the bridge or not, that would not change anything because the bulb as such does not allow you to do anything else. The most with the application would have been to integrate it into scenes or others.
If, on the other hand, you want to get an idea of ​​its use via Bluetooth, here is what it gives. You need to download thePhilips Hue Bluetooth app et no the standard application. You need to create an account (email and password), activate your Bluetooth and presto, it's done.
Once discovered and installed, you can control your bulb via your phone, provided you are within the range of Bluetooth. You can turn it off and on, vary the intensity but also choose scenes with pre-established light intensities. Nothing really crazy, but the bulb as such does not allow you to do better. It is a good palliative for the absence of a hub.
In terms of colors, the conclusions remain identical to that of the E27 Philips Hue White. Indeed, the only color is warm white. It is possible to vary the intensity but it stops there. This type of white is a yellowish color, used for a warm atmosphere but loses in clarity. Why take out a bulb with only one color when the interest of connected bulbs is to adapt its lighting to the time of the day, to your activity or to your desire? Despite everything, the color remains frank, warm and intense. Despite everything, the 470 lm show their limit. The first photo shows a setting at 1% intensity and the second at 100%.
We therefore remain on the basic. But where the shoe pinches is that we can see flickering (or flickering) of light on videos. This is usually done when components of the bulb are of low or medium quality, in particular the driver. This is a problem, because this, in addition to translating a very average quality, causes eye fatigue or migraines. Note that other bulbs have been tested on the same wall light, without problem, but also on the same network. You can compare the differences on the following two videos.
Philips Hue White: use with Echo and Alexa
If you look in detail at the installation guide, at no time is it announced the possibility of using the bulb with a simple device Amazon Echo without bridge. And yet, it is quite possible, but it takes a little tweaking (three times nothing, don't worry). Philips could have made a little educational effort with this new range.
Bluetooth installation
To install a Philips Hue bulb in Bluetooth, you must download the Bluetooth application and not the "classic" which only supports ZigBee.
Turn on your bulb et follow the installation steps given in the previous part for the bluetooth function.
Then go to the settings, bottom right, and select voice assistants and Amazon Alexa. Then select "make detectable" and ask Alexa « Alexa, detects my devices ». Don't try to ask Alexa to detect it before having made the first manipulations, it will not work because the bulb will be invisible.

Alexa will now find out. You can then rename it either on the screen (if you go through a Show 5 or a Spot) or through the application if you go through a Dot.

Be careful, to work, your bulb must be within the range of your Echo's Bluetooth coverage.

If you only have one device, but it's on the other side of the house, it won't work. It must therefore be in the same room. However, and this is strong, if you have several Echo, you can talk to the one at the other end of the house and the light will activate anyway because it is the closest echo that will take it. in charge. On the other hand, do not cut the Bluetooth on the latter… It is then possible to use it as with an Echo Show 2. The brand announces 10 bulbs that can be supported by this means.
What to say in conclusion of this
Philips Hue White ZigBee Bluetooth
? The interest of the Bluetooth function may seem limited. But in the end, that's not really the case because it will actually allow you to use the bulb remotely, by voice, via Alexa, provided that at least one of your Echo is within the range of Bluetooth.
And this without having a Philips bridge or Show2 or Echo Plus.
It is indeed a simple first step to take, which will perhaps make you want to invest in a branded bridge afterwards.
But we have to face the facts: Philips Hue's first price bulbs are too expensive for the final quality: monochromatic and without heat change, and with light having a tendency to flicker. Its advantage remains despite all its operation in ZigBee and Bluetooth which will make it possible not to saturate your network and to react more quickly than a Wi-Fi bulb. If you want to take the plunge, buy them in sets of 2 because that is 15 € each. For a ZigBee bulb, this is starting to get interesting, even if White Ambiance are much better products. The scoring was made on the basis of a purchase in sets of two.
€23,99
€29,99
In stock
9 new from € 23,99
Refurbished from 1
June 30, 2022 0:52 a.m.
Philips Hue White E14 smart bulb, 5,5 W
29.99 € (set of 2)