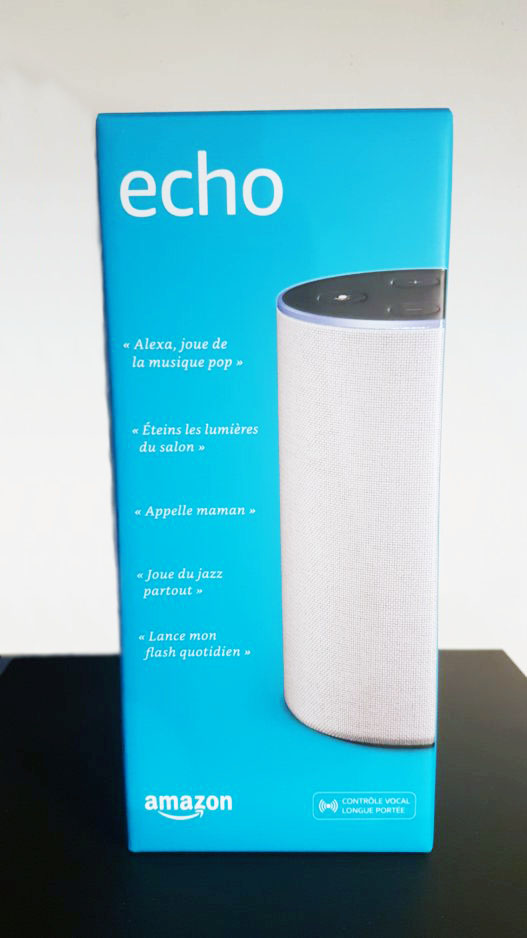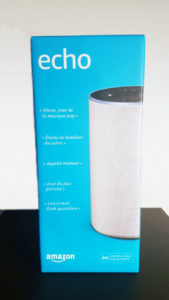 You know what ? We have just seen that we have not yet done a test for the Echos devices! They are really the worst shod shoemakers!
Between the writing of Alexiens and Echo, it's a long story. Why ? 'Cause we were each beta testers of this dear Alexa ! We were therefore able to participate at our level in the deployment of Echo in France and its adaptation in our regions. For people who don't really know what a beta tester is, this is a client Amazon rather focused on High-Tech which was selected by Amazon via a method of their own and then based on a questionnaire to allow them to refine their choice: use of music services, place of birth (to help Alexa to understand the different accents), place of residence, Internet equipment ...
In short, in early 2018, the speaker arrived in our homes and that's where it all began!
Amazon Echo: an AI at home!
After the feverish unpacking of this blue box, we hold in our sweaty and trembling hands this anthracite speaker of 15 cm high by 9 cm in diameter and a weight of a little over 800 g… First observation: whaa, it is heavy and it's quite pretty! In addition, we can remove the case to change the color of the echo if we don't like black. There is also a power cord with an adapter.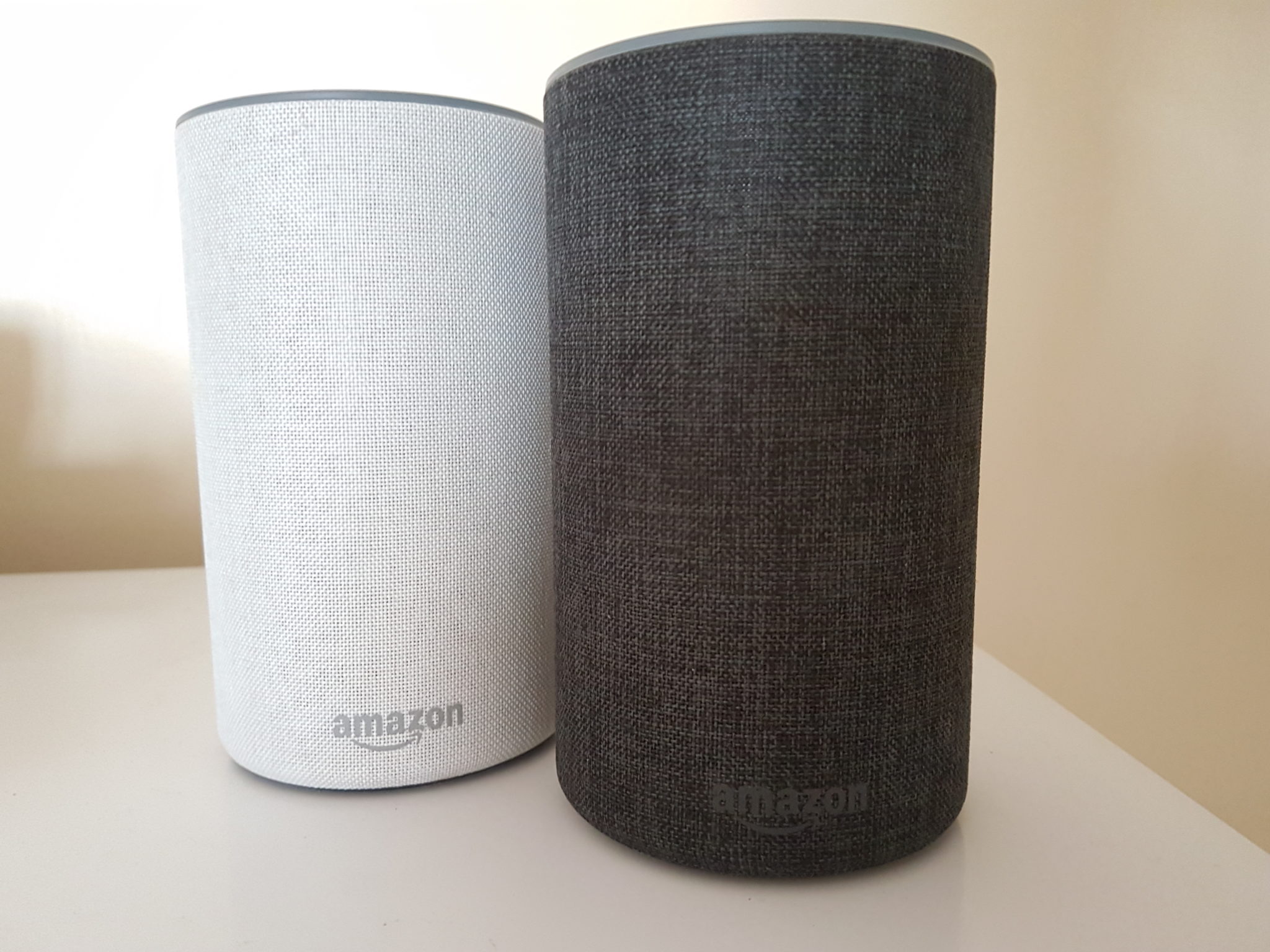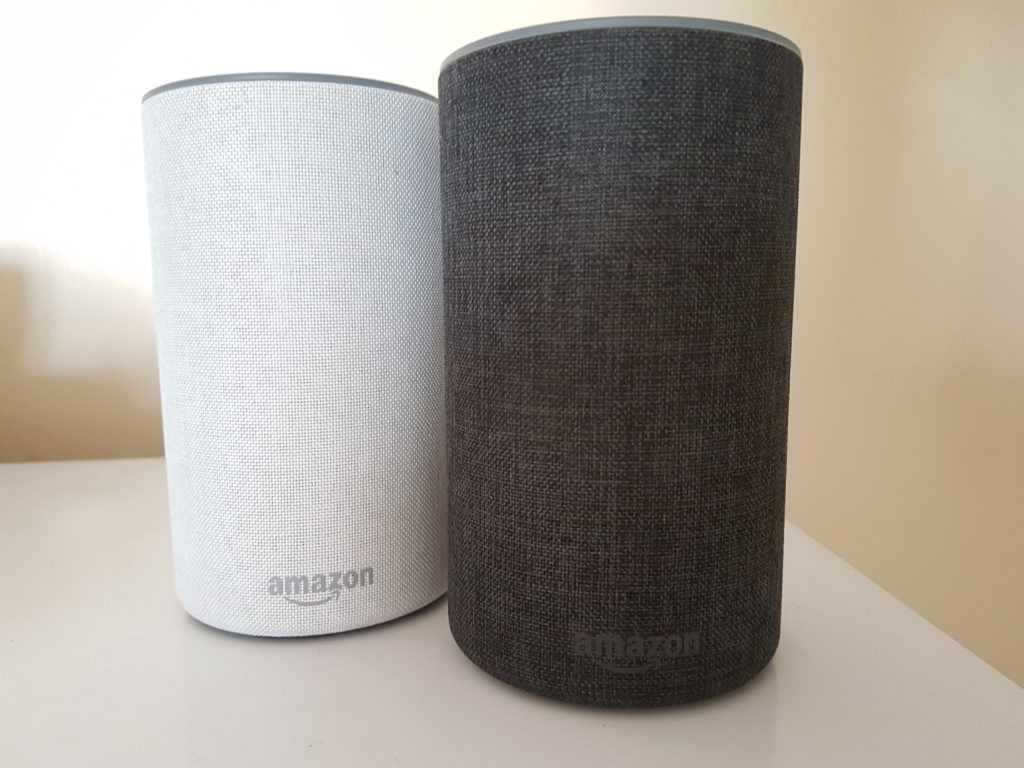 Hop, we plug in, after downloading the application Amazon Alexa. You have to configure the beast and it is done relatively easily. If, moreover, you have difficulty in doing so, we have tutorials for yous. To put it online? You need a Wi-Fi 802.11a / b / g / n in 2.4 GHz or in 5 GHz.
Once connected, we are hypnotized by this circle of color that moves according to the moods ofAlexa : listen, answer, offline, mute… And then she talks to us! She explains to us what she can do for us… We also talk to her, we want to test. We ask all the questions that go through our heads: what's your name? what are you doing ? what is the weather? how old are you ?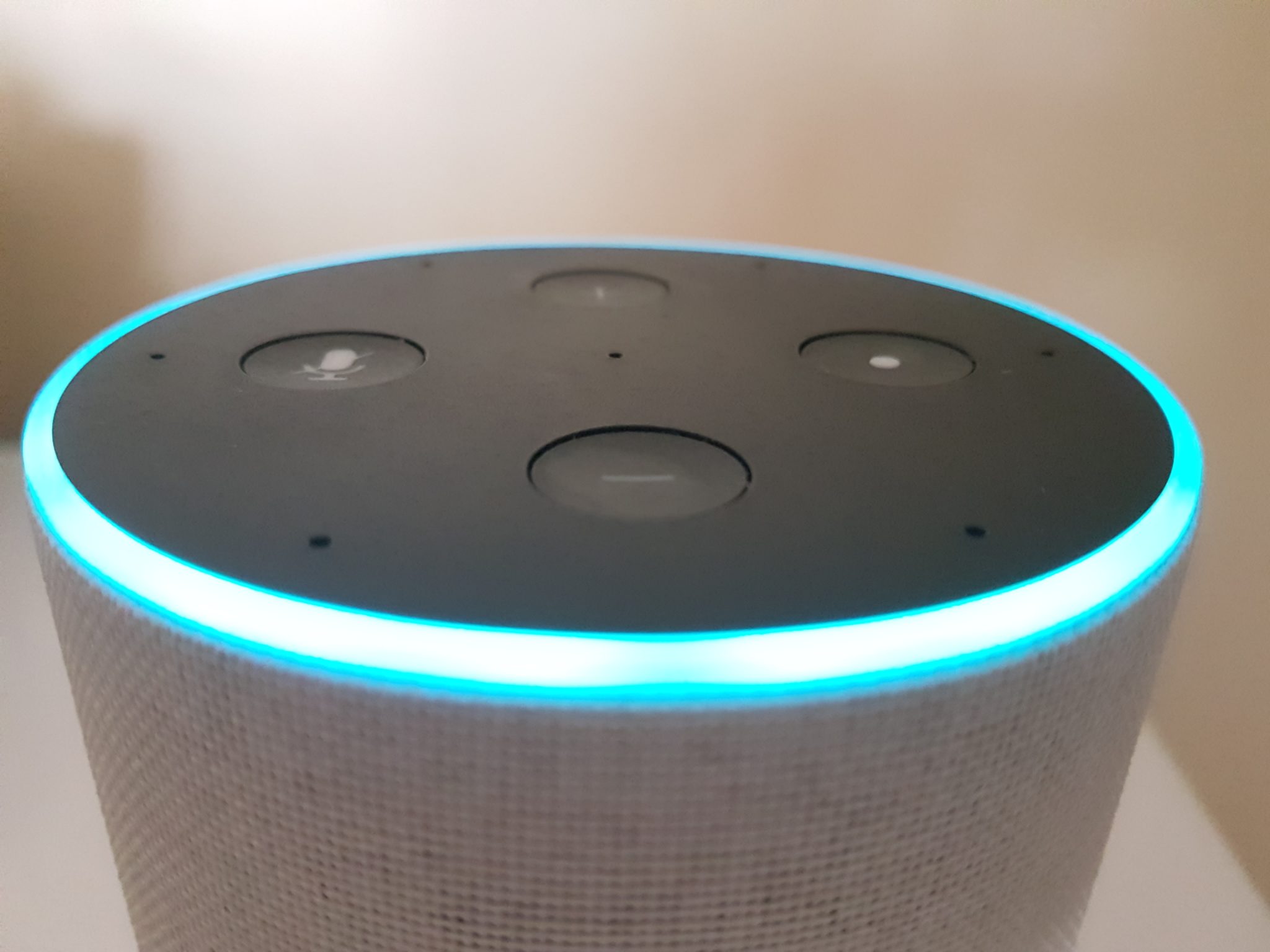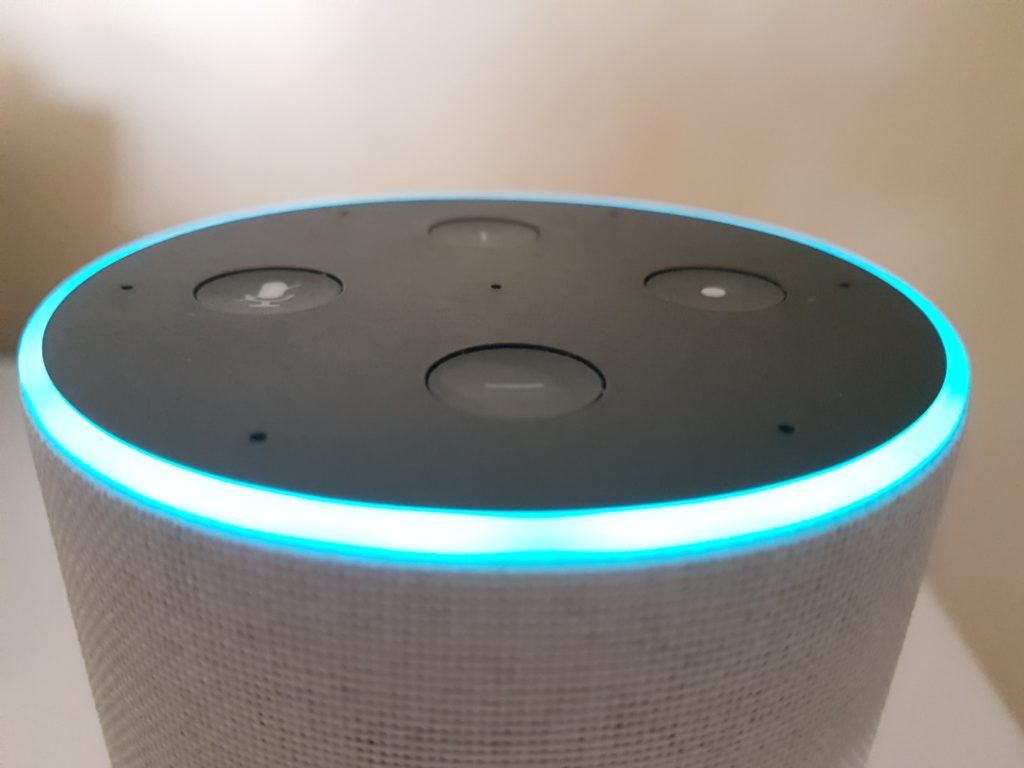 Well, let's be honest at first Alexa was not really on point: big comprehension difficulties, hazardous pronunciation, no skill… But at the same time, it was our job as beta testers to test, test and test again. And indeed, with time and nervous breakdowns, Alexa understood better and better. It has grown. That's the word, developed. And it still continues today. At first, new buyers find her limited and not very resourceful. And the answer to be given is always the same: you have to use it as much as possible, trace back to Amazon which is not understood and you will be surprised at how it evolves.
And now, Alexa gives us the information, the weather forecast, the traffic, allows us to do various and varied research, controls the lights, sockets, thermostats, plays music, reads audio books or Kindle ...
Amazon Echo: vivisection!
Before we see what can be done with your pregnant woman, let's take a look at what's inside her.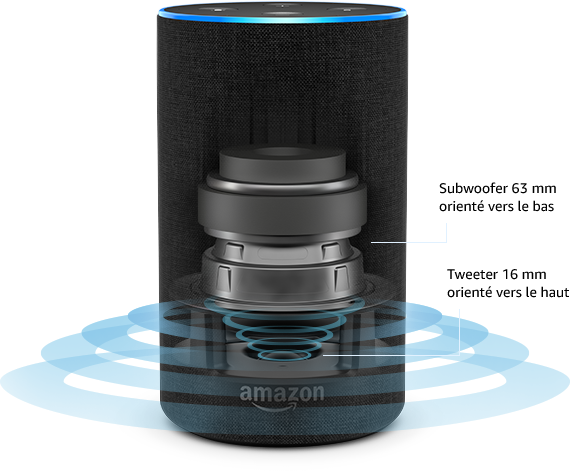 The Echo will certainly be useful for you to listen to music or radios. For this she has a 63mm woofer and 16mm tweeter. So basically a big speaker and a small one. And thanks to that, the sound is pretty good. Of course, there are better ... But there is also less good, really less good. In any case, to listen to the hits of the moment, it's really very satisfying. And if you find it too fair, theEcho also has a 3,5mm jack to connect it to a more powerful device. It is also equipped with Bluetooth if you want to "stream" music from your cell phone.
On the top, surrounded by a moving ring, you will find 4 buttons: volume +, volume -, mute (to mute the microphone and also the listening) and the action button (to talk to Alexa without activating it by voice).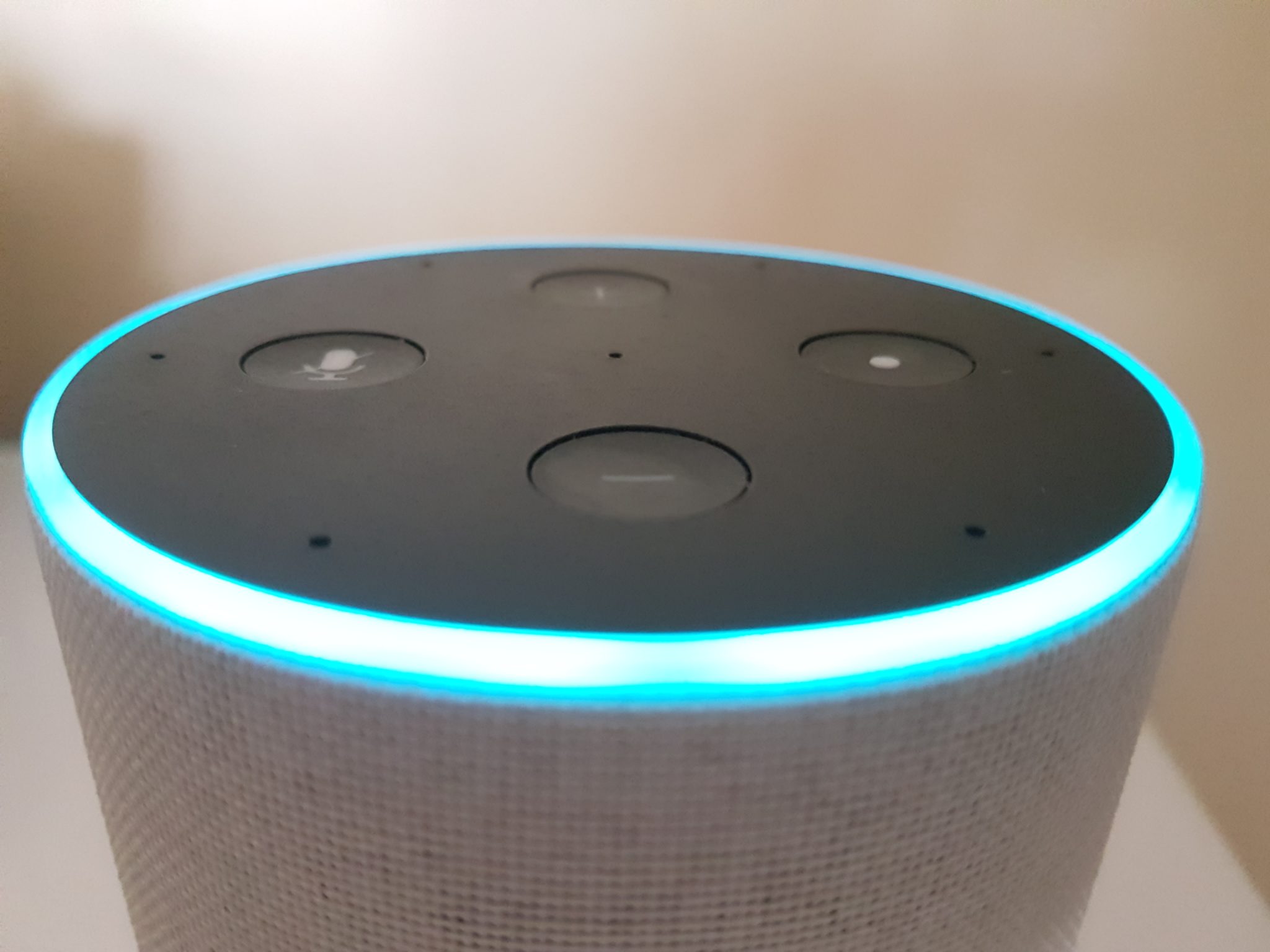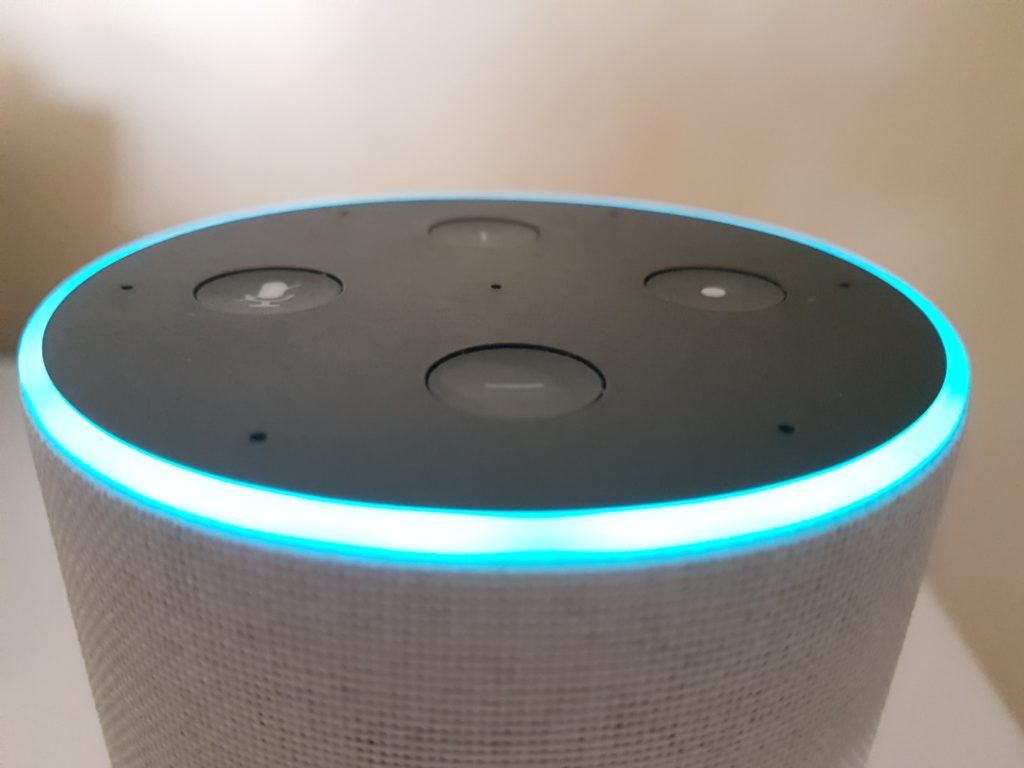 And what are skills? A skill is the equivalent of an application for smartphone. These are "modules" that you can activate to have additional capabilities: control your home, news, games ... Often, to control a device such as a lamp, a socket or a vacuum cleaner you need the phone application and the skill. dedicated. So pay attention to their existence on the store. Some skills are multi-brand and multi-product. Real Swiss Army Knives.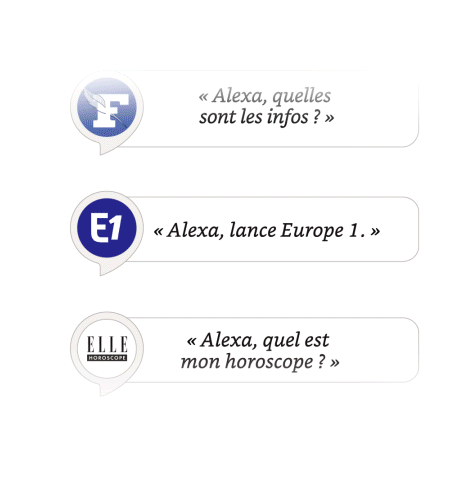 Amazon Echo: to do what ?
A question comes up quite quickly when we talk about the Echo: but what is it for?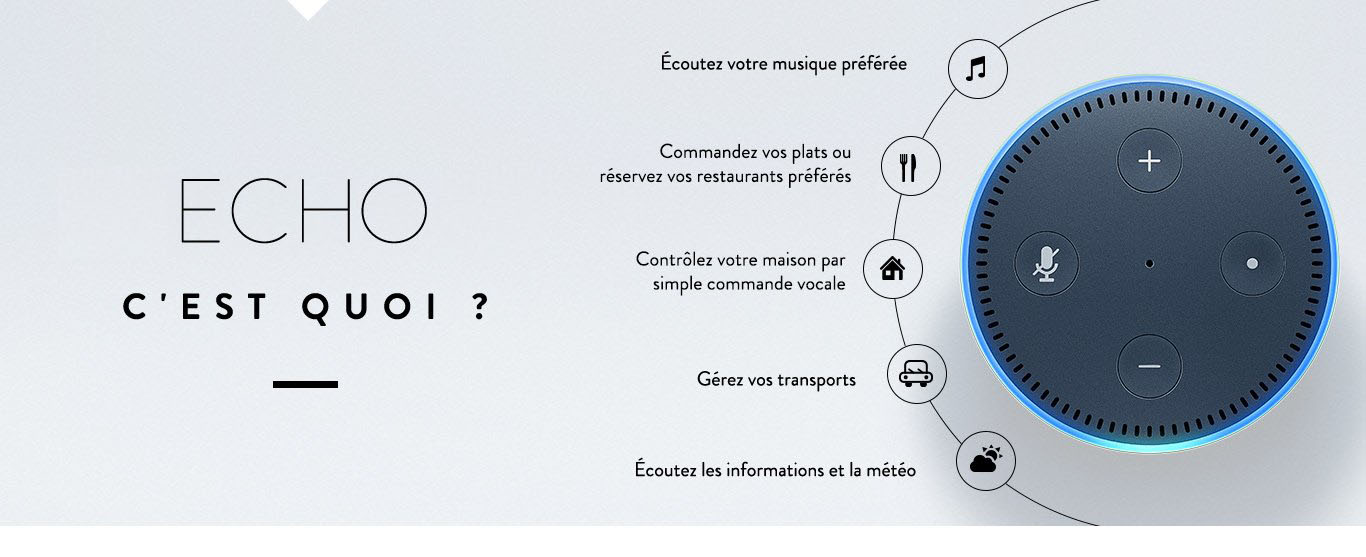 Here is a non-exhaustive list:
Daily help : Alexa will give you the weather forecast, traffic, the latest news… She will also tell you jokes, anecdotes, do research on the internet to answer your various questions (age of the captain, weight of the Higgs boson…). It also allows you to set alarm clocks, alarms, timers ...
Launch skills: there its possibilities are endless: games, music, news, cooking, taxi reservations ...
Listen to music : to do this, several input channels. Bluetooth if you want to "stream" the music or the services included in the Echo. Again, you need a premium subscription to Amazon Music, Deezer, Spotify to enjoy it. Count on average € 9,99 per month for each. You just ask Alexa to play such and such a song, or such artistic or such type of music, and the watts are yours! With the Prime subscription, there is a lighter version ofAmazon music giving you access to part of the catalog for 40 hours. There is also a subscription Amazon Music Unlimited dedicated to a single Echo for around € 3. You can then ask Alexa to wake up at 5:00 am with the music of the Snow Queen! And with the "multiroom" function, you can listen to the same music on all your devices at the same time and thus immerse yourself in music throughout the house.
Get started with home automation: Alexa allows you to create your connected home via sockets, bulbs, thermostats, switches, light strips, vacuum cleaners ... operating via the internet and controlled by Alexa (and dedicated skills). So, it's up to you to say: " Alexa, light up the dining room in purple "," Alexa, turn off the office socket "or" Alexa, set the heating to 19,5 ° "… In an evening, it always works
Make calls between Echoes or to an application Alexa. It is quite practical. If you are on the go, you call your Echo through the app and you can chat with your family. In the same principle, locally (but not only), you can call another device, such as an intercom ...
Amazon Echo: The ideal roommate?
Yes of course. But like all roommates, there are always things that annoy us. You can see small drops in Wi-Fi speed when too many devices are connected. We are therefore not dealing with a problem linked to Echo, but rather to the saturation of our network. In this case, prefer Wi-Fi hubs or repeaters / routers ...
Another small problem, the latencies of certain skills which means that, sometimes, there is a rather long time between the request and the realization of the action, like turning off a light… But it depends on the days and hours. And it's getting better and better. You will quickly find the skills to favor.
Alexa is sometimes a little hard on the sheet and it can be annoying at night ...
And the app Alexa is not always very responsive ...
But, frankly, when we see all that we can do with it and how this speaker is improving day by day, we can only be sure that these problems are temporary! And we can only advise you!
€129,99
In stock
July 5, 2022 16:17 a.m.