We revealed the information to you 3 weeks ago, Xiaomi seemed to have planned to release a streaming stick way Amazon Fire TV Stick 4K named in a very original way Xiaomi Mi TV Stick. More compact and more practical than the Mi Box, this new HDMI streaming stick is now well confirmed by Xiaomi India which promises to convert "Any television in Smart TV ".
The information revealed by the leaker Sudhanshu Ambhore was therefore not a fake news and the idea seems more than wise to release this type of product on the Indian market where 34 million unconnected televisions have been sold over the past four years. But Xiaomi's TV dongle should not be confined to this single country since releases in Europe have already been mentioned, especially in Spain where the brand is very successful. While waiting for its release in France, here is what we can now say about this small HDMI dongle.
Xiaomi Mi TV Stick: a powerful 4K streaming stick
Although the technical characteristics of the Mi TV Stick are not official, several images show the form factor that we mentioned previously. Very similar to dongles fromAmazon, Xiaomi's model should integrate the Amlogic S905Y2 SoC presented almost two years ago but more powerful than the one integrated in the Mi Box S.
Boarding a Quad-Core Cortex-A53 CPU of the British firm ARM associated with a GPU Mali G31MP2 engraved in 12 nanometers, this ultra low consumption system should have neither output nor input like the main dongles on the market, but should still offer 16GB of storage et 2GB of RAM in order to streamer without harm of content 4K Ultra-HD thanks to its MIMO Wi-Fi antennas. In addition to Bluetooth 5.0 connectivity, probably used for its remote control like the Fire TV Stick fromAmazon, the Chinese firm could offer an Ethernet adapter to connect it to the wired network although the SoC only supports megabyte speeds. An HDMI port will, of course, be part of it to connect it to a screen.
From a software point of view, the streaming key Xiaomi Mi TV Stick should embark Android TV 9, but the question of DRM content management still arises and should greatly influence the final price. The certification is nevertheless a necessary step so that the Xiaomi dongle can offer the main streaming services like Netflix, Amazon Prime Video or even Disney +.
Technical characteristics of the Mi TV Stick
Product
Xiaomi Mi TV Stick
CPU
Quad-Core Cortex-A53
But by the full GPU acceleration tech
Mali-G31 MP2
Memo
2 GB RAM
Warehousing
16 GB SLC NAND Flash
Connectors
HDMI, USB 2.0 / 3.0
Connectivity
MIMO 2T2R, Bluetooth 5.0, Ethernet 10/100?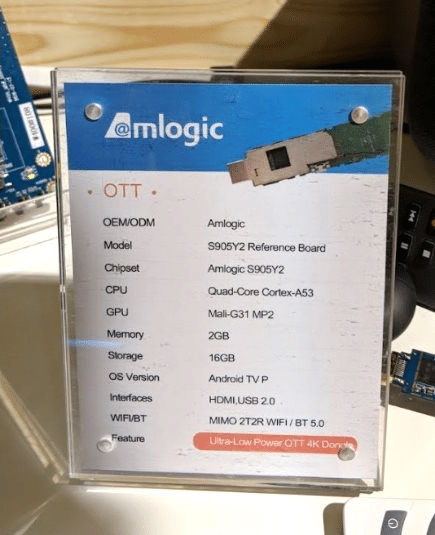 Mi TV Stick: a somewhat unclear release date
The big question that remains unanswered concerns the release date in France of the Xiaomi Mi TV Stick. Yes, still according to twittos Sudhanshu Ambhore , its release should indeed take place in May in Europe, the announced date of May 8, 2020 for the release in India has flopped somewhat since it is not the Stick but the Mi TV Box 4K that was announced today.
However, the Chinese brand is always happy to distill its releases and rarely announcing several products at the same time, it's a safe bet that the release of the dongle should occur in the coming days. We will obviously not fail to inform you of it as soon as it is actually marketed. In the meantime, some research allows you to pre-order the Mi TV Stick, but we strongly advise you to wait because the prices charged go from simple to triple and are only the fact of unofficial sellers.