Thomson is a company that speaks to the French. If it has become more discreet with the general public over the past fifteen years, it is gradually making its comeback thanks to numerous brand licenses, and it is with pleasure that we learn today that it chose to make a foray into the growing industry of speakers with integrated voice assistants.
As you can imagine, if the Alexians tell you about it, it's because Thomson chose our favorite voice assistant to animate his very first speaker. This is what the French company will indeed announce on the occasion of theBerlin IFA. His code name, not very sexy, is for the moment: WS07VCA.
WS07VCA, a complete enclosure integrating Alexa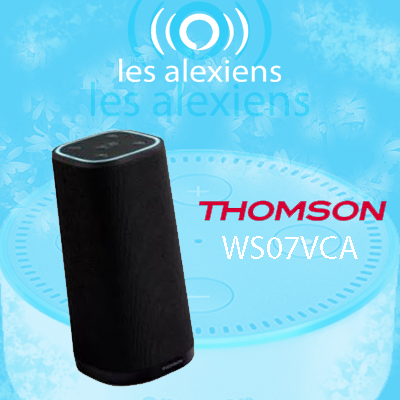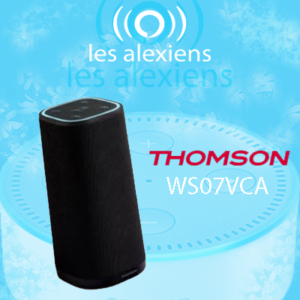 On paper, this speaker seems attractive and has all the features and connectivity of its kind: wireless via either Wi-Fi or Bluetooth, it is connected, intelligent and even offers multiroom.
From a design point of view, the object is classic, cylindrical in shape as the speakers are often, and offers a speaker developing 5W. On the upper face, six buttons provide access to the main functions of the speaker. It will also be possible to mute the two microphones, to pause or decrease / increase the volume. Moreover, the Thomson WS07VCA will be equipped with a 2200 mAh Lithium-Ion battery, which will make it a nomadic product. Good news for all those looking for a product that is both nomadic and affordable, the excellent speakers from Ultimate Ears not being within the reach of all budgets. In short, a hybrid product that is as playful as it is practical and pragmatic.
Regarding the functionalities, the choice ofAlexa obviously seems most judicious to us. Rather than seeking to develop, probably in vain, his own assistant, Thomson preferred to take advantage of the ecosystem Alexa and his many skills. So you can expect to have exactly the same functionality as with the Echo range, except for messaging and calls / drop in, according to Thomson's description.
Probably marketed around 99 €, this speaker will have to demonstrate irreproachable sound qualities and even better than those already very honorable of theAmazon Echo. Indeed, Amazon do not skimp on promotions and this positioning of the Thomson speaker at the price of the 2nd generation Echo gives hope for a quality of finish and a sound at least similar.
The product, called WS07VCA yet will be presented during IFA 2018 in Berlin to be held from August 30 to September 1, 2018.
The characteristics of the Thomson WS07VCA speaker