Hello everyone, dear readers,
More and more of you are following us on the site and in the group, and we thank you. Today, we wanted to highlight our critical eye on the fact Alexa and Echo smart speakers.
Indeed, you have surely realized, as the name of the site suggests, that we are proAlexa (in addition to being pro). If you didn't realize it, reread the whole site, you will see that there are signs. But be proAlexa, does not mean that we cannot be annoyed by its flaws and imperfections. And that's what we're going to do in this article, review them.
The application : a lack of involvement?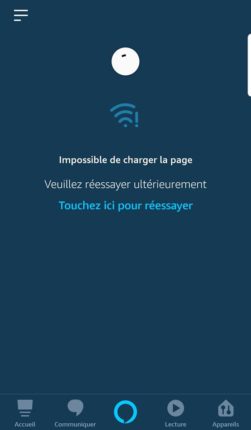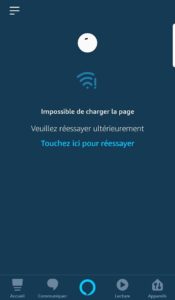 The first contact with the Echo range and Alexa will be done via the application smartphone in most cases, and PC to a lesser extent. And there, well it cooled down a bit ... Why ? Because the application is absolutely not at the level of whatAmazon can provide us. Besides, it is rated only 3,5 on the Play Store.
What can we blame him for? A lot of things in the end:
A very unintuitive interface. It is difficult to navigate the menus, submenus ... The latest updates make it almost impossible to improve the voice recognition ofAlexa because the menu dedicated to sending misunderstood commands is almost impossible to find. Which is quite a shame because, when you have time to waste, there is a wealth of information and very practical help. In short, a beautiful mess.
She is slow, but slow ... Whether over Wi-Fi or 4G, nothing helps, it crawls. It's brindezingue anyway, one would believe it valetudinaire.
Quite often, the installation of an Echo by the application smartphone is not possible. In that case, going through the web version is the only solution, and much faster.
The home page is only used to look pretty because it has absolutely no interest.
...
Les Echos: a lack of feedback?
Our friends the Echoes are great machines (who live their lives as you can see in our comics) but sometimes quite irritating. The top things we can blame them for:
Overnight, the devices can no longer hear us. It is then necessary to speak loudly, too loudly, to activate it. In the evening, when the lights are out, it's quite teasing. And that, whatever the machine or its place. The updates don't seem to do much about it.
Regular latencies and bugs are to be deplored at the moment : hypnotizing red ring, blue search ring with no answer,… Enough to lose one's voice…
Routines that work very well do not work overnight, as well as connected devices that no longer activate with their little names ...
...
Other points concerning the Echoes is the fact that France (and French-speaking countries) doesn't seem to be a priority (and the French can't stand not being a priority). Indeed, we are still waiting for the Fire TV stick 4K, the Fire TV Cube et Echo Show 2 (the 1 is not planned here elsewhere), which are available for a long time in the USA, UK and Germany. We must also be satisfied with a FireTV Basic Edition, not compatible Alexa, slow and totally messy. Why put and leave for sale in France first generation products on the verge of being discontinued and which are no longer found elsewhere?

Skills: a lack of skills?
We complained a lot at the start of the experience Alexa the starving number of Skills available. That has changed and now but, considering the quality of the almost 1000 Skills available, we can almost say that there are too many. Some more like jokes than skills. But above all, flagship brands like Harmony, Samsung, LG… do not deign to waste oh-so-precious time translating an already existing skill into French.
News and flash info skills are not to be outdone. We have stopped counting with the Alexians the number of flashes without any more content, repetitions, identical news for weeks on end or even fresh news from the day before. It doesn't seem like much, but as users the feeling of being taken for a pigeon is very real. The support Alexa does not interest? Yet when you see the sales of speakers around the world and the fact thatAmazon is number one, we wonder if some are missing the train ...
"So finally, what do we do?" Are you going to ask us? Ben, here we go of course! Alexa and Echo are an experience never before deployed for the general public. It's the beginning of the future, AIs, 100% connected homes… Except that among Alexians, the future is already today. The advantages far outweigh the disadvantages, but be proAlexa does not mean lack of critical thinking either.