We mentioned it in our Sony SRS-XB43 review, the design a little particular, limited tuning, Sony SRS speakers could prove to be prohibitive for many of us. Difficult, in fact, to integrate them discreetly into our contemporary interiors. Fortunately, the brand seems to have understood this and recently unveiled two models sporting high-end designs, rich in a perfect blend of engineering and style, and available in two elegant colors. The result? Two products that will naturally enhance the rooms in which they are located. Appointed Sony SRS-RA3000 and SRS-RA5000, these two speakers are also quite interesting for the avid users of voice assistants that we are ...
Sony SRS-RA3000: immersive ambient sound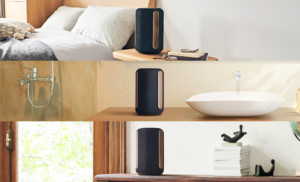 Thanks to its rather compact format of 146 x 247 x 155 mm, Sony SRS-RA3000 can be easily placed anywhere, and even in the kitchen or bathroom thanks to a humidity resistance IPX4. Whether it's relaxing to the sound of relaxing music in your bath or dancing while cooking, the speaker promises superb sound quality thanks to the 360 Reality Audio et Immersive Audio Enhancement, two in-house technologies broadcasting immersive sound from floor to ceiling via ingenious beam tweeters and dual passive radiator for deep bass.
Already
available for pre-order on Amazon. Fr
,
Sony SRS-RA3000
will be released on February 8
at the price of 349,99 €
in two colors Cosmos Black and Lunar Gray. A fairly high price which gives hope for good sound quality.
308,00€
400,00€
In stock
3 new from € 308,00
August 8, 2022 15:52 a.m.
Updated: August 8, 2022 15:52 a.m.
Sony SRS-RA5000: high resolution sound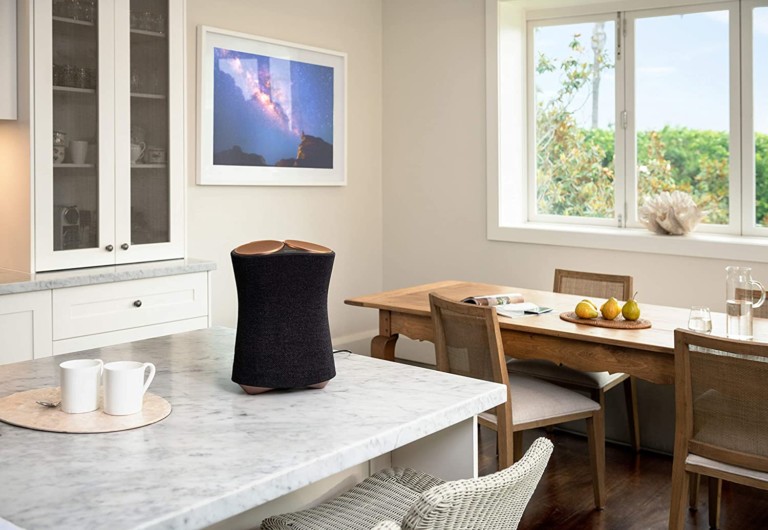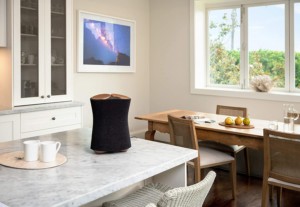 Bigger than her little sister since she measures 235 x 329 x 225 mm for 4.9 kg, this even more high-end speaker is a beautiful baby that allows you to enjoy a superior sound quality thanks to that Hi-Res certification promising a studio-worthy experience.
The Sony SRS-RA5000 is indeed equipped with six speakers : three loudspeakers propelling the music vertically, three mid-range loudspeakers diffuse the sound horizontally, all incorporating high-magnetism neodymium magnets and mica-reinforced cellular diaphragms to consolidate the speaker while preserving its compact size. Equipped with a real integrated subwoofer for rich, deep bass, the RA5000 thus retains all the expressiveness of your favorite music from bass to treble.
Also
available for pre-order on Amazon. Fr
,
Sony SRS-RA5000
will be officially available on February 8
at the price of 599,99 €
. A high price which places this speaker at the top of the range and promises a very interesting sound quality ...
650,00€
In stock
2 new from € 650,00
August 8, 2022 15:52 a.m.
Updated: August 8, 2022 15:52 a.m.
Wi-Fi, Bluetooth, Alexa and Google Home welcome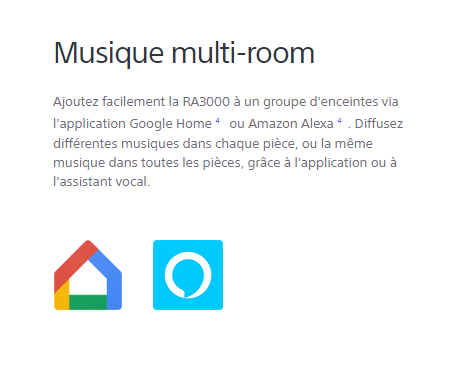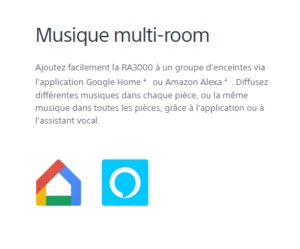 Connectivity level, it is of course possible to connect these two speakers as desired to smartphones or tablets using Bluetooth, but also to use a Wi-Fi connection to access a preferred streaming service, including Spotify Connect which is integrated.
And, although they do not, strictly speaking, integrate voice assistants, Sony SRS-RA3000 et SRS-RA5000 also offer the interesting possibility of integrating into a multiroom via the applications Google Home ou Amazon Alexa. On the other hand, it will obviously be necessary to address a Nest or Echo speaker to manage them and thus start or stop the music, adjust the volume or others, etc. It's a bit of a shame, we can't wait for Sony to go further in future models ...