The French company founded in 2011 has indeed launched more than 14 connected objects since its creation, most of which are compatible with Google Home et Amazon Alexa that most of us have successfully tested… And, like every year, Netatmo can be found in our Prime Day 2020 good deals like it should be !
Netatmo connected thermostat at 135.99 € or -24%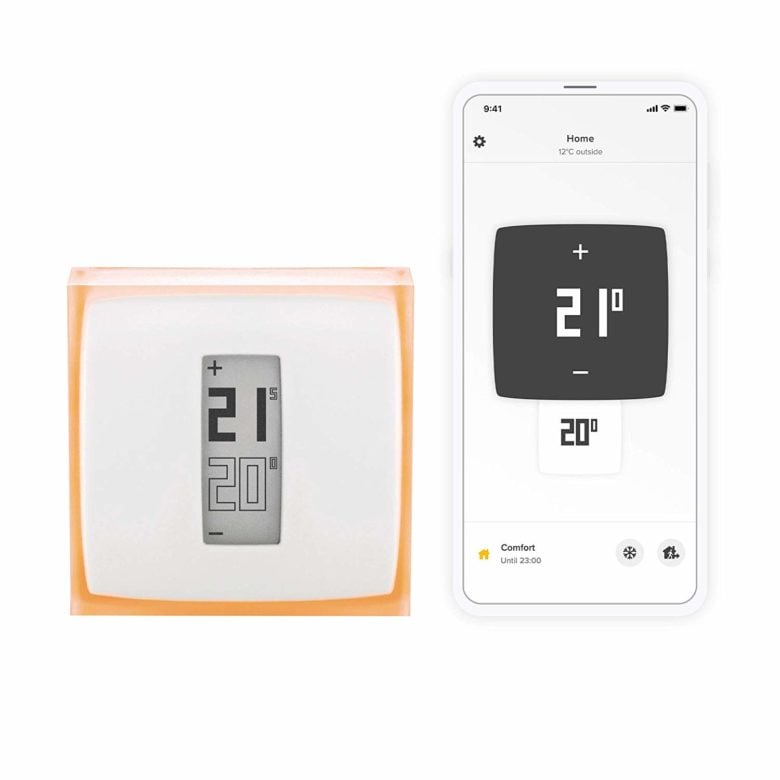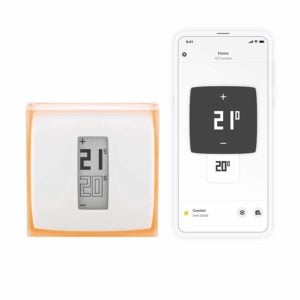 Even if winter is well underway, it is never too late to save on heating costs thanks to a connected thermostat. As you can see in our Netatmo thermostat test, this Starck design model is particularly interesting because it is compatible with the vast majority of individual boilers (electricity, gas, fuel oil, wood, heat pump). Very easy to install, it takes less than 15 minutes to put it into operation, all without the help of a professional!
With its Auto-Adapt function which mixes weather and thermal characteristics of your home, you will always have the right temperature at home. You just need to define heating schedules on the Netatmo Energy application for Android and iOS, or on a computer via a simple web browser.
€169,00
€179,99
In stock
13 new from € 169,00
Refurbished from 33
May 23, 2022 11:05 a.m.
Practical, the thermostatic heads also allow you to regulate the temperature of each room. They are obviously compatible with the above thermostat, but also with the starter kit for district heating...
€79,00
In stock
4 new from € 72,00
Refurbished from 3
May 23, 2022 11:05 a.m.
€199,00
In stock
3 new from € 199,00
Refurbished from 11
May 23, 2022 11:05 a.m.
Netatmo weather station: the star product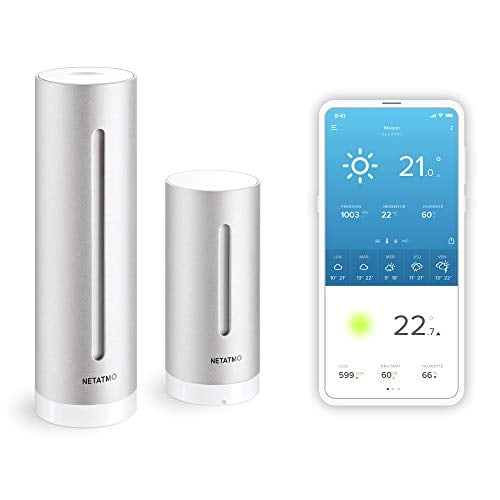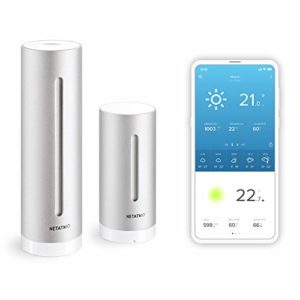 Tthe Netatmo weather station was the very first product of the brand, the one that made its success in the world of the connected home. It must be said that its modern design makes it possible to integrate it perfectly into our contemporary interiors and to consult, at any time, our own weather reports on your smartphone or tablet, but also on a web browser. A real local weather forecast and not the approximate indications from Météo France… Thanks to a community map, you can also share your readings and consult those of the community to know at any time how much the weather is where you are.
Find our Netatmo weather station test and additional modules such as indoor module, the connected rain gauge or even the Netatmo connected anemometer.
In addition, if you have the above thermostat, it can be based on the readings of your station to adapt your heating even better. It's the perfect combo for connected heating!
Compatible with voice assistants Alexa and Siri, the Netatmo weather station is only available today
from 124.99 € on Amazon. Fr
or,
26% discount
and
savings of 44 euros
!
€69,99
€79,99
In stock
8 new from € 69,99
May 23, 2022 11:05 a.m.
€69,99
In stock
5 new from € 69,99
Refurbished from 1
May 23, 2022 11:05 a.m.
€99,99
In stock
9 new from € 99,99
May 23, 2022 11:05 a.m.
Trick : think of the TFA-Dostman shell to protect the outdoor module from bad weather and obtain more accurate readings. It is perfectly suited to the Netatmo outdoor module, as you will be able to see in our test, and even allows to consider the installation of an additional non-waterproof module because it protects so well!
€17,06
€17,90
In stock
2 new from € 12,80
Refurbished from 7
May 23, 2022 11:05 a.m.
Netatmo: smart cameras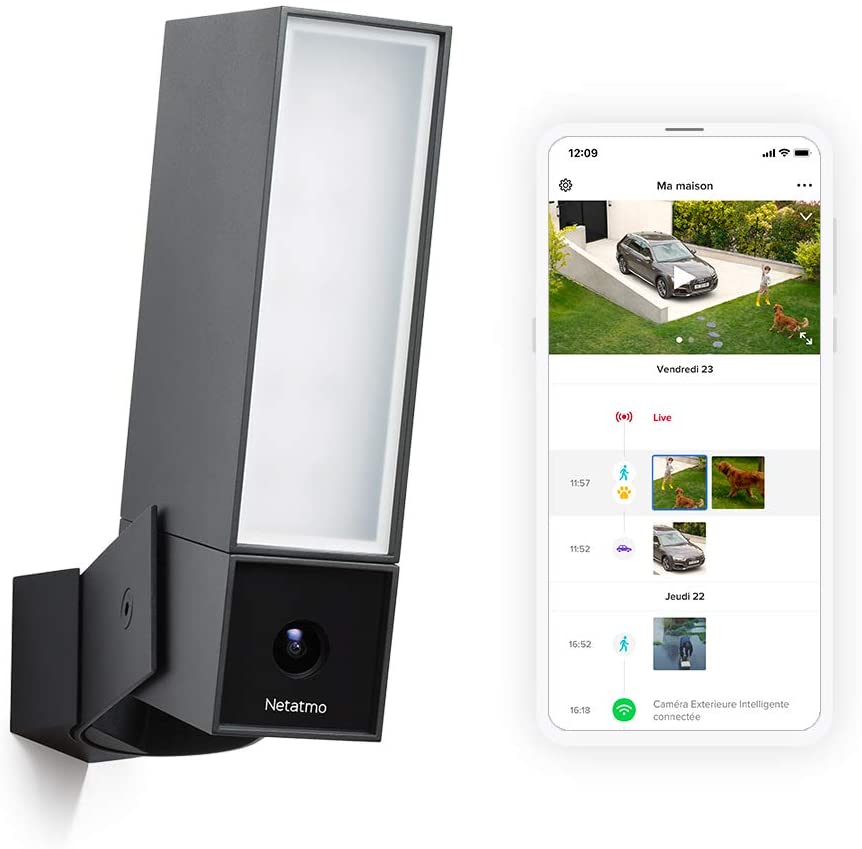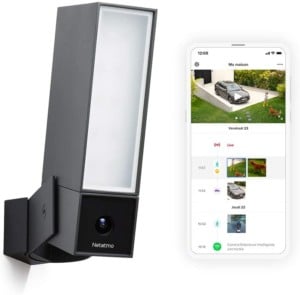 Intelligent and connected, Netatmo cameras are able to distinguish between a stranger, a loved one or an insignificant movement thanks to a recognition technology doped with artificial intelligence. When they detect unfamiliar faces, they warn you instantly via the Netatmo Security application, which is very pleasant to use.
In addition to real-time alerts, you can also use them on your Pregnant Amazon Echo with Alexa. Ditto for Google Home users who will be able to find the image on Nest Hub.
Capable of detect ambient noise and in particular alarms, whether it is a smoke detection or an anti-intrusion alarm, and thereforerecord video on their micro-SD storage. Indeed, Netatmo cameras are not dependent on the cloud and without subscription. High-tech products… French what is more!
€185,13
€199,99
In stock
16 new from € 184,99
Refurbished from 11
May 23, 2022 11:05 a.m.
€239,00
€299,99
In stock
Refurbished from 3
May 23, 2022 11:05 a.m.
Netatmo Sécurity: a complete range to monitor the home
In 2020, the French company decided to go further and revealed new devices to us, obviously working in concert with the rest of the Netatmo Security range. The opening sensors, the intelligent alarm and the intelligent smoke detector have therefore joined the range! Reliable and high-quality products, as Netatmo knows how to do!