In the absence of Black Friday this week, we have unearthed the best home automation offers ! Better yet, you'll find plenty of gift ideas to make for Christmas, including Echo packs + connected objects which make it possible to make a complete gift to a loved one and to make him discover the connected home with Alexa.
Amazon Music: 70 million unlimited tracks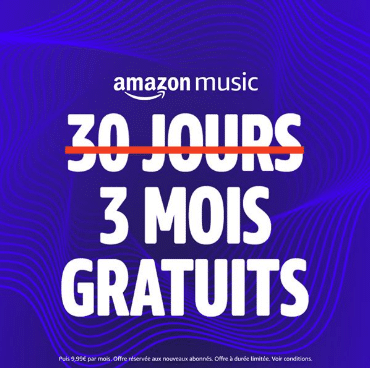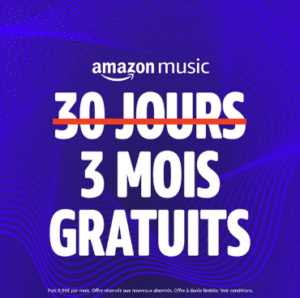 With over 70 million titles in HD quality (16-bit CD equivalent at 44.1 kHz), including millions in Ultra HD quality (24-bit with a sample rate of up to 192 kHz), Amazon Music is the musical service that goes up, that goes up, that goes up! To discover the offer Amazon HD Music, Amazon offers 3 months free for its HD option, do not hesitate to take advantage of it or to offer it for Christmas!
Amazon Echo : up to -60%
Who says music says pregnant! Connected is good. With Alexa, it's even better ! Amazon offers in particular EchoDot 3 at -60%, the new Echo Dot 4 with or without clock, Echo 4 with its integrated ZigBee bridge, but also its connected screens Echo Show 5 et Echo Show 8 on discount.
Amazon Fire TV: Stick or Cube?
Amazon Fire TV is the ultimate streaming system for users ofAlexa, it turns any television with an HDMI port into a voice-controlled connected television! Find all your favorite services like Netflix, Disney +, Prime Video of course, but also Molotov, OCS, and much more. Canal + subscriber? Our tutorial for install MyCanal on Fire TV open its arms to you!
Find all our tests and tutorials Amazon Fire TV right here !
Packs Amazon Echo : big promos on combos!
Amazon proposes home automation packs with a connected object on sale and a speaker Alexa free!
Ring Alarm: secure your home at low cost!
With its opening and movement sensors, its Z-Wave technology and its low price, the Ring Alarm is offered with a 100 € discount!
Ring: the best connected doorbells on the market!
Connected sockets and switches
You embark on the automation? So you definitely need connected sockets or connected switches to find out!
Lamps, bulbs and light fixtures
The connected lamps and luminaires, it is the basis of home automation, comfort at a low price! Be careful, when you've tasted it, you don't know how to do without it ...
CCTV cameras
Home automation is also security! And, if it is priceless, we are always happy to pay as little as possible. With these cameras compatible with our voice assistants, arming and disarming the system and displaying the feed on our connected screens has never been easier. Find our IP camera tests here.
Connected thermostats: save on heating!
It is the connected object essential to save heating! Compatible Alexa, Google Home, here are some of the best connected thermostats to spend the winter warm and avoid a too salty note ...
Wi-Fi routers: mesh or 4G, take your pick!
We regularly bring up the subject: mesh Wi-Fi routers. Indispensable in a connected home, routers now offer mesh solutions that make it possible to benefit from a good network everywhere in the house and to increase the number of connected objects.
Various connected objects
Our "tote" category with, today, some nice connected objects ...