Signify, better known as Philips Lighting, is said to be on the verge of expanding its Hue range. After indoor and outdoor lighting, but also the new Philips Hue White & Color GU10 bulb that we presented to you very recently, the company is notably about to present "filament" bulbs.
Philips Hue: Edison type ZigBee filament bulbs?
Si the brand does not confirm the information, unwilling to comment on what she calls speculation, the Dutch site iCulture seems confident and has even leaked a few photos that seem to support their claims. We see two bulbs, more than nice, with a small very fashionable retro side in terms of lighting. Bulbs that will not be afraid to appear in a designer lighting and which seem a logical continuation in the development of the Philips Hue range. Some brands already offer models in this style, such as Innr and its E27 RF265 not particularly successful, Nedis and its Tuya "Filament" bulbs / Smart Life, or Action and the LSC smart bulbs Smart Filament that we recently tested.
A connected Philips Hue outlet?
The high-tech specialist finally unveils the image of a Philips stamped connected plug. An output that had already been discussed a few months ago and which would appear to be more than logical, this type of device being sorely lacking in the Hue ecosystem. Indeed, if it is possible to add to your Philips Hue bridge ZigBee Osram connected sockets Smart+, the world number 1 in lighting has never offered us such a product. Specialists in tests of compatible connected sockets Alexa, we will be sure to provide it to us as soon as it is released to tell you about it.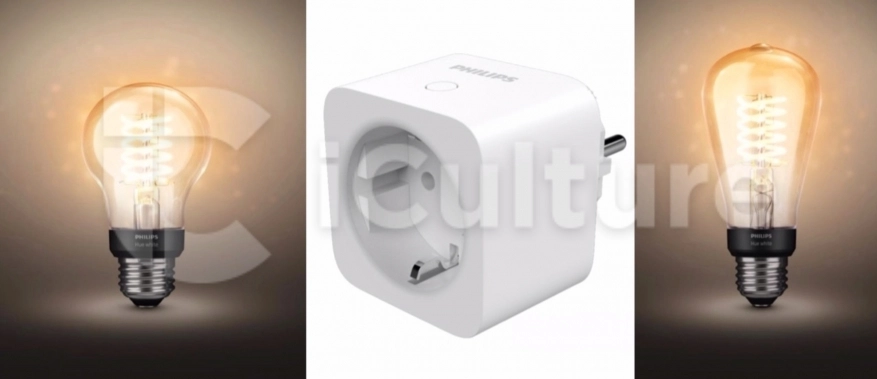 Finally, iCulture returns and confirms past information regarding several models of indoor lighting. After the Wi-Fi bulbs announced recently, the start of the school year may well be full of novelties in the booming sector of the connected home.