Winter will soon appear, so now is the time to invest in a connected thermostat. With up to 47% off for Prime Day today, you are bound to find what you are looking for below.
Tado ° V3 + thermostat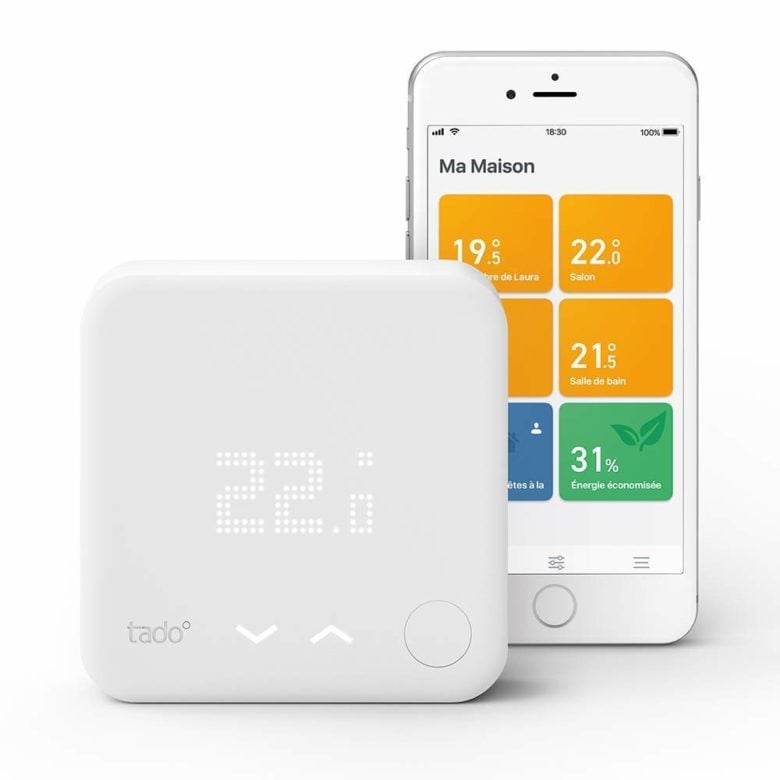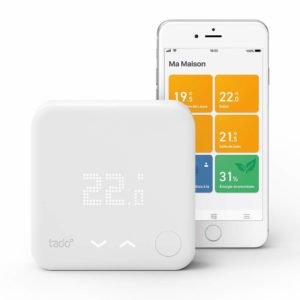 The connected thermostat Tado ° V3 + allows you to control your heating from anywhere with a very well designed application. Thanks to geolocation (subscription required at € 2.99 / month), its system for detecting open windows and its adaptation to the local weather, tado ° makes it possible to maintain a climate that is both healthy (recommendations on the freshness and quality of the 'air) and always at the right temperature.
Controllable by voice with Amazon Alexa and Google Assistant, it is also HomeKit and IFTTT compatible and has wide compatibility with 95% of supported heating systems,
Deutsche Qualität has struck again and if you need a lot of thermostatic heads this is the best value for money.
Thermostat Tado ° Air conditioning V3 +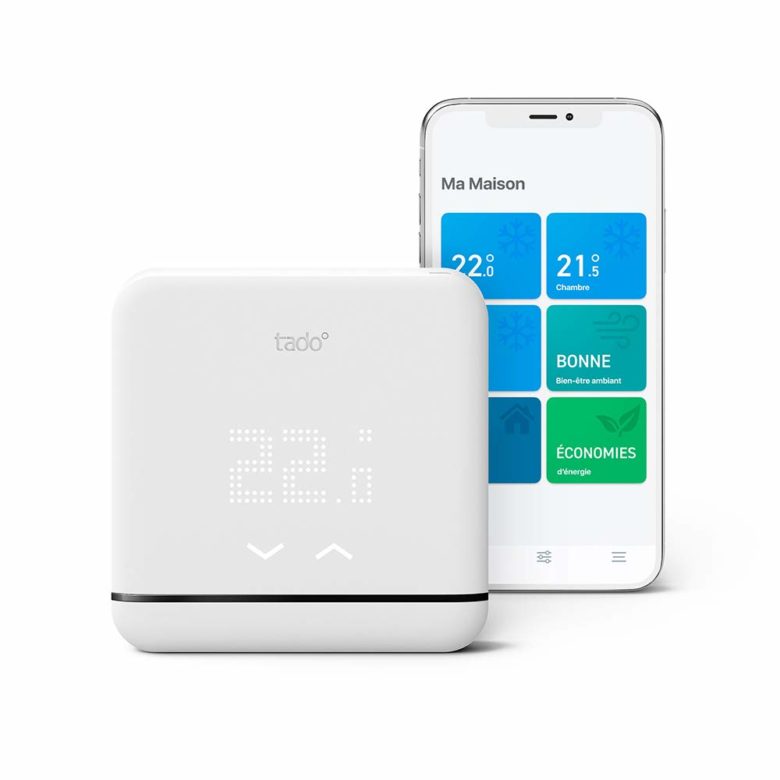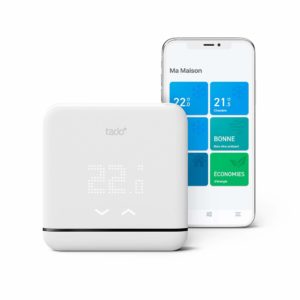 Tado ° also offers a connected and intelligent control thermostat for air conditioning. A real climate assistant, it guarantees total comfort thanks to an intuitive application for smartphones and many home automation integrations allowing you to control your air conditioner from anywhere. Enjoy, summer and winter, the ideal room temperature at all times: a living room refreshed in advance when you come home and at the ideal temperature in your room for a good night's sleep. Or only when someone is at home, because Tado ° uses geolocation.
This thermostat is compatible with air conditioners that have an infrared remote control with display and works with Amazon Alexa, but also the Google Assistant, Apple HomeKit and IFTTT. No additional wiring is needed, it can be mounted on a wall or placed on a table.
German quality and an ideal product for owners of reversible air conditioning systems!
€99,00
€109,99
In stock
9 new from € 99,00
May 23, 2022 7:31 a.m.
Nest Learning Thermostat
Third-generation Nest Learning is part of the best smart thermostats on the market and this is the very first device that we have tried this year. You can find the Nest thermostat test, but also a full Nest Learning installation tutorial.
Compatible with gas or electrical installations, this thermostat stands out for its design, its adaptability and its ease of use. If it obviously tells you the temperature of your home, it can also measure humidity and detect movement as well as ambient light. Capable of learning and self-regulation, it records the changes you make to temperature during the day and then analyzes them at the end of the day in order to memorize your preferences and habits.
€221,44
€249,00
In stock
4 new from € 221,44
May 23, 2022 7:31 a.m.
Netatmo Thermostat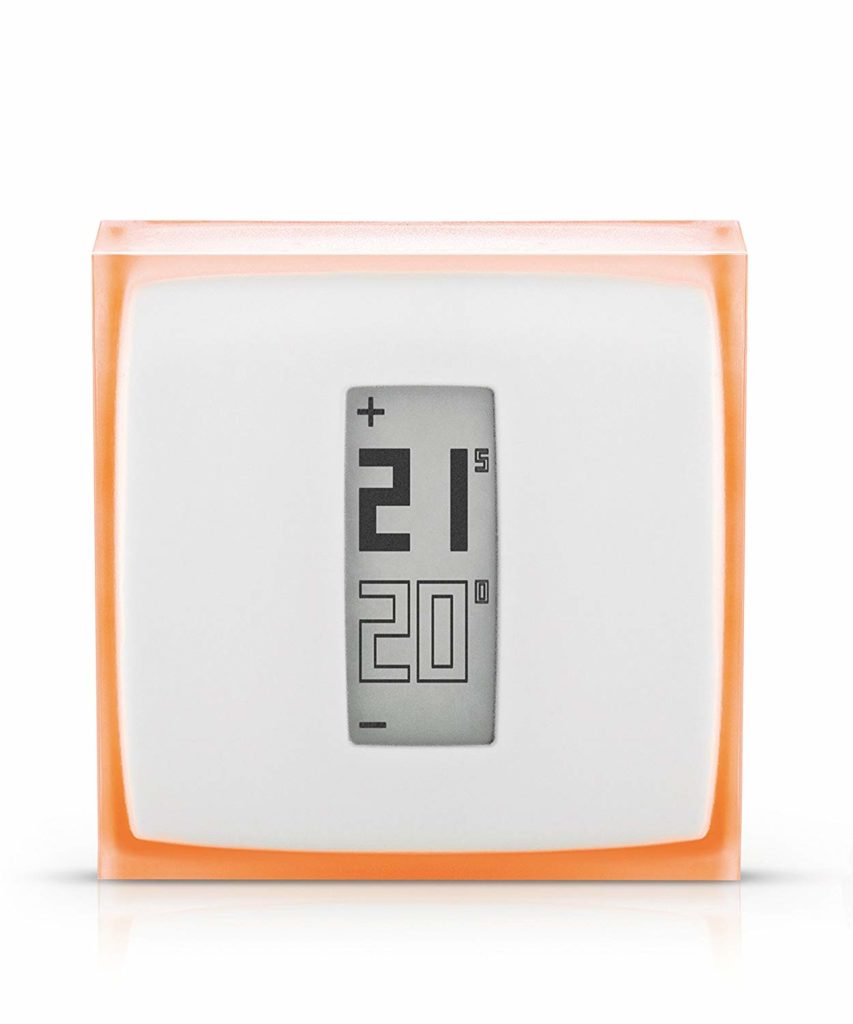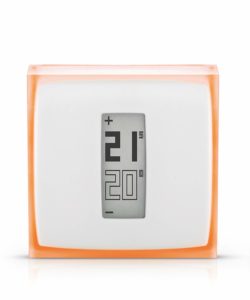 Le Netatmo thermostat has established itself, in recent years, as a more than serious competitor in Google Nest presented above.
Designed in France and designed by the famous Philippe Stark, this connected thermostat has made the reputation of the startup Netatmo and has, in a few years, established itself as a leader in the very closed market of smart thermostats.
In addition to being pleasing to the eye, this connected thermostat is totally compatible with Alexa and also offers a dedicated skill.
Here again, you have the choice between a thermostat for gas installation or a model for electric thanks to thermostatic heads.
€79,00
In stock
4 new from € 72,00
Refurbished from 3
May 23, 2022 7:31 a.m.
€169,00
€179,99
In stock
12 new from € 169,00
Refurbished from 33
May 23, 2022 7:31 a.m.
Heatzy Pilot Thermostat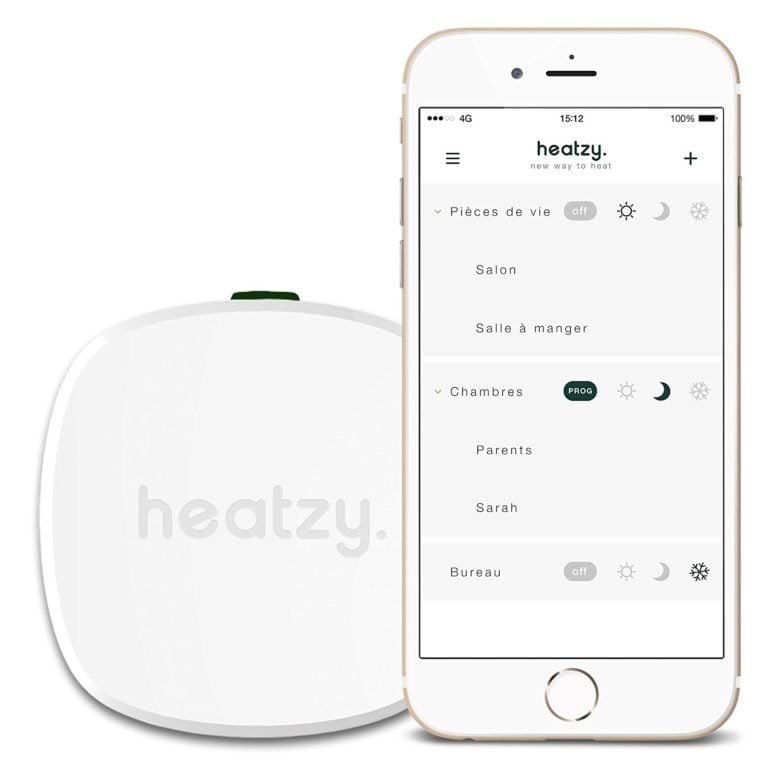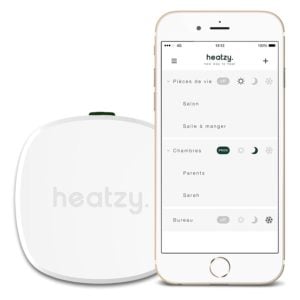 Decidedly, the French are obviously as cautious as they are eager to control their energy consumption! Heatzy, another French startup, she also understood it well. So here is another thermostat connected for electric heating with pilot wire. Its characteristics and design are all the more pleasant as it displays the lowest price of our selection. It is even, by far, the cheapest of all. And, this is the good news of the day, it is finally compatible with Amazon Alexa.
Recommended if you have few electric heaters (1 to 3 maximum). Attention, the functionalities are basic: pilot of 3 modes.
€49,00
In stock
2 new from € 49,00
Refurbished from 1
May 23, 2022 7:31 a.m.
Somfy: the perfect thermostat for TaHoma
Somfy 2401499 - Radio connected thermostat | Wireless thermostat for heating or individual boiler | Dry contact | Compatible Amazon Alexa, Google Assistant & TaHoma
6 new from € 182,99
Free Shipping
Functionalities
Educational application: awarded with an award at CES in Las Vegas.
Control remotely with the app: increase or decrease the temperature of your home from your work, your vacation or public transport.
Tailor-made programming: to be carried out using the installation questionnaire.
Control your consumption: thanks to the personalized energy coaching program and save money.
Increase your comfort: thanks to the self-learning regulation which takes into account the temperature and humidity.
€196,99
In stock
4 new from € 166,92
May 23, 2022 7:31 a.m.
Other offers
€319,00
In stock
May 23, 2022 7:31 a.m.
€79,99
In stock
7 new from € 79,95
Refurbished from 8
May 23, 2022 7:31 a.m.