Did you like the Lidl Home home automation range? U.S. too ! And, that's good, because the hard discounter does not intend to stop there and will propose 1er March 2021 two new products in its Livarno Lux and SilverCrest ranges, as well as starter kits for those who have not yet taken the plunge. So let's peel this new catalog that we have purchased exclusively ...
SilverCrest: a USB power strip connected in ZigBee at 19.99 €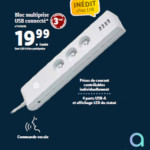 It was still missing from the French catalog, here it is: the SilverCrest connected power strip will be available in Lidl France stores from Monday March 1st at the price of 19.99 €.
Equipped with 3 AC outlets individually controllable and 4 USB-A ports, it is the multiple counterpart of the very effective although bulky ZigBee SilverCrest connected socket. Using the same protocol, it will obviously also require a SilverCrest gateway Smart Home yes one hub Tuya. At less than 20 €, it should be all the rage!
Please note, our first tests lead us to believe that this power strip is neither Philips Hue compatible, nor with
Pregnant Amazon Echo
with an integrated bridges. However, no problem with a Tuya hub.
Livarno Lux: connected outdoor wall lights at € 29.99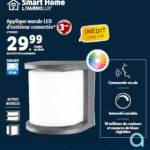 This is the main novelty of the coming March 1, Lidl will also offer connected outdoor LED wall lights in ZigBee under the brand Livarno Lux.
Declined in three versions, these outdoor wall lights IP44 will allow you to illuminate your gardens and terraces with their variable whites and 16 million colors… All this at low prices, as usual, since they will be offered at 29.99 € / unit. Please note, stocks will be limited!
Home automation starter sets at 49.99 €
We had regretted his absence a little and many are likely to blame themselves for having thrown themselves a little quickly on the first batch: here is the starter pack Livarno Lux.
Made of three Livarno Lux E27 bulbs, An ZigBee 3.0 remote control to control scenes and light intensity, as well as the essential SilverCrest gateway, this starter set is reminiscent of the Dutch Philips Hue. Except that it will be offered at only 49.99 €, which is like getting a free remote versus unit purchases.
Will this product be available individually? A priori no, not for the moment.
The following products will also be back: