Today, with the increasing number of people coming to its pages, the editorial staff of www.lesalexiens.fr has decided to use statistics in order to give you a composite of the typical Alexien: age, sex, type of person. device held, number, country… Interesting, isn't it?
But why do a robot portrait?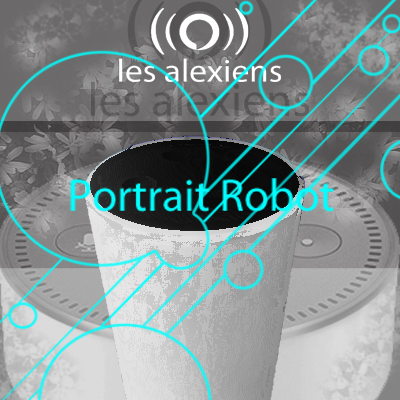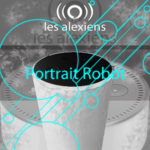 Here, but that's a good question! … Because like everyone else, we like to put everything in boxes, in groups and above all, above all, we love to compare each other.
More seriously, know the different types of echo users and Alexa and finally having a typical vision allows us, as a site and a group, to offer articles, tutorials and news adapted to our audience. So over to you!
But how was it done?
As you know, the Alexiens is also a Facebook group close to 350 members at the time of writing. The non-nominative information given by the group tools is interesting but nothing beats regular polls on the page to find out a little more. Moreover this article is doomed to evolve according to the surveys which will be done in the future as well as the new members who will join us.
Results:
So here are the results! If you like numbers, you will be served, otherwise go to the conclusion!
Age, sex and country of residence:
The following graph shows us that around 80% of users ofAlexa (we can assume that around 350 people, the sample is representative of the population) are men.
About 60% of users are between 35 and 54 years old, while 8% are over 55 and 7% are under 25. The average age is therefore around 40 years old (we are not the census service either).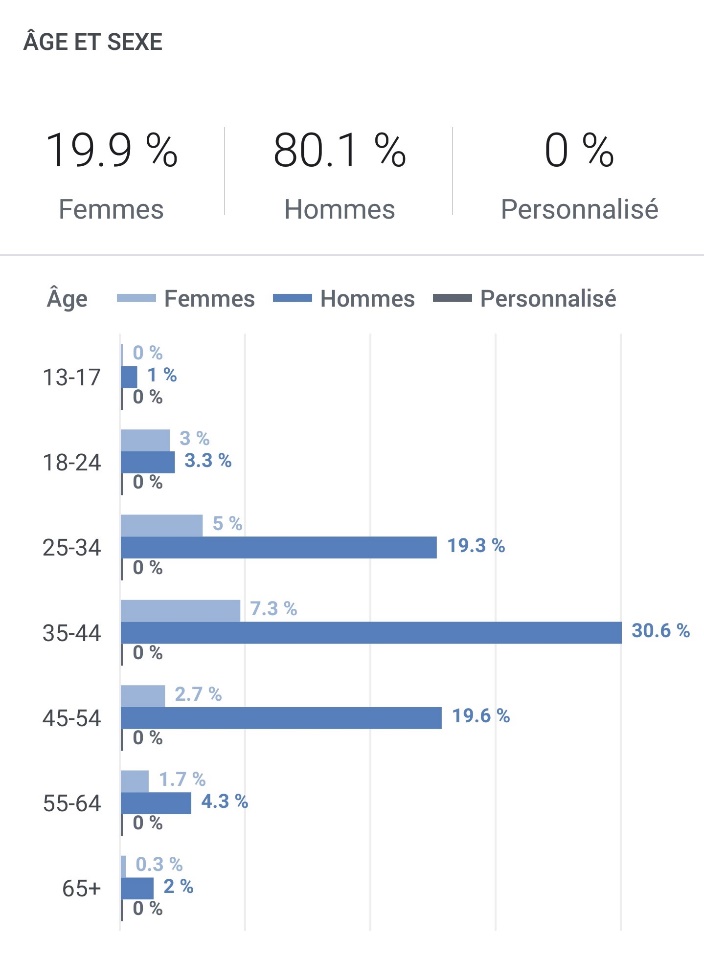 Are the alexians using Alexa in French since this summer are all French residents or are we more on a French-speaking use?
And indeed, the French-speaking aspect seems more likely due to the fact that French residents represent barely 90% of the members. Then come Belgium, Morocco and Canada for the most represented.

The alexians and their devices:
Are our Alexians wise or do they tend to be tempted by the frenzy of shopping? In other words, how many Echo devices do they have and what types?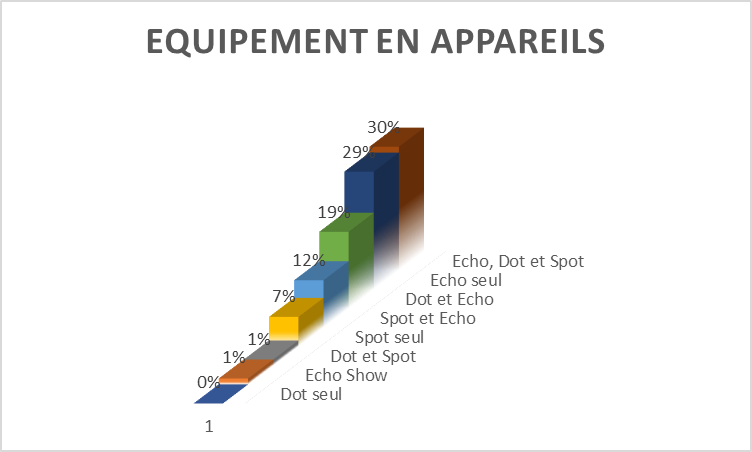 It is interesting to see that almost a third of the owners who responded have the 3 types of Echoes currently on sale in France while 36% have only one type of device. If we look at the devices individually, 70% of Alexians have 2nd generation Echo, 52,5% Dots and 51,5% Echo spot.
That's great, but how many devices does an Alexian have? Are our alexians suffering from echolism? It depends on how many Echoes we consider ourselves to be dependent on, but also on the gaze of others ...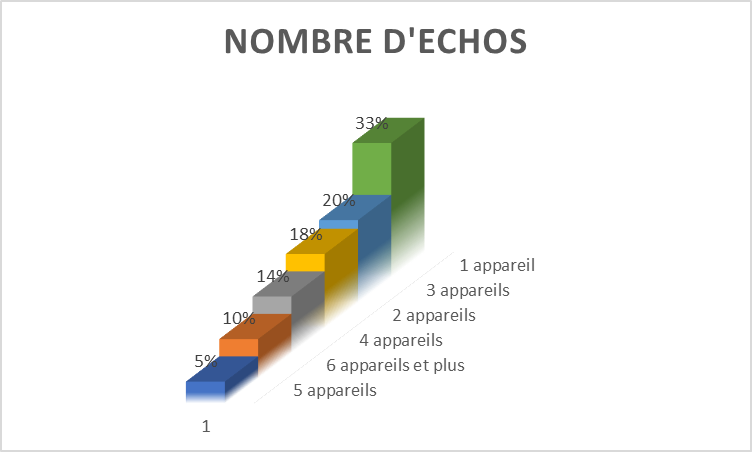 Only a third of Alexians have only one device… and almost 50% have 3 or more! Which is in agreement with the fact that almost 1/3 of the owners have the 3 types of Echoes.
But when did the alexians buy their device (s)? Are they good for good business?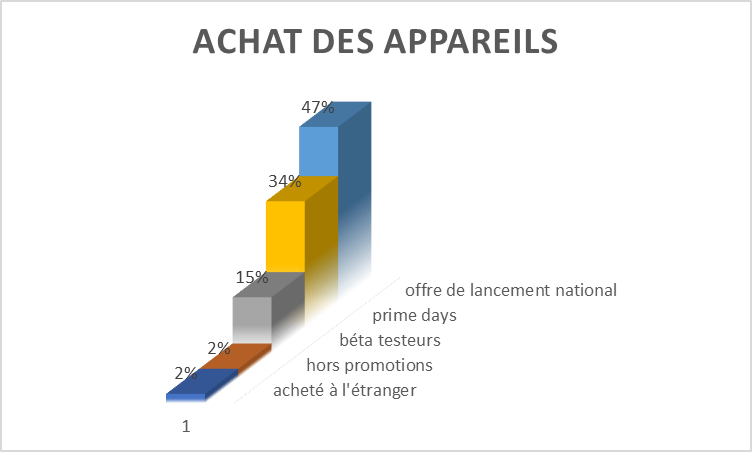 We can say yes because only 2% of respondents bought their Echo (s) at the non-discounted rate.
Another interesting question, are echo users using other PDAs or other devices that include AI? And yes because 23% of people who responded to the survey also have Google Home or Google mini, 3% Sonos, 1% a Holi device and 5% various brands. But 4% use Cortana or Bixby on their PC or smartphone.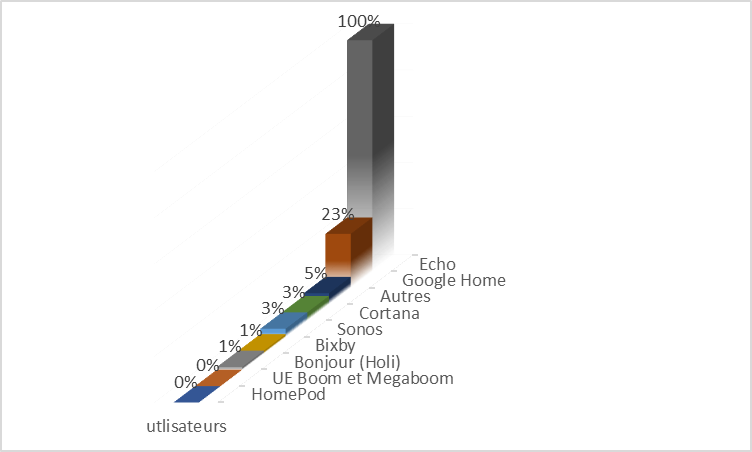 And finally, does our alexian have connected objects working with Alexa or does he use it mainly for music, news…?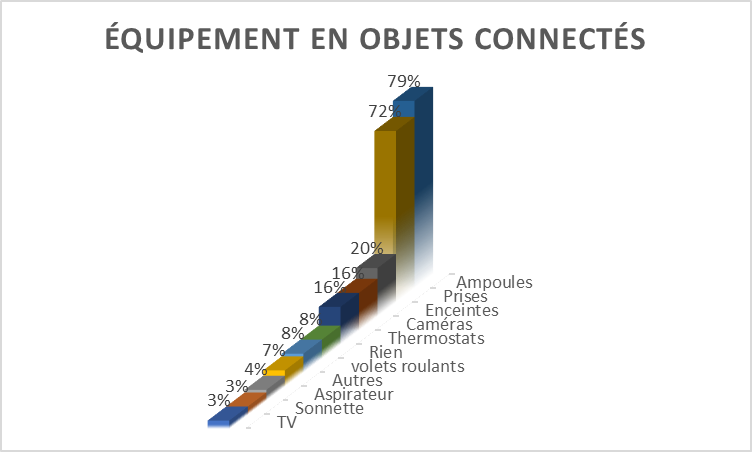 What interesting to highlight and thatAlexa does not serve as a simple voice assistant or connected speaker, but it also serves as a "home automation hub" for the majority of Alexians. Indeed, only 8% have no connected object at home. In contrast, 79 and 72% have light bulbs and plugs connected. Which is not surprising because it is at the same time the easiest to understand, the most practical on a daily basis and the most accessible in terms of budget. We then have in our 20/80 reversed more extensive uses with speakers (Sonos, Böse,…) cameras and connected thermostats… And more confidentially, but far from being negligible, roller shutters, vacuum cleaners, bells , TV or others ...
The uses are therefore also very focused on home automation, even if quite simple for nearly 80% of users.
Conclusions:
Here we are ! What does our Alexien look like? Who is he ? Tadaam!
The robot portrait of the typical Alexian (with Alexa in French of course): it is a man residing in France of about 40 years (but there are still 20% of ladies and quite a few French speakers that we welcome (because we love everyone) who bought his 3 Echos devices (complete collection of the 3 types (Dot, Echo and Spot)) during promotions. Our Alexien does not use his Echo to only listen to music or his news flash, because he is starting home automation with his plugs and connected bulbs.
Our Alexien can also have another voice assistant (less than ¼ of the users ofAlexa).