Unlike other online sales platforms, Geebuying directly sells its products and selects them carefully. Unsurprisingly, when it comes to " smart home", It is only logical that we find products from the Xiaomi universe.
On the occasion of its 9th anniversary, the e-commerce site puts its partner in the spotlight and offers a host of good home automation plans with prices sacrificed on certain objects which are usually quite expensive, of which here are a few.
Find all the coupons Smart Home here.
Find all the 9th anniversary specials here.
Roborock S7 at -32%
The Chinese company is back in force this year with its all new Roborock S7 ! A robot vacuum whose major innovation is undoubtedly its very efficient sonic mop. Capable of hitting the ground with pressure of 600 grams, or on the contrary to rise to avoid the carpets, it emits vibrations up to 3000 rpm in order to remove dirt stuck to the ground. The cleaning is four times more efficient and we can only confirm that since it is currently being tested in our homes!
Equipped with tanks of 300 ml for water et 470 ml for dust, the Roborock S7 offers a suction of 2500 Pa allowing it to leave behind no waste or animal hair, whether on hard ground or on carpets, even with long hairs, thanks to its central roller new generation.
In terms of mapping, the technology of the S7 is still based on laser telemetry and it is able to map your home on multiple levels, each room can be named and programmed in multiple ways as needed: vacuuming, washing or both at the same time. Many other options are obviously available on this robot which is undoubtedly the best on the market to date !
Usually offered at € 699.99, the Roborock S7 is currently € 475.88 with the coupon below be one 32% discount allowing you tosave 224 € !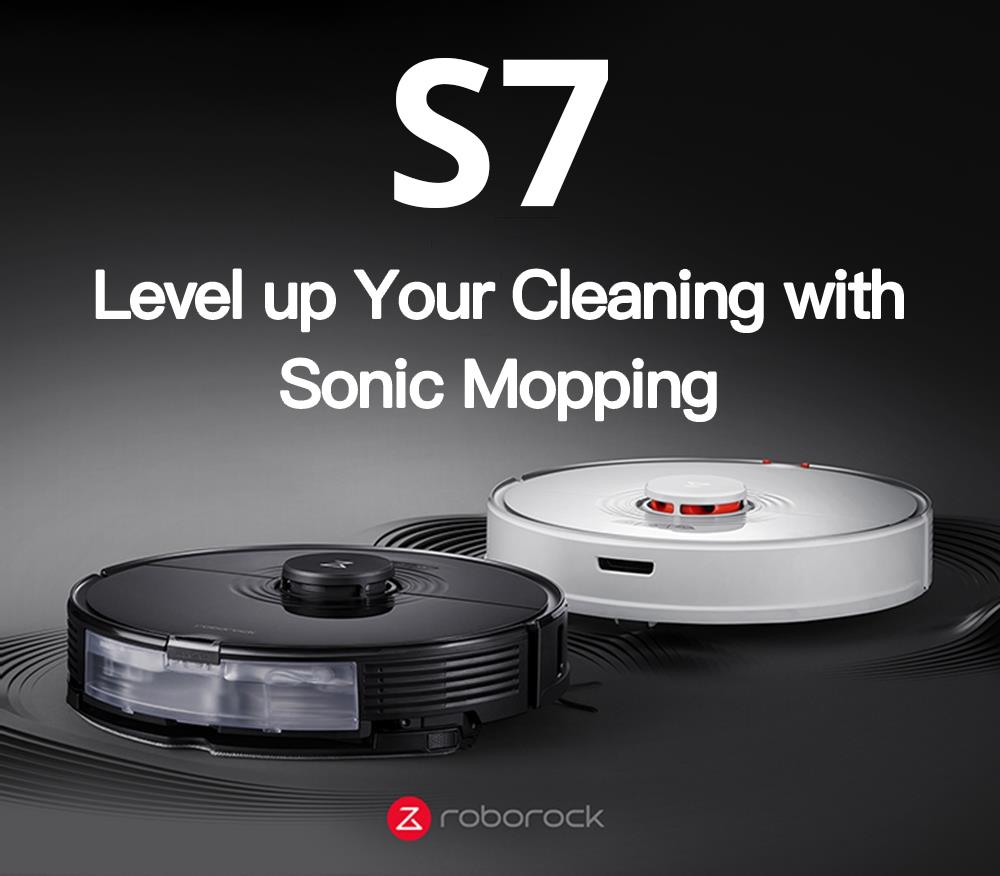 WalkingPad C1 at -54%
Le Xiaomi WalkingPad C1 treadmill is not the most classic since it is connected! Thanks to its application, you can very easily follow in detail your daily workouts on KS Fit App, and thus set goals while regularly varying the exercises.
Designed to keep people in shape 14 60-years ponderous up to 90 kg, it manages speeds ranging from 0.5 km / h to 6 km / h. Practical, its manual mode allows you to gradually accelerate with the remote control supplied and its automatic mode lets you pick up the pace yourself for an even more natural practice.
Once you have finished your daily workout, you can easily fold it up and store it under your bed or in a closet since it only 14.5 cm thick and weighs only 22 kg !
Usually offered at € 499.99, the
WalkingPad C1 treadmill is now at 229.73 €

with the coupon below
be one
54% discount
allowing you to
save 270 €
.
Dreame D9 at -50%
Dreame is part of the large xiaomi family, you can therefore install this robot vacuum cleaner on the home application, which can be very practical if you are a fan ofXiaomi Home home automation universe.
Le Dreame D9 is a 2-in-1 smart robot, in other words capable of vacuuming obviously but also of washing with the mop, equipped with a Pioneering 3.0 mapping technology based on a latest generation LDS and SLAM type algorithms.
On the suction side, it offers an impressive suction power of 3000 Pa, which is not very surprising coming from this brand which has made a specialty of high performance brushless motors.
On the washing side, it carries a 270 mL electronic reservoir coupled to a anti-bacterial system which eliminates up to 99.9% of bacteria present on its mop. This makes it possible, in particular, to prevent undesirable odors.
Battery level, the Dreame D9 is equipped with a technology called BMS (Smart Battery Managing System) not less than 5200mAh allowing it to evolve for up to 150 minutes in eco mode, ie a surface area of ​​250 m².
Usually offered at € 499.99, the
Dreame D9 robot is today at 245.33 €

with the coupon below
be one
50% reduction
allowing you to
save 254 €
.
Roidmi Eve Plus at -46%
This is one of our favorites for 2021! Very effective with its 2700 Pa suction and intelligent thanks to its 4th generation Lidar, the vacuum robot Roidmi Eve Plus (see test) is able to finely map your home, floor by floor, with a precision that commands respect. You can obviously schedule it to send it for cleaning total or partial, in certain rooms or everywhere excluding certain specific areas.
With an autonomy of up to 250 minutes depending on the power used, this robot is able to cover large areas and above all knows how to return empty your dust bin alone or recharge your batteries after your cleansing session. With a 3 liter dust bag with built-in capacity, it is autonomous for more than a month and you don't have to do anything!
Its dust bin is by the way 2 1 en since it contains a 250 mL water tank. Install the mop and he will perform a efficient washing of your floors thanks to its back and forth Y method with three levels of water flow available. Install it via the home application Roidmi Cleaner or with Xiaomi Home and you can also command by voice with Amazon Alexa or Google Assistant!
Usually offered at 599.99 €, the excellent Roidmi Eve plus robot is today at 320 € with the coupon below be one 50% reduction allowing you tosave 254 €.
Other good deals for the home