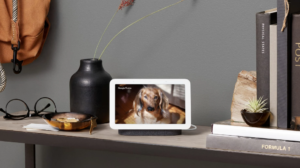 His name is well NestHub 2, it has not changed much by the admission of the web giant who, in its press release, says of its latest born that "It's the same and better". In short, as usual, Google does not break the codes with its connected speakers and does not really allow itself fantasies, but this new smart display should nevertheless be of interest to users of Google Home in France due to a significant power input ...
Nest Hub 2: more sound, more power
Without too much noise, the 2nd Generation Nest Hub yesterday made a discreet appearance on the Google Store, but also in the catalogs of certain French e-merchants.
Design level, no revolution, the little one smart Google's display looks like two drops of water to its predecessor and still sports a 7 inch LCD display an resolution of 1024 x 600 pixels. A rather practical compact size that will find its place everywhere, especially on a bedside table, as was already the case with the first generation.
In its press release, the Mountain View firm emphasizes a 43.5 mm diameter speaker, capable of producing 50% more bass than a Nest Hub. Previously enjoying decent but a little tinny sound, this optimization seems welcome and is reminiscent of those already made to the Nest Mini and more recently to the Nest audio. A good thing then.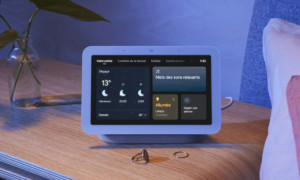 Still no camera for NestHub 2, it is a shame as the use of videoconferencing has grown in recent months, but a much more powerful configuration with a new Quad Core ARM processor and a chip apparently dedicated to Machine Learning. Google therefore seems to update its hardware in order to support the future evolutions of Google Assistant, and in particular for machine learning which promises to transform our voice assistants into real artificial intelligences. Good news which, unfortunately, once again only concerns the United States for now.
Un third microphone is also making its appearance in order to better capture Google Assistant voice commands, but not only since its association with several sensors, including one temperature sensor and the famous Soli radar sensor for Motion Sense, is primarily intended to monitor our sleep ...
Google Assistant monitors you even in your sleep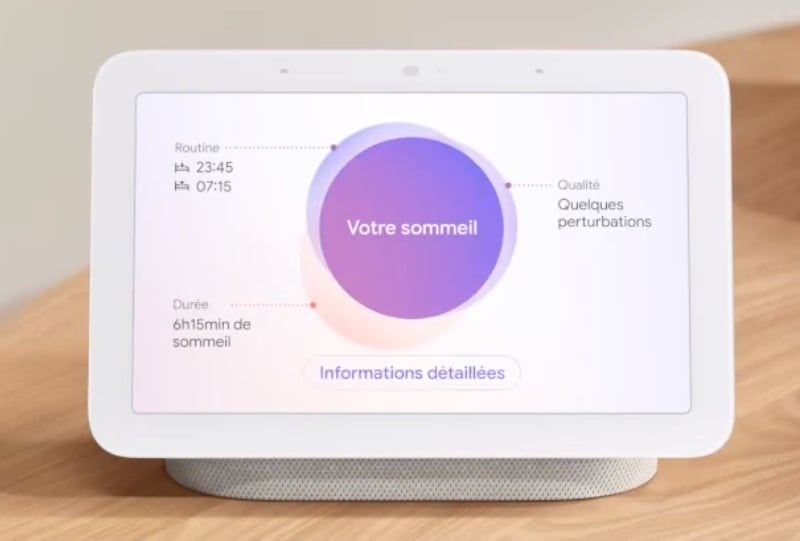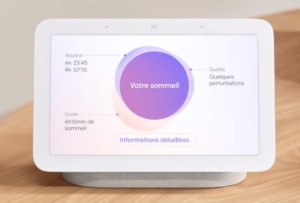 This is the most notable new feature of this second installment: sleep analysis. No need to sleep with a connected watch or a w specialized in sleep, the new NestHub 2 is able to watch you even in the arms of Morpheus.
Placed on your bedside table, the connected screen lined with sensors will be able to detect the times when you fall asleep and wake up, thus determining the how long you sleep, but also its quality.
Indeed, thanks to Soli radar sensor and its microphones, Google Assistant will also be able to detect any disturbances, from nocturnal awakenings to sleep apnea, from simple snoring to changes in the light and temperature in your bedroom.
Also available on your smartphone, a detailed report will be displayed on its screen every morning and its algorithms will be able to suggest routines to help you fall asleep with, for example, relaxing sounds. LikeAmazon its Echo Show 5, Google will also offer a dawn simulator alarm clock to wake you up gently, or a "Snooze" feature allowing you to simply wave your hand to interrupt the alarm and repeat it later.
Google finally performing in home automation?
But, if it is an innovation, it is rather on the connectivity side and, in particular, on the side of automation ! Indeed, while Google did not seem to bet on home automation so far, the giant's membership in the ZigBee Alliance is finally materializing on the Nest Hub which hosts a Thread 802.15.4 chip (at 2,4 GHz). Unfortunately still inactive, for the moment we will have to be content with its built-in Chomecast and Bluetooth 5.0, but there is no doubt that Google should offer us, in the months or years to come, always more possibilities for our connected homes.
In short, although it does not really revolutionize the genre, the new XNUMXnd Generation Nest Hub has for him a design that is still as pleasant and promises to be even better than the already very successful first of the name. Always offered at € 99.99, it is already available for pre-order in its traditional "pebble" and "charcoal" colors only, for a effective availability on Tuesday March 30, 2021.