Google has just launched this week the deployment of a new Nest Hub and Nest Hub Max interface, but also on those offered by third-party brands. A significant change in appearance for its home screen which will bring in particular a much requested "Dark mode".
Google Nest: a new pleasant interface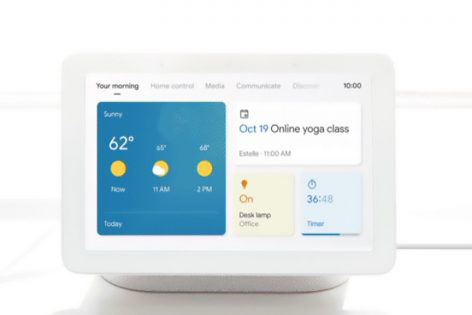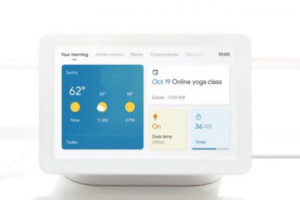 After several years without major developments, the Nest Hub interface gets a new look. If we were able to use it on Nest Hub Max, it was still not available on Nest Hub when we started this article two days ago… Well felt, you will see that it brings a certain comfort of use with a simplified navigation offering, in our opinion, a much better user experience. Well done, Google!
A press in the center of the screen is enough to discover this new UI. Although the swipe from right to left is kept, exit the one from top to bottom to access its automation. It's a bit disconcerting at first but you get used to it very quickly.
Several tabs are available, all you have to do is slide your finger on the screen to access them:
Photo Frame: your Nest Hub displays a photo
Moment : changing its name during the day, this screen takes in turn the names "Your morning", "Your afternoon" or "Your evening" and displays several tiles such as the weather, the next appointment registered on your agenda, a shortcut for the lighting of the room associated with your Nest Hub, a visual of your possible alarms or timers. Practical and above all customizable, this is the big advantage. Indeed, if you do not want certain inserts, you can click on "forget" and put another one, avoid an overly large weather tile, settle for a small square for your bulb, etc ...
Connected home: it is the screen regrouping your home automation with quick access to your smart bulbs, security cameras, enclosures or even rooms and Google Home routines. It is quite practical and welcome!
Media: allows you to access your music service or the broadcasts in progress, on YouTube for example.
Communicate : like the Echo Show ofAmazon, Google's Nest Hubs finally offer a tab dedicated to communications with the possibility of sending messages, Duo calls with Google Assistant or Google Meet videoconferences, to trigger "broadcasts" or announcements, etc.
Discover : like at home Alexa, this screen is more intended for new users and is organized as a kind of FAQ allowing to discover the functionalities available on the device… We spoke about it in our Nest Audio test.
Nest Hub: a well-felt dark mode!
It is a fundamental trend, dark modes or "Dark modes" are more and more widespread and that's good. After deployment on the application Google Home, this mode finally arrives on the new Nest Hub interface ! You can therefore choose between a "Light" or "Dark" mode, but also a mode "Auto Which will adapt the color of the screen on its own according to the time of day and the lighting conditions. It is an excellent idea !
Google Assistant: automatic trigger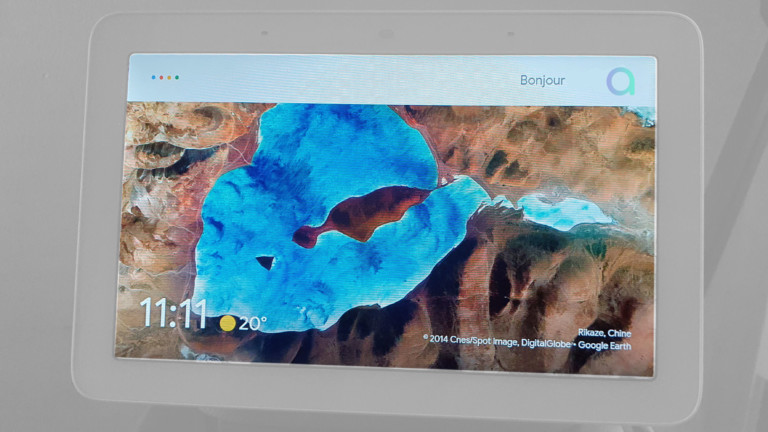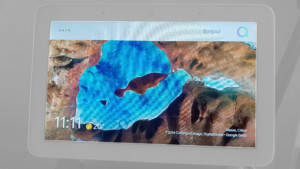 The latest news, and not the least, comes from a Polish user accustomed to leaks, Jan Boromeusz, who discovered in his version preview the possibility of trigger Google Assistant automatically from its Nest Hub Max. We didn't find a French video, nor had the time to make one for you, but you can see how it works rather smoothly below.
Most likely relying on the ultrasonic detection - which is already extensively detailed in using Google Nest devices - this new feature provides the ability to simply speak to your voice assistant without having to invoke it using the speakers and microphones on your connected display to determine if you are near the front of the device or are in a radius of about 1,2 meters. The device's enclosure emits light, inaudible ultrasound which, like a Lidar, is reflected by nearby objects and then detected by the device's microphones. A not really new technology that has been used for a long time by radars or even our robot vacuum cleaners, but still proving to be practical. You can activate or deactivate this mode in the parameters of each device.
Obviously, this feature is not without raising new questions regarding privacy, but it must be recognized as having a certain practicality. It's up to you to see and weigh the pros and cons… During our tests, we had a hard time using it naturally because for years we have been conditioned to the pronunciation of the " wake word OK Google ". Nevertheless, this use could prove to be more than interesting and lead us to more fluidity in our exchanges with Google Assistant. To be continued !