We were looking forward to it, theAmazon Devices Event is currently taking place across the Atlantic. And the least we can say is thatAmazon did not go by half measures. Yes, we can say it, it is a real avalanche of novelties which sweeps today from Seattle. The Alexiens therefore offer you a short summary while awaiting further information!
Ech Dot:
We told you about it a little while ago, following the revelations and the leaked photos. Its outlines had been spotted as Echo Dot Donut, it's now confirmed: EchoDot 3 receives a new dress much more attractive and in keeping with the rest of the range. Dressed in the same fabrics as its predecessors, it will also be available in three colors: anthracite, heather gray and sand. New microphones, its small speaker is now larger, going from 1.1 ″ to 1.6 ″, drastically reducing distortion and boosting bass. Amazon announcement 70% more power! Always equipped with 3.5mm jack output and Bluetooth, however, it should now be able to truly act as a small connected speaker with honorable performance.
The brand new Echo Dot is available for pre-order at a price of 59.99 €, the same as that of its predecessor.
You can also acquire it in a pack with the new Smart PlugAmazon that we discuss below ...
Echo Input:
First novelty announced, Echo Input is in a way the answer ofAmazon the diversion of the Echo Dot into a device allowing voice control to be brought to our Hi-Fi installations. Here, no speaker, just a 3.5mm output and Bluetooth accompanied by 4 microphones in an extremely compact 12.5 case mm thick. Marketed $ 34.99, this Echo Input is likely to be a great success and to be found everywhere. Furthermore, Amazon announces upcoming speaker surprises and a collaboration with Bose!
The Echo Sub is already available for pre-order at a price of 129.99 € on Amazon.com.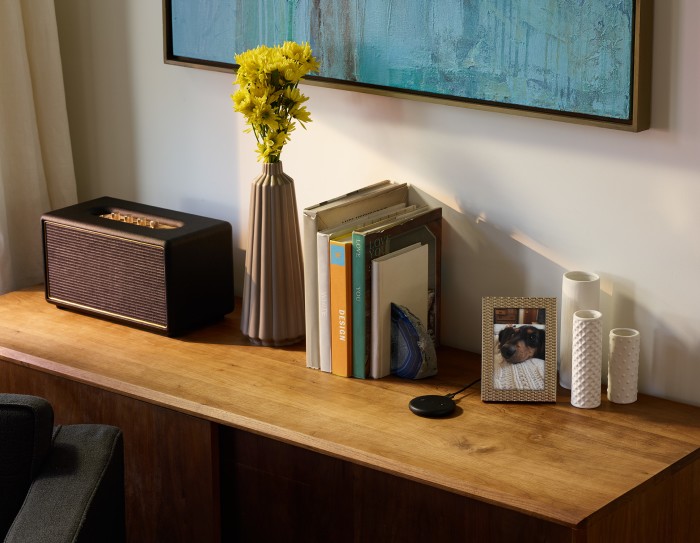 Echo Sub: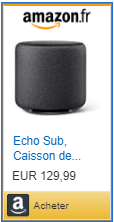 We announced it to you this morning, Echo Sub is confirmed. It will bring more depth to the sound provided by your Echo 2 and make the musical experience with Alexa even richer with a 1.1 or 2.1 sound thanks to the association of 2 Echo + 1 Echo Sub.
All the features we were talking about this morning seem to be in the game!
The Alexians are impatient !!!
It is a 4-liter closed box with a 152 mm "down-fire" type loudspeaker and 100 W class D amplifier which develops 103 dB at 1 meter. It will connect to the network via standard dual-band 802.11 a / b / g / n (2,4 and 5 GHz) Wi-Fi networks. It will not support ad-hoc (or peer-to-peer) Wi-Fi networks.
Pre-orders are already open on Amazon. Fr.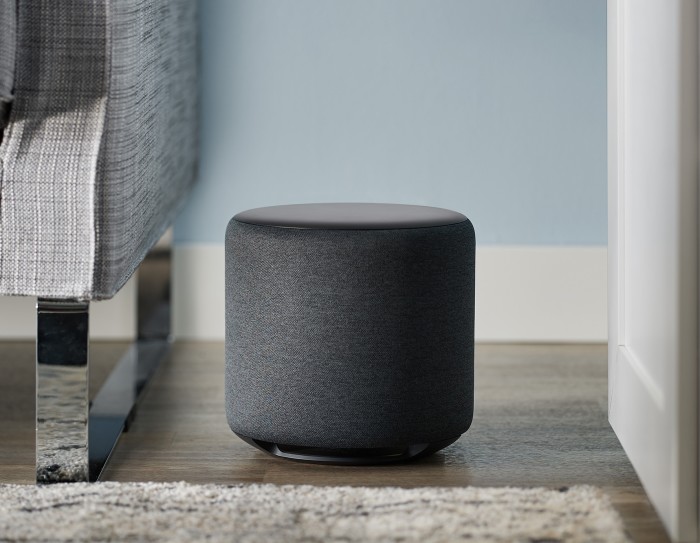 Echo Link:
It is probably the most attractive device announced today by Amazon. Here is… [Drum rolls] The All-New Echo Link !!!
No, you are not dreaming: the Echo range is enriched with a vtrue amplifier with multiple digital inputs and outputs! Endowed with a 60W dual channel amplifier, it seems intended to connect to your Hi-Fi system. Its attractive design puts stars in our eyes! The "wow" effect is there.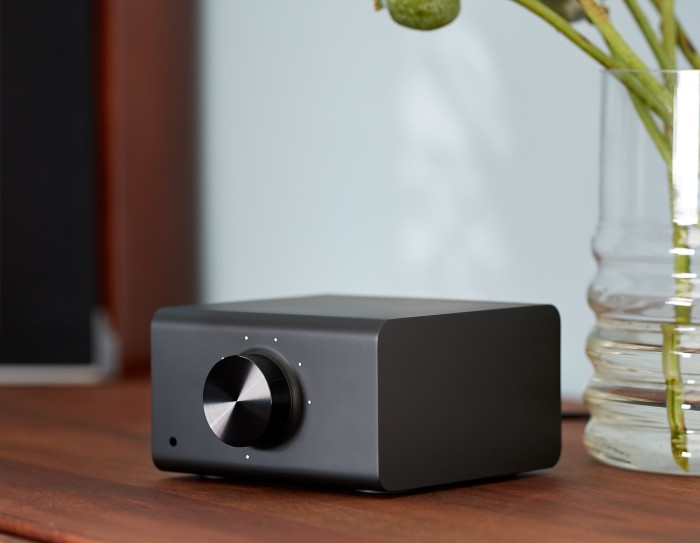 Echo Plus:
Echo Plus is dead! Long live Echo Plus 2! While we thought thatAmazon was definitely going to part with its high-end Echo, here it is making a new appearance dressed in a new dress. Very matching with its little brother Echo 2, the all new Echo Plus is more than attractive. It will match perfectly with Echo Sub to create a 2.1 sound system.
Amazon promises more bass and clearer sound. The Zigbee hub is still there and Amazon wishes more than ever to make it the nerve center of your Smart Home! With an integrated probe, the latter will be able to read the temperature and adjust your connected equipment accordingly.
The e-commerce giant hits hard! Very strong!!! Echo Plus is equipped with a built-in Zigbee hub for easily setting up and controlling your compatible connected devices, and lets you enjoy enhanced sound for streaming music.
New premium quality speakers powered with 360 ° Dolby sound with crisp vocals and dynamic bass. You can also adjust the equalizer settings from the app Alexa.

ask to Alexa play music, read news, check the weather forecast, set alarms and timers, control compatible connected devices, call anyone who has an Echo device or the app Alexa (Skype coming soon), and more.

Configure your connected home without a separate hub. ask to Alexa control compatible Zigbee lights and switches, and more. Echo Plus also has a built-in temperature sensor.

ask to Alexa a title, artist or album on Amazon Music, Deezer, Spotify, TuneIn and more. With multiroom for your music, you can enjoy music on your compatible Echo devices in different rooms.

With seven microphones, beamforming and noise reduction technologies, Echo Plus hears you wherever you are in the room, even when music is playing.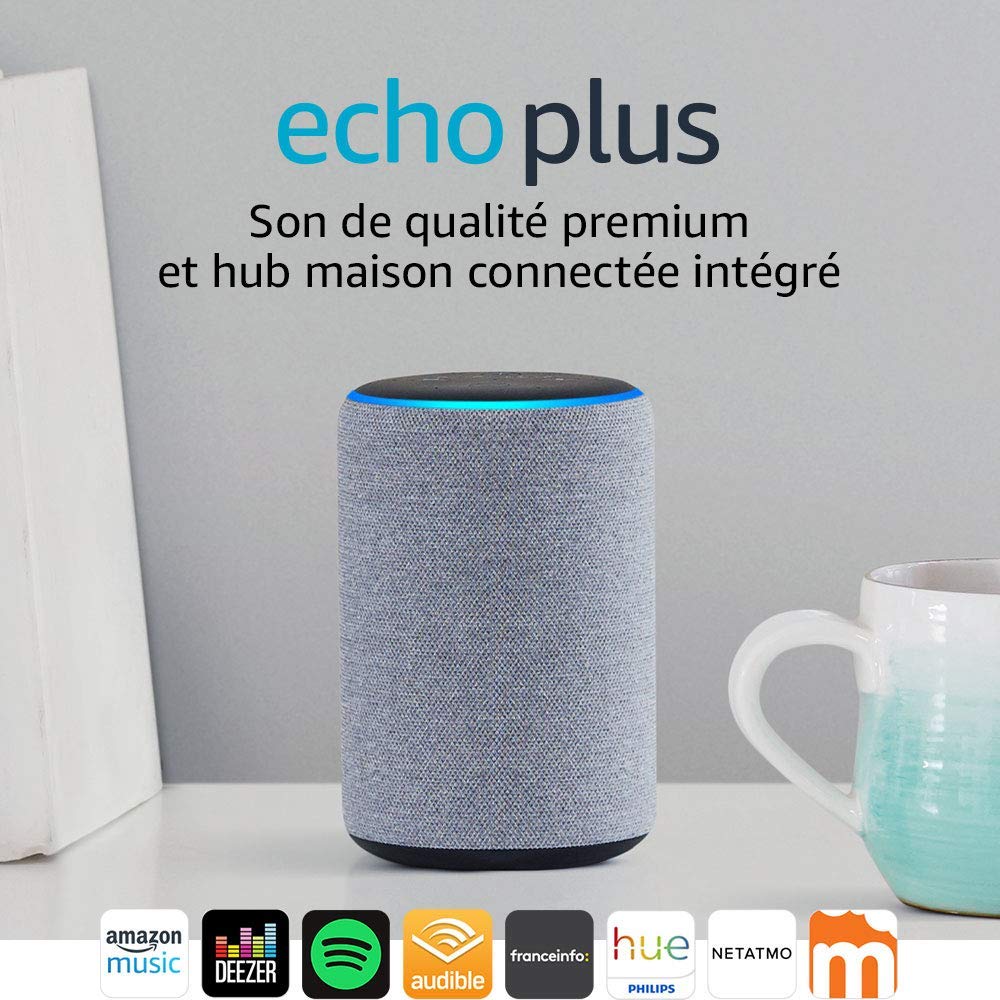 Echo Show (2nd generation):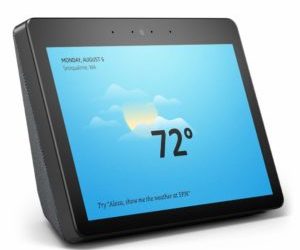 We were eagerly awaiting the first release ofEcho Show in France, but it's a safe bet that we won't know it. The fact that it was on sale almost all the time made us think that a second version was about to see the light of day.
It's confirmed!
Endowed with a whole new 10.1 inch screen, 1280 x 800 720p, and much better sound 2 x 10W thanks to more powerful speakers and a passive bass "radiator", it will also offer VEVO video integration and that of Blueprints.
Its price is announced at $ 229.99.
Unfortunately, no date has yet been communicated and we cannot find it for pre-order on the US / UK / FR sites yet.
Amazon Smart Plug: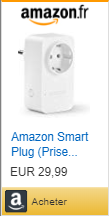 Preview yesterday on the UK site ofAmazon, the new Amazon Smart Plug will be available on October 17th. It is in pre-order at the price a little high of 29.99 €, but promises an absolutely perfect integration with the "echo-system" ofAlexa.
It is in the European F type format and will connect to 2.4GHz Wi-Fi. THE'Amazon Smart Plug will work exclusively with Alexa and is intended for indoor use only. Output: 10 A max.
Amazon Smart Plug is the first Wi-Fi connected socket equipped with a simplified configuration by Wi-Fi. It will make it possible to create or expand the ecosystem of your connected home with ease. To start, all you need is a device with Alexa integrated (Echo, Sonos One) or simply from the application Alexa on smartphone. Creating routines, such as turning the lights on at 6 a.m. and turning them off at 22 p.m., will be a snap.
Amazon Wi-Fi Locker and Wi-Fi Simple Setup
Amazon Wi-Fi Locker allows customers to reuse network credentials to set up a new device. Already used for a few years on various Echo and Fire devices, Amazon Now introduces Simple Wi-Fi setup to help customers easily connect new Wi-Fi devices in their homes. So how does it work? You plug in the Wi-Fi Simple Setup Network compatible device, and it immediately searches for the Wi-Fi Simple Setup Network. Once it receives the encrypted credentials, it connects securely to the network. And all of this happens in less than thirty seconds.