All the Free fanboys were impatiently waiting for him: the new Freebox Pop has just been presented by Xavier Niel in front of a very limited audience of journalists, due to health measures linked to the Covid-19 pandemic, in the garden of the company's Paris headquarters. A first for one keynote which was not without surprise and animated by the only troublemaker of telecoms ...
Freebox Pop: a mini box far from the maximum?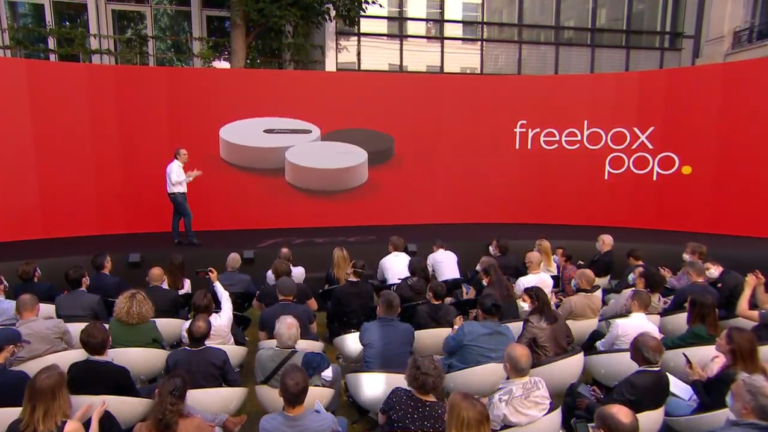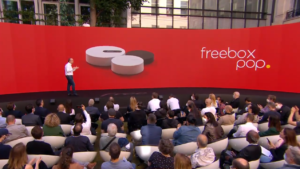 "She is round, she is very small, she is even tiny", this is how Xavier Niel presents the new opus of his company. All in roundness, the new Freebox Pop surprises indeed by its reduced size. White in color, it features an elegant LCD screen on top to display its main information. Simple and effective, the Waouh by Free effect!
"The player is so tiny that it's in my pocket" adds the creator of the Internet box concept. Yes, the new one Pop player actually fits in a jeans pocket and therefore in the hand. Okay, that's all well and good, but what about the technical characteristics of the Freebox Pop?
Freebox Pop: the technical sheet
As always, Free does not disappoint. Or almost. The new Freebox Pop router offers up to 5 Gbit / s downstream et 700 Mbit / s uplinks. Not bad at the moment, it must be admitted. Xavier Niel also says that it is the most powerful on the market: would he have lied to us about the Freebox Delta?
There is an environmental effort. Say " environmentally friendly ", Freebox Pop consumes 40% less energy than its ancestors Mini 4K and Revolution. The founder of Free mentions the absence of planned obsolescence and a minimum lifespan of 10 years. That's good, but that leaves us a little wary in view of the technical characteristics already a little dated in our opinion ...
A "high-end" Wi-Fi repeater
The illustrious leader of Free reveals that he has created a dedicated Wi-Fi team within Free. Indeed, and we can only confirm it, Wi-Fi problems are part of the daily life of a large number of Internet users. This is why the FAI decided to design a " smart Wi-Fi repeater", Supposedly equivalent to Google Wi-Fi and Amazon eero. But all this seems very timid to us despite everything.
Le Free Wi-Fi repeater is content with a simple and already well dated AC1200 Wi-Fi. Admittedly, this will be sufficient for many users for the moment, but being a box made to last ten years - these are the words of Xavier Niel - it seems a little timid to us. No Wi-Fi 6 therefore, but of MU-MIMO Dual-Band Wi-Fi 5 with Multi-AP, AP Steering and Band Steering technologies. Good, but not at the top either, the Mesh Wi-Fi Routers from Netgear et cie don't have to worry too much ...
We note, all the same, a significant effort by the French company on the security of Wi-Fi with a WPA3 encryption - yes, the term "Encryption" is not French, ed - the latest version and therefore the most secure. In the age of the Internet of Things, or IoT, this is a positive point, let's underline it!
Freebox Connect: a new application
The application Freebox Connect seems very inspired by Google Home, but there is no voice control in the program, it is very regrettable. It will allow a simplified management of the Freebox Pop with, in particular, the possibility of seeing all the objects connected to the box - fans of automation will appreciate - and to associate devices by scanning a QR Code which is displayed on the LCD screen of the box, or even to perform parental control very simply - watch out for your teenagers given the ease of access of the QR Code however . We'll see what it's all about later ...
Freebox Player Pop
A minimalist but effective player
The new Freebox Pop Player eponymous offers a compact format since it really fits in the pocket! A player 4K / UHD with Dolby Vision, Dolby Audio, DTS HD, Dolby Surround 5.1 and compatibility Dolby Atmos. Nothing to complain about at this level.
Offering 2GB of RAM, quite sufficient, and 16GB of storage not expandable, it is logically connected to the Freebox Pop in Wi-Fi 5 and offers wireless connectivity Bluetooth 5.0 Low Energy. It is also equipped witha single 1 Gbit / s Ethernet port, an single HDMI 2.1 port, with a simple S / PDIF out and ports micro-SD and USB 3. It also incorporates a DVB-T2 TNT tuner allowing to watch the hertzian programs in 4K according to Xavier Niel and the No worry Google Chromecast.
Quite complete therefore, without being transcendent, it must be admitted ... Note that it will be possible to acquire optional Freebpx Pop TV Players at 4.99 € / month / piece (+ 10 € shipping costs). A word of advice: buy Fire TV Stick 4K...
Free by OQEE: a new TV interface
Free has given its new Pop player a new interface. More intuitive, simpler, it seems rather nice at first glance. Offering 500 live channels including 220 free, more than 100 replays including 40 included, it allows direct control (play / pause) and resume a program from the beginning with the functionality "Start Over". Presented as innovative by Xavier Niel, it remains nonetheless already seen since it has been available for a long time from other ISPs or on other applications, we are thinking in particular of Molotov.tv of which the French telecoms magna has just taken control but which does not seem, for the moment in any case, to benefit from any preferential treatment by Free. It's too bad.
Finally, we note the possibility of recording programs for free for up to 100 hours, a host of streaming services: SVoD with Canal VOD and Filmo TV, as well as the essentials Netflix and Amazon Prime Video. Here too, we can only say: "Good, but nothing more".
A new remote control with Google Assistant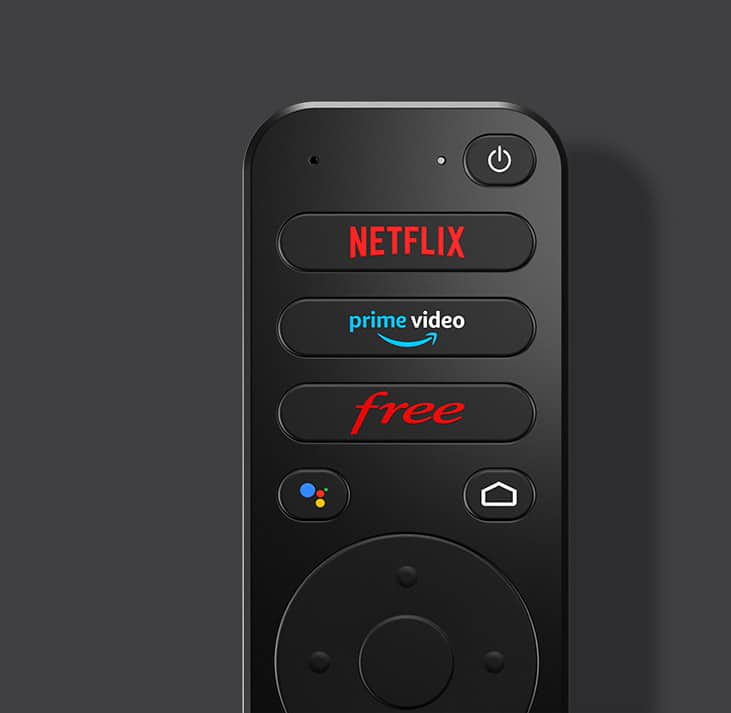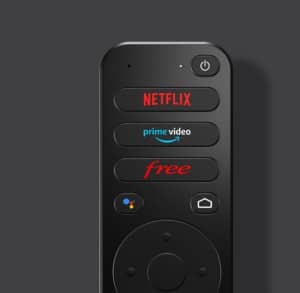 "It is simple, ergonomic" said Xavier Niel, and we can only confirm it. Not really transcendent, she proposes to simple navigation buttons and shortcuts Netflix, Prime Video and Free by OQEE. A mysterious name about which we hardly know for the moment ... Could it be an umpteenth startup supported by the business angel ?
Regarding voice assistants, it does not integrate "OK Freebox", nor Amazon AlexaMore Google Assistant. A choice all the more surprising as the Freebox Delta can be controlled with Alexa since last week. From there to think that the assistant "OK Freebox" is in the hot seat and that Free is going there to the economy, there is only one step.
Although this remains to be confirmed, it is clear that Free has simply turned to Android TV - update 14:13 pm: Free confirms it to us at the moment - although the assistant like the operating system of the giant of Mountain View did not have the right to the slightest mention ...
Freebox Pop: a new offer like Free knows how to do it so well!
If we are circumspect and critical enough about the technical characteristics of the Freebox Pop, we must admit that Free always knows how to accompany its new material with rather attractive offers ...
Unlimited 4G + mobile plan
"No data limit and a very low price valid for life including roaming in Europe, in particular, there we recognize the DNA Free! " The Alexians
As usual, the telecoms troublemaker gives a big kick in the anthill by offering a mobile plan with unlimited 4G + at 9.99 € / month only to the new Freebox Pop fans, but also to the old ones if they change for this new offer. No data limit and a very small price valid for life with roaming in Europe, in particular, there we recognize the DNA Free!
Ligue 1 included
Football fans will be delighted: Free includes a new service for free called "The best moments of 100% Ligue 1 Uber Eats". An amazing integration that allows, for example, to be notified when a goal is scored by your favorite team, even if you are watching another program. Not bad there too, if you are a football fan ...
Not so free ...
The Freebox Pop offer does not surprise the market! We are far from the first offers because, at 29.99 € / month the first year then 39.99 € / year, all without engagement of course, the FAI clearly no longer breaks prices. Admittedly, Free offers a great freedom of choice with a modular offer, but we clearly expected better ...
The new Freebox Pop offer with a "quality / Free" ratio is available as of today on free.fr and in all the brand's stores.