Finally a watch with Alexa integrated natively: the Fitbit Versa 2. Announced a few months ago, on pre-order for a few weeks, it is finally available Amazon.fr at the price of 199 € with in particular a version Amazon Exclusive in nice colors. Let's see what this watch offers us with our favorite voice assistant.
Fitbit Versa 2: always on time with Alexa
Equipped with a magnificent 40 x 40 mm AMOLED display Corning® Gorilla® Glass 3 is neither too small nor too massive, and will suit both women and men. Two bracelets are also provided: a size S from 140 to 180 mm in circumference and a second size L from 180 to 220 mm. Easily changeable, a wide range of colors is also available so that your smart watch is always perfectly matched to your outfit. Comfortable and with an ultralight aluminum housing, the Fitbit Verse 2 can be worn day or night and has an autonomy of up to 5 days with a permanent display.
If it is already possible to use voice assistants on various smartwatches, Fitbit has truly integrated Alexa natively on this Versa 2. Indeed, a simple tap on the screen allows it to be triggered and fully utilized.
It is thus possible to request the time from Alexa if you don't know how to read it, or simply program alarms, check the weather, listen to the news by launching your daily flash. It is also possible to define invitations to go to bed, but above all to control your connected objects!
Like any connected watch, the Fitbit Versa 2 also offers most of the notifications: SMS, calendar, social networks and push notifications are displayed on the screen via a Bluetooth connection to your smartphone. Android users can also answer their calls. Another interesting feature, the Versa 2 allows you to pay for purchases by placing your watch near a terminal. contactless electronic payment with Fitbit Pay.
Music is not left out since Fitbit has integrated Spotify et Deezer. Unfortunately, no information regarding Amazon Music, but Alexa being integrated, it will be very easy to request your favorite playlists from the latter and therefore to use the music streaming service ofAmazon. In addition, the Fitbit Versa 2 is able to store up to 300 pieces of music in its internal memory. All you have to do is pair your headphones or your Bluetooth headset and you can go for a leisurely jog. Because, as always with Fitbit, the Versa is above all a connected watch for fitness and well-being.
Keep in shape with Alexa and Fitbit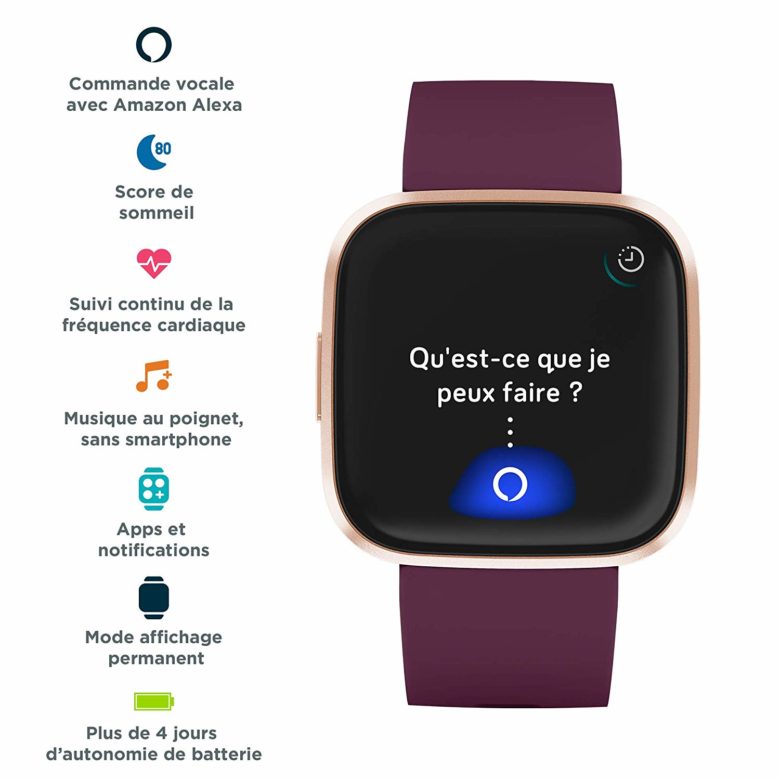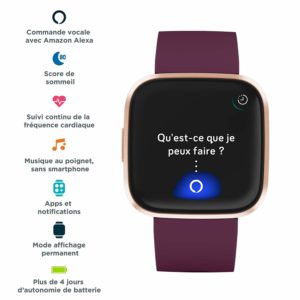 Thanks to Fitbit's numerous "fitness and well-being" applications, this Verse 2 is resolutely turned towards the form. You thus have directly on the wrist of workouts to guide you with each movement, follow your daily activities (number of steps, distance covered, caloric expenditure, floors climbed). Hour and hour, minute by minute tracking is offered to you and you can automatically record exercises such as swimming, running,aerobics and more, then check your stats in the Fitbit app. Thanks to the GPS of your smartphone, you will find your real-time running and hiking statistics and view your route on a map in the Fitbit app. Swimmers will even be able to count the lengths performed in the water thanks to its watertightness guaranteed up to 50 meters.
It is finally possible to track his heart rate and D'analyze your sleep by visualizing the duration of its phases of light, deep and paradoxical sleep, and to receive advice on how to sleep better. If you are stressed or insomniac, you can relax with personalized breathing sessions based on your heart rate.