Amazon just announced on his Fire TV blog have started to deploy two new features on the 2nd Generation Fire TV Cube arrived in France last September including management of webcams for videoconferencing.
Fire TV will support webcams for video conferencing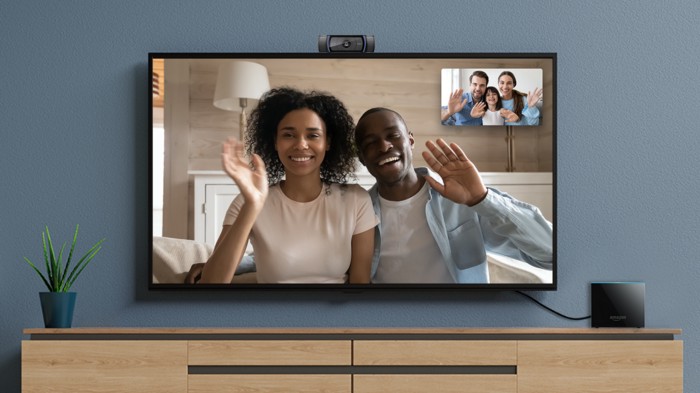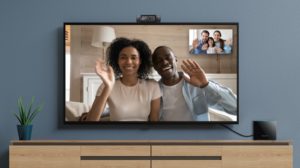 If one use has exploded in recent months, it is without a doubt videoconferencing. Confined, many of us have used it to keep in touch with our loved ones and, as very often, this habit is perpetuated and Amazon Understood this by offering users of its Fire TV Cube streaming box to use the skills ofAlexa in the matter to converse on Skype, Zoom and other services from their device.
The update will arrive in Canada, France, Germany, Italy, Japan, Spain, UK and US over the next few weeks!
119,99€
In stock
August 10, 2022 12:32 a.m.
How do I connect a webcam to Fire TV Cube?
Amazon specifies that, to access this functionality, you will need to connect a USB webcam supporting UVC with a minimum resolution of 720p at 30 fps. Obviously, cameras with a resolution of 1080p and a field of view of 60 to 90 degrees will offer a better experience, but webcams in 4K are not recommended for all that because large consumers of data, they may affect the fluidity of the service. .
Here are some models recommended by Amazon :
You will also need a Micro USB to USB adapter to connect your webcam to your Fire TV Cube.
Please note that the Ethernet adapter supplied with your Fire TV Cube will unfortunately not work for this configuration.
6,99€
In stock
August 10, 2022 12:32 a.m.
9,99€
In stock
August 10, 2022 12:32 a.m.
If you want keep the Ethernet socket, you can also turn to these OTG hubs :

Video calls through the app Alexa
Then, it's very simple, you just have to:
Launch your Amazon Fire TV Cube,
Connect the webcam and the adapter: a notification informing you that your webcam is usable will appear on your TV,
Open your app Alexa et go to "Devices"
Select your Fire TV Cube,
To toggle "Communication" to "Activated". You can also enable Drop In if you want.
To link your contacts in the app Alexa:
Go to theCommunication tab,
Click on the "people" icon top right,
Click on three dots top right
Choose "Import contacts".
This done, you can obviously use Alexa to communicate very simply. For example, you just have to say « Alexa, call Julie " to launch a device. If you receive a call, it will show on your TV and you just have to say " Alexa, answer ".
Note: For the sake of privacy, each call will start with the video turned off, so you just need to say
« Alexa, activate the video
«
or use the menu or the down button on your remote to activate the video. To adjust the volume, say
« Alexa, stronger "
and vice versa. Find all
orders Alexa on Fire TV
here.
119,99€
In stock
August 10, 2022 12:32 a.m.