The best selling connected speakers, Amazon Echo Dot 3 is on exclusive promotion tonight for all those who have not yet taken the time to discover the e-commerce giant's music streaming service. If this is your case, do not hesitate a second and find out for it is the best music streaming for Amazon Alexa !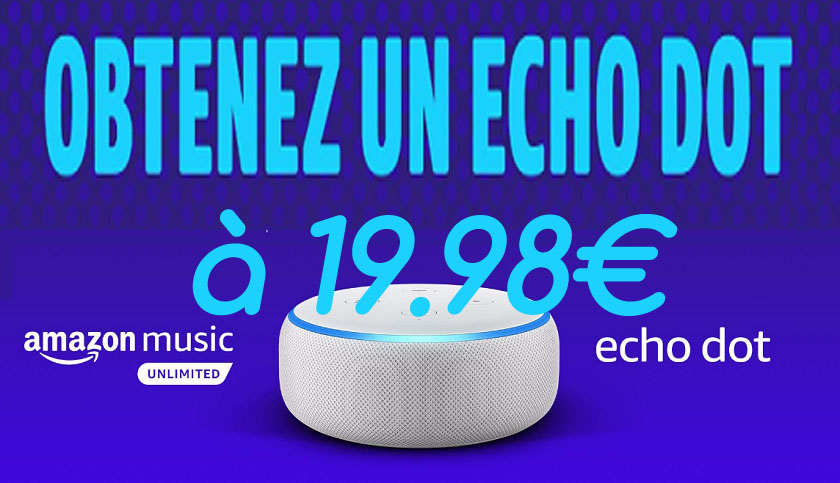 Echo Dot 3 at 19.98 €: a call offer to discover Amazon Music
Thanks to this offer, Amazon probably intends to attract more and more customers for its paid offers. Indeed, the e-merchant already offers several offers including one dedicated to its Echo devices, but also an exclusive service for its Prime members. But, rest assured, there is no commitment to the program: this included month is completely free and WITHOUT COMMITMENT !!!
The service entitles you to a catalog of more than 60 million tracks in unlimited listening.
To take advantage of this offer, nothing could be simpler.
Put the product in your basket,


Enjoy a month of unlimited music and an Echo Dot 3 for only € 19.98!
A great deal knowing thatAmazon usually sells Echo Dot 3 at € 59,99 excluding promotion. Please note, only one Echo Dot device can be purchased by subscription and you must not have already benefited from an offer recently to be able to claim it. Logic !
19,98€
In stock
August 11, 2022 7:27 a.m.
Updated: August 11, 2022 7:27 a.m.
Terms and Conditions
This limited-time promotion of 1 month on the Individual Offer Amazon Music Unlimited and the Echo Dot at the global price of € 19,98 is reserved exclusively for new subscribers Amazon Music Unlimited who purchase a qualifying Echo device on Amazon.Fr. IN THE LIMIT OF THE AVAILABLE STOCK.
At the end of the first month, the subscription to the Individual Offer Amazon Music Unlimited benefiting from the promotion will automatically renew at the total price of € 9,99 / month.
You must pay a minimum of 1 month subscription to the Individual Offer Amazon Music Unlimited. You must cancel your subscription before it automatically renews for the cancellation to take effect within one month of billing.
Use of Echo Dot is subject to terms of useAlexa. If you return your Echo product under this offer, your refund will be equal to the amount paid for the product, in accordance with applicable refund policies. If you cancel your subscription Amazon Music Unlimited, monthly subscription fees already paid will not be refunded.
This offer is not valid for subscriptions Amazon Music Unlimited Home, Student, Echo / Fire TV, HD or Yearly, or for enrollments through iTunes. Excluded from the offer are customers currently benefiting from a free trial or a paid subscription Amazon Music Unlimited.
This offer is reserved for people over 18 years old.
This offer is not cumulative.
This offer concerns the digital content and services offered by Amazon Digital UK Limited and is subject to general conditions of use ofAmazon Music. Digital content and services may be local and offered only to customers residing in France.
Only one participation in this promotion is allowed per customer and per account.
Amazon reserves the right to modify or cancel this offer at any time.
Offer is non-transferable and cannot be resold. Cash payment is not allowed.
If you do not comply with any of these conditions, your participation in the offer will be invalid.