Have you been spending too much time at home because of lockdowns for a year? Sometimes you don't even have time to go for a little exercise every night because of the curfew? Play sports at home! Thanks to WalkingPad treadmill and treadmill that you may have already seen on Xiaomi Youpin, you can keep fit and follow your progressions, or regressions, directly on your smartphone. Indeed, if we are telling you about it, it is obviously aboutconnected objects ! A little extra that makes all the difference with the classic models ...
WalkingPad C1: a connected treadmill!
Le Xiaomi WalkingPad C1 treadmill is not the most classic since it has the particularity of being connected! Thanks to its application, you will indeed be able to closely follow your daily workouts on KS Fit App, set goals and vary exercises to keep fit.
Designed for 14 60-years ponderous up to 90 kg, it manages speeds ranging from 0.5 km / h to 6 km / h. Its manual mode allows you to gradually accelerate with the remote control supplied and its automatic mode offers the possibility of accelerating the pace yourself, making the practice even more natural.
When your session is over, you can fold it up and store it easily in a cupboard or under your bed since it only 14.5 cm thick and weighs only 22 kg !
Usually offered at € 419.99, the WalkingPad C1 treadmill is today at 260.39 € with the coupon below be one 38% discount allowing you tosave 159 €.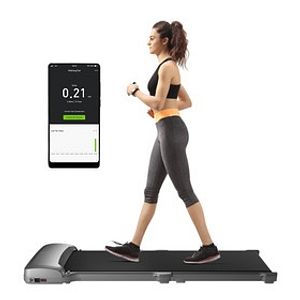 WalkingPad R1 Pro: walking and running on the program
Walking is not enough for you? the Xiaomi WalkingPad R1 Pro, will obviously allow you to walk 0.5 km / h to 6 km / h, but also to speed up the pace and run up to 10 km / h.
This treadmill is suitable for all, or almost, since it is able to support templates up to 110 kg ! The whole family can therefore use it (from 14 to 60 years old according to the brand), apart from the youngest for whom a child lock is even planned and the heaviest for which a safety system engages to protect the device ...
Obviously, like his little brother above, this is also a connected object allowing to follow his performance, to progress at your own pace and vary the exercises thanks à to the many possibilities of the application KS Fit App. An application that you will not have to use permanently either since it also has a remote control allowing you to quickly put it into operation and adapt the speed during exercise, while also a screen LED informing you of your sport session
Really compact for a product of this type, the WalkingPad R1 Pro can easily be stored under a bed or in a small space since it only makes 15 cm thick when folded, which allows it to occupy only a small 0.2 m² of space!
Usually offered at € 671.99, the WalkingPad R1 Pro treadmill is now at € 503.99 at Geekbuying be one 25% discount allowing you tosave 168 €.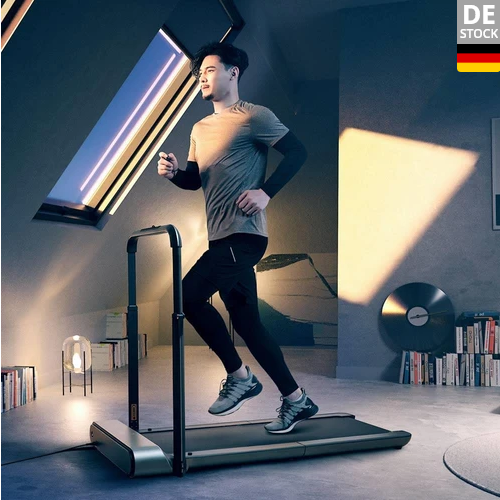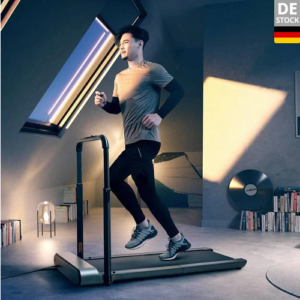 Walkingpad a1 pro
Don't you see the point of a connected mat? Too bad, you can also find a more classic model, just as compact and efficient for keeping in shape: the Xiaomi WalkingPad A1 Pro.
Ideal for brisk walking and for fitness, it offers 2 very easy to use modes : manual or automatic. If you want to go further, you can also take advantage of the in-house application and therefore collect information on your training, whether daily or not.
Him too super compact since it measures only 1432 x 547 x 129 mm and light with only 28 kg on the scale, it is suitable for the physical maintenance of people of 14 60 years to ponderous up to 100 kg who wish to walk at speeds of 0.5 km / h to 6 km / h.
Usually offered at € 577.01, the Xiaomi WalkingPad A1 Pro treadmill is now at 369.59 € be one 36% discount allowing you tosave 207 €.