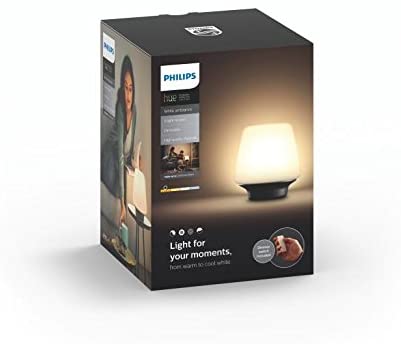 It is one of the connected lamps the friendliest on the market automation and, as so often, it is Signify and its essential brand Philips Hue that we owe it. At Les Alexiens, we love it and we use it every day: the Wellness White Ambiance lamp !
Thanks to this luminaire elegant design, you can enjoy the benefits of white light. Refuel in the morning with a cold light and intense, which promotes awakening and concentration. Relax in the evening with a warm light that gently prepares your body for sleep. Thanks to its supplied remote control Dimmer Switch supplied, it is very easy to switch from one to the other.
While it can work on its own with its remote control, the Philips Hue Wellness mood lamp also integrates into the Hue ecosystem via the brand's ZigBee bridge or that of an Echo device (Show 2, Plus or Studio). Of course, you can therefore control it with Google Assistant voice commands ou Amazon Alexa.
Usually offered at 99.99 €, the
Philips Hue Wellness White Ambience
is now offered
to 76.99 € or a reduction of 23%
saving you 23 €. A good plan not to be missed!
Philips Hue Wellness Table Lamp Black White Ambiance E27 9,5 W [Switch with Dimmer Included], Connected Lamp - Natural White Led Light - Compatible with Apple Homekit, Alexa
August 10, 2022 1:57 a.m.
Functionalities
Thanks to this Philips Hue luminaire and the remote control provided in the pack, benefit from natural light adapted to each of your activities.
In addition to its elegant design, with this Philips Hue remote control light, you control the lighting neither too weak nor too strong.
Thanks to a variable color temperature, enjoy the benefits of white light. In the morning, recharge your batteries with cold, intense white light. Stimulating, cold light is characterized by its bluish rendering which promotes awakening and concentration. Unlike cold light, the color of warm light tends towards orange-yellow. It is ideal in moments of relaxation and before bedtime to prepare the body for sleep.
Ready to use, this luminaire is compatible with all Philips Hue products. Thanks to the Philips Hue connection bridge, you can control your lighting from your smartphone and enjoy more options.