If Black Friday is an American invention, you are aware that this event is growing in size every year in France. And French companies have understood this well, like Konyks, which is organizing its Black Friday on its online store this year !
Partners of the Alexiens since its beginnings, Konyks is a brand of the French Tech that we particularly appreciate and that we talk to you about very regularly. Offering quality products working with the Tuya platform / Smart Life, the French company is helping to develop the connected home in France with simple and effective products powered by your home Wi-Fi.
Without further ado, let's take a closer look at the various offers offered by the brand ...
Konyks Priska + Mini: from 17.48 €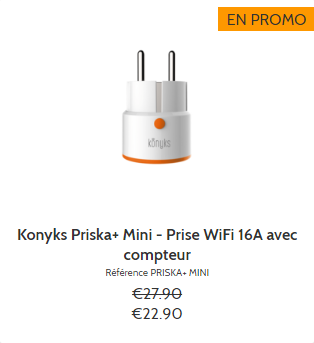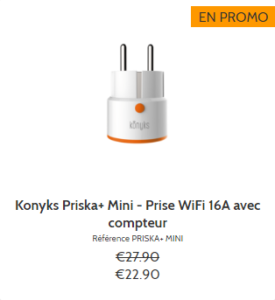 This is the very last model that we presented in the test: the connected plug Priska + Mini. Design, qualitative and with little extras, this socket knows how to differentiate itself from others: child protection, color, direct consumption monitoring and above all on 4 different criteria.
Konyks Priska +: from 14.98 €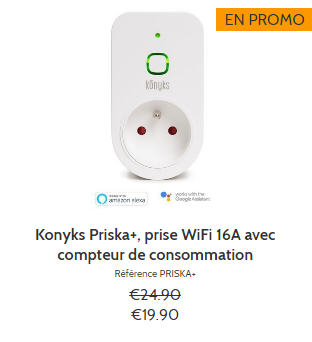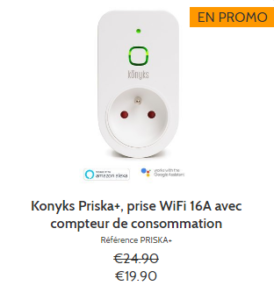 It is the first model of the brand that we have tested. After 18 months of use, it still works perfectly, so we can only recommend it! A socket connected to 2.4 GHz Wi-Fi which presents as its youngest the interest of providing precise monitoring of power consumption.
Konyks Senso: from 14.98 €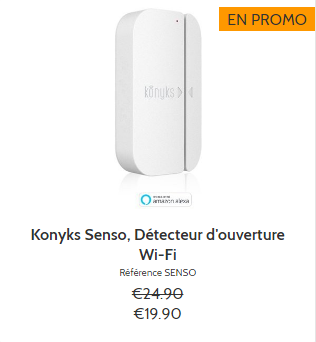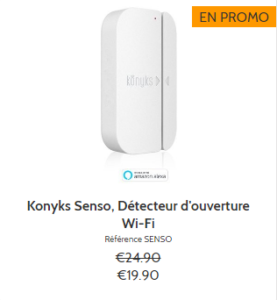 It is a star product of the Alexiens: the opening detector for doors and windows Konyks Senso. A compact connected object that can be installed and configured with disconcerting ease and blends perfectly into our interiors thanks to a modern design and quality finishes. Moreover, Alexians like it so much that many of us have put it on even in their mailboxes (see tutorial) ! To do what? Quite simply to receive notifications when the postman passes by.
Konyks Vollo: from 24.98 €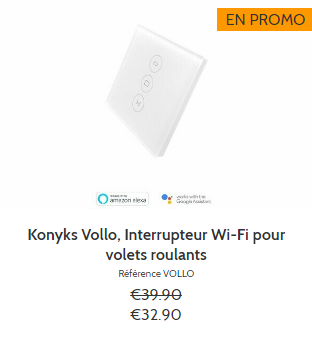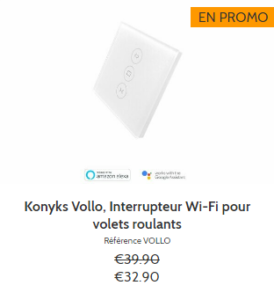 If there is one automation that Alexians adore, it is that of roller shutters. Indeed, what comfort to control the closing of its shutters according to the time or quite simply by asking your voice assistant! This is precisely what this connected switch for Konyks Vollo roller shutters offers. With a design and quality finishes, this switch is waiting for you to control all the shutters in your home ...
Konyks Antalya: smart bulbs from 12.48 €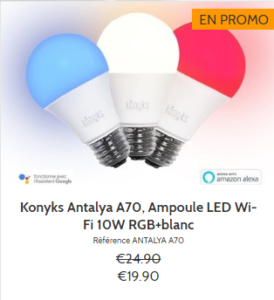 Whether it is E14 or E27, you will inevitably find your happiness to illuminate your cold winter evenings in white or color with Konyks bulbs. Our test of the latest generation of Konyks Antalya bulbs do not budge, it is once again about quality products ! In addition to saving you energy thanks to their LED technology, Konyks Antalya bulbs can be controlled easily and without additional bridges thanks to Wi-Fi.