In an era marked by the proliferation of screens, Clubhouse or Discord vocal rooms sometimes seem anachronistic compared to YouTube, Twitch, Facebook Live and other IGTVs. And yet, it is clear that they are enjoying growing success, proof that audio has not yet had its last word. Amazon seems in any case to think so as evidenced by his Project Mic, a new application which would aim to reinvent web radio.
Project Mic: Amazon reinvents internet radio
according to The Verge, Amazon would aspire to reinventing radio, or more precisely Internet radio, by launching a live audio application. Responding for the moment to the code name Project Mic, this platform would allow its users to listen, create and broadcast live broadcasts very easily.
In addition to offering their content on a dedicated application, the webradios present on Project Mic could also on Amazon Music, Audible, Twitch ... And of course via Alexa. A great opportunity for content creators who should quickly reach a large audience and kill the audience!
In addition, always with a view to modernizing the radio, the application would be optimized for use in the car, one of the last strongholds of radio, and would allow the public to interact by asking questions to the content creator via the application - a feature available on Clubhouse - but also directly from a speaker Amazon Echo with simple voice commands Alexa. One way to make the experience ever more interactive and to reach out to young people who are fond of it.
$ 39,99
September 25, 2022 13 h 10 min
An opportunity for Amazon Music?
With this new application, the Seattle giant would like to strengthen its music streaming service. Indeed, and this is a point that should delight creators, Project Mic would allow the use of the music catalog ofAmazon Music to animate its webradio. A more than interesting solution to YouTube which prevents any monetization of content if you have the misfortune to use a few seconds of known music, which is however perfectly legal.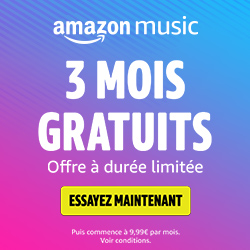 Always on the monetization side, Amazon would suggest targeted advertising depending on the location of the users, but also on the content since the webradios would be classified by themes and musical styles. One way to finance both the use of music and reward creators of the platform which should have a certain number of celebrities in their ranks as soon as the application is launched in the coming months… In the United States of course.