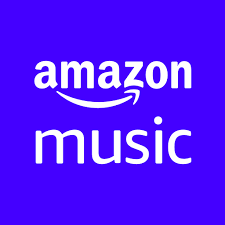 If you are reading this article, you have probably recently purchased a speaker Alexa or one of the many devices that make up today line Amazon Echo, and you are probably wondering about the best deal available to listen to music using your new voice assistant.
As you have surely noticed, Amazon is not sectarian and offers many possibilities to its customers to listen to music with the service of their choice. From TuneIn for radio and podcast lovers to Amazon Music Unlimited for music fans of all kinds, including Spotify for young people, Deezer for the patriots, Vevo for music lovers, Qobuz for music lovers, or Apple Music for customers of the firm at the apple, Alexa allows you to access a large number of services. There is really something for all tastes and for all budgets, Alexa even allowing you tolisten to free music on Echo. Aware that it is far from the first use by users of connected speakers, Amazon plans to launch soon an offer Amazon Free Music to Echo users.
Alexians, however, prefer the offer of the parent company ofAlexa and it is basically quite logical. We will explain why.
Amazon Music: the favorite service of Alexians
The results of our latest survey of subscribers to one or more streaming services show that 65% of our members already had at least one paid subscription to a streaming service before the arrival ofAlexa in their cottage, the remaining 35% having passed the course to listen to music on their Echo device (s).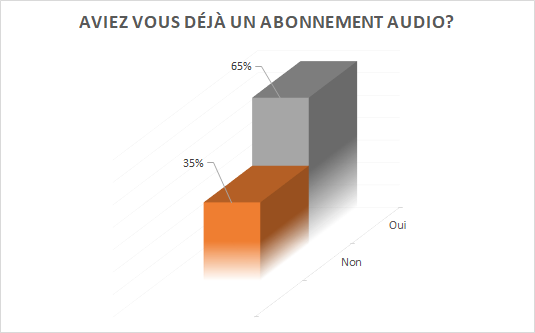 Among them, 32% - nearly a third - opted for a formula Amazon Music Unlimited, 29% are Spotify loyalists and 28% prefer the French service Deezer. The remaining 13% have opted for other services such as Qobuz, Tidal, Napster and Apple Music.

Note, however, that this survey was conducted before the offer Amazon Music Unlimited Family / Echo Dot 3 and seems to have met with great success, prompting many of our members to change departments in favor ofAmazon Music. But the option of the connected speaker at the more than attractive price of 99 cents is not the only factor that led to this migration, many Alexians having been motivated by the more successful integration of the service to Alexa.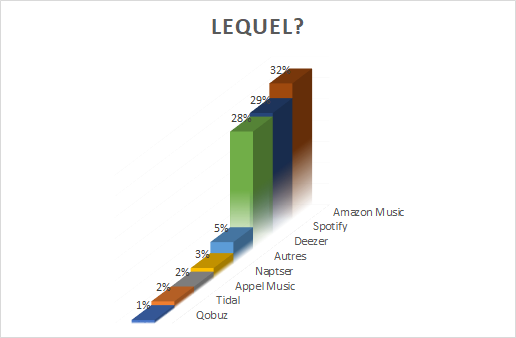 Why choose Amazon Music?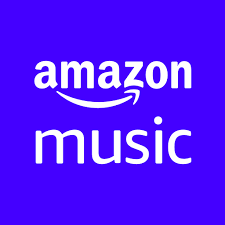 We are not going to go four ways: because it is about the best music service for Alexa to date and the most suitable offer for our voice assistant. Before taxing usAmazonophiles, know that we tested each of the services before making our choice. Indeed, we were able to benefit from free trial periods with each of the currently available competitors, from the beta phase ofAlexa in France, and we are therefore taken to the game of testing them for several months before producing this article. If we appreciated the Spotify application or the flow of Deezer, it is clear thatAlexa takes better advantage of home streaming service, and it is all more than logical. We have also seen an increase in all services, but the lead of the parent company is still clear.
Indeed, you will not be surprised to know thatAmazon Music was the whole thing first streaming service available for Alexa. We could even say that it is quite simply designed for her, as its integration is much more advanced. The resulting user experience is logically the most fluid and convincing to date.
From here we hear some people insinuate thatAmazon would not offer its competitors the same possibilities… Please note that this assertion is totally wrong, as several people have confirmed to us, and in particular Benoit Rébus of the French streaming service Qobuz during an interview. No need, therefore, to make a trial of intent against the e-commerce giant and you will easily understand why.
Amazon indeed has a significant lead, but also a perfect knowledge of its product. Its engineers and developers obviously master better than anyone Alexa, this is not surprising. Thereby, Amazon Music benefited from several months of development prior to the release ofAlexa.
The application Amazon Music available on many media (Android, iOS, PC & MacOn web browsers, Fire tablets, etc.), allows you to easily create playlists that will be immediately recognized by Alexa.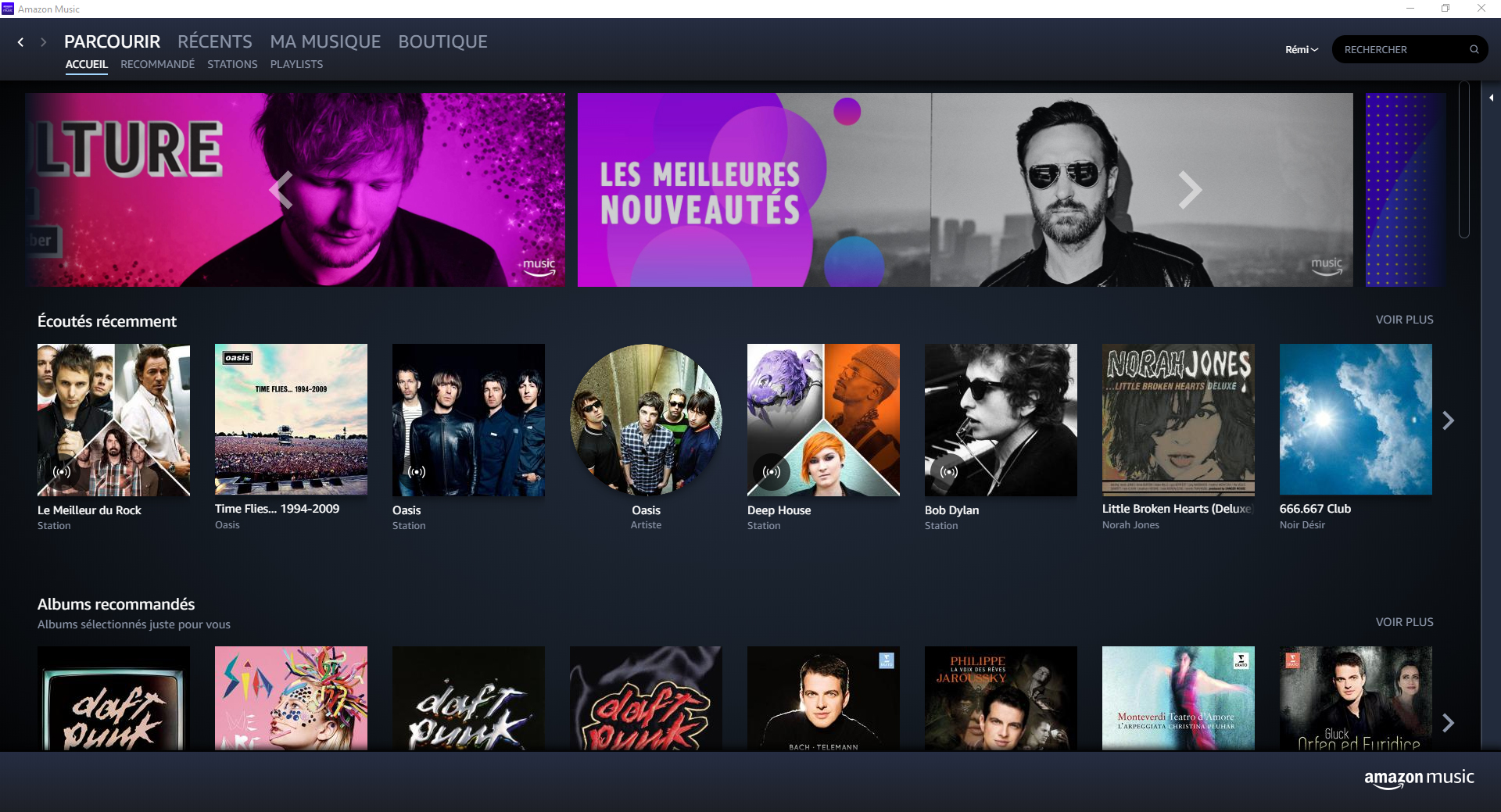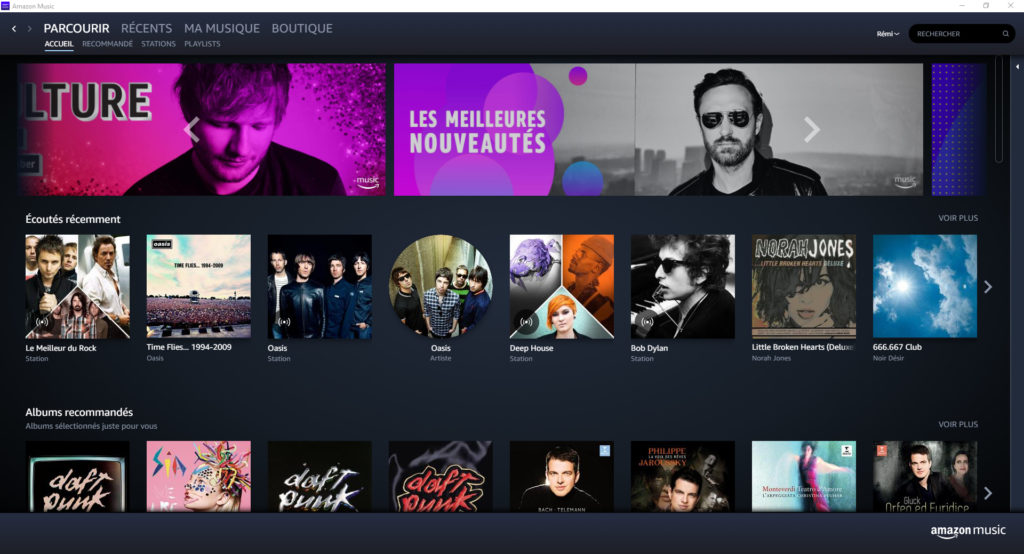 Alexa can be directly invoked in Android and iOS applicationsby voice or at the push of a button Alexa. A feature more than appreciable in mobility for example.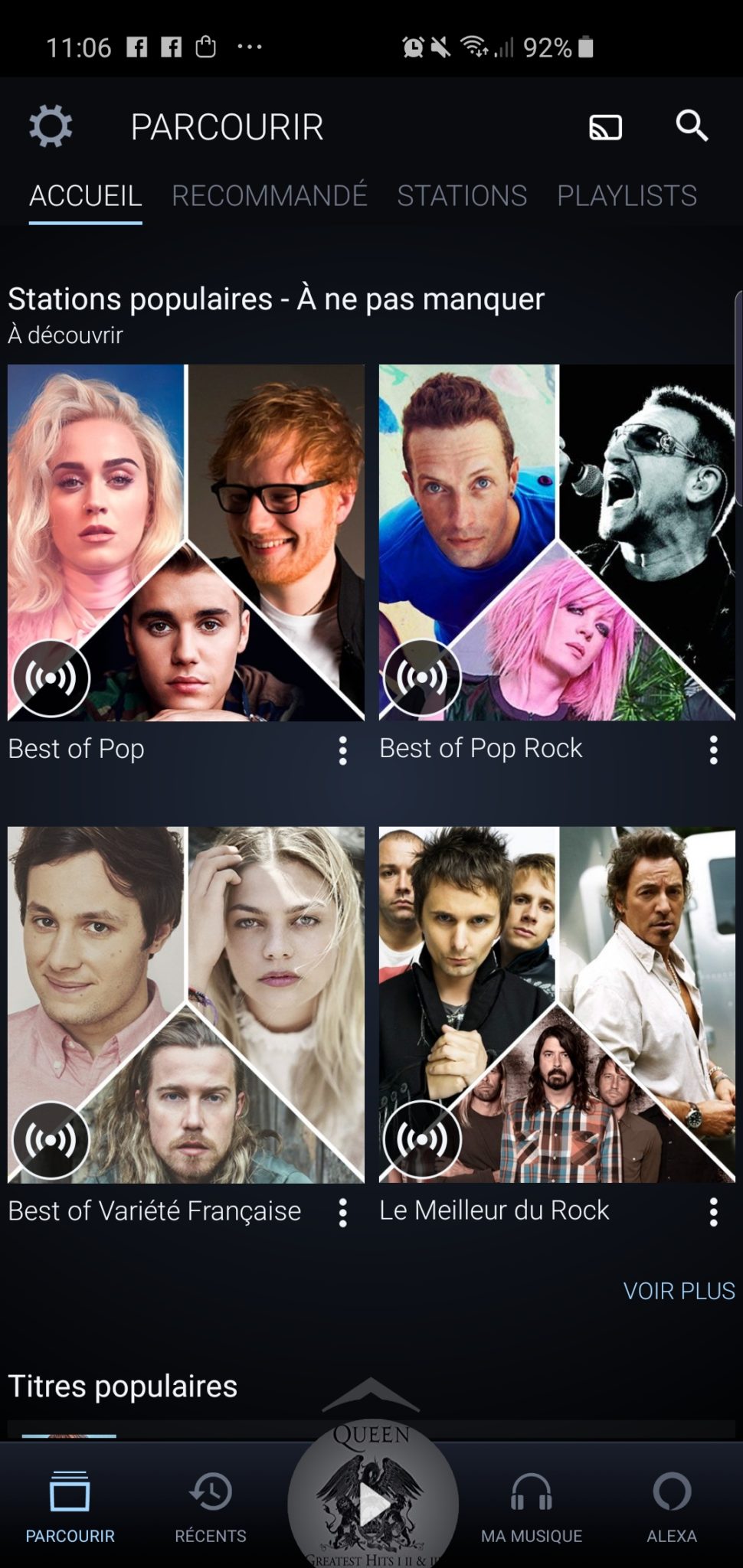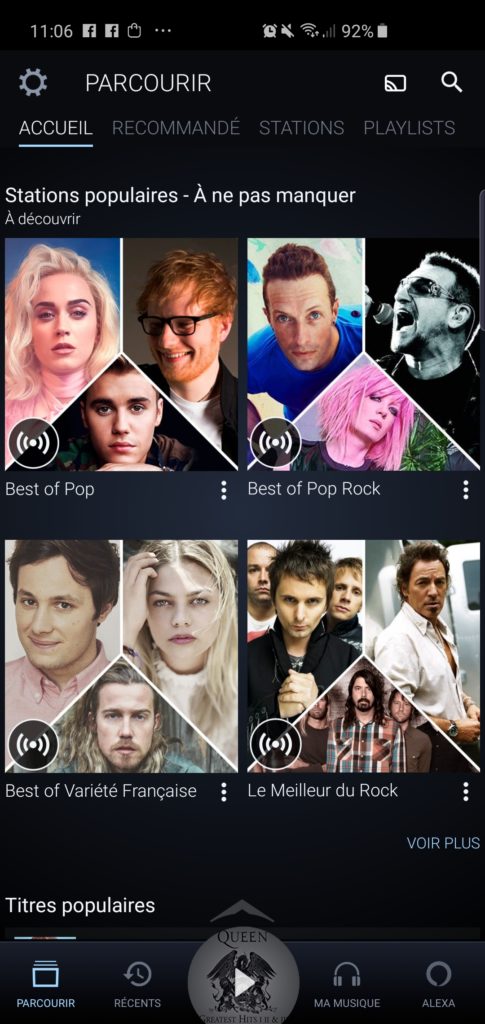 It is also possible, on most versions, to use functionality Alexa cast which avoids voice navigation and the volume drops associated with listening toAlexa, and allows you to play music on the device of your choice or on a group of devices (the famous multiroom).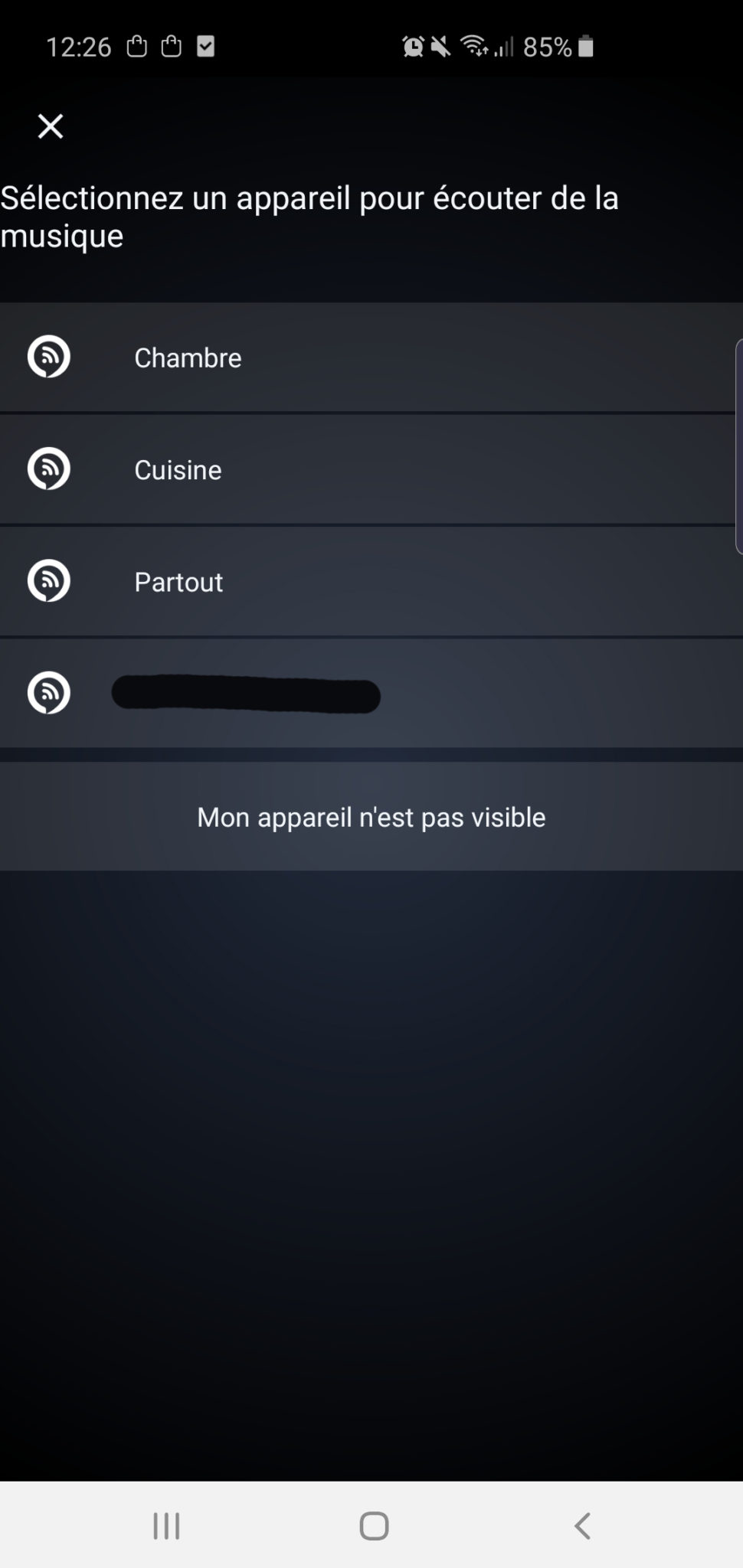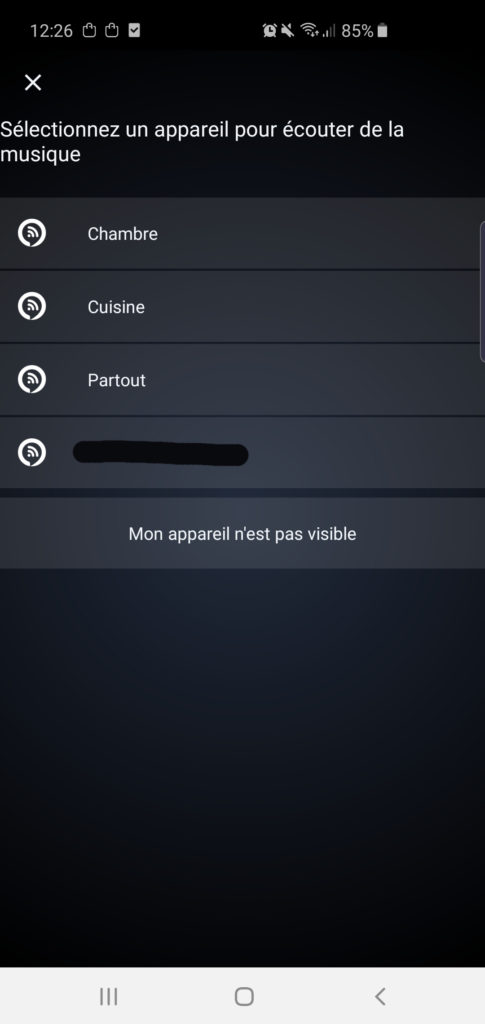 Another fairly significant advantage, Amazon Music is available offline. To do this, you will obviously need to download the titles to your device beforehand. These will remain available for as long as you remain a subscriber. But that's not all…

This offline mode allows you to enjoy your titles locally. In other words, the application Amazon Music will behave like a classical music player and you can easily read your albums and other titles stored on your hard drives or other memory cards. And, icing on the cake, Alexa is able to find them



In addition, it is the only service allowing to date multi-criteria research. You can ask Alexa soft or dynamic music, 80s music, 70s calm rock, dynamic 90s French pop, classical music for reading, or music for sleeping. It is indeed possible to combine up to 4 criteria to refine your choices.
Finally, and this is undoubtedly the most awaited feature, you will soon be able to use your account Amazon Music Family with vocal profiles. Alexa will indeed be able to select playlists and music according to the person who speaks to it by relying on the recognition of the voice print of the members of a household. Although the service is not yet operational, it should not take long to be, according to the still recent appearance of the feature.
Tariffs of the offers Amazon Music: music at all costs
Amazon offers several formulas. While waiting for the free offer intended for Echo users, but which will necessarily be very limited (greatly reduced catalog, search by style only, advertising, etc.), the streaming service
Prime Music offer: free music for Prime customers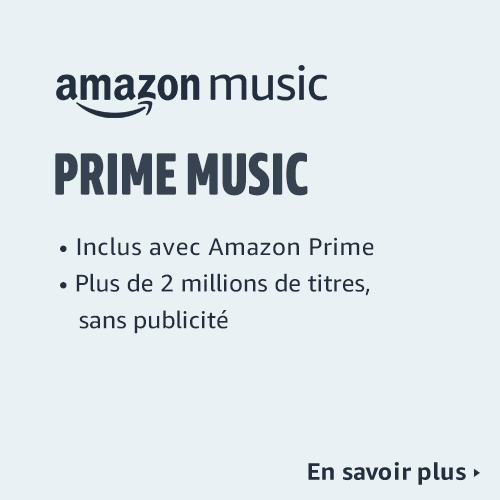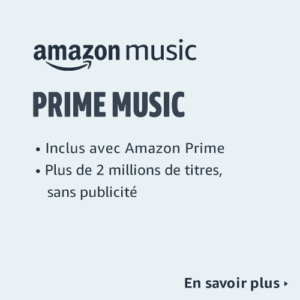 If you are a Prime customer, be aware that you can benefit from a music service, admittedly limited, but included in your Prime membership.

In addition to free delivery, Prime offers a number of services: Prime Video (the VOD service ofAmazon), Prime Reading (a selection of free Kindle), Prime Photos (unlimited storage of your photos) and therefore Prime Music.

A great way to experience the fun of music on Alexa and your Echo devices… This service is offered at only 5.99 € / month or 49 € / year, which makes it one of the most competitive on the market.

Prime Music is available on Alexa and offers:
2 million tracks regularly updated with new features and exclusives,
Up to 40 hours per month without advertising,
Playlists and stations selected by the teams ofAmazon Music
Offline mode to listen to your music anytime.

Echo / Fire offer: everything Amazon Music on a device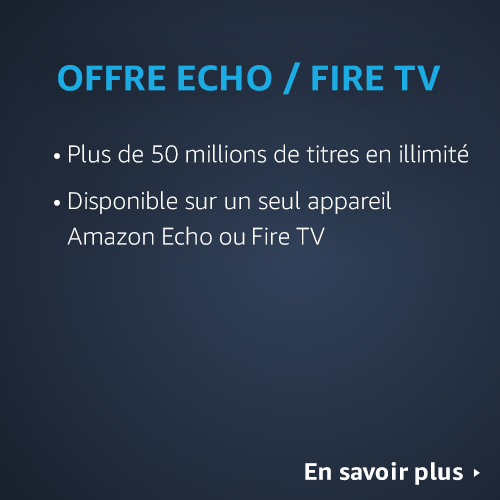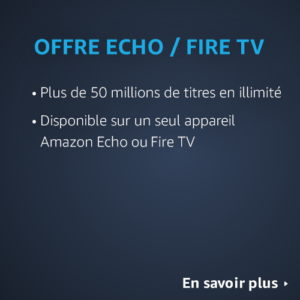 Transform your Amazon Echo in jukebox and let Alexa DJ thanks to the special Echo / Fire subscription. As its name suggests, this subscription provides access to the entire catalog ofAmazon Music, namely 50 million titles.

If this formula is unlimited, it is however linked to a single Echo or Fire device, but is extremely competitive since it is invoiced. only 3.99 € / month. To enjoy it, just say to Alexa « Alexa, try Amazon Music Unlimited ".
Try the Echo / Fire offer
Individual Unlimited Offer: unlimited and multiplatform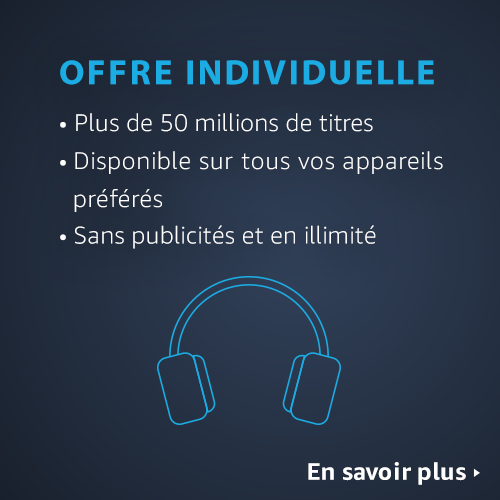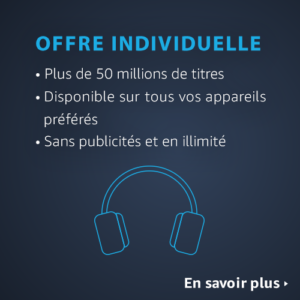 This is the star offer ofAmazon Music, the one that allows you to benefit from more than 50 million unlimited titles on all media.

Offered to 9.99 € / month or 99 € / year, this offer is ideal to take advantage ofAmazon Music on all their Echo, Fire, PC or Mac, Android or iOS devices. The service is obviously devoid of any advertising and you will be able to fully enjoy your music, and this, even offline.

And as we mentioned above, you can also control vocally with Alexa your local disco, in other words your own audio files on your devices ...
In summary, Amazon Music Unlimited Individuelle is:
50 million tracks with playlists, stations, news and exclusives,
Unlimited all media without advertising,
Offline mode to listen to your music anytime.
Unlimited Family offer: the multi-account to share with loved ones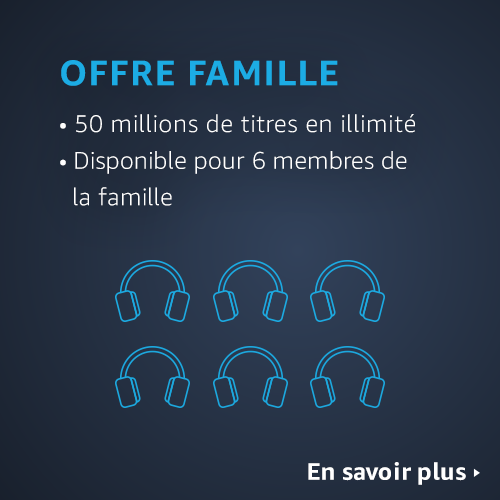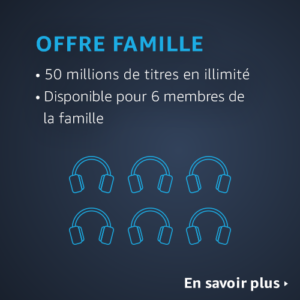 Amazon Music Unlimited Family will give you exactly the same features, except that you will have 6 individual accounts to share with your family members. A more than interesting offer for families
In summary, the Family offer ofAmazon Music offers you:
50 million tracks with playlists, stations, news and exclusives,
To 6 accounts and therefore 6 simultaneous users,
Unlimited accounts on all media and without advertising,
Offline mode to listen to your music anytime.